The Number Of Times You Can Actually Reuse False Lashes Before Retiring Them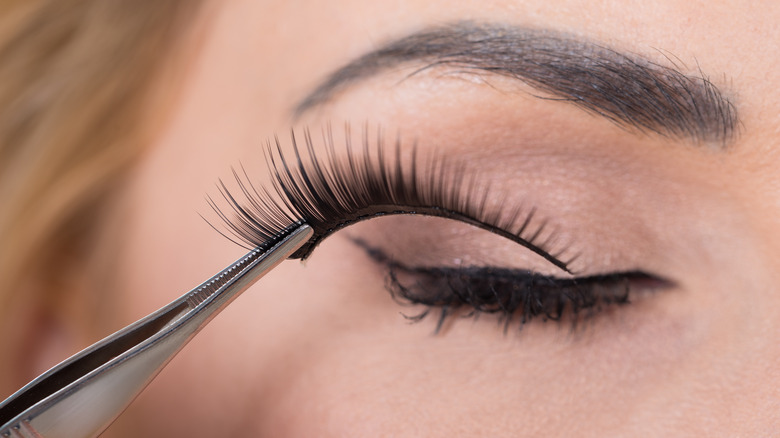 Andrey_Popov/Shutterstock
If you like to accentuate your eyes, then there's a good chance that you opt to use the perfect falsies from time to time. Or you might be the kind of lash-loving application pro who wears them every day in order to amp up the glam. Either way, there are various things that you should consider when choosing your lashes. That includes their length, shape, and color, as well as the material that's been used to make the false lashes. On top of that, you need to figure out how many times they can be used. If you skip this vital step, then you may end up at risk of an icky eye infection.
Advertisement
The unfortunate situation can be caused by bacteria that manage to build up around and in the lashes as well as in the glue that you've used to keep them in place, according to the Howerton Eye Clinic. This can also be an issue if you don't clean your natural lashes and eyelids after you've taken the falsies off or if you use a pair that someone else has already worn (we know you share everything with your bestie, but please don't do this). That's not to mention the fact that reusing false lashes can put you at risk of potential problems that you'd surely rather avoid.
That likely leaves you wondering how many times you can  use false lashes before it's best to retire them. The answer depends on a few different factors.
Advertisement
Some false lashes last longer than others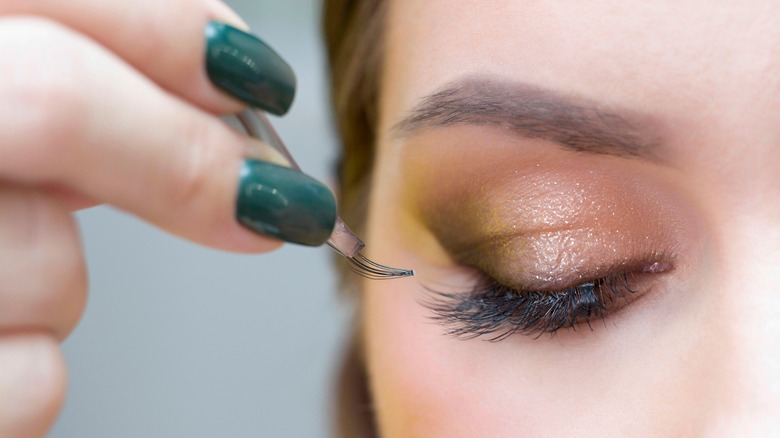 kkbs1707/Shutterstock
All false eyelashes inevitably need to be replaced. However, the number of times they can be reused has to do with what kind you prefer to pop on. Frankly, some can only be used once, while others can be used so many times that it might surprise (and delight) you.
Advertisement
"Strip lashes can be reused on the same person if you clean them off well using soap, water, and 70% alcohol," celebrity makeup artist Mary Irwin told InStyle. As for individual falsies, Irwin notes that they're not as easy to keep clean and may lose their shape, so it's best to toss them away after wearing them one time only. Magnetic falsies are the ideal option if you want to re-wear a set multiple times, thanks to the fact that you can give them a good cleaning, and they'll still look good.
You'll also want to consider what material has been used to make the lashes because a synthetic variety can offer you four or five days of wear before starting to break down, according to The Cut. However, if you're looking for something that won't wither away as fast, grab a pair of human or animal lashes which can last for an incredibly impressive 20 days. That is, of course, if you give them the necessary TLC.
Advertisement
False lashes need TLC to make them safe to reuse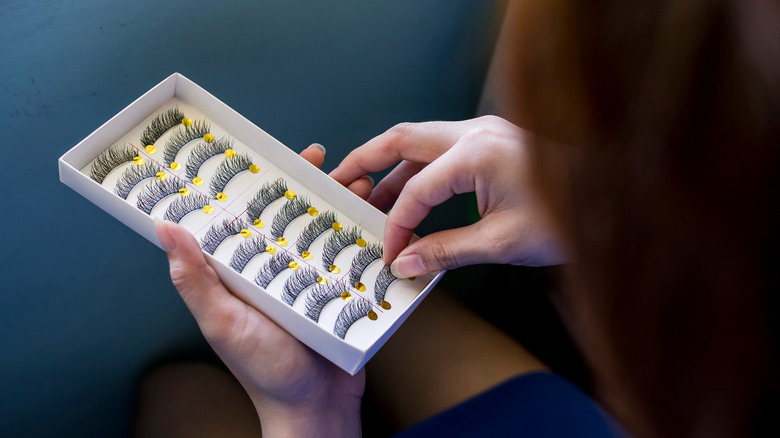 MDV Edwards/Shutterstock
Reusing your false lashes is a great way to cut back on waste and save a bit of money. You just need to make sure to care for them properly. To do so, you should clean them after every use. You also want to grab the right product and tools for the job while avoiding others.
Advertisement
"An oil-based remover will warp the lash. It can also leave a residue on the lash that might interfere with the tackiness of the glue or cause your makeup to run when you wear them next," celebrity makeup artist Jamie Greenberg told Refinery29. Ensure you also have cotton buds on hand that aren't too loose — you don't want bits of fluff sticking to the lashes. After taking your lashes off, use remover on the cotton bud to gently rub any glue, makeup, sweat, or grit from the strip. Next, use a bit of remover and two other cotton buds — one on either side of the lashes — to wipe them off. Finally, let them dry and spritz on strong misting alcohol to kill of any lingering bacteria.
When you've finished cleaning the lashes, store them in a case to keep them away from dust and grime. That way, they'll be ready and waiting for the next time you want to take advantage of their fabulous lash-enhancing ability.
Advertisement