Easy Ways To Look Put Together When You're Down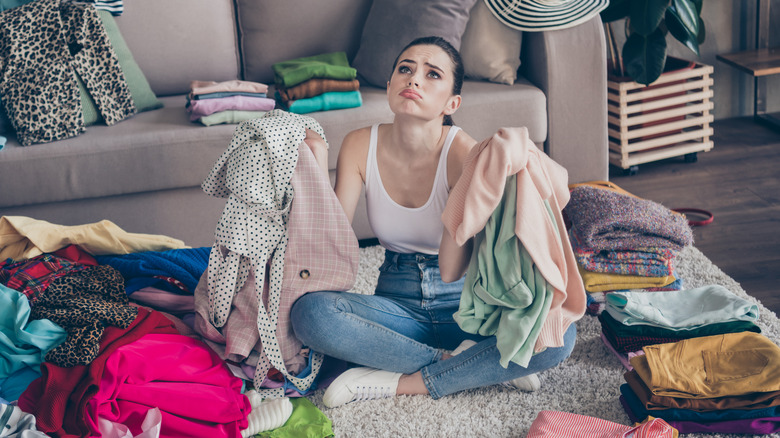 Roman Samborskyi/Shutterstock
There's nothing worse than trying to dress to impress when you're feeling down. Some days, it's beyond difficult to even put a brush through your hair, let alone attempt to make yourself look presentable — or even more challenging — polished. Sometimes it's easier to follow some simple suggestions to make it seem like you've put effort into yourself when really you're just going through the motions.
Advertisement
You know those girls who always look put together? They're most likely following some basic rules for getting dressed. Whether it's a comfy running-errands-jogger-set or stylish evening-out ensemble, it doesn't have to exhaust you to look like you put considerable thought into the whole thing. The main rule of thumb includes covering the basics, so you feel put together on the outside, even if you feel down on the inside.
Plus, it's common knowledge that most people actually do feel better when they look presentable. Look good, feel good! It boils down to having confidence. Remember: Feeling down is not the time to criticize yourself. Instead, practice self-love and get through the day the best way you can. Let's look at some easy ways to feel good about your appearance even when you aren't quite feeling like yourself.
Advertisement
Fake eyelashes bat better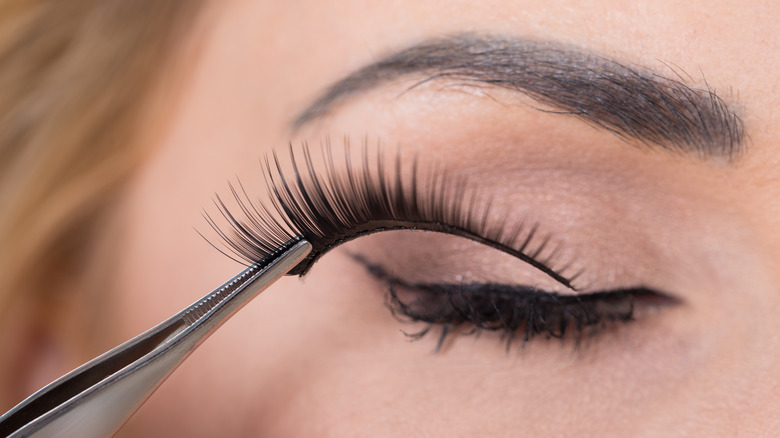 Andreypopov/Getty Images
One easy peasy way to look like you've spent a long time on yourself is to have false eyelashes in place. They make life so much easier by allowing you to have eyes that look beautifully done up, no matter what time of day you need to show up.
Advertisement
If you're not in the mood to do eye makeup, it's no problem! With fake eyelashes, you're already good to go. You always look sufficiently put together when your eyelashes are pretty enough to bat. While, yes, lash extensions are an investment to keep up with, they just may be worth it in the long run. Or, grab a pair of your favorite strip lashes from the drugstore for a quick-and-easy look. 
Manicured nails make a statement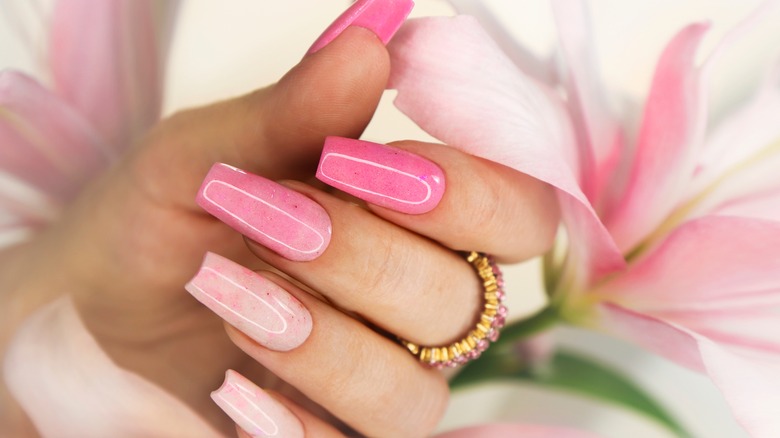 marigo20/Shutterstock
This one's a no-brainer. Maintain your appearance by keeping your nails looking in tip-top shape. Opt for a long-lasting manicure such as gel, powder, or acrylic nails. If you're lucky, you can get three weeks out of a solid professional manicure.
Advertisement
Polished nails always enhance your overall appearance and give off the allure that you're manicured from head to toe. Ever notice how many people compliment a pretty manicure? That means they're looking!  Make it simple for yourself by getting your nails done. It's a relaxing treat and looks fantastic. Can't afford it? Try press-on nails. They're an ideal option for pretty nails without the cost, and they truly do the trick. 
Wear yesterday's cute outfit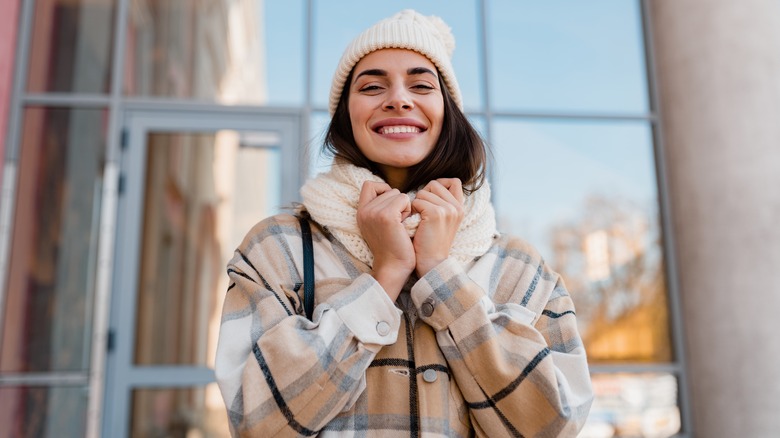 Maria Markevich/Shutterstock
On days you're stressed out or just not feeling like yourself, it can be challenging to put together a whole ensemble — so opt not to. You can easily throw on yesterday's outfit in a flash without thought. Chances are it's still clean (clean enough anyway), and you can always throw on a new t-shirt or jeans for the worst-case scenario. 
Advertisement
And, if you feel like perhaps a bummer day is around the block, be mindful and keep an outfit ready on standby. This way, when the bad day does arrive, you can just throw on that fabulous outfit you've saved for this occasion. If that doesn't work, try wearing an oversized jacket with black leggings or jeans. This always does the trick.
Throw on the joggers or gym pants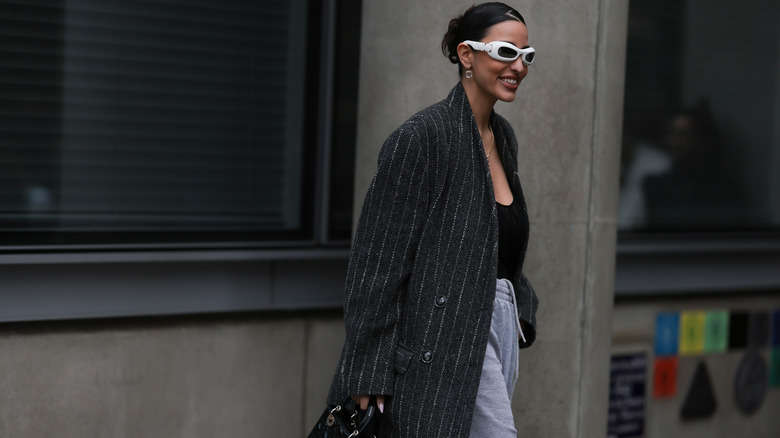 Jeremy Moeller/Getty Images
These days, cute jogger outfits are all the rage. Maybe everyone is fighting a bad or lazy mood — it seems like every other woman is wearing cute sweats or gym pants with a tank and hoodie. So don't feel bad; they're actually trendy staple pieces you can wear with any outfit (even a structured coat, as seen above). 
Advertisement
So rock your latest Lululemon bottoms with hoop earrings, a fun hoodie, or a fitted jean jacket. Simply "pretend" you're off to do some yoga. You're all set! The best part? No actual downward dog pose needed!
Layer accessories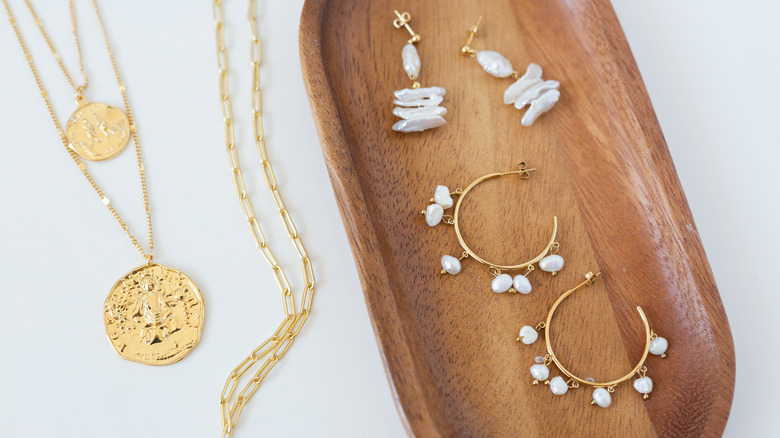 Karen Culp/Shutterstock
When the going gets tough, layer on simple fashion accessories to hide it! Somehow, when a woman walks in the room with well-layered accessories, she just screams, "I'm put together." Well-worn accessories just make an outfit come alive.
Advertisement
Think short and long necklaces adorned together over a simple white tee and a long sweater. This doesn't require much thought but makes it look like you spent hours getting ready. Finally, add some earrings with fun beads or crystals hanging from them, and you'll look golden. 
Wear statement earrings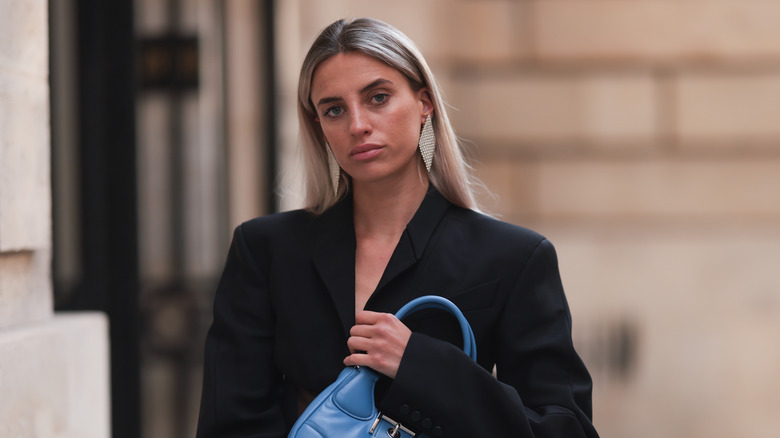 Jeremy Moeller/Getty Images
Wearing big, statement earrings make looking presentable so much easier when life is feeding you lemons. If you've ever noticed celebrities always wearing enormous earrings with their daily outfits, there's a reason. They're fashionable and make any outfit stand out. 
Advertisement
They dress up any ensemble in a flash because they are prominently placed on the ears. So next time you're feeling down, grab some big earrings and add them to whatever you've managed to dress in. We promise: It will make a difference.
Put on comfy mom jeans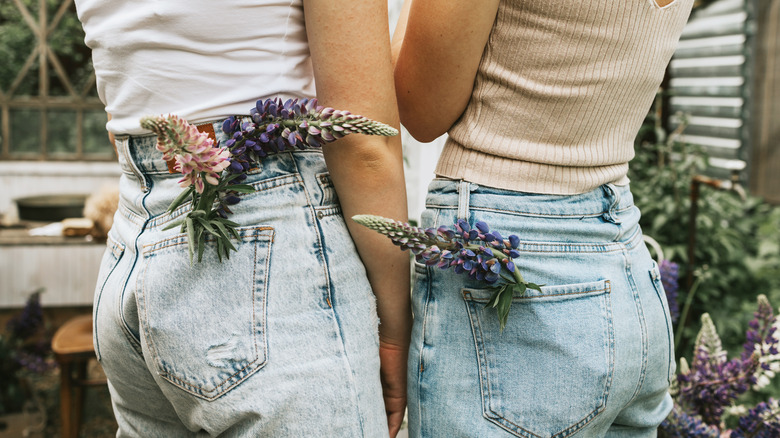 KlavdiyaV/Shutterstock
Let's thank our lucky clothing stars for mom jeans coming back in style. They're the newest constant in any wardrobe. These staple jeans say, "I'm trendy," without giving away that you may be fighting a down day. Why? Because they give cozy sweats vibes!
Advertisement
They should be loose enough to tuck in a thin sweater. On a difficult day, pair these with a tank top and a light cardigan. Then, kick the ensemble up a notch with some layered necklaces and hoop earrings and call it a day. Done and done. Thanks, Mom!
Try the oversized sweater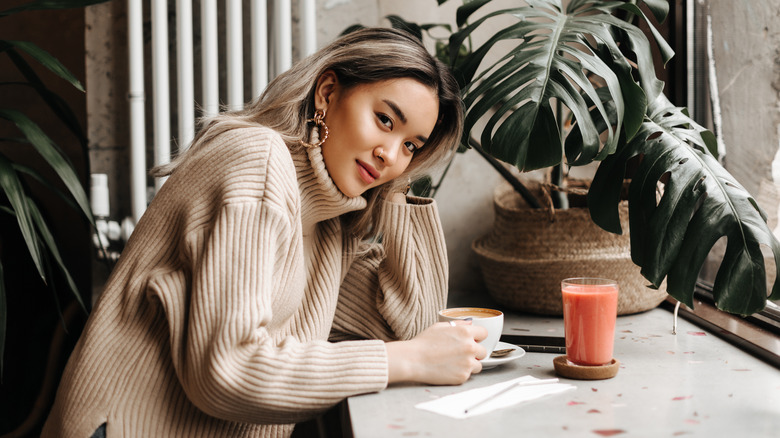 Look Studio/Shutterstock
Ahh, just when life started looking gloomy, the cozy oversized sweater sauntered in to save the outfit. An oversized sweater is the answer to so many outfit woes. Often, it can work as a dress in a pinch or become the perfect addition to leggings, boots, and a white blouse. Think a beige or black long oversized sweater. Beautiful. Now put it over the outfit and strut. Nobody will be the wiser that you're busy slaying dragons because you'll look ready for the catwalk!
Advertisement
Put your hair in braids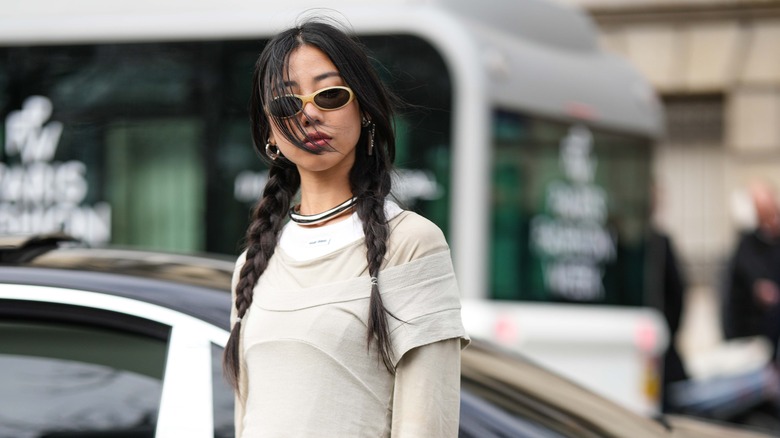 Edward Berthelot/Getty Images
Braids are having a major moment. And they're such an easy way to hide messy hair on a dark day. Just put your hair in one loose, no-effort-needed ponytail with an easy braid. Or, if your mood can handle it, separate your hair in the middle, put it into two ponytails, and braid each side. Yes, this is known as the pigtail. Simple and oh-so-trendy. 
Advertisement
Have a little extra energy? Throw some ribbons over the ponytail holder. This will make it appear as though you really put extra thought into yourself (but you'll be fooling them all).
Relax with comfortable shoes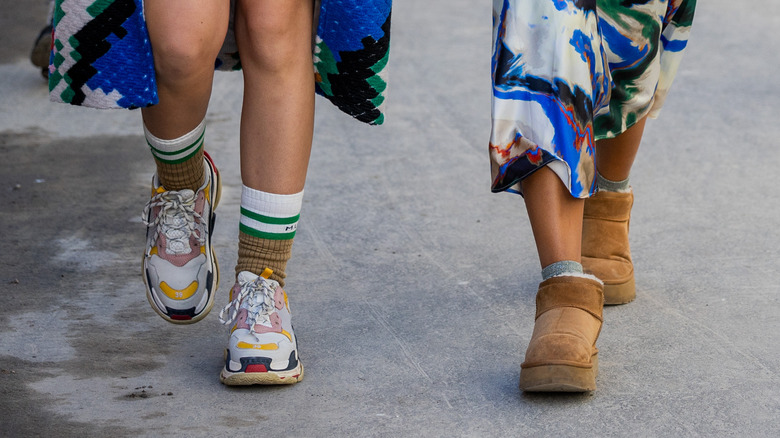 Christian Vierig/Getty Images
There's no need to cruise around in heels when you're feeling down. You can look well-adorned in some classic sneakers or try the super comfy (and sustainable) Allbirds flats. Looking for a staple footwear item? Always in vogue is a pair of tried-and-true UGG boots.   
Advertisement
Don't make it difficult to get out the door worrying about your shoes. Remember, you can always throw on a pair of mom jeans or leggings, a classic white t-shirt, a cozy jean jacket, and comfortable tennies to tie the entire look together.
Add happy and bright colors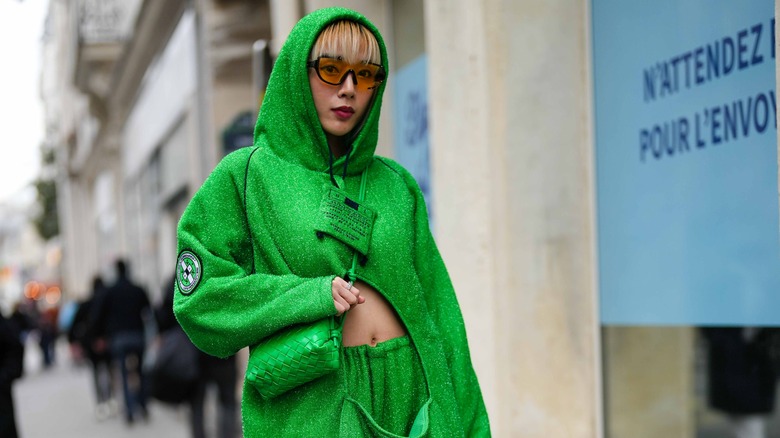 Edward Berthelot/Getty Images
Sometimes the easiest way to enhance our mood is to add vibrant colors to our outfits. In fact, adding color to your ensemble may just be the mood booster you need. You'll likely feel like donning your all-gray or black wardrobe pieces, but throwing some yellow or green in the mix may actually put you in a brighter place. So let's try it — even if it's just a colorful scarf or a bright-colored shawl. When feeling out of sorts, it's wise to try anything to turn the clouds into sunshine.
Advertisement
Rock a beanie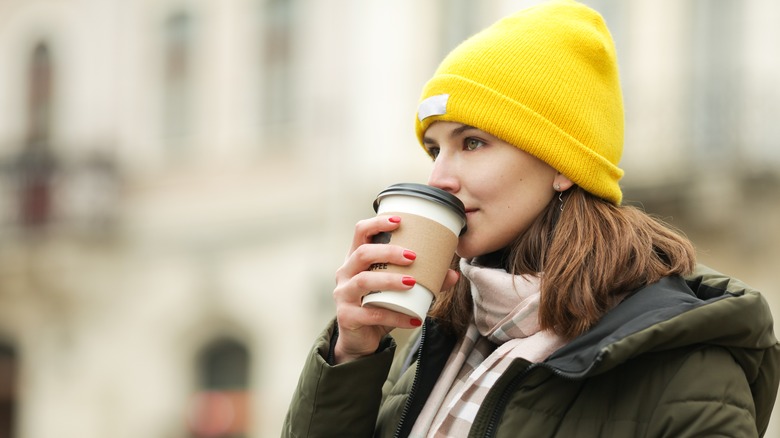 Augustino/Shutterstock
This one is as easy as it gets. Not feeling the whole do-your-hair thing? Or do you have roots that are over-sprayed with dry shampoo, and you need to hide them away? Thank goodness for the handy dandy beanie! Most of the time, a beanie makes an outfit. It's a clever way to draw attention toward your face and away from what may be an otherwise boring outfit. 
Advertisement
There's an unlimited amount of ways to style your beanie. Get creative and try a colorful beanie to inject a pop of fun into your outfit. You can also add a trendy shawl in the same color as the beanie for a cohesive look. Either way, you're leaving the house and keeping untamed hair hidden away from view. And that, my friend, is the silver lining.