The Viral TikTok Hack That Uses The Dainty Bow Trend To Hide Your Bra Straps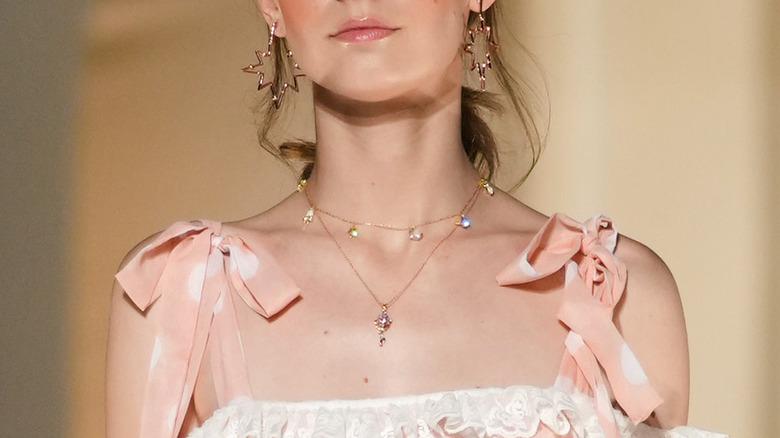 Edward Berthelot/Getty Images
With the first day of spring only days away, it's about time to kick off your salt-stained boots and peel back the layers of clothing you've cocooned in all winter. It's the perfect season for exploring new trends, and there are several to dig into this year, from balletcore and rosettes to glitzy statement stud earrings. It's clear that ultra-feminine attire is having a moment, and the latest hair trend is no exception. 
While scrolling through your TikTok feed, you may have noticed that tastemakers everywhere are tying their locks with kittenish ribbons. The dainty bow trend harkens back to the preferred hairstyle of 1960s and '70s it-girls, like Eartha Kitt and Brigitte Bardot. These days, tiny hair bows have been spotted on everyone from Naomi Campbell to Hailey Bieber, and truthfully? It's one of the most adorable (and sustainable) fashion trends we've seen yet.
Of course, TikTok isn't the type of place to let a trend unfold without a twist — or two. Recently, creators have taken to putting their own creative spin on the blossoming bow trend. Although it's yet to develop a catchy name of its own, the newest way of wearing these coquettish ribbons can transform your wardrobe in a matter of seconds.
Curious to see TikTok's latest take on the dainty bow trend? Ahead, we'll show you everything you need to know in order to get the look.
How to hide bra straps easily with tiny bows
Let's get one thing out of the way: It's perfectly fine to let your bra straps show. After all, Y2K fashion is trending massively at the moment, and stars like Amy Winehouse and Gwen Stefani proved how stylish visible bra straps could be throughout the 2000s. However, whether you want a change of pace or prefer a more demure approach, there's a new TikTok trend that's right up your alley. The dainty bow trend is already a hit with hair and beauty influencers, but creator Sara Tanjala showed that there's another way to use petite ribbons — hiding your bra straps.
In her short but sweet TikTok video, Tanjala demonstrated a dainty bow bra strap hack that left us speechless. The method only takes a few moments to master, and the results are not only effective but downright cute. Using two thin strands of ribbon — cut to roughly seven inches long — Sara ties a delicate bow around each of her loose tank top's straps. After some quick adjustments, the entire look of her outfit is changed, and her bra straps are perfectly concealed. Since its release on March 4, Sara's tutorial has received nearly 30,000 views and counting. "You've just changed my life," wrote one commenter. Although this dainty bow trick is a match made in heaven for balletcore fans, it's practical enough to be worn with any style.
Ways to style dainty bow straps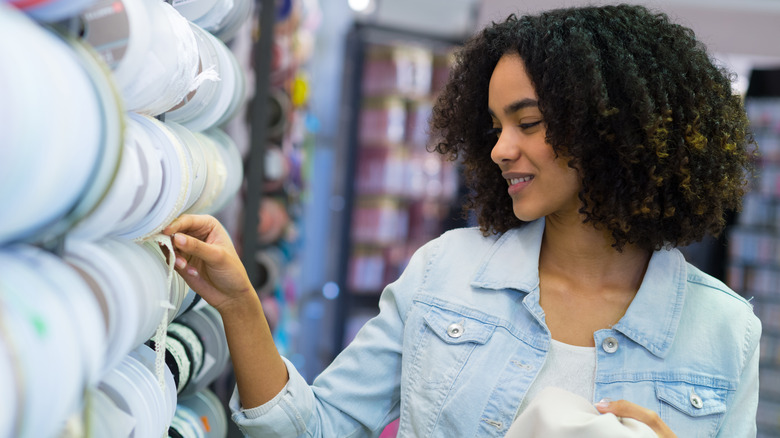 Alpa Prod/Shutterstock
When it comes to styling dainty bows, the options are endless. If you like a simple, streamlined look, style them like TikTokers have, coordinating the color of the ribbons to your top. This works particularly well with thinner or translucent ribbons, as they're inconspicuous enough to blend into your outfit. Otherwise, you can opt for something that provides a little more visual interest, like ribbons with intricate lace details, bright colors, or flashy patterns. Looking for inspiration? Try visiting a thrift or fabric store for trim — you only need a small amount of material to create a pair of dainty bows.
For truly sustainable fashion, repurpose old fabrics or lace from your own closet or craft drawer — even colored yarn can provide a retro aesthetic. Prefer to stand out from the crowd? To customize your dainty bows even further, sew a charm to the end of each ribbon or add tiny bursts of color with some dots of fabric paint.
Whether you prefer dainty bows in your hair or laced around your straps, there are many reasons to love this trend. They're easy to tie into your outfit — literally — and accessible to just about everyone. Above all, dainty bows are a perfect example of truly sustainable fashion that can elevate your look in an instant.