An At-Home French Tip Requires A Good Top Coat. Here's Why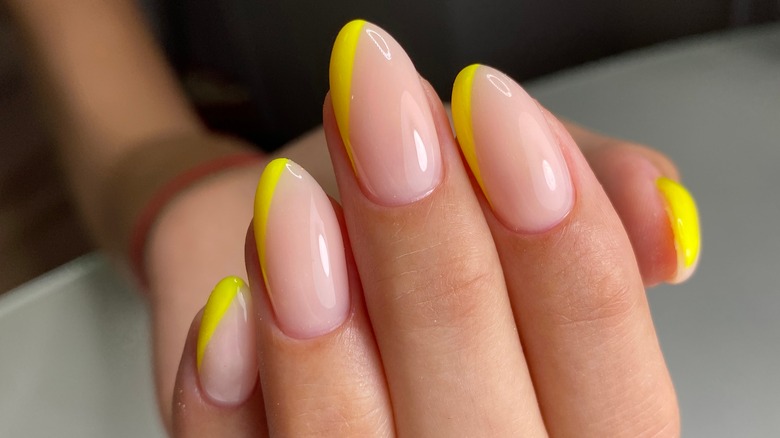 Vetrova-Noskova/Shutterstock
If you want a chic, timeless look for your nails that you can create in the comfort of your own home, a French manicure is the way to go. Traditionally, this style consisted of a transparent nail polish, combined with white tips on the free edges of the nails. However, the French manicure has evolved dramatically in recent years — while the traditional look is still widely accepted, it's not uncommon to see tips in all sorts of colors and styles today. The free edges have truly become blank canvases for everything from neon polish to nail art.
Advertisement
Whether you're going traditional with white tips or aiming for something flashy, one component of the manicure process remains critical — the top coat. Without a proper top coat, all of the time you put into creating your perfect at-home manicure can go to waste. Here is what you need to search for in a top coat as you look to perfect your at-home French tip look.
Why a quick-drying top coat can make a big difference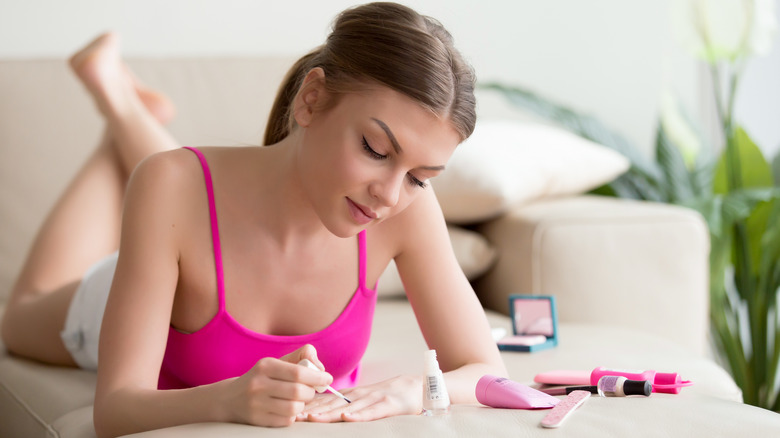 fizkes/Shutterstock
The key to making sure your at-home French manicure doesn't go awry is the top coat you use. Ideally, you should use a quick-drying top coat when creating any type of design on your nails. This ensures that, as you apply it, you won't move the precariously placed polish to other parts of the nail, and it also ensures a longer-lasting manicure. "Maxus Nails FINITO top coat is a fast-drying formula that's ideal for nail designs [as it] doesn't drag polish during application," nail technician Dasha Minina told InStyle. However, there is a wide variety of top coats on the market, and all of them can also help you extend the life of your manicure.
Advertisement
If you're still afraid of smudging and dragging upon applying your top coat, you might want to consider using drying drops. These products can be used on your nails after you apply polish, but before you add your top coat. Just a couple of drops on each nail is enough to speed up the drying process by up to 15 minutes, per Nails Magazine. This might be able to give you the peace of mind you need to apply your top coat without panicking.
Other secrets to perfecting the French tip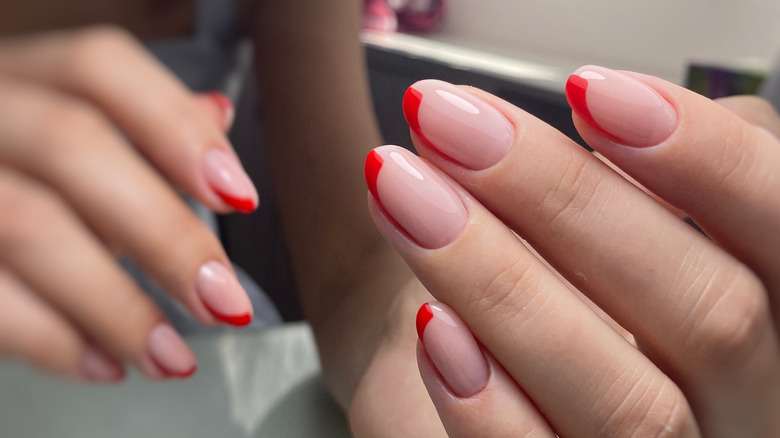 Vetrova-Noskova/Shutterstock
French manicures have become timeless because of how beautiful and polished they make our nails look. However, anyone who's attempted to recreate them at home instead of going to the salon knows how much time it can take. There are a few hacks you can use to simplify the process and eliminate any dread you have about doing your own nails.
Advertisement
Nail guides (or strips) have become mainstream, thanks to French manicure lovers who have begun creating their own looks at home. These guides are essentially stickers that serve as a buffer between the nail tip and the rest of the nail — this reduces the risk of making a mistake while applying polish.
If you don't have any nail strips handy, there's a particularly effective manicure hack on social media that may help, too. You can use a makeup sponge to achieve a similar look — simply paint the polish of your choice onto the sponge, and then press your free edge directly against it to transfer it onto your nail. This method is quick, easy, and stress-free!