The TikTok Hack That Proves Bronzer Is A Makeup Multitool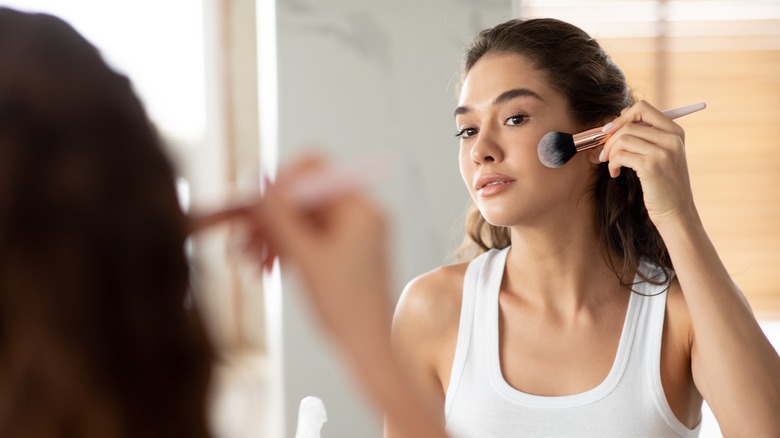 Prostock-studio/Shutterstock
Whether you've been using bronzer for ages or haven't really considered giving it a go in the past, you might assume that it's simply meant to do what its name implies. It's totally understandable if you think its one and only purpose is to make your skin less pale or more sunkissed — maybe even make it seem like you have a fabulously flush tan. However, it's not exactly that straightforward. In fact, celebrity makeup artist Hung Vanngo explained to Cosmopolitan, "You're looking to add warmth with bronzer, not color. Bronzer is all about making the skin look healthier."
Advertisement
Of course, that can involve making your cheeks a little darker, giving your shoulders a touch of a golden hue, and making sure that your neck is a shade that matches both. Beyond that, Nick Lujan, Director of Artistry & Education at Kevyn Aucoin, told Marie Claire, "Bronzer is a quick and easy way to give a healthy sun-kissed glow to your skin, any time of year. [It's an ideal choice for] warming up your complexion when you are transitioning from your summer skin to winter skin, creating a healthy glow, face, or full body."
While that's true enough, that's not all that bronzer can do for you. Frankly, a certain star happens to put a TikTok beauty hack to good use by doing something that proves bronzer is the best kind of makeup multitool.
Advertisement
Selena Gomez uses bronzer in an unexpected way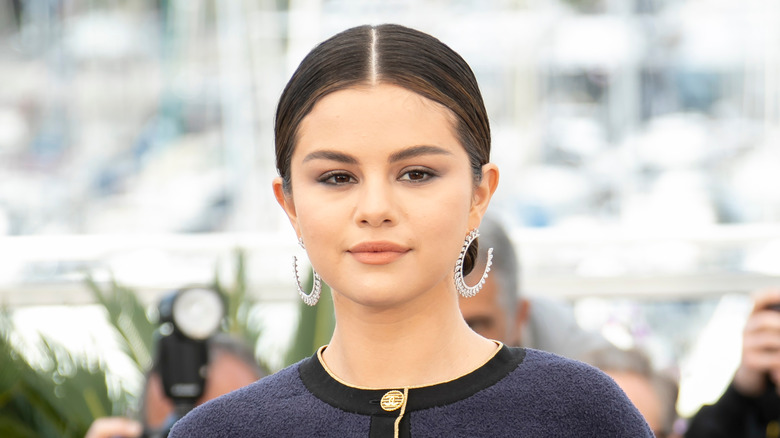 BakouNine/Shutterstock
Selena Gomez has a stunning style — which is why you may want to emulate some of the hacks that she uses during her beauty routine. That's also why you might find your interest piqued by the (arguably unusual) way that she takes advantage of bronzer. While chatting with Byrdie, the star revealed, "I love adding bronzer to my eyelids and using it as an eyeshadow because it looks so natural."
Advertisement
That's right — when you see Gomez on the red carpet or posing for an Instagram selfie, she may be boasting bronzer on her eyes. While that already makes the product more useful, it turns out there are even more ways to add it to your look. Of course, you may use bronzer in the hollows of your cheeks to give the bones a visual boost, according to The File. Along with doing the same to the jawline, you can pick up a powder brush to apply bronzer to your neck and chest. You can even dab a bit on your lips along with some highlighter in your Cupid's bow which can make your mouth appear nice and plump. As for the eyes, you can grab a flat eyeshadow brush and use it to pop bronzer to your top lash line as well as the bottom.
Advertisement
At the same time, in order for this hack to work, you need to be sure to choose the right kind of bronzer.
You need the perfect bronzer to use multiple ways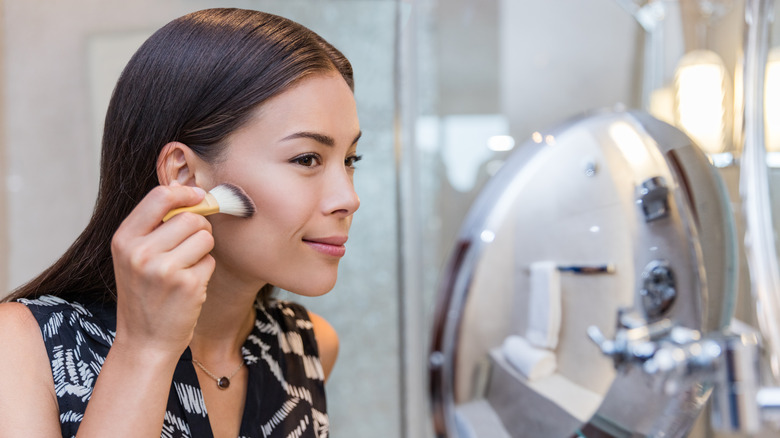 Maridav/Shutterstock
Although you may be eager to try this Selena Gomez-approved hack, you first need to make sure that you have the right bronzer. Otherwise, you risk ending up with a look that's noticeably unflattering. Indeed, one thing you need to figure out is what the best bronzer is for your skin tone.
Advertisement
"When selecting a bronzer, think about what naturally happens when you're in the sun. Let your body give you clues. Identify the deeper tones that surface on your chest, shoulders, and arms, and use that as a gauge," Danessa Myricks, makeup artist and CEO of Danessa Myricks Beauty, told Glamour. If you're still unsure, then opt for a relatively neutral shade. On top of that, you want to choose a formula that will suit you. A powder bronzer can work with pretty much any skin type and even sits well on oily skin. It's also a great choice for anyone who doesn't have a lot of experience with the product thanks to the fact that it's easy to apply. On the other hand, you could use a cream bronzer if you want a natural look and a long-lasting product. Myricks noted, "It's super easy to apply and can be worn on bare skin or over powders on any skin tone."
Advertisement
When you've found the right shade and perfect formula, you can go ahead and pop bronzer on your eyes to slay the look — just like Gomez.