Are Vibrating Flat Irons More Beneficial For Your Hair Than Normal Straighteners?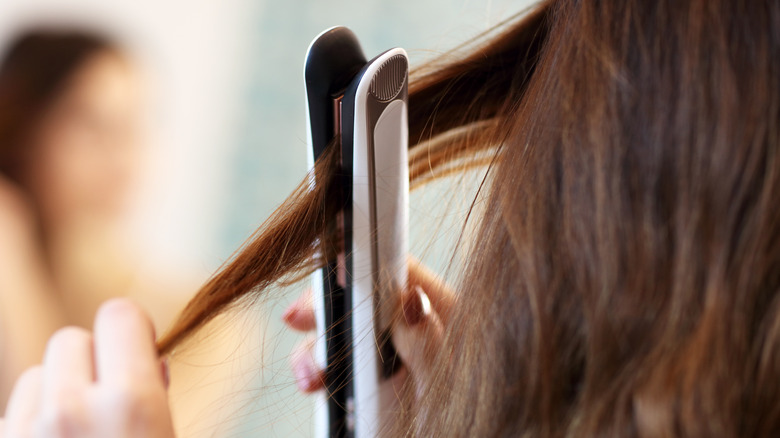 Macniak/Getty Images
The hair straightener market is booming — and shows no signs of stopping. According to Statista, the percentage of women using hair straighteners increased by five percent worldwide between 2015 and 2017, and is set to continue on an upward trajectory. By 2028, experts predict that market growth will increase by eight percent over five years, continuing its push for ultimate domination. Clearly, more and more individuals are on the hunt for sleek, glossy hair that packs that "wow factor."
Advertisement
Naturally, the hair care market caters to these deep desires, with innovation after innovation bouncing onto the scene, flaunting their best-selling points to the world. Some prime examples are GHD's, the Dyson Airwrap straightener, and more recently, the vibrating flat iron. This nifty hair product has created a lot of buzz over the last few years, and has got hairstylists and consumers alike talking. However, how do they compare to your average straighteners?
The vibrations help to straighten your hair quicker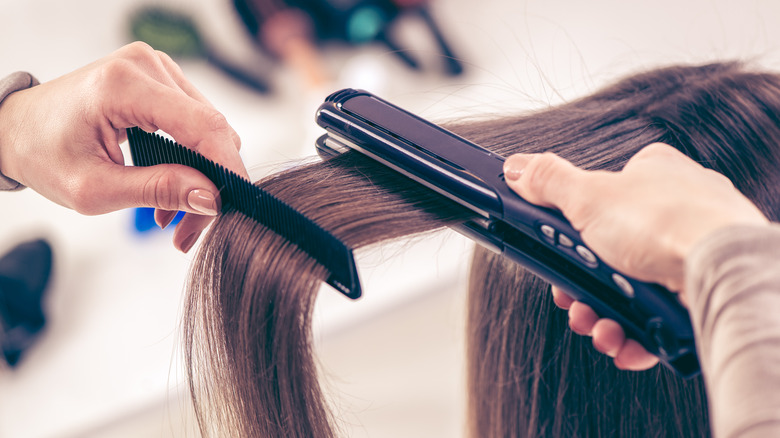 Milanmarkovic/Getty Images
Despite boasting the buzzword "vibrating," does this unique quality actually make them any better than your bang-average hair straightener? While it may seem like a peculiar characteristic for a hair styling product, the vibrations have plenty of positive impacts on your hair, and the science speaks for itself.
Advertisement
Compared to a traditional hair straightener, vibrating ones can significantly speed up the hair straightening process. As hairstylist Darrius Peace explained to Byrdie, this is because you only need to run it over your hair once, unlike traditional straighteners, which often require several runs over the hair. Of course, this is advantageous because you can get ready faster, minimizing the amount of time you spend getting glammed up and ready for action.
If you have lots of curly or thick hair, then news of this nifty trick may be music to your ears. Now, you'll be able to style your luscious mane in no time at all.
Vibrating straighteners cause less breakage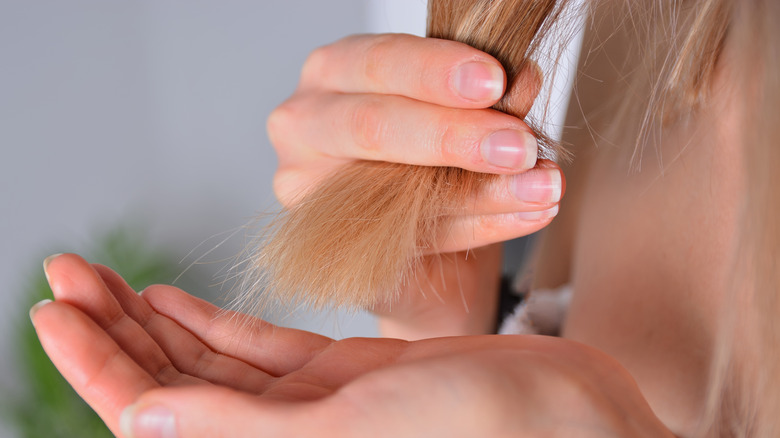 Emilija Randjelovic/Getty Images
Anyone who styles their hair with straighteners knows how damaging it can be, especially at consistently high temperatures. Standard straighteners operate at temperatures between 350 and 450 degrees Fahrenheit, ultimately frying your locks. Of course, repeated use of these tools is often a culprit for hair breakage for many individuals. While applying heat protectant can certainly help your tresses, it doesn't prevent hair damage altogether. Thankfully, there is another alternative.
Advertisement
That's right — vibrating straighteners are here to give your hair the pampering it deserves. This funky hair styling tool causes less breakage than traditional straighteners. For already obvious reasons, this is quite a substantial benefit. Using the vibrating version will result in less damage being inflicted on your luscious mane.
This reduction is possible due to the vibrating qualities of the straighteners, NYC-based hairstylist Ezmy Rizzo explained to Brydie. Going into further detail, she explains that there's less friction involved, which means that your hair cuticles are more likely to stay sealed and intact. This will likely inflict less damage on your hair when compared to traditional straighteners, which may cause your hair cuticles to rise and swell.
Advertisement
It may work better to iron out kinks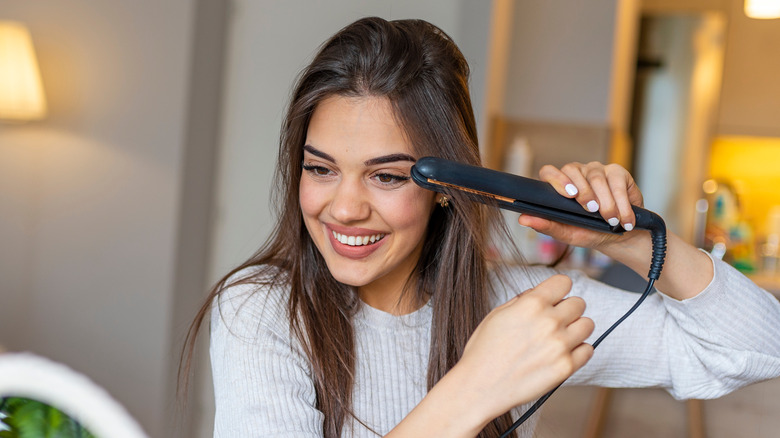 Dragana Gordic/Shutterstock
If you often wear your hair up, then you may be all too familiar with that pesky kink mark that seems to make itself right at home in your hair after long wear. It can ruin an entire look. However, if you have curly hair, you may often feel the frustration of taming your curls with a straightener. While it does the job, sometimes it can feel like you're styling your hair for an eternity. However, one thing a vibrating straightener seems to be good for is straightening out kinks.
Advertisement
Of course, this is thanks to the vibrating effects. The vibrations in the straighteners help to detangle any kinks or curls in your hair much more effectively, a sentiment that a video producer from Glamour echoed. In her review, video producer Azadeh Valanejad insists, "it works way better on my kinky roots than a normal iron." So, if you always find yourself ironing over kinks and curls in your hair, then maybe you should reach for a vibrating flat iron next time.
Less frizz and smoother results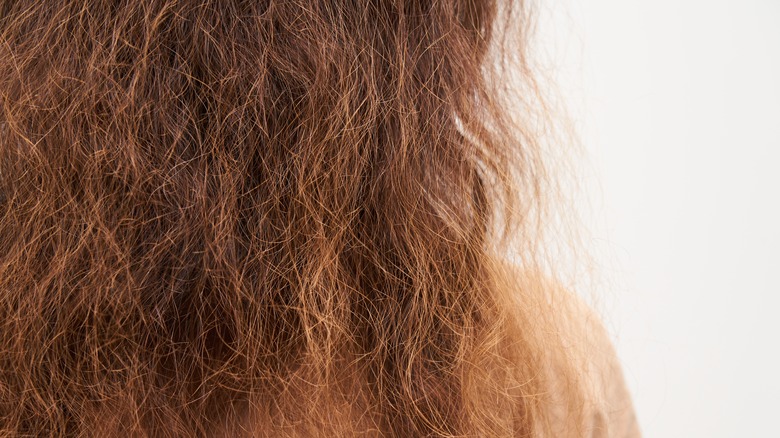 Anna Zheludkova/Shutterstock
For some people with curly, thin, or frizzy hair, humidity can quickly ruin all your straightening efforts in the blink of an eye. However, while it may not eliminate the effects of humidity completely, vibrating straighteners can definitely help you to achieve smoother results when styling your hair. Once again, this comes down to the vibrations of the plates, resulting in smoother hair using less heat. NYC-based hairstylist Ezmy Rizzo tells Brydie: "The unique vibrating plates [in a vibrating flatiron] not only prevent heat damage but also restore damaged hair by closing the opened cuticles." When the cuticles are open, this can leave them vulnerable to damage and cause frizz. Closing the hair cuticles will result in less frizz and smoother results, which is what happens when you use a vibrating straightener. 
Advertisement
Those who have officially tested the product have echoed similar views, adding that their hair is "smoother" and "silkier" than if they used a regular straightener. This seems to ring particularly true for those with wavy and curly hair.
It uses less heat on your hair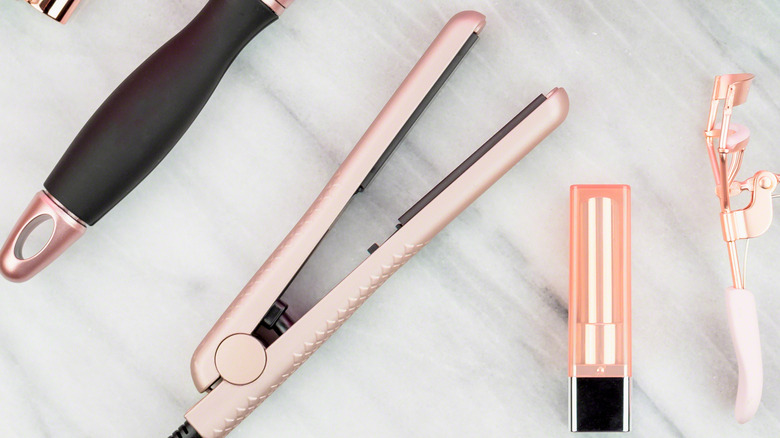 Kristen Prahl/Getty Images
One great benefit of vibrating hair straighteners is that they use a reduced amount of heat on your hair, making them a much better choice when choosing between a hair styling product to use. Of course, less heat equals less damage, so this benefit is a big win for your hair. As a result, you should see less breakage, and it may even help your hair to grow more than it would with a traditional straightener. However, you should still be using heat-protecting products to keep the health of your hair in check and prevent any unwanted heat damage.
Advertisement
While they use less heat, it is important to remember that both normal straighteners and vibrating ones still treat your hair at high temperatures. Although the amount of damage and heat will be reduced with the vibrating alternative, it will impact your hair over the long term — just like any product that uses heat on your hair. To combat this, you can use the product less often or ensure you take care of your hair properly each time. However, when it comes down to which product is better for your hair, the clear winner in this instance is the vibrating straighteners. Likewise, make sure you find the right straightener for your hair type before deciding.