The Type Of Brush Girlies With Thick Hair Should Use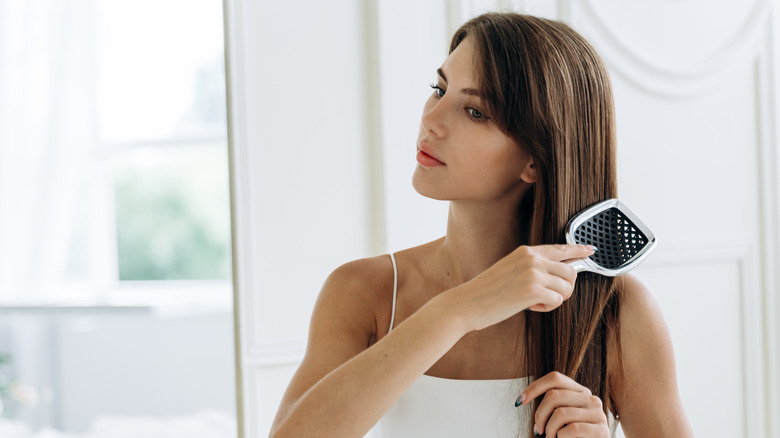 Sklo Studio/Shutterstock
Hair care has many steps to it, as skincare does, and finding the perfect brush for your hair type is essential to prevent breakage and damage. The feeling you get after leaving the salon with a fresh haircut and bouncy and shiny hair makes you feel like a new person. That feeling goes away when you wash your hair after a couple of days and try to style it, but it's not cooperating. Your hairbrush could be the problem, and if you've been using the same one for years, it's time to toss it. Since everyone has different hair types, such as fine, coarse, curly, and thick, one brush works better than others.
In addition, some hairbrushes help add volume to your hair and detangle any knots. You might've heard that you shouldn't brush your hair when it's wet because it's more fragile, which causes split ends and can pull hair from the root. If you have thicker hair, you especially want to avoid brushing your wet hair. According to UC San Diego, thick hair is weaker than thin hair due to the way that it breaks. Thinner hair can withstand greater tension than thicker hair, so it doesn't break as easily. If you have thicker hair, you'll want to take care of it as much as possible with the right hairbrush.
Use a paddle brush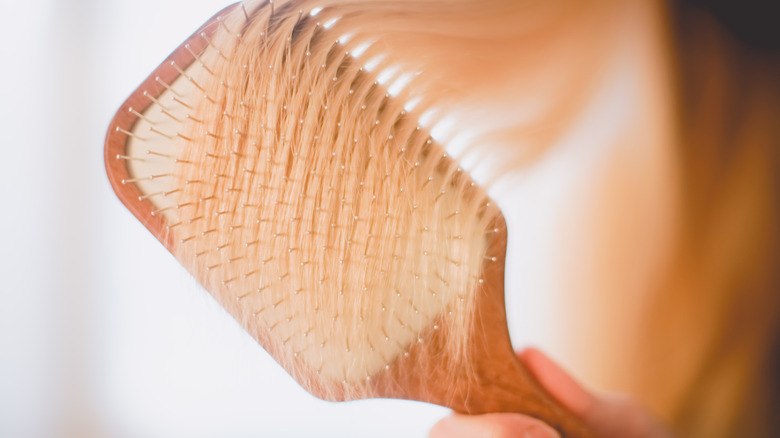 newsony/Shutterstock
Having thicker hair has its perks and downfalls. You can get away with washing it one to two times a week, but it can be hard to manage and style without the right products and tools. In addition, thick hair has many needs, such as providing extra hydration and nutrients to tame any frizz. The type of hairbrush you use can help with almost every issue. Paddle brushes with nylon bristles are ideal for thick hair types. The nylon bristles will help carefully detangle your hair without you having to pull through the strands harshly. Plus, the paddle brushes are more expansive in shape, so the bristles are spread farther apart, allowing them to penetrate the denser strands.
On the other hand, you can use brushes with boar bristles that give your hair many benefits. They're perfect for adding shine and smoothness, detangling the strands, and styling. Plus, their bristles are much softer than low-quality hairbrush bristles, so they'll leave your hair soft while protecting it from damage. Sally Beauty has a professional cushion hair brush with nylon and boar bristles for $9.99.
Hairbrushes for styling thick hair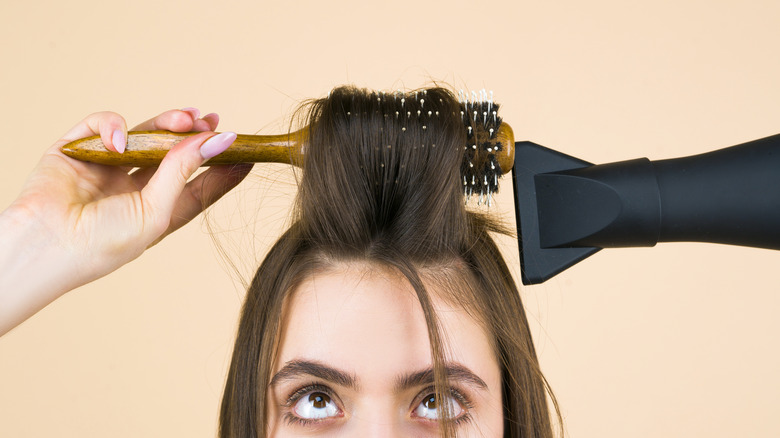 Puppy 9/Shutterstock
Brushing your hair to detangle it is different than finding hairbrushes that will help style it, especially for thicker hair. It's vital to note that you should be prepping your hair with an oil or detangler spray before brushing or styling your hair to add extra protection. If you have thick and curly hair, you want to have a couple of different brushes to help maintain the frizz and keep it shiny. If you'd rather brush your hair when it's wet than dry, consider using a wide-tooth comb with the brush to work through your hair. It allows for more hair to pass through the spaced bristles of the brush while detangling it.
Various hairbrush brands range in price and quality. To get the best use out of a brush, buy one that will last a long time and do the most for your hair. To style thick curly hair, a round styling brush allows you to shape your curls easier while you blow dry it or let it air dry. Use hairbrushes that have ionic technology, a coating along the bristles that will help smooth and style your hair. On the other hand, if you have thick hair that needs volume after it's been styled, you could use a teasing comb or oval brush to give the roots of your hair some extra oomph.