Growing Out Bangs: Our Guide To Trusting And Loving The Process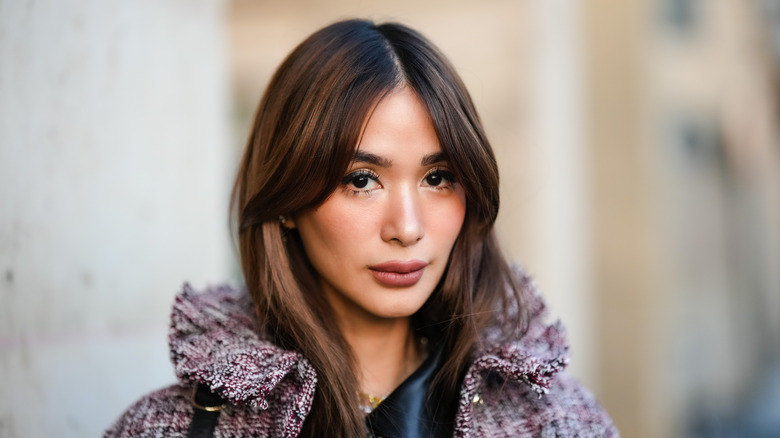 Edward Berthelot/Getty Images
It seems that everyone has to go through a bangs phase at least once. Whether they're hastily cut on impulse with a pair of kitchen scissors (don't do this, please) or decided on in the hair salon as a bold switch from your normal trim, this haircut is, essentially, a rite of passage. For some, it works, giving off a cool-girl chic look akin to Dakota Johnson's famous style. Others, however, might find themselves regretting their decision or looking to go back to the basics after facing the annoyances of styling and maintenance.
Unfortunately, getting back to square one isn't as easy as the first chop. Growing out straight bangs can be a bit of an awkward process as you attempt to blend the shorter pieces with the rest of your hair. Luckily, however, there are a few ways to make it through the growth phase without hating the look of your hair, meaning you'll get back to all-over length seemingly quicker and more comfortably.
Resist the urge to trim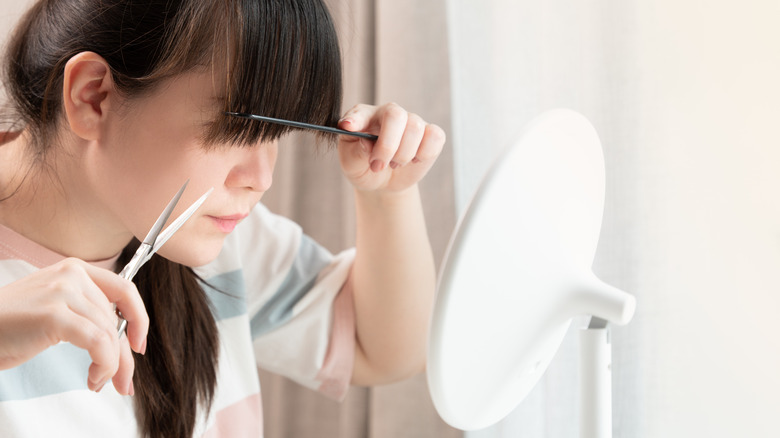 myboys.me/Shutterstock
The first step to growing out your bangs should always be putting down the scissors. When you first decide to forgo trimming, your hair will likely be nearing an annoying mid-length where it's long enough to get in your eyes and blow around throughout the day. Whatever you do, resist the urge to trim "just a little bit" off to make yourself more comfortable. Your hair grows about an inch every two months, so even a little trim can take you back on your progress by a large chunk of time.
Instead, stick with styling throughout this phase, adding some volume with a round brush to cause the ends to sit a bit higher than they would if they were flat. Once you have a bit more flexibility with the length, you can experiment with different looks to keep your hair out of your eyes throughout the day.
Try out the curtain bang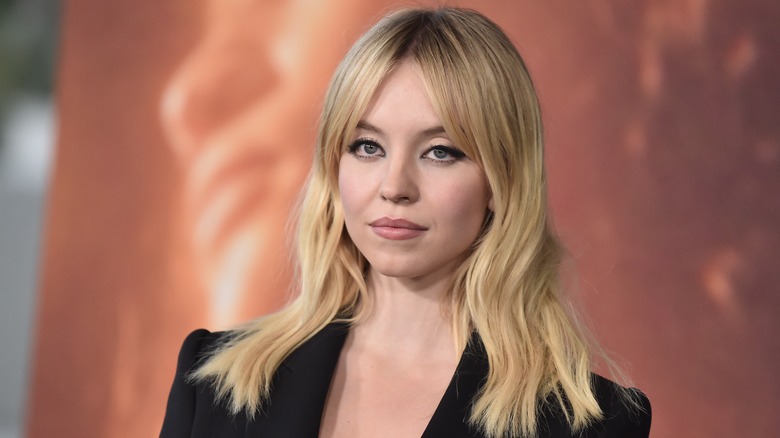 DFree/Shutterstock
Once you've made it through the first few weeks of awkward growth, consider going for a curtain bang. This retro-inspired style has been popping up everywhere as a more casual take on the straight-across bang, and it can help you keep your regrowth out of the way while still looking cute. If you've had straight-across bangs for a while, note that your hair could need some training so it doesn't fall back into your face when you part it.
This style works best on a middle part, though switching your part over to the side can give you more of a side-bang look if that's what you prefer. When you get out of the shower, part your hair straight down the middle, then continue that part through your bangs. Blow dry the hair with a round brush away from the face to add volume and retrain the direction of your hair. After some time, you can allow it to air dry and trust it'll part naturally, but the first few weeks might take a bit more styling than you're used to.
Reshape if they're looking too blunt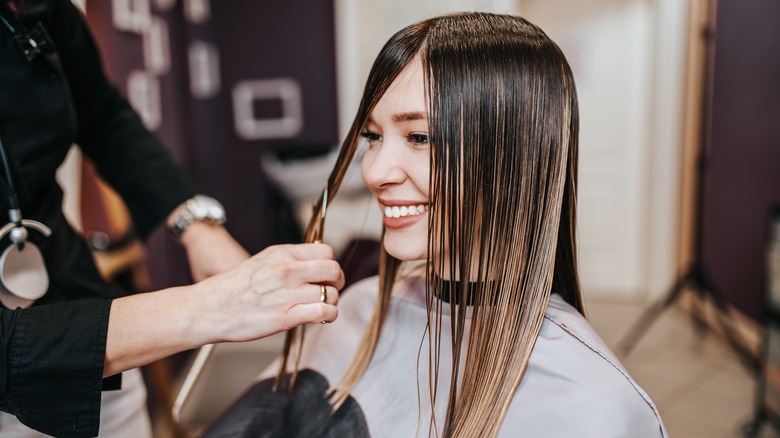 hedgehog94/Shutterstock
The last thing you want to do when you're trying to grow out your hair is to cut off any more length, but sometimes, blunt bangs need a bit more shaping to properly flow with the rest of the hair once they've been parted into more of a curtain shape. To avoid that harsh stair-step look, it might be necessary to take some weight off the ends and trim a bit of length towards the center of the face to create a more flattering fan shape.
This might seem like it will derail your progress, and it could set you back a bit if you're going for an all-over one-length look. However, a bit of shaping will allow your bangs to grow out and look intentional, passing through the curtain bang phase to a face-framing look. To do this, it's best to go to a professional and tell them your exact goals — they'll give you a cut that keeps as much length as possible but flatters your face.
Embrace hair accessories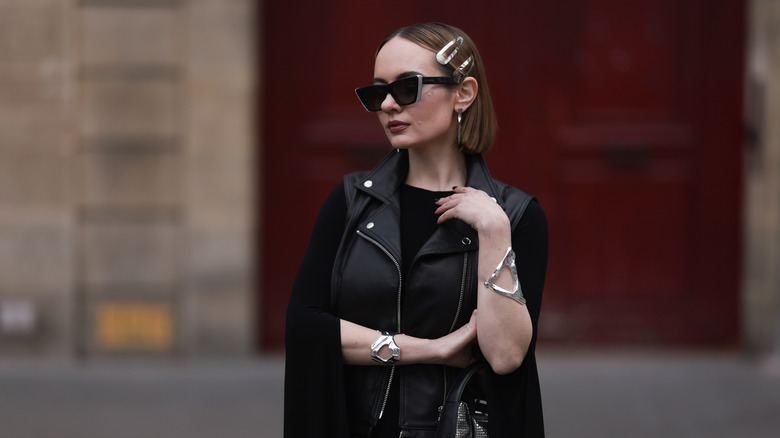 Jeremy Moeller/Getty Images
If you're completely over your bangs in any iteration and want to keep everything off your forehead, then embrace the hair accessory trend. Whether it's a sporty headband, punk-inspired clips, or even just a few simple bobby pins and a bit of hairspray, adding an accessory is the easiest way to ensure your hair stays out the way, especially if it's still too short to tuck behind your ears.
Different iterations of the hair accessory trend have popped up lately on runways and streets, so the number of products available on the market has seen a significant spike in the past few years, both in the beauty aisle of drugstores and from luxury fashion brands. This look isn't tied down to one specific aesthetic, so you're sure to find something that fits your personal style, from vintage-inspired, ornately decorated clips to sleek, metallic accents that add a bit of edge to an otherwise simple hairstyle.
Add a bit of texture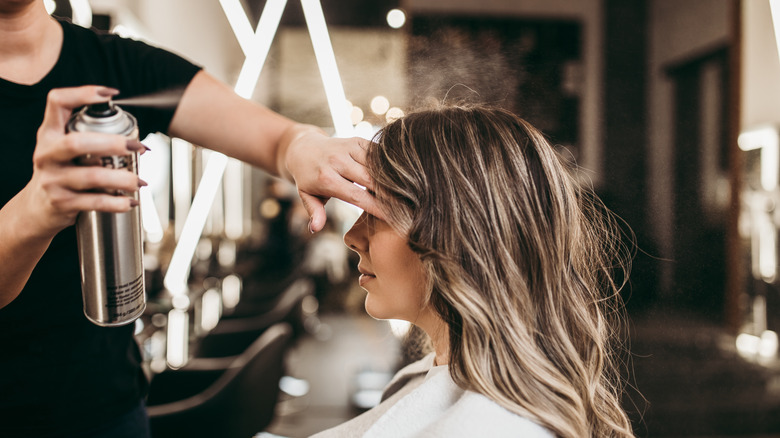 DuxX/Shutterstock
Silky, sleek locks are a gorgeous look, but when you're between cuts or in a bit of an awkward growth phase, a touch of texture will be your best friend. Curls, texturizing sprays, and matte finishes can help hide imperfections and camouflage different lengths, giving you more of an intentionally messy, effortlessly cool look than you'd get from something sleek and straight. 
Try blowing out your hair or adding a few undone curls, then spritzing in a bit of dry shampoo or texture spray around the roots and front pieces to create that volumized, bedhead look. When trying to create a seamless transition between hair lengths, look to techniques stylists use to blend extensions with shorter hair and incorporate them into your routine. Something as simple as adding a few layers during your next haircut can help with this, too, as cuts that are all one length tend to highlight any small imperfections and lack texture.
Gradually fade into face-framing layers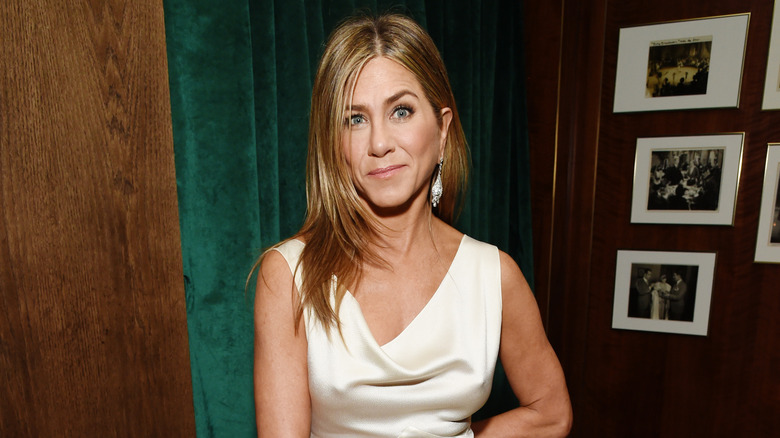 Michael Kovac/Getty Images
Finally — you've made it to the point where your bangs are just a whisper of a past idea. After about a year of growth, they'll likely be reaching a length somewhere around your chin, depending on how fast your hair grows and the length of your face, of course. Once you reach this point, it's time to go in for a cut to ensure everything flows together. Your stylist will likely recommend something with face-framing and a long, layered look.
This haircut helps disguise what's left of your bangs, but it also gives you a bouncy, easy-to-style look that can act as a stepping stone for another style. If you want an all-over blunt cut, hold on until the layers reach your desired length, then go in for the chop. If you crave shorter layers after dipping your toes in, head back a few months later for a wolf cut or shag to maximize your hair's body and movement.