Lined And Unlined Raincoats Are The Unsung Heroes Of Transitional Dressing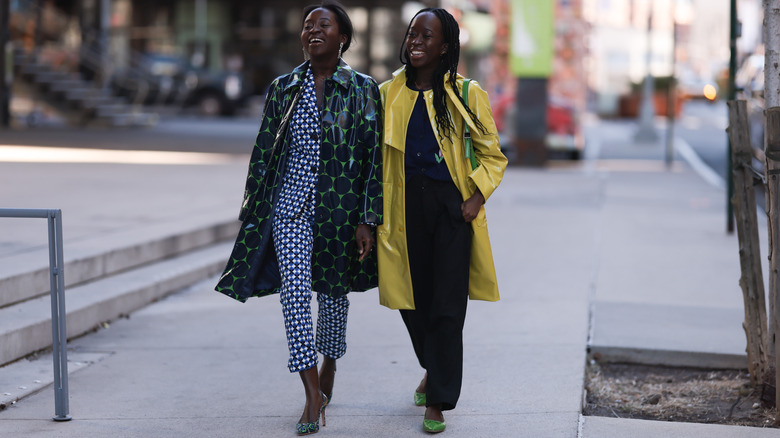 Jeremy Moeller/Getty Images
Dressing for temperature and weather changes between seasons, also known as transitional dressing, quickly reminds us of a core function of clothing: to protect us from the elements. In a very Tony Stark kind of way, clothing acts as an extension of our body's capability to maneuver through the environment. So as silver white winters melt into spring, we can use transitional dressing to be stylish and comfortable.
Advertisement
A transitional wardrobe is efficient and allows us to get more out of our fave pieces. But the ability to build outfits with pieces that can be worn all year is a coveted skill. And if you're looking to expand your skill set, raincoats are among those pieces that may be a useful addition to your arsenal.
While they protect us from the weather, and thanks to modern technology, from our sweat, raincoats are those pieces that may not get a lot of use, perhaps because of their very specific name. But raincoats don't have to be relegated to the rain. Lined or unlined, they can be a stylish alternative to a jacket or a sweater during those days when you just want a little more or less protection. Here are a few raincoats that may work for you.
Advertisement
An oversized raincoat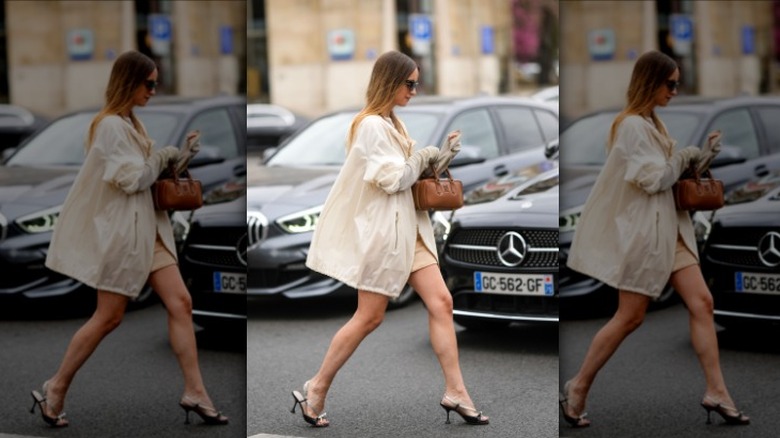 Edward Berthelot/Getty Images
While you may have the urge to wear a sweater or blazer when preparing for cool-ish weather, consider a lightweight oversized raincoat instead. And be sure to keep it in rotation as it will come in handy during those summer rainstorms. This voluminous one gives windbreaker vibes and wears like a part of the dress. With the sleeves rolled up, showing the long-sleeved shirt underneath, it creates on-the-go, billowing layers balanced by lots of bare leg below.
Advertisement
A puffer raincoat
A lined puffer coat that doubles as a raincoat prepares you for all kinds of unexpected weather. From fall through spring when weather can be unpredictable, a puffer raincoat gives you both protection and style, especially if you rely largely on public transportation. During transitional weather, you want to be sure to wear a couple of layers underneath just in case the temperature changes and you decide to carry your coat over your bag.
Advertisement
Raincoats with embellishments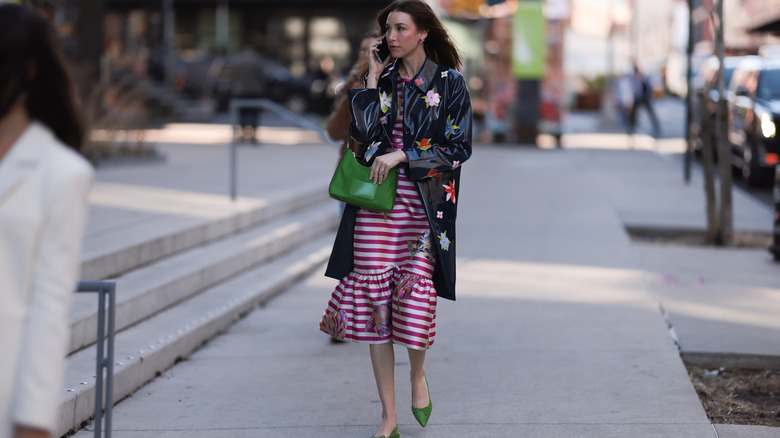 Jeremy Moeller/Getty Images
Raincoats are by nature functional items, and thus not often associated with embellishments. But we say, why not get a raincoat with floral appliqués? If we must brave the elements, let's do it with flair. This vinyl raincoat is lined, and what we typically think of when we envision a spring coat: a light-to-medium coat just right for those temperatures that require a little extra covering.
Advertisement
Colorblock style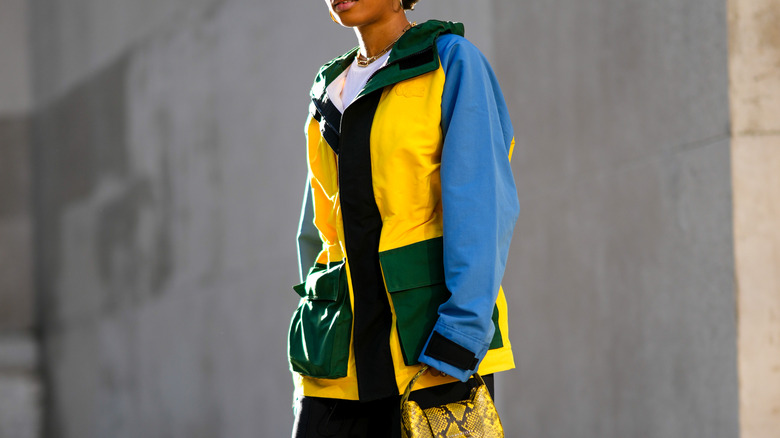 Edward Berthelot/Getty Images
If you're looking for something artsy, try a colorblock parka rain jacket. With its colorful geometric shapes, it livens up the coat, making it feel modern. This lined raincoat is classic and sporty, perfect for nature hikes or just wanting to project an outdoor, active look. The oversized green pockets make the coat super functional should you decide not to carry a large bag.
Advertisement
A classic yellow raincoat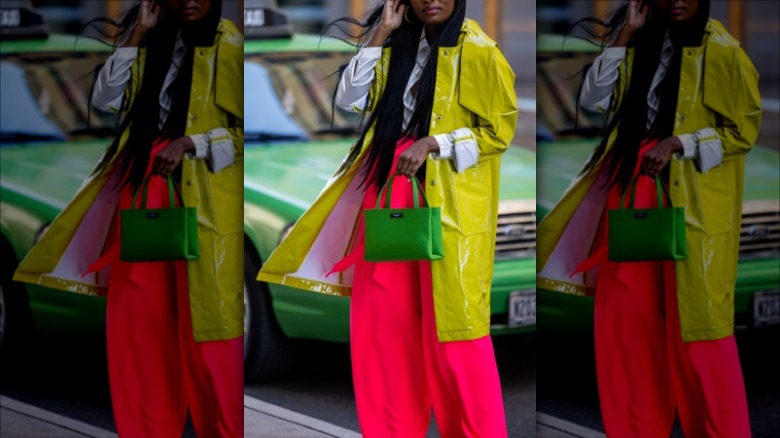 Christian Vierig/Getty Images
You really can't get any more classic than a yellow raincoat. This unlined vinyl one is suitable enough for a gust of wind or a light rain shower, and easily becomes the star of the outfit. Here, it's essential to balancing the pink pants, white shirt, and green bag, and looks smart and effortless.
Advertisement
Minimalist style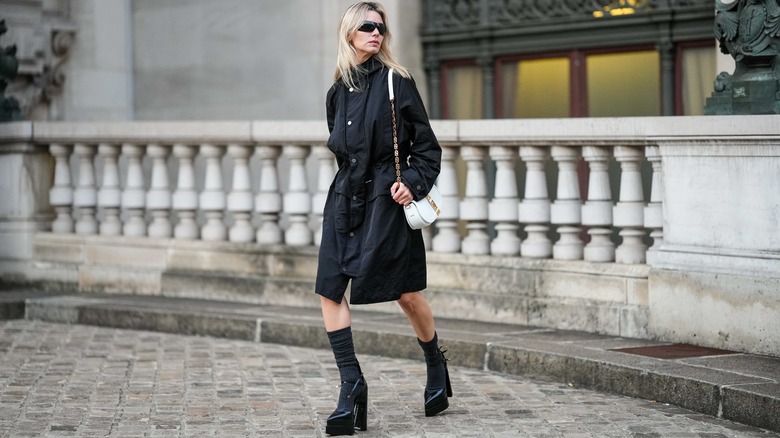 Edward Berthelot/Getty Images
This black lightweight parka raincoat feels full of minimal drama when worn with all black, and is perfectly suitable for those transitional periods during early fall and spring. It's also another interesting way to spruce up a coat so closely aligned with functionality. Here it feels utilitarian chic with platform heels and socks. There's also a mysterious edge — one can't help but wonder what she's wearing underneath.
Advertisement
Athleisure style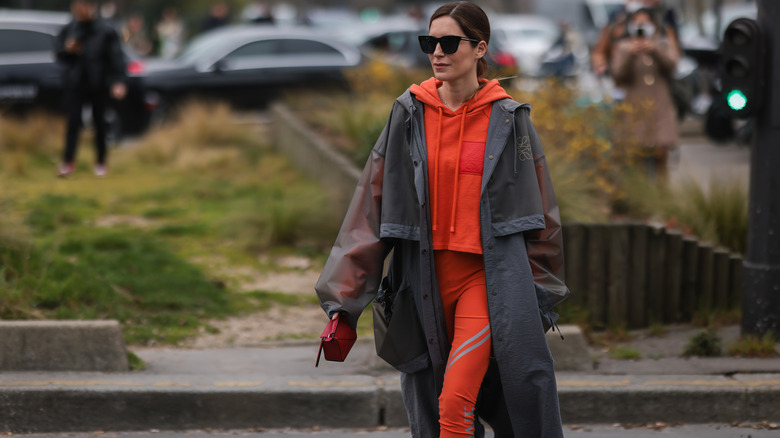 Jeremy Moeller/Getty Images
Go full athleisure glam in this semi-see-through lightweight raincoat. It's rugged enough to handle rain and wind in cooler and warmer temps, and sophisticated enough to elevate your athletic gear. While sneakers are perfectly fine, don't be afraid to wear select heels for a more upscale look.
Advertisement
A classic preppy raincoat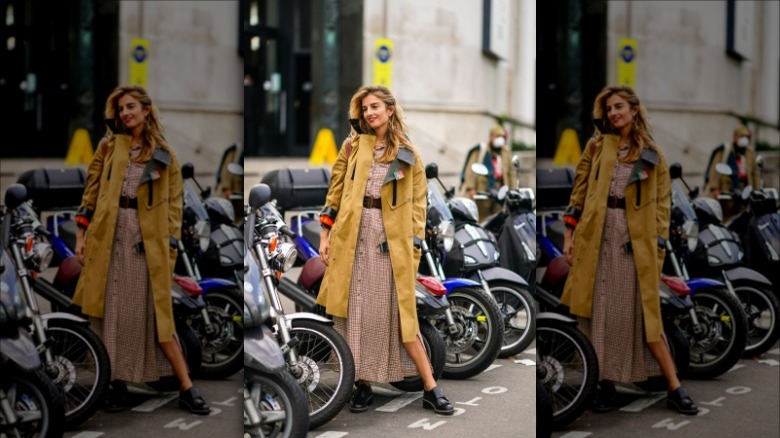 Edward Berthelot/Getty Images
Nothing says college in the fall like a mustard yellow lined raincoat. Paired with a maxi check dress and Oxford-style shoes, it feels refreshingly preppy. With this coat, you could probably hold off on the heavy winter coat a little longer. Paired with a scarf and tights or leggings, you'll likely buy yourself a few extra weeks past fall, and may even be able to make it through winter if you live in moderately cool climates.
Advertisement