The Simple Mascara Hack That Will Keep Your Lashes Curled Longer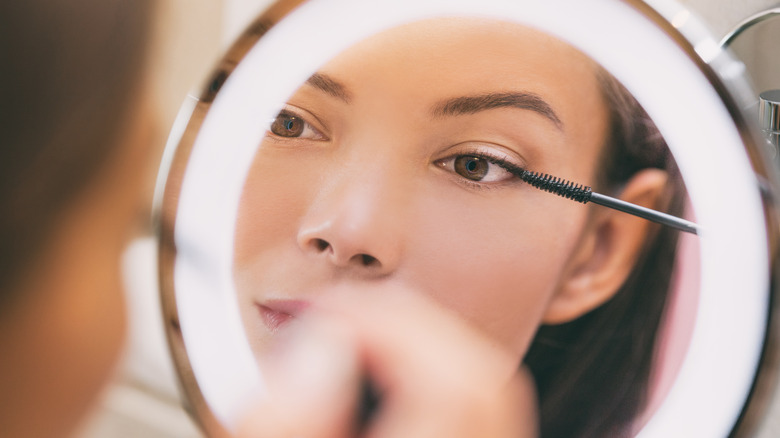 Maridav/Shutterstock
In 2022, an estimated 107.2 million women used mascara in the U.S. alone, a figure that reflects just how important this product, and the eye-opening effects it has, on our beauty routines. While many use this tool to amplify their lashes in order to create a more voluminous, eye-popping effect that will last all day, some products and techniques are better than others at achieving this.
One area of concern for many women is the length and curl of their lashes, with many often turning to lash lifts and extensions to achieve their desired lash goals. While these options are a great way to achieve long and curled lashes, they can cost a pretty penny in the long term. Fortunately, there is a more accessible, cheaper mascara hack you can employ that focuses on the amount of product you put on the brush. This hack is relatively simple and like many others of its kind, was born on TikTok.
Remove any excess from the mascara wand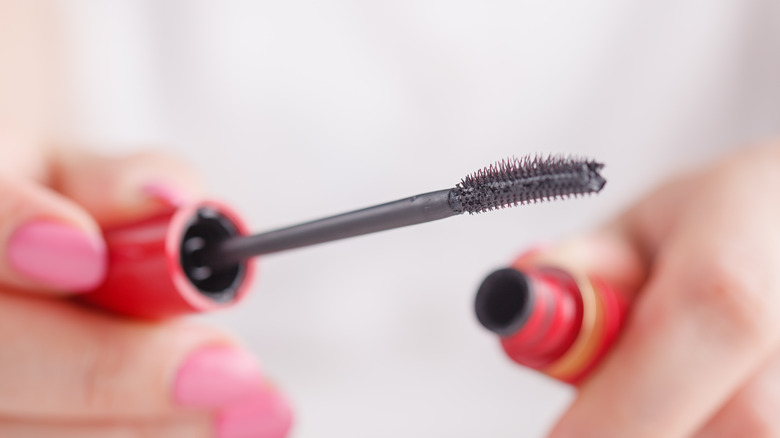 AndreyCherkasov/Shutterstock
If you've always dreamed of an easy way to keep your lashes curled longer, you're in luck! This simple TikTok hack should help you to achieve just that. To begin, it would help if you curled your lashes with a lash curler. Next, it's time to load up on mascara. To make your lashes curled for longer, discard any product build-up before using the applicator on yourself. This part is critical because if you apply too much mascara onto your eyelashes, they can become too heavy and start to drag down, with the product working against the curl rather than with it.  
In addition to potentially weighing down your lashes, excess mascara can also potentially cause clumping and will make your lashes stick together, which certainly isn't the look you want to achieve. In a perfect world, you want to be able to see each individual lash fanned out to help achieve a more curled look. If the worst-case scenario occurs, there are ways to fix clumpy mascara. Alongside removing excess mascara, the type of mascara you use will make a big difference in keeping your curled lashes in place.
Use waterproof mascara to keep your lashes curled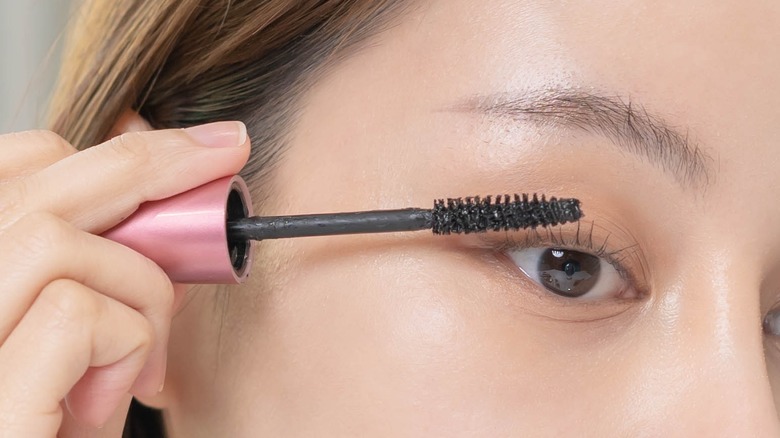 Kmpzzz/Shutterstock
While disregarding any excess mascara is a must, other elements are important to consider as well. The product you choose is essential and a fundamental part of this TikTok hack. So, what should you opt for? Waterproof mascara, which will help to hold your lashes and their curl in place for longer. This is just as important as the first step, as the two tips work harmoniously in combination with one another.
In addition, you may also want to try a technique known as mascara cocktailing. This process takes two different mascaras and mixes them to deliver a customized result tailored for you. In this case, it would be best to take two waterproof mascaras, each with different benefits, and apply them to your lashes. For example, one mascara may focus on volume, while another may concentrate on lash definition. This mix may help to define your curl even more.