Eyeshadow Can Make The Perfect Lipstick In A Pinch
A good lip color can make or break a look. It is a staple in any makeup routine because it draws attention directly to the center of the face. Finding the perfect color can depend on a number of things, such as the undertone, finish, opacity, and overall look you're trying to achieve. In fact, many are constantly trying to find new lipstick hacks, including how to make your lipstick look more structured, last longer, and feel better. But what do you do when you don't have the right color?
Advertisement
After all, we've all had that moment when we do our makeup and are ready to finish the look, but don't have the proper lipstick. Despite popular belief, the answer to your problems might not be buying a completely different shade but instead using something you already have — eyeshadow. Eyeshadow is the perfect alternative when you don't have the right lipstick.
Eyeshadow for lipstick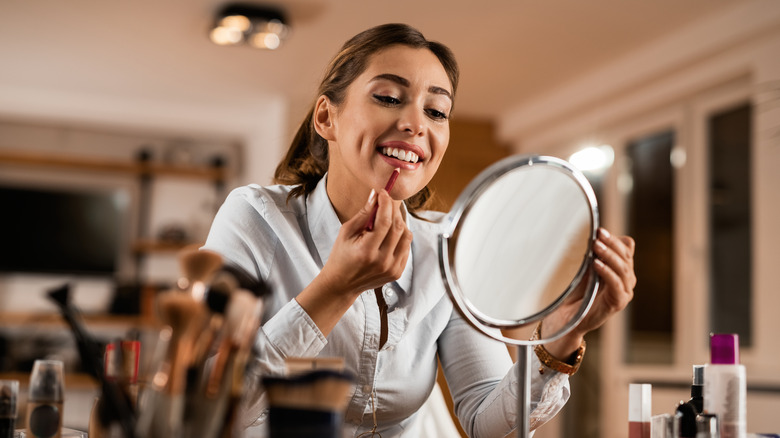 Drazen Zigic/Getty Images
If you have an eyeshadow palette, you might have your perfect lip color already available. In each palette, there are myriads of colors that you have already established to suit your skin tone. While it may seem like a ridiculous idea, it's really easy to turn your eyeshadow into lipstick.
Advertisement
Lindsay Ebbin, a celebrity makeup artist, has used this hack regularly during fashion shows and celebrity events. "You can use shadow for lipstick, with color lasting for up to two hours," she explained to InStyle. All you need is an eyeshadow, lip primer, and a lip pencil, according to Ebbin. You start by putting on the lip primer, which should leave your lips hydrated and prepped. From there, you line your lips with a shade similar to your eyeshadow of choice. Afterward, you finish off the look with an eyeshadow on top and blend for a complete look.
Create a beautiful ombré effect
Fortunately, not only can you turn eyeshadow into lipstick, but you can now take a unique spin on the color. In other words, if you have a cream eyeshadow, you can go on to create a beautiful ombré effect, explains Lindsay Ebbin to InStyle. To do this you will need lipstick and cream eyeshadow.
Advertisement
However, before you start, it's important to prepare your lips for matte lipstick by exfoliating and then hydrating with a lip primer or balm. Once prepped, Ebbin recommends putting on a lipstick of your choice, as your base color. From there, she suggests you use a cream eyeshadow that is in the same color family and place it at the center of the lips. A pro tip that she adds is to make sure the eyeshadow is also lighter than the lipstick. On the other hand, if you're looking to add a little sparkle, consider a glittery cream shadow to add shine to the lips.