12 Tips For The Perfect Preppy Makeup Look
One of the beauties of makeup is that you can consistently create looks that are all your own and don't fit into any standard. On the flip side, there are hundreds of looks from which you can draw inspiration. One aesthetic that's seen a comeback in recent years is the preppy look.
Advertisement
Born from the East Coast, the preppy look takes notes from prep school uniforms and people dressed to spend their afternoon on a boat without even considering getting in the water. It's a sophisticated look and no longer reserved for people living on America's periphery.
To complete the look, your makeup has to be on point. And just as there are several tenets for dressing preppy, there are loads of tricks to getting your makeup for this elevated look just right. If you gravitate toward the preppy aesthetic or plan to spend the day buying polos, use these 12 tips for the perfect preppy makeup look.
Choose the right colors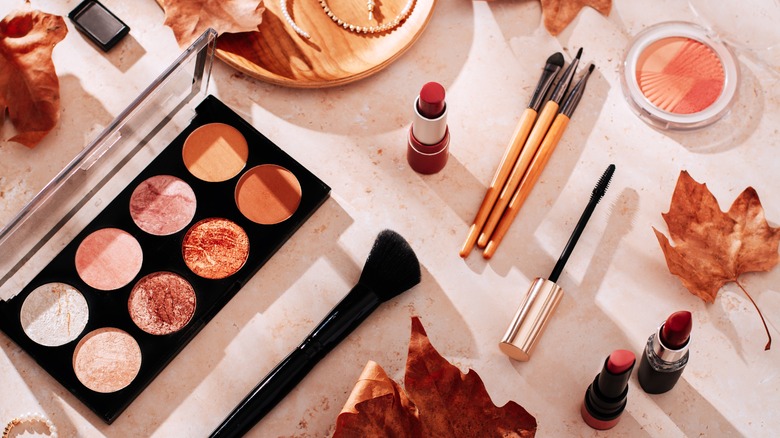 Maria Shipakina/Shutterstock
Before you even begin to apply your preppy makeup, make sure you have selected the right colors, both for the aesthetic and skin tone. Let's start with the aesthetic. A preppy look favors pastels over neons and neutrals over bold colors, and your makeup choices should reflect that.
Advertisement
Preppy looks are also defined by cohesion, so before you begin applying, ensure your choices of product— eyeshadow, blush, lip gloss, etc. — fit the preppy aesthetic in color choice and how the colors fit together. If you start with pale pinks, stick to pale pinks. If you favor peachy pinks, keep to peachy pinks. A preppy look is highly curated. Make sure your colors complement your skin tone, too, and use your undertones! Your undertones matter, and there are ways to figure them out.
If you need help, visit a makeup store like Sephora or Ulta for a color match. Or, if your foundation is the correct color, read its label or check online to see if it includes the undertones in its shade description. Undertones are categorized as cool, warm, neutral, and olive, and different portions of the color wheel will look better according to those categories. Cool-toned people should opt for pinks for their preppy looks, and warm-toned beauties will look fabulous in peaches. Those with neutral tones can pull off anything, and olive tones should find something from a cool-toned palette.
Advertisement
Start with a light base
nargiza_ir/Shutterstock
There are many similarities and differences between preppy and natural makeup, and one of the main similarities between the two is the choice of a base — and both favor a light base. Here, light references the weight of your base, not the shade. For a preppy look, avoid a base that's too heavy to make sure your healthy skin is the star of the show. There are tons of options for a light base, like a tinted moisturizer, a BB or CC cream, or even a light-coverage foundation.
Advertisement
And what exactly are the differences between these options? A BB cream is similar to foundation but is much lighter in weight and coverage. It'll even out your skin tone and cover imperfections, maintaining a natural finish. A CC cream is slightly heavier than a BB cream but not quite as heavy as a foundation. CC stands for "color correction," so if your goal is to combat redness while keeping a skin-like look, CC cream is a great option.
A tinted moisturizer is a moisturizer with a bit of pigment. It's not as full coverage as a foundation, but it also tends to be less buildable. Finally, foundation is the heaviest and most full-coverage of all the base options, but there are hundreds of options for light-coverage foundations that blur the skin while looking natural. Any option works for a preppy look, as long as it's not too heavy.
Advertisement
Go for a simple eyeliner look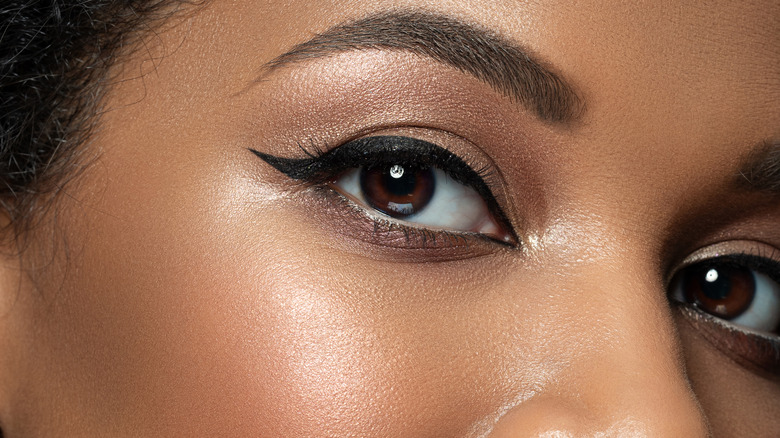 ldutko/Shutterstock
A preppy makeup look doesn't require eyeliner — there are tons of perfectly preppy faces smiling sans liner. But if you prefer to wear eyeliner, keep it simple when you're after a preppy look. Preppy makeup is light on the eyes, so avoid graphic or bold liner looks and opt for something a little simpler, like a fine line, a little wing, or a tightline. Any of these liner looks will accentuate your eyes without weighing them down.
Advertisement
And when we say simple, we're referring to how it looks, not the ease of achieving the look. Those simple liner looks can be terribly tough to master, but there are some tricks to the trade. If you're after a fine line (a thin line that runs right along your upper lash line), use a super thin liquid liner or a gel liner with an angled brush for ultimate precision, and make sure you're getting as close to the lashes as possible.
It might help to keep your eyes open for this process. To tightline, apply pigment to your waterline. A liner formulated for tightlining will help the pigment last all day, though it isn't necessary. Just avoid liquid liner for this step, as it won't dry. For a wing, use the same products you would for a fine line to ensure a sharp, precise wing, and try a winged liner hack or two to make the process a little easier.
Advertisement
Swipe on some neutral eyeshadow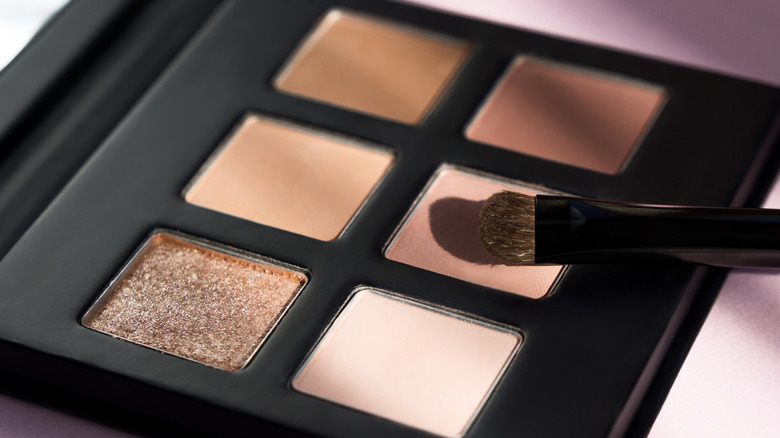 Anna Tretiak/Getty Images
For the perfect preppy eye, stick to neutral shadows. Preppy makeup is about enhancing your features rather than masking them. Use your undertones again to select neutral shades that complement your skin tone, and start experimenting with looks.
Advertisement
And don't conflate neutral with boring! There are myriad ways to apply neutral shadows that are still creative and exciting. Use a darker shade to carve out your crease and define the outer corner. Tap on a shimmer to make your eyes pop. Avoid anything too heavy, like a smokey eye, but don't feel limited either. You've got lots of options.
You can also go without eyeshadow. If neutrals aren't speaking to you, or you simply can't be bothered to deal with your lids, skip the shadow altogether and let your liner and lashes do the talking. There are dozens of ways to achieve the preppy look — use techniques that work best for you.
Rock wispy lashes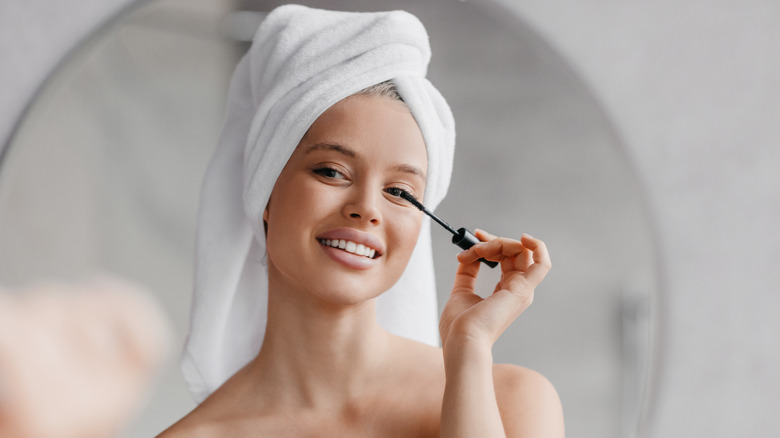 Prostock-studio/Getty Images
While full lashes have their place, it's not in a preppy makeup look. Your lashes should remain wispy and light. The best way to achieve this look is by sticking to mascaras that lightly cover the lashes and give them some extra length. If you want a little more oomph to your lashes, use your lash curler or combine mascaras for a bit of extra volume. But if you employ the latter technique, do so sparingly to avoid clumping. Opt for black or brown mascaras, and leave the fun colors for another time.
Advertisement
We get it, though: Sometimes a set of falsies is a must. If you're boycotting your natural lashes, there are still plenty of ways to achieve a preppy look. The key is selecting the right pair. False lashes range in styles from natural to full glam. For a preppy look, choose a lash that leans natural. It shouldn't be too voluminous or full but rather have a wispy, subtle look that adds length without being too dramatic. If you can't find a strip lash that suits the style, gluing on individual lashes is a great option. These allow for controlled placement and highlight your eyes while preserving the preppy look.
Keep your contour subtle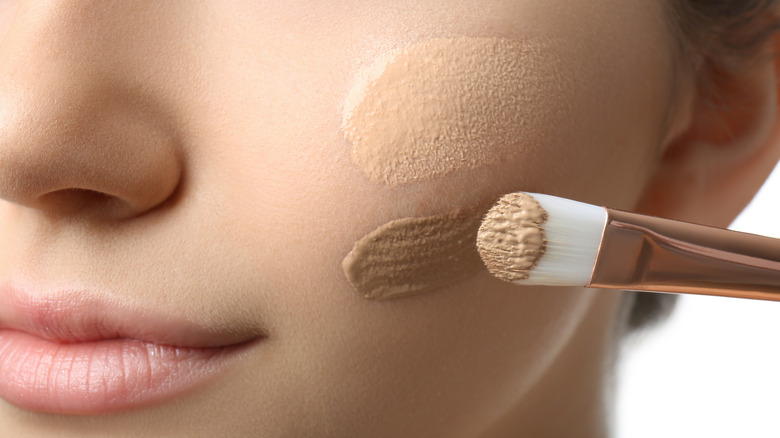 New Africa/Shutterstock
Painting a defined contour on your face is most certainly a skill worth honing, but it should be reserved for full-glam looks. For preppy makeup, a subtle contour is best, and there are plenty of techniques you can use to attain the look. One tip for a subtle contour is to use a product that isn't much darker than your natural shade.
Advertisement
Instead of using a product specifically made for contouring, use a concealer that's only a few shades darker than your natural shade. This will give your face the structure you're after without being too dramatic. Another technique you could try is TikTok's viral underpainting trend. This technique calls for contouring and highlighting before applying your foundation. Reversing the order of application gives you a more natural look, perfect for a preppy face.
And, of course, you don't have to contour at all. If you'd rather, you can bronze instead — just be careful not to overdo it and opt for something matte over a shimmery bronzer. You can also give nontouring a whirl, a technique in which you only highlight and skip contouring altogether. Just be sure not to confuse this technique with applying a highlighter where you would contour, as sculpting the face is best with matte products.
Advertisement
Flush out your cheeks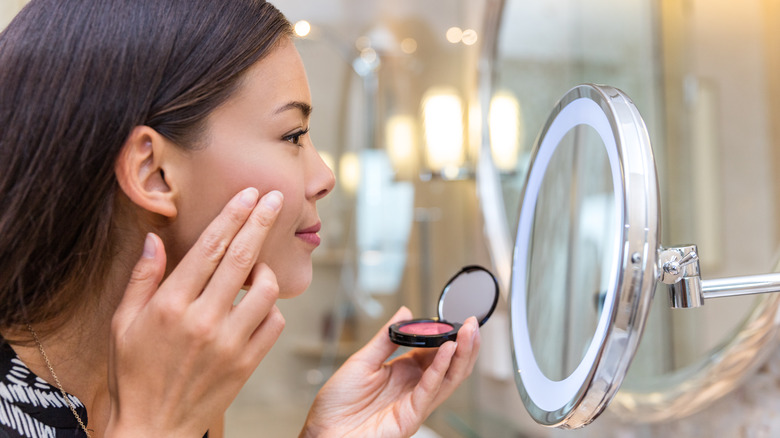 Maridav/Shutterstock
We noted earlier that preppy makeup is quite similar to natural makeup, particularly in the colors used. For your cheeks, a preppy look overlaps with a natural look. You want your cheeks to look rosy and flushed, so be generous with the blush and choose a color close to your natural flush. Gently squeeze your cheeks a bit to find that color, or use the inside of your lips as a guide. Either will point you to a natural shade that'll perfect your preppy face.
Advertisement
It can be easy to be heavy-handed when applying blush, but you want to avoid that when aiming for a preppy look. If you're using a powder blush, use a fluffy blush to apply. Swipe the product, tap the excess, and lightly apply it to your cheeks. It's much easier to build product than it is to remove it, so apply cautiously.
To properly apply cream or liquid blush, use a brush to pick up the product instead of applying it directly to your face. This will dilute the pigment a bit and allow you to blend it into a wider space, resulting in a more natural look. If the product is heavily pigmented, dab some on the back of your hand and use a brush to pick up the product before applying it to the face. All of these techniques will make for a stunning blush look.
Advertisement
Carve out some killer brows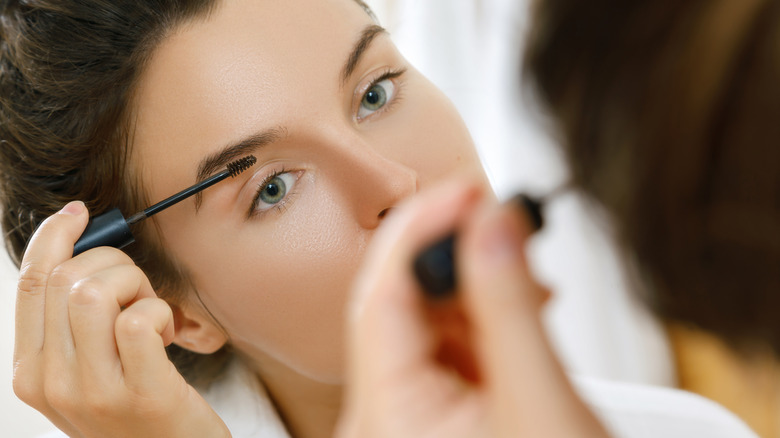 BLACKDAY/Shutterstock
One aspect of the face where preppy makeup differs from natural makeup is the brows. For a natural look, brows should, obviously, remain natural. For preppy makeup, though, brows need to look a little more put together. Instead of swiping a minimal amount of brow gel or simply plucking a few unruly hairs before leaving the house, break out your pomades and pencils and steady your hand for some major definition. You don't need to redefine your brow shape completely, but you do want to carve out the most meticulous brows you can master.
Advertisement
For a killer brow look, assemble an arsenal of products that match your natural brow shade and are meant for precision. You don't need to use a pomade, pencil, laminate, pen, powder, and gel all at once — instead, choose a combination of products that works for you. This could be a laminate to shape, a pencil to define, a gel for a base, and powder to fill in bald spots. If you're new to shaping and filling your brows, use your natural brow as a stencil and start with a product that has a spoolie end, as that will help correct any mistakes.
Try the fake freckle trend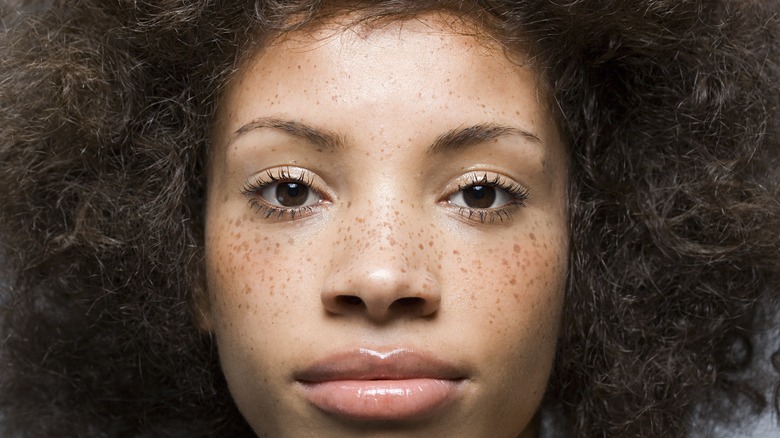 Image Source/Getty Images
If makeup is your creative outlet, a preppy look might feel a little stale. To add some flair to your routine, try the faux freckle trend. The fake freckle trend is exactly what it sounds like: a technique where you give yourself fake freckles. Utilizing this trend will allow you to be creative while still fitting the aesthetic, and the results will be totally adorable.
Advertisement
There is a makeup trick to give you faux freckles, and it's pretty simple to achieve — and no, it doesn't require you to draw hundreds of dots onto your face. To get the look, use either a pencil or liquid eyeliner. Freckles come in many shades, but choose one that would naturally occur on your face or body.
Flick a few dots onto your cheeks, nose, or both, then blend with your fingers using a stippling technique. This will blur the freckles and spread them across your face by picking up the product. If you want to define a few freckles, flick again with your product. This technique will give you darling freckles that everyone will think are natural. 
Opt for a near-natural lip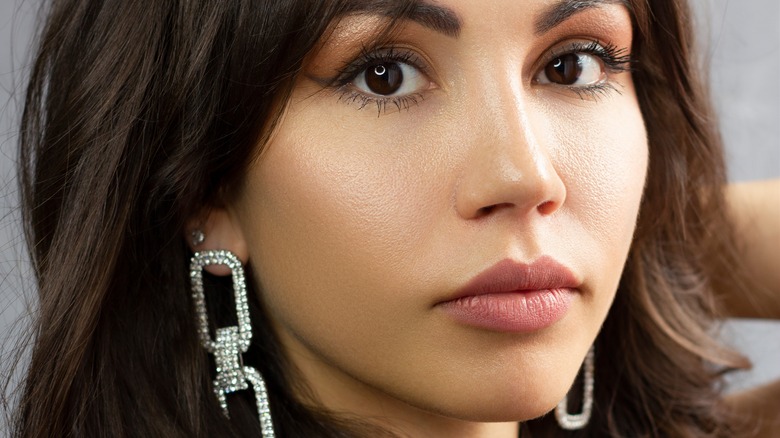 Shtennikova Evgenia/Shutterstock
By now, you've caught the drift: Preppy makeup favors an effortless look over full glam. The secret, though, is that you're actually putting in lots of effort. When you're rocking a preppy look, it might look like your makeup routine took five minutes, but in reality, you carefully chose each shade and technique to perfectly enhance your features — and that includes your lips. The perfect preppy lip is a my-lips-but-better lip. In other words, you're choosing a shade that closely resembles your natural shade, adding a little life to your lips.
Advertisement
The beauty of a my-lips-but-better lip is that it can be achieved in several ways. You can use a lightweight gloss that's ever so slightly pigmented. You can opt for matte lipstick if that's your preference. You can even line your lips in a shade nearly indistinguishable from your given hue for a bit more definition and blend the edges for a natural pout. Some people favor lip oil, while those who can't be bothered to reapply their product throughout the day go in with a lip stain. It may take some trial and error to find your perfect color, but once you do, you'll be able to create endless preppy looks.
Make it matte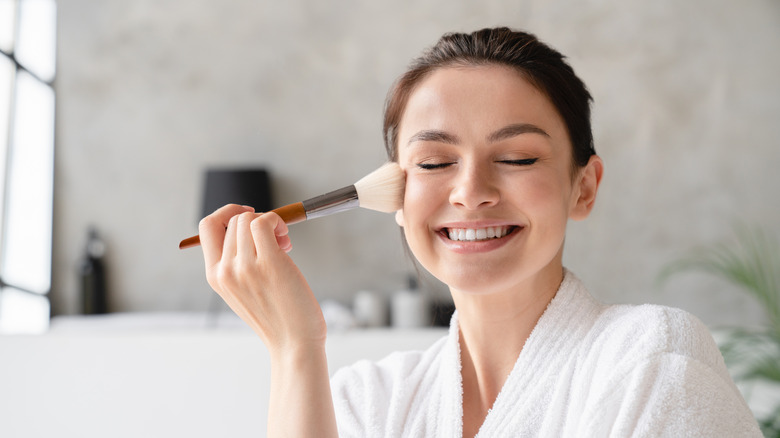 Inside Creative House/Shutterstock
While a dewy look is well and good, it's not typically in line with a preppy look. Preppy makeup favors a flawless, pore-free finish, so break out your setting powders and prepare to bake. If you're looking for preppy products, choose ones with a matte finish. Liquid products are typically marked by their finish, and powder products can be differentiated according to how they look in the pan. Avoid products with words like "luminous" or "glow," as those will give you unwanted shine.
Advertisement
The matte instructions are simply in reference to your base, though. There's plenty of room for shimmer and highlighter, just as long as they're placed in the proper spots. When applying highlighter, use a subtle amount of product on your cheekbones. This will give you a slight shimmer and shape without overdoing it. A bit more on your brow bones and the inner corners of your eyes will add to the look, too. Feel free to add shimmer to your eyelids and finish the look with lip gloss. Both are great ways to attain a glowy look while still remaining preppy.
Keep it simple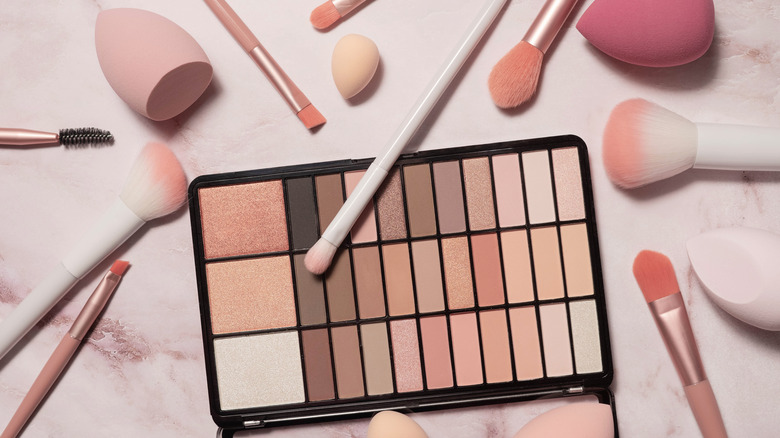 July Ko/Getty Images
An important factor in a preppy makeup look is simplicity in application. While all these tips lend to a beautiful look, there's no need to utilize them all every time you're applying preppy makeup. Keep your routine manageable. If you don't want to contour, don't. If you'd prefer to keep a bare face, skip the foundation. Your look should reflect you and make you feel beautiful.
Advertisement
If you're feeling overwhelmed, create your routine by prioritizing which features you want to stand out. If you love pronounced lips and pretty eyes, spend your time perfecting your pout and lash application. If your skin is your focus, direct your attention to applying base makeup that gives your ideal finish. Preppy makeup is not full glam, so don't spend hours blending your life away. With a couple of areas of focus on the face and products that work for you and not against you, a simple preppy makeup look is totally achievable.