Our Guide For Finding The Right Ponytail For Your Face Shape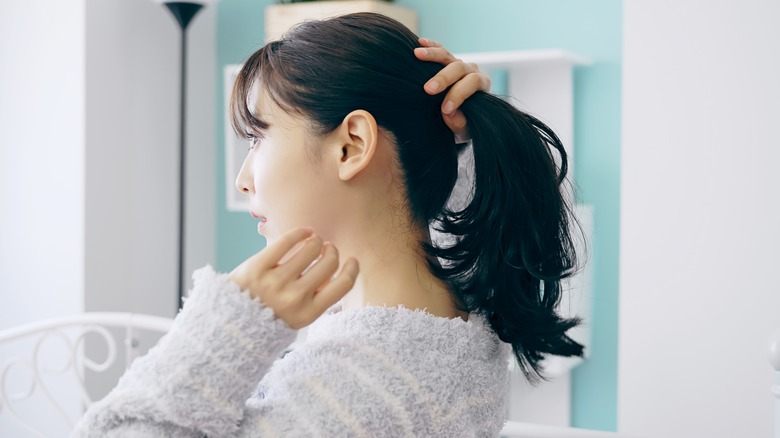 metamorworks/Shutterstock
Ponytails are first and foremost a functional hairstyle — it keeps strands out of our faces when we work out and hides frizz on a rainy day. However, ponytails can also be a fun way to spruce up your going-out look. You can fancy it up by adding dazzling jewels or incorporate some flirty braids into your 'do. There are also the options of doing a high pony or an elegant low one by the nape of your neck.
While you may want to grab an elastic band and swoop your hair up into the ponytail of your choice, it's important to keep your face shape in mind. Some styles may not be so flattering on certain face structures, while other ponies complement them perfectly. To figure out which ponytail suits you best, study your face to determine which shape it is. For some people, their face shapes may be obvious but others might fall into two categories. As long as you know your general shape, it'll be easy to figure out which ponytail best suits your face.
Oval faces look good with any hairstyle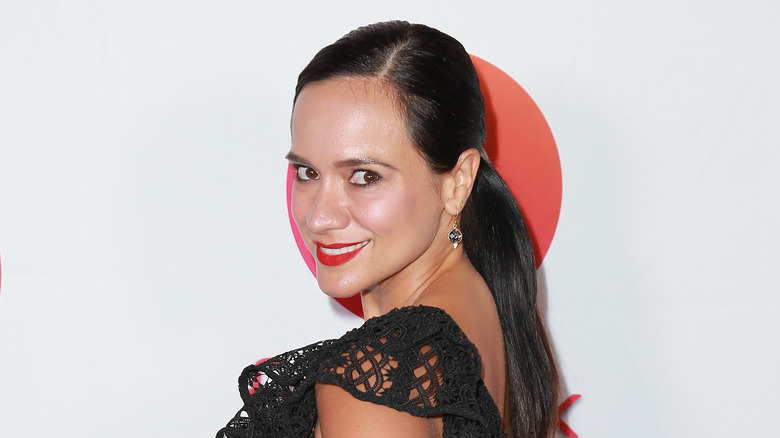 Leon Bennett/Getty Images
The most common is the oval shape, which is slightly longer from top to bottom than it is wide. The forehead and the chin are typically rounded evenly, with the cheekbones slightly wider than the rest of the face. Those that are blessed with an oval face can pull off any ponytail because of its uniform proportions.
If you have an oval face shape, why not play with symmetry? You can try a low pony with a deep side part. If you want a sleek 'do, spritz your hair with water and work some mousse into all your strands from roots to the ends. Using a fine-toothed comb, create a part on the side of your choice. Work your comb through your hair to get it smooth. Without disturbing your side part, blow dry your hair with a round brush, making sure to go in a downward motion. Gather your hair and secure it by the nape of your neck with an elastic band. Spray all over with hairspray and lightly go over any flyaways with your comb. The result should be a super-sleek, dramatic hairstyle that'll complement your oval face.
Round face shapes need volume at the crown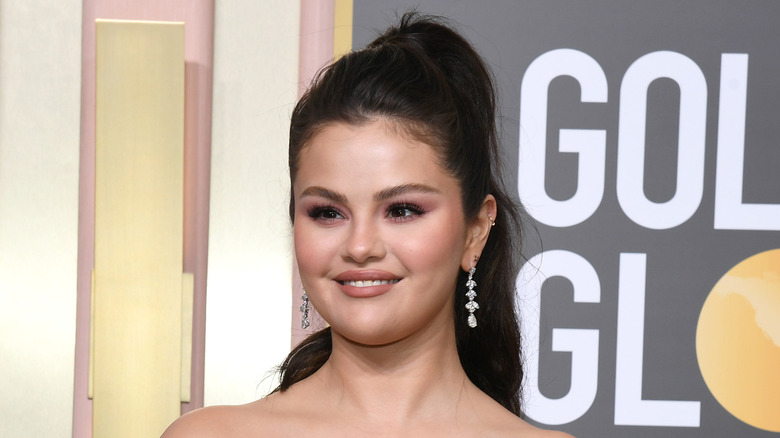 Jon Kopaloff/Getty Images
A round face shape is a slightly shortened version of the oval shape. Round faces have fuller cheeks and the jawlines are usually rounded, although some chins may have a slight point. With this shape, the distance between the foreheads and chins is similar to across the sides of the temples. In order to create the illusion of length, round faces need height at the tops of their heads. Add volume with a teased, high ponytail, rather than a slick hairdo which will only draw attention to the roundness.
Before you tie your hair into a ponytail, tease the hair at the crown of your head with a fine-toothed comb. Smooth the front part of your hair over the teased part and blast it with some hairspray. Tie your hair up at the highest point of the back of your head to create an even better illusion of height. Don't worry about making your strands perfectly smooth. This look is best when slightly messy.
Soften up a square face with flowing strands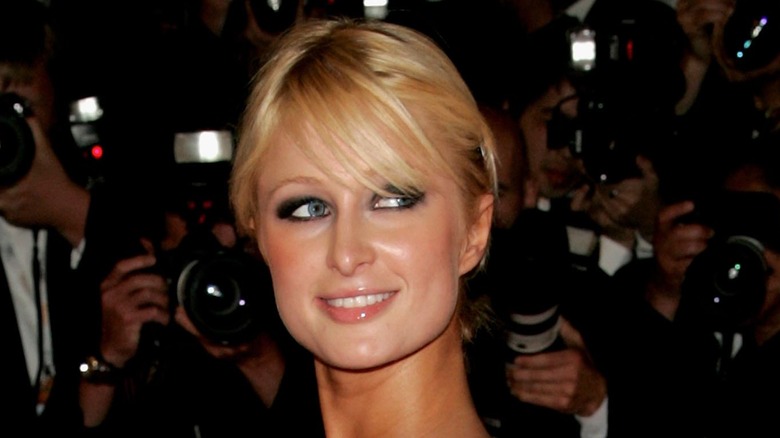 Peter Kramer/Getty Images
Square faces are characterized by a wide forehead and a sharp, angular jawline. Like round face shapes, the length and width are an equal distance apart. However, the sides of the face are less rounded and tend to go straight down in a vertical line. Rectangle faces are similar to square shapes but are longer from forehead to chin. Because of the sharp angles, square and rectangular shapes need a hairstyle that will soften up the face. A wavy ponytail with loose bangs is perfect for those with angular features.
Using a large barrel curling iron, create loose curls starting from the crown and working your way down. Tie your hair up midway on your head and then pull at the top to create some height. Keep some strands of hair loose to frame your face and soften up the edges. Long, layered bangs are also great for square and rectangular shapes. The only rule to remember is to stay away from tight, harsh ponytails.
Diamond face shapes should show off their cheekbones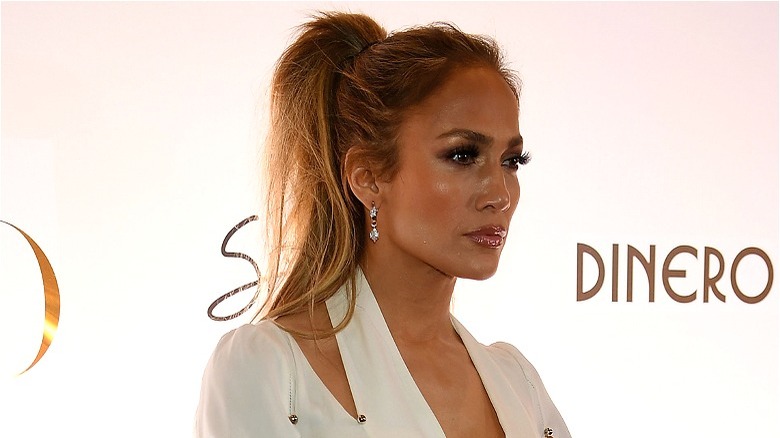 Denise Truscello/Getty Images
Much like an oval face, diamond shapes are blessed with symmetrical features. The difference is that their angles are more pronounced with high, striking cheekbones. Diamond faces usually have a narrow forehead and pointy chin, with the cheekbones being the widest part. If you're one of the lucky ones with high cheekbones, show them off with a high ponytail and side-swept bangs. While diamond face shapes can pretty much get away with any hairstyle, they look best with a bit of volume at the crown.
Tease only the back of the head into a mini-bouffant and tie your hair into a high pony. If you have bangs, sweep them off to one side in soft waves to frame your cheekbones. If you're fringe-free, loosen the front part of your hair from your ponytail and create some waves with a curling iron. A deep side part will soften up your angles while also highlighting your bone structure.
Heart-shaped faces need bangs to offset a wide forehead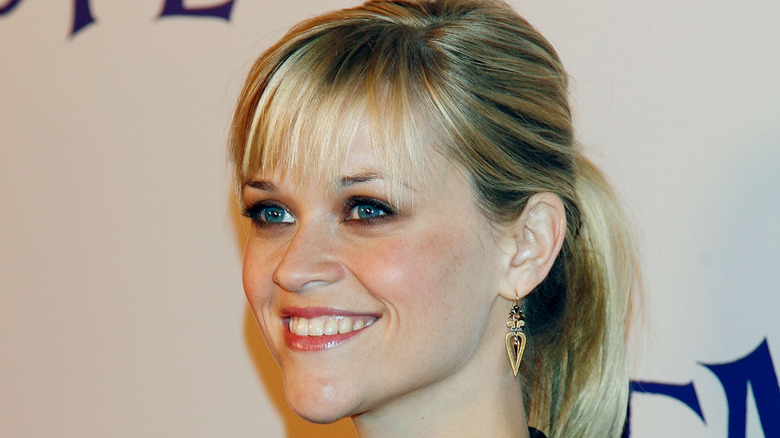 Kevin Winter/Getty Images
Those with heart-shaped faces have wide foreheads and delicate, pointed chins. Many heart shapes are also defined by a widow's peak, although not all have one. These face shapes look best with a touseled ponytail set to mid-height. The volume towards the bottom of the head will balance out a sharp chin. To offset a wide forehead, wispy, side-swept bangs look best with a heart-shaped face. If you want to go full-on with your fringe, don't do a blunt cut, which will only draw attention to the angles of your chin. Aim for softening curtain bangs with gradual layers.
You will want to avoid sleek, pulled-back ponytails. If you desire a smoother look, use a straightening iron to pull your bangs to one side and go over the ends of your ponytail, but try to keep the base of your hair lifted. With heart-shaped faces, it's all about drawing attention to your chiseled cheekbones!