Stiletto Lashes: The Spikey, '70s-Inspired Eye Trend That Adds Definition To The Face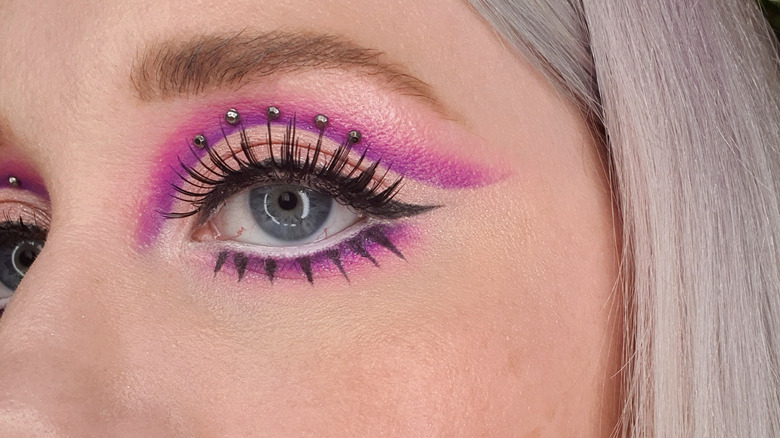 Studio_Loona/Shutterstock
The latest looks to be spotted on the red carpet or go viral on social media may seem shockingly bold at times, however, statement-makers and trendsetters have been pushing aesthetic boundaries for as long as people have focused on style. Just take a look back at the classic '60s hairdos and disco beauty from the '70s that are both too fabulous to fully leave in the past. That's not to mention eye-catching makeup, like spikey stiletto lashes.
Although plenty of fashionable folks rocked the look back in the day, one particularly iconic figure who made a specific style of stiletto lashes part of her signature look was none other than Twiggy. A model who was one of the faces of London's swinging '60s, Twiggy — whose real name is Dame Lesley Lawson — talked about her beloved lashes with Harper's Bazaar, saying, "Obviously I am very fond of that look."
"What a lot of people don't know is that I invented it at the tender age of 16, [pre-modeling]. It would take me one and a half hours to apply including three pairs of false eyelashes!" Lawson added. To finish things off, she would then create dramatic bottom lashes with lines that she painted on. These days, other celebrities have embraced a contemporary spin on stiletto lashes that you'll definitely want to try if you happen to appreciate adorable, edgy, or selfie-worthy trends.
Jenna Ortega and Zendaya slayed modern stiletto lashes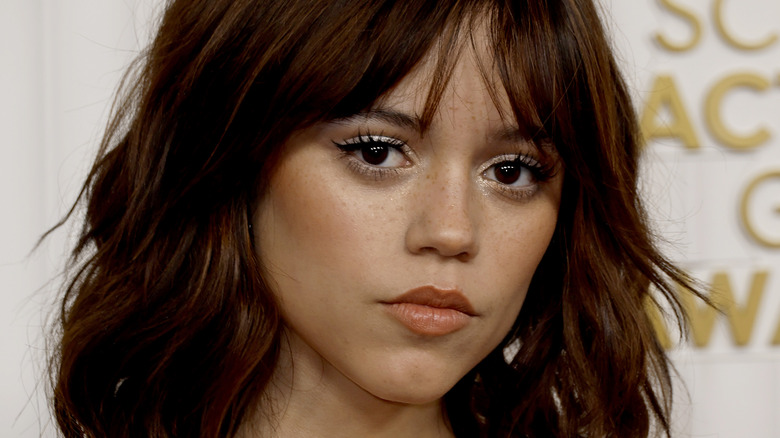 Frazer Harrison/Getty Images
When Zendaya made an appearance at the 29th Annual Screen Actors Guild Awards in February, she showed up with striking stiletto bottom lashes along with a wispy top row. That may not be terribly surprising considering she once told Glamour, "I love long lashes. I like that they open my eyes and make them pop."
During the industry event, Zendaya posed with fellow famous figure, Jenna Ortega, who also had opted for stiletto lashes (via J-14). However, she went with the top row. The Wednesday star's makeup artist, Vincent Oquendo, shared a photo on Instagram that showed off the celebrity's amazing style, first noting that they took inspiration from the original (now-retro) look. The pro went on to point out that they opted for a white eyeshadow to end up with the opposite of a smokey eye effect. That was followed by touches of both gold and silver in different shades and textures. "Finally, I used a very thin black liquid liner in the outer corner paired with just a few Stiletto individual lashes. Paired with a bronzed flushed cheek and a beige rosy lip it was the perfect complement to her vintage [V]ersace gown," Oquendo explained.
The makeup artist's followers praised the look in the comments, with one person saying, "Obsessed with this!! Need a tutorial." Fortunately, we happen to know exactly how you can create a look that includes stunning stiletto lashes.
How to achieve stylish stiletto lashes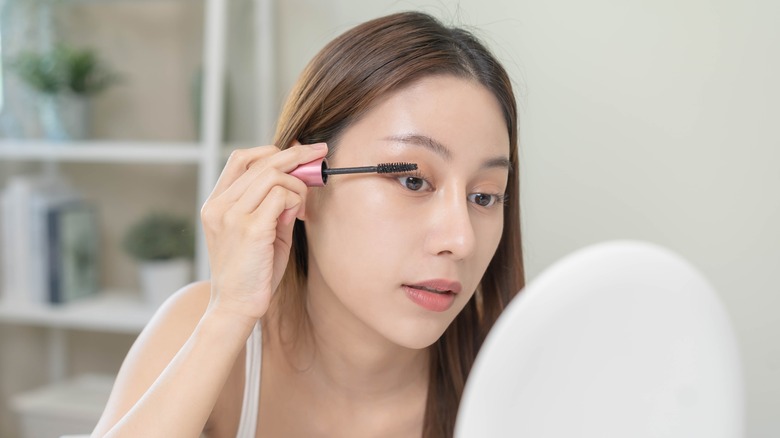 Kmpzzz/Shutterstock
If you've ever attempted spider or manga lashes, then you know styles that take advantage of spikey looks do something you usually want to avoid. That means creating separate sections as opposed to doing your best to avoid clumping. When chunky lashes became popular back in 2016, makeup artist Yadim told Vogue UK, "Instead of applying mascara in the way we're used to — root to tip — I dragged the wand along the tips of the lashes, going side to side and not necessarily coating each lash entirely. What this did was help to clump or stick the lashes together to create what looked like just five or six extra-thick, long, almost animated-looking lashes."
You can keep that method in mind while creating stiletto lashes. First, pop on a layer of black mascara. Now, to achieve the ideal points, grab a pair of tweezers and individual falsies. You can either apply the lashes along just the top lash line, the bottom, or both if you prefer while keeping them slightly spaced out. Finally, add a primer or light shadow to make your lashes pop.
Take your time and rework the placement of the lashes until you end up with something that is flattering for your eye shape. When you figure out what works best for you, then you may not be able to resist showing off your stiletto lashes along with your stiletto nails and, of course, stiletto shoes.