Eyeliner Colors That Make Green Eyes Shine Brighter Than An Emerald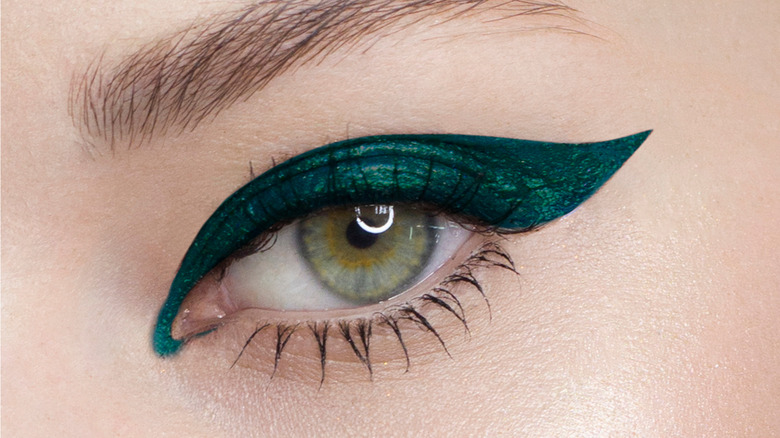 Shtennikova Evgenia/Shutterstock
There are quite a few famous figures who are lucky enough to boast camera-worthy green eyes. That includes Lindsay Lohan, Kate Hudson, and Emma Stone, as well as Scarlett Johansson, Gigi Hadid, and Charlize Theron. That may make it seem like it's a shade of eye that's relatively common, which may be true in places like Scotland and Ireland, according to Medical News Today. However, overall only 2% of people around the world have green eyes, which makes them quite uncommon compared to the 8% to 10% of people who have blue eyes and 70% to 79% with brown eyes. Beyond that, nearly 3% of people have gray eyes, while around 5% have hazel eyes, and the same goes for amber.
Whether it's because they're relatively rare or are just simply stunning, 20.3% of people deemed green eyes to be the top color when it came to attractiveness during a 2022 study (via My Vision). If you have green eyes, then this might give you a nice boost of confidence. It might also make you eager to enhance them in any way you can. For instance, you could opt for a flattering hair color or an eyeshadow that complements your particular pretty peepers.
If that second idea has piqued your interest, then you might also be intrigued by other makeup options that can make your irises pop. In that case, you'll definitely want to delve into eyeliner colors that make green eyes shine brighter than an emerald.
Everything from black to burgundy liner suits green eyes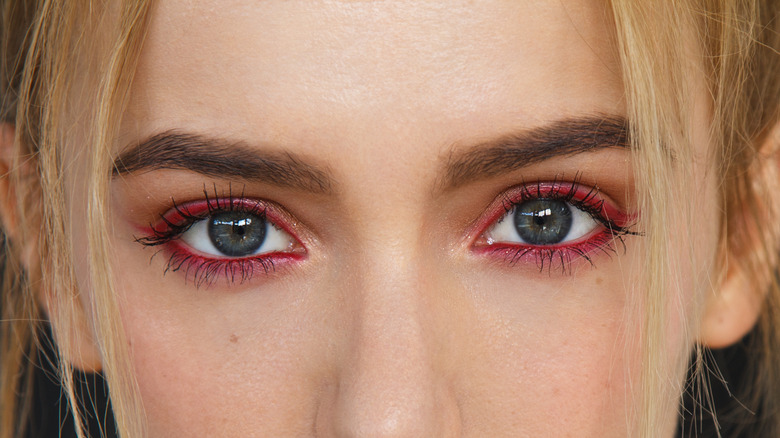 Andry5/Getty Images
There's no reason why you can't rely on a tried and true black eyeliner if you have green eyes. In fact, a sleek black liner can create a frame around your eyes that help the color stand out just like a jewel in the perfect ring setting. However, if you want to try something that is a little different but makes a big impact, then you can try liner that's pink, mauve, or other similar shades. Makeup artist Maria Gianno told Byrdie, "For green eyes, I love using burgundy colors or plums that have a brown undertone with a touch of purple to make your eyes mesmerizing."
Think along the lines of deep wine-colored tones and hues of amethyst. While makeup artist Analisa Marie of The Wildflower Collective agrees that this is an ideal shade range — mentioning rusty hues, clay tinges, and even hot pink — she also offered a word of caution. She explained to Byrdie, "[B]e wary here because you can quickly go from bold to looking irritated if you diffuse a color like this too much."
On top of that, green eyes may remind you of a gorgeous grassy meadow, which is perhaps one of the reasons why other earthy tones, such as a beautiful shade of brown work so well — a striking copper will certainly do the trick. Of course, those aren't the only potentially lusciously lustrous options you might want to consider.
Enhance green eyes with a metallic shimmer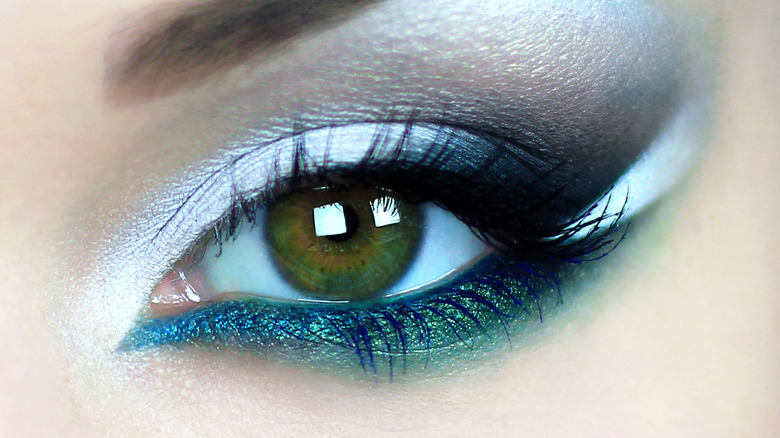 Donec Natalia/Shutterstock
Thanks to the fact that green eyes are the color of emeralds, you might want to help them truly shine by giving them a shimmery touch. Although the shade of eyeliner you choose is obviously your primary motivating factor when picking which one to use, you might also want to keep something else in mind. Makeup artist Melissa Hurkman, who has worked with Rihanna's Savage X Fenty, told Vogue, "As far as texture goes, using a shimmer, metallic, or glitter will accessorize the look..."
Granted, it's totally understandable if you associate metallic makeup with a retro disco-inspired beauty trend. However, there's no doubt that it can be given a contemporary twist. It's also something that you can wear during a day at work, while meeting up for coffee with friends, or when you step out for date night. Makeup artist Nicole Bueno pointed out while talking to New Beauty, "Silver (and metallics in general) will have us in a chokehold for the rest of the year. I think it's trending because we no longer see metallics as just party wear."
You also don't have to limit yourself to metallic shades. Instead, you can play around with a range of vibrant options, such as classic glittering gold and graphite gray, as well as mesmerizing marine blue, and yes, radiant rose hues would be the perfect choice for green eyes that deserve to be shown off.