What's The Difference Between Gel And Cream Eyeliner?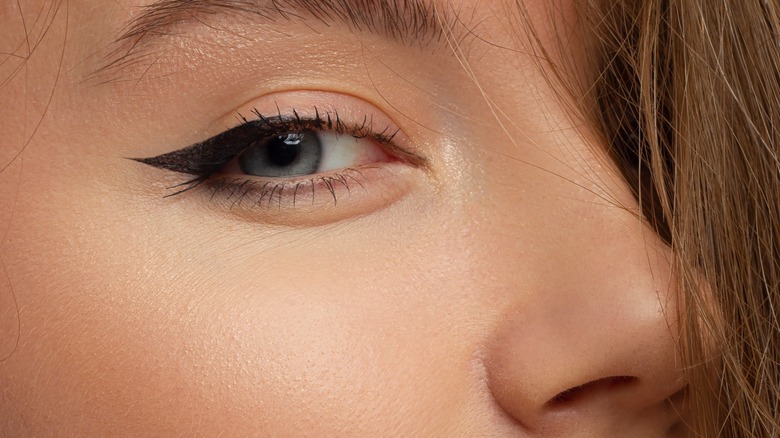 Shtennikova Evgenia/Shutterstock
Few things draw attention to the eyes like eyeliner. Drawn around the contours of the eyes, eyeliners do wonders in changing the appearance of the eye shape, making the lashes look thicker, and adding depth to the eyes. 
Eyeliners are available in a wide range of shades, from traditional dark hues — such as black and brown — to brighter colors like pink, yellow, and glitter. 
Texture-wise, eyeliners are available in four main types: pencil, liquid, gel, and cream. Each and every one of these eyeliners has its uniqueness. For instance, wood-based pencil eyeliners are usually the go-to makeup items for beginners because they're dry and easy to maneuver. Meanwhile, those with a steady hand who love a sleek, precise line swear by liquid eyeliner.
Unlike pencil and liquid eyeliners, gel and cream eyeliners often get mixed up. That's probably because many gel eyeliners come in the form of tiny pots with tiny brushes and are often used for smudging to create the smoky eye effect — just like cream eyeliners. However, gel and cream eyeliners are not the same thing. Below, check out the differences between gel and cream eyeliners and how to use each to your advantage.
What is gel eyeliner?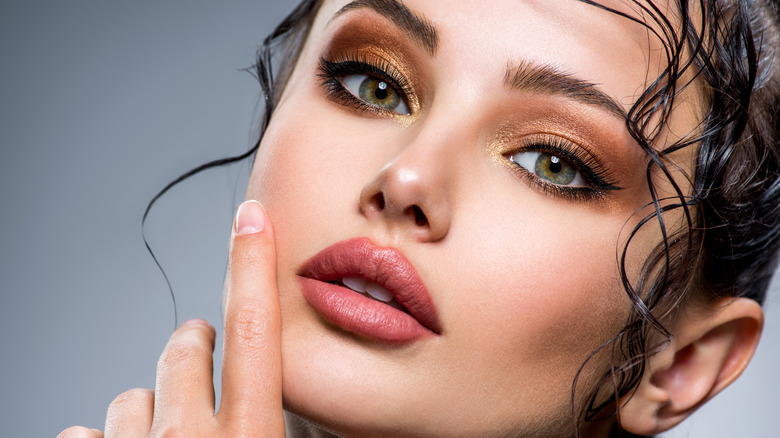 VALUA VITALY/Shutterstock
Gel eyeliners are available in tiny pots with angled brushes as well as in pencil form. They retain a soft consistency that allows for easy application and the creation of sharp-as-knife lines. They also give you great control over the thickness of the lines. Boasting a high wax content and rich pigment, gel eyeliners are water-proof, budget-proof, and long-wearing, per Maybelline. Between gel eyeliners and cream eyeliners, the former can stay on the lash line longer and are less likely to get smudged. 
Gel eyeliners feel buttery soft against the lids and are perfect for smudging and creating a smoky eye effect. However, gel eyeliners are not as smooth and pliable as cream-based eyeliners. Like liquid eyeliners, gel eyeliners also need some getting used to before you can create precise lines. They dry up faster than cream-based eyeliners, so it's hard to fix a liner gone wrong once it's dried out. Since gel eyeliners have a quick drying time and lose moisture easily, make sure to close the pot after every use.
What is cream eyeliner?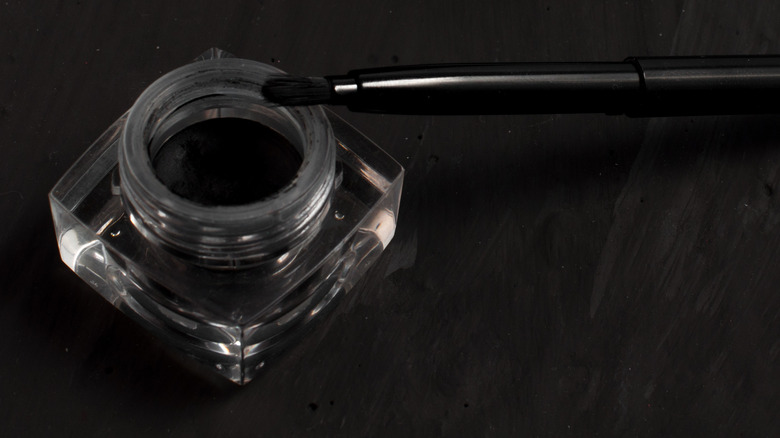 l.marchuk/Shutterstock
According to Difference Between, cream eyeliners, which, like gel eyeliners, often come in the form of tiny pots with angled brushes or pencils, are made from creamy substances. Therefore, they offer a softer and smoother texture than gel eyeliners. They can even double up as a cream-based eyeshadow. A prime example of cream-based eyeliner is kohl eyeliner. The creamy qualities of many Kohl eyeliners allow them to glide across the lash lines smoothly and take on a natural appearance. Cream-based eyeliners are also ideal for smudging, allowing you to intentionally smoke out the outer corner of your eyes and create the much-hyped smokey eye effect. 
Another thing about cream products is that they are thicker than gel-based products, according to Neutrogena. They also take longer to get absorbed by the skin, which is why cream eyeliners do not set as fast as gel or liquid eyeliners and are easy to fix. For this reason, cream eyeliners make a great choice for those who want to brush up on their eyeliner-applying skill. However, eyeliners with a cream formula are not waterproof; are unable to produce dramatically precise lines; and are not long-lasting, per L'Oréal Paris.