Mismatched Manicures Are About To Be Everywhere - How To Try The Quirky Nail Trend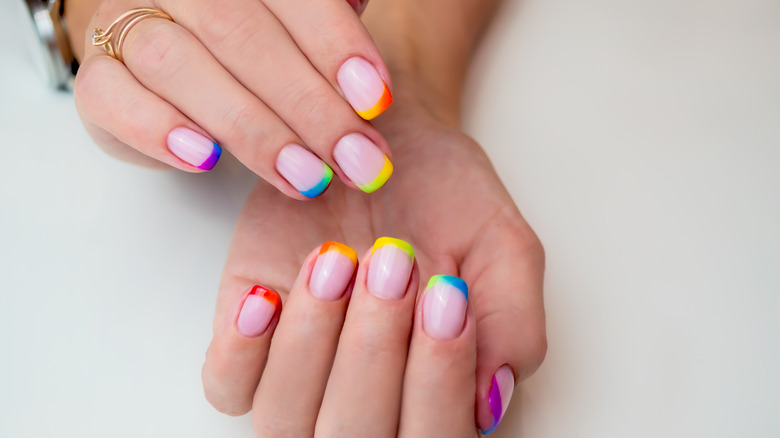 Yuliya Ufimtseva/Shutterstock
Spring is here, and we're already seeing some bold tends that are bringing your nails to life, from hourglass nails to the combination of Barbiecore and metallics. The mismatched manicure is another striking nail trend that's achieved when your nail color is different on each hand. Or, each nail can be a different color. While a classic, single-toned manicure looks great on anyone, why not make your nails stand out? Who said each hand had to be exactly the same? 
The best part about mismatched nails is that there are no rules. This look allows you to get super creative with new shapes, textures, and art styles that you haven't tried before. It works on any nail shape, just on your tips, or the whole nail. Now's the perfect time to try out something different. Here, we're showing off some of the ways you can get in on mismatched nails.
Spring pastels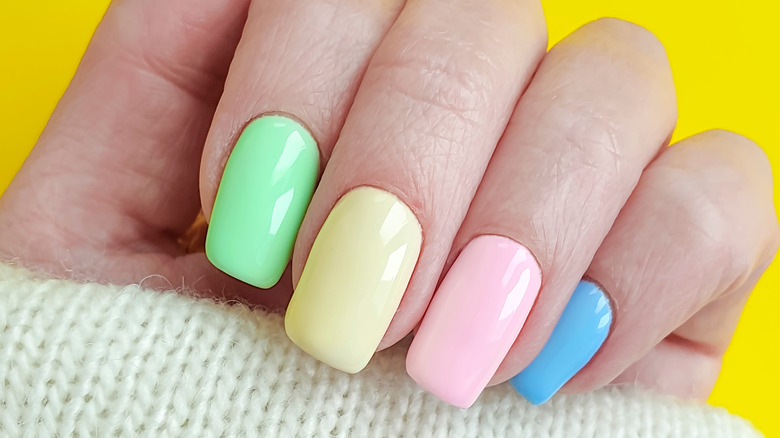 TanyaLovus/Shutterstock
Pastels are the essential color palette of spring, and rather than choosing just one tone, go for a different color on each nail. This nail look pairs really well with neutral-toned outfits, like beige or cream, and adds a burst of color. You'll get tons of compliments at your Easter dinner or Mother's Day celebrations.
Floral fun
Along with pastels, floral nails are always a hit when spring rolls around. Instead of only asking for a flower on one nail, mix it up and have different colored flowers on each hand. You can go for complementary colors, as shown above, or they don't have to match at all. The choice is yours. 
Checkboard chic
Checkerboards are a perfect way to add some contrast and geometric shapes to your look. There's absolutely no limit to what colors you can choose. You can go for a complementary color scheme like red and green, yellow and purple, or orange and blue — play around with your color palette. This may call for a steady hand, but it's totally worth it in the end. 
Goofy themes
One of the most creative takes on this trend is nail art based on popular cartoons and television shows. There's a nail look for any show you can think of, including "SpongeBob SquarePants," "The Powerpuff Girls," and "Adventure Time." Characters can be on one hand, while an element from the show can be on the other. You can play around with textures, like the grassy nails seen above. A look like this will turn heads in the best way. 
Inspired by your favorite artists
Your nails are your very own canvas. A mismatched manicure allows for a look inspired by your favorite art styles, whether it's realism, impressionism, contemporary, or anything in between. If you're a Keith Haring fan, this nail look above may give you some inspiration for bold pop art nails.