Our Guide To Casual Backyard Wedding Guest Attire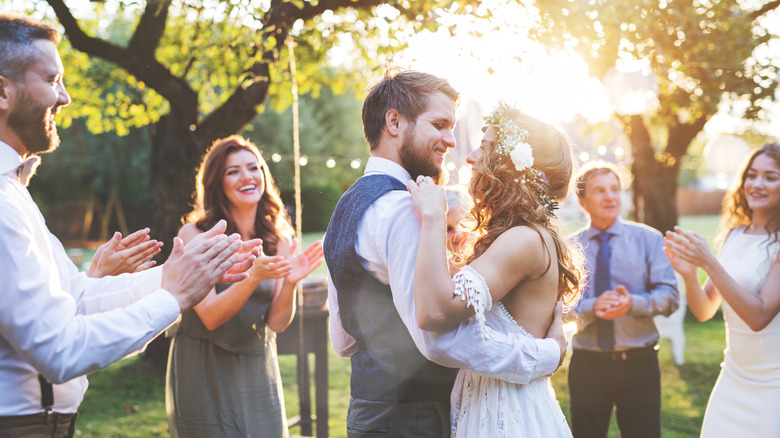 Ground Picture/Shutterstock
Movies like "Father of the Bride," "My Best Friend's Wedding," and "The Twilight Saga: Breaking Dawn Part I" have been inspiring outdoor weddings and receptions for years. Backyard nuptial celebrations in particular have become trendy, minus the giant tents and drooping white flowers. Instead, brides and grooms are opting for more casual, less-expensive themes, but what does that mean for the guests?
You probably won't ever attend a backyard wedding as elaborate as the one from "Father of the Bride," which, by the way, would have cost more than $249,000 (in 1991) in real life, according to BeFrugal (via Mental Floss). In the real world, many backyard weddings are much less formal and more laid-back. No "$250 a head" price tags, no costly wedding planners, no swans, and definitely no $68,000 wedding dress. If you were recently invited to a casual outdoor wedding, and you're not sure what to wear, the following guide can give you some ideas, including what not to wear.
Do wear a maxi dress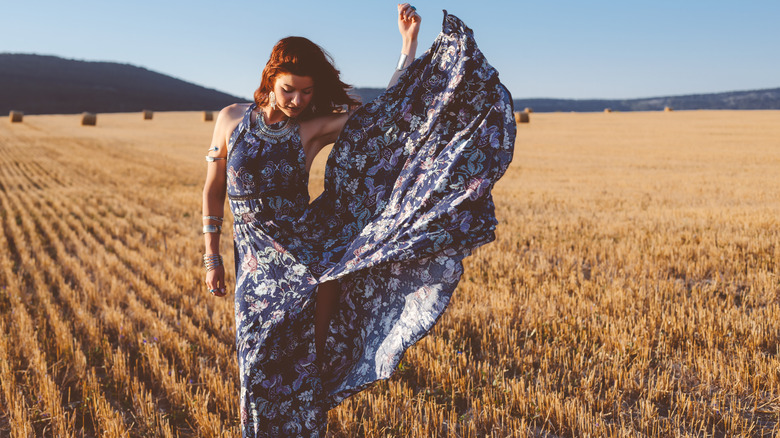 Alena Ozerova/Shutterstock
This ankle-length dress is the perfect choice for a backyard wedding, beach wedding, and many other outdoor events, since it offers so much versatility. You could opt for short sleeves, long sleeves, spaghetti straps, halter style, strapless, or off-the-shoulder sleeves. You can also choose from various waist options and necklines. And if you want to show off your cute wedge sandals, you could go for a high-low hem. There's a style for every preference and season.
Do wear a skater dress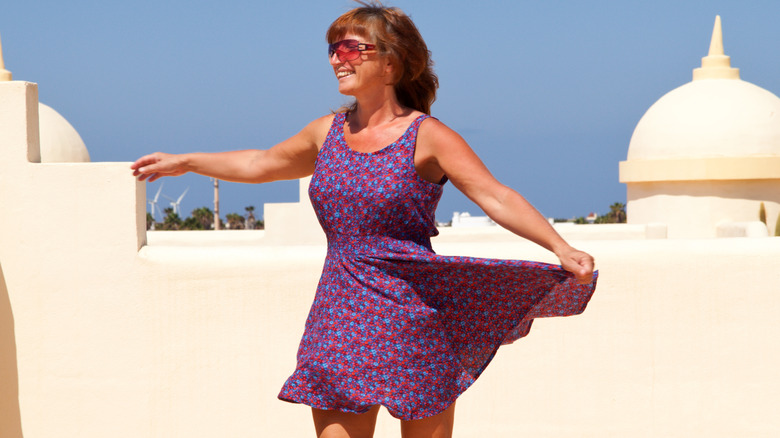 Tamara Kulikova/Shutterstock
Inspired by the standard dresses worn by figure skaters, this dress style features a fitted look above the waist and an A-line, flared look below the waist. However, this style is typically longer than the one that ice skaters wear, with the hem sitting a few inches above the knee. Skater dresses can have sleeves of varying lengths and styles, or be sleeveless. Because of the short hem, this can be a great option if the temperature will be in the 70s or warmer. Otherwise, you may need a jacket or opt for a longer dress.
Do wear a dressy jumpsuit
PeopleImages.com - Yuri A/Shutterstock
What's nice about a casual backyard wedding is that you don't have to wear a dress, unless, of course, the bride requests it as part of the dress code. If she doesn't, you can sport a nice, wide-legged jumpsuit, paired with chunky heels, flats, or wedges. Many styles include pockets and fabric tie belts, and some feature a two-piece style, in case you have a new navel piercing you want other guests to see. And just as with dresses, there are various styles to choose from.
Do wear a dressy romper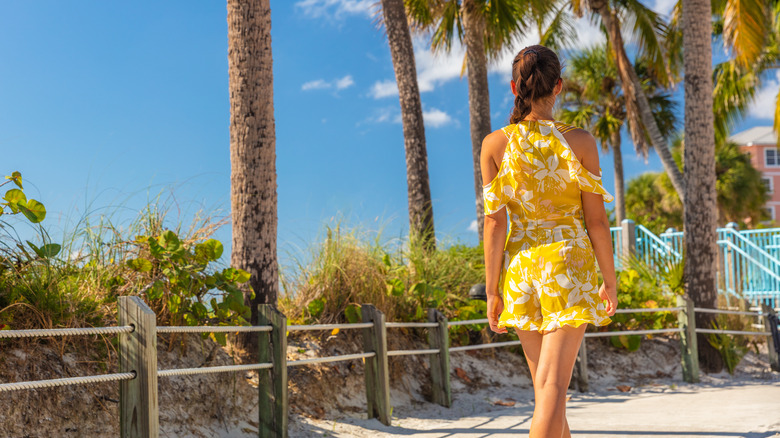 Maridav/Shutterstock
A romper is another option if you want to be a little dressy, but without wearing a dress, and it's perfect for a casual backyard wedding. Although rompers started off as play attire for children in the early 1900s (per House of Style Stories), today, people of all ages wear them. Some styles are super casual in solid or striped patterns while others feature floral, paisley, and other print patterns. Just make sure it's not too fancy, though, like Taylor Swift's mini romper. You can also find rompers with pockets and fabric tie belts.
Do wear a skirt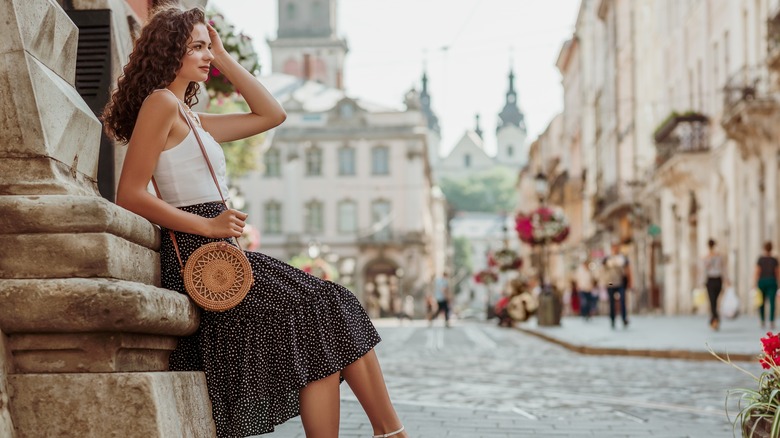 Victoria Chudinova/Shutterstock
Don't own a dress, but have a few skirts? That will work, too, for a backyard wedding, whether it's mid-thigh, ankle length, or something in between. You can complement it with a nice blouse or tank top, and if it will be a cool day, you can also throw on a nice jean jacket or vest to complete the look. On your feet, you can sport a pair of flat sandals or boots, or wedge shoes.
Don't wear an evening gown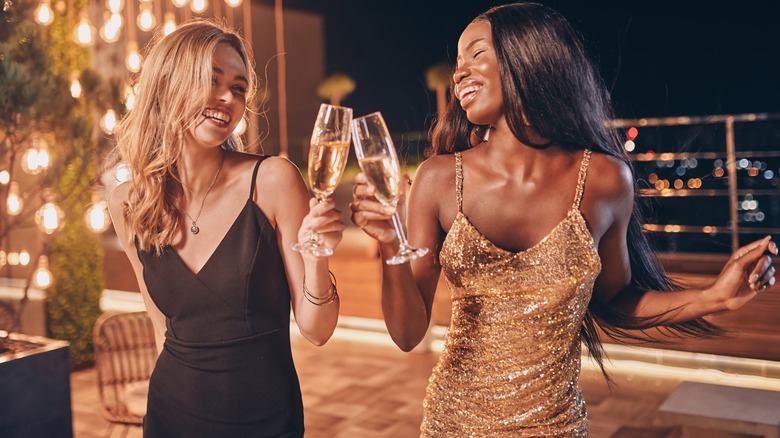 G-Stock Studio/Shutterstock
Although you may be able to rock a beautiful blue ballgown better than Cinderella herself, a casual backyard wedding is not the place to do it. Ballgowns or any other formal evening dress should be kept at home for this outdoor celebration. And in case you're unsure if the dress you have is considered a formal or informal dress, the fabric and details are among the factors that differentiate the two styles. Formal dresses are often made with satin, silk, or chiffon while many casual dresses are made with cotton blends.
Don't wear jeans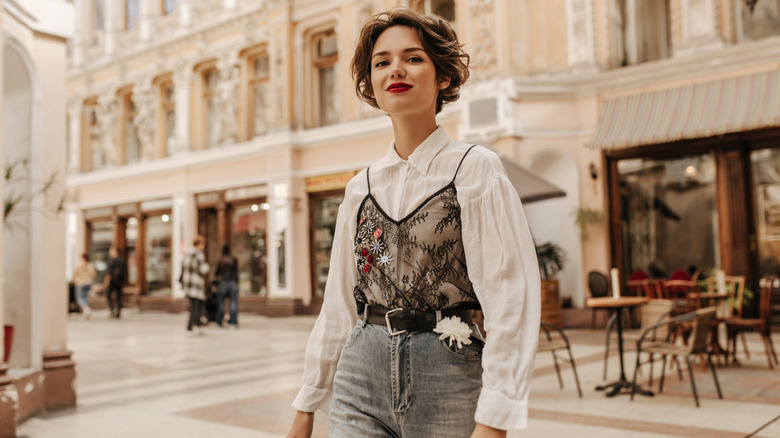 Sun Shock/Shutterstock
Jeans have always been considered a casual garment of clothing, especially if they have any type of fade to them. Holes make them even more informal, so it goes without saying that you shouldn't wear them to a wedding. One of the few exceptions would be if the bride specifically mentioned that jeans for all genders would be appropriate in the invitation, or if the bride and bridesmaids themselves will be wearing them. Otherwise, go with a pair of nice dress slacks or palazzo pants instead, paired with a nice blouse.
Don't wear skinny heels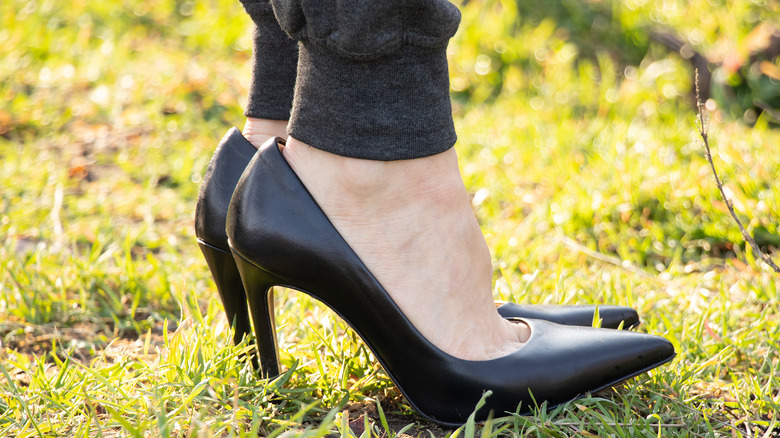 Victoria Kotlyarchuk /Getty Images
One thing about backyard weddings that some people forget to consider, when it comes to choosing their outfit, is the ground. A backyard wedding usually equates to walking around on grass at some point, so keep the stilettos and other skinny heels in the closet, unless you have heel stoppers or you know there will be plenty of hard floor to walk on. Otherwise, opt for flats, chunky heels, or wedges instead to keep from sinking when you walk.