Your Guide To Always Knowing What Color Shoes To Wear With An Outfit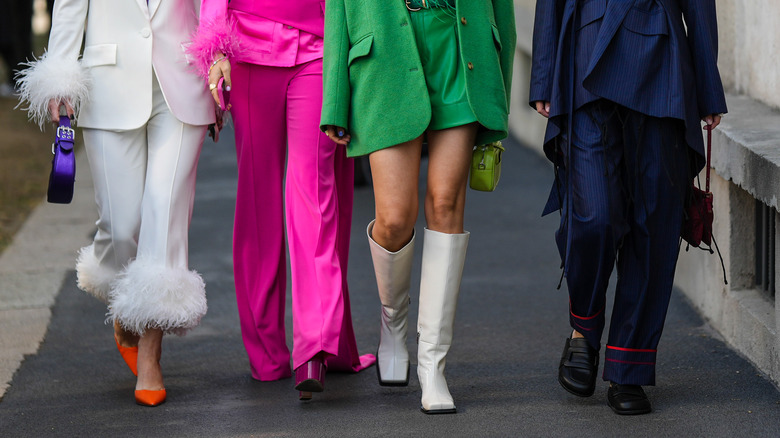 Edward Berthelot/Getty Images
You're about to dash out the door when you realize that you have no idea what shoes to wear. It's not that you don't have enough, but that you're unsure what color footwear your cute little #OOTD will look good with. You might've fallen for a shoe trend that's everywhere this spring (cough, cough, metallic boots) or dusted off a pair of bright orange flatforms or hot pink shoes you're finally ready to try out. Maybe you've even second-guessed what you should be wearing with your trusty white sneakers. 
Advertisement
Either way, it's easy to overthink what you should slide your feet into. While many shoe colors work well with a variety of hues and shades, there are certain pairings that work better than others. To prevent this fashion emergency from ever happening again, we're delving into the full Roy G. Biv range and then some in this roundup. Now you'll be able to determine exactly what color shoes to wear with an outfit every time you get dressed.
Black shoes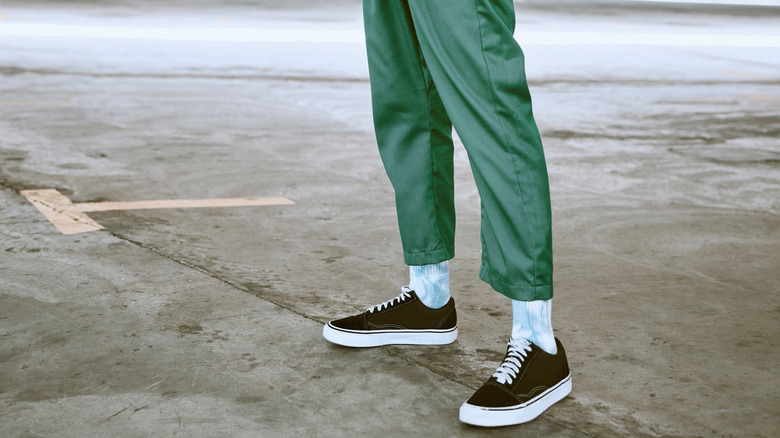 Peopleimages/Getty Images
It goes without saying that black shoes can go with practically any color outfit. There's a reason the shade is so popular! From head-to-toe monochrome outfits to a colorful ensemble, your fave pair of midnight-toned shoes are likely going to work with the look. In fact, we'd go so far as to say that every wardrobe needs a pair of black and a pair of white shoes. Is there anything that doesn't go with your favorite black kicks? Well, sort of. 
Advertisement
When it comes to picking out what to wear with black shoes, white isn't it. Cream, ivory, and pure snowy white are the polar opposite of black, therefore it can look a little jarring when your trousers are gleaming but then suddenly punctuated by dark shoes. To combat this visual weirdness, try wearing pants in a different color and opting for a white or lighter-colored top. This is a better blend and won't mess with outfit proportions either.
White shoes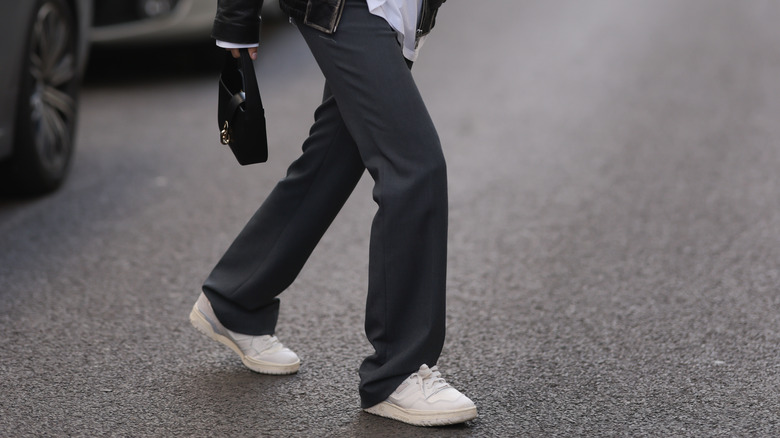 Jeremy Moeller/Getty Images
We all know a classic white sneaker will never go out of style. If you turn to the footwear chapter in the fashion bible, you'll find that a pair of white kicks have been around for a long time and obviously are still holding strong. Just like black, white shoes go with everything — almost better than black. While we explained that you might be better off skipping black shoes and cream or white outfits, it's not the same for white shoes.
Advertisement
These look great with a light or dark backdrop. If bright white jeans are your thing or you like your denim super deep blue, white shoes will pull everything together. Thinking nearly-matching tones won't work? Think again. If you aren't wearing white and cream together yet, it's time to reconsider. Worries about clashing are a thing of the past. White shoes work wonders when paired with a chunky cream sweater and white pants, or some other arrangement of these breezy hues.
Brown shoes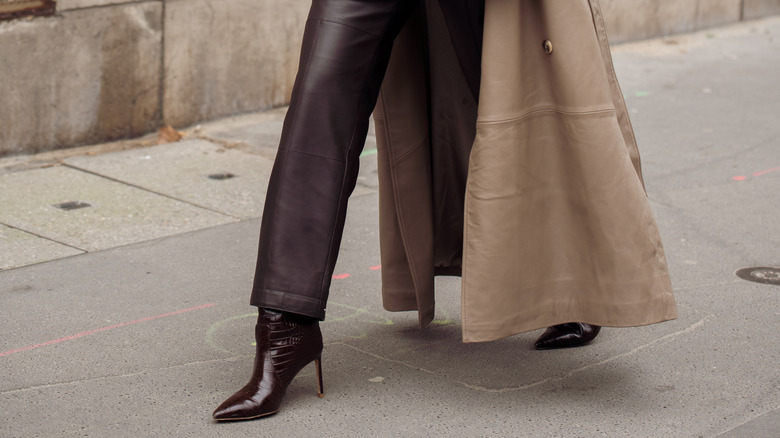 Raimonda Kulikauskiene/Getty Images
Brown shoes are the all-season superstars. Whether you're shivering or sweltering, there is a chocolate-toned shoe that'll work with your outfit. Not as serious as black, but more edgy than white, brown sandals, sneakers, and booties are all fantastic footwear options to have on your shoe rack. You might find that it's tough to work brown into a super colorful outfit, and while it's doable, we think this shade is best reserved for minimalist-inspired looks. 
Advertisement
For maximum impact, a monochrome brown outfit or tonal ensemble with multiple shades of camel, tan, and almond will work wonders. As a quick tip, try to aim for shades of the same tone. A cooler camel shade is going to look a little off with a red-toned brown boot. If you don't want to fully immerse yourself in the cozy world of brown, try wearing these shoes with deep navy, cream, or light blue.
Red shoes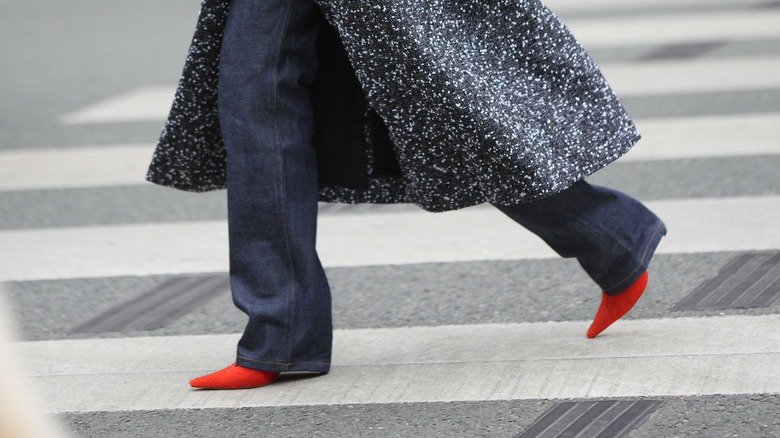 Edward Berthelot/Getty Images
Nothing stands out quite like a pair of bright red shoes. Even those famous red soles make a statement, and they only peek out from the bottom! If you have a pair or two of cherry-colored shoes sitting in your closet, you might be wondering what to wear them with. Because red is such a playful color on its own, it's always smart to opt for neutrals or darker shades everywhere else. Bright hues like yellow or green tend to be a bit too extreme when layered with red. 
Advertisement
Go darker and opt for deep blue denim or black trousers. This will offset the bold tones from your shoes and make the full look feel polished rather than garish. A neutral or dark, saturated base will make red pop even more against your outfit. Beiges and grays are never a bad idea either and feel softer than bright white.
Pink shoes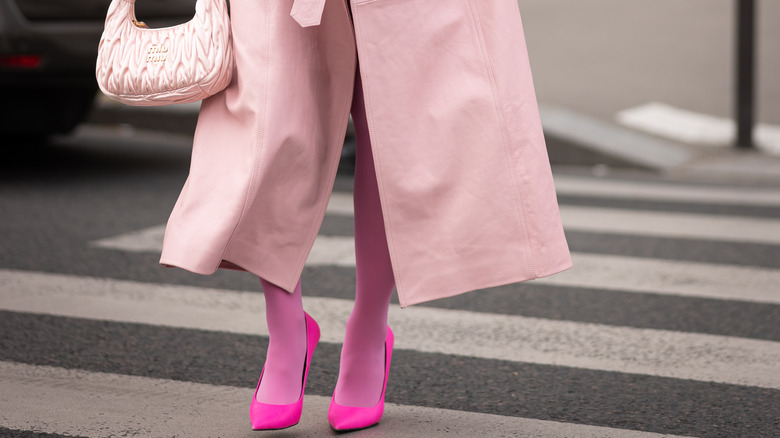 Claudio Lavenia/Getty Images
Like red shoes, pink shoes command attention. Whether it's a vibrant electric pink or a calmer pastel hue, they're far more flashy than your usual brown or black pair of shoes. You can interpret this in one of two ways: Let your footwear do the talking or embrace a head-to-toe statement ensemble. If you'd prefer to keep your shoes as the main attraction, stick with neutrals everywhere else, opting for light-wash denim and a white T-shirt or something in a similar vein. This gives your pink shoes a subtle foundation to jump out from.
Advertisement
Anyone who prefers to embrace color wholeheartedly will have fun experimenting with an all-pink outfit or color-blocking. If you want to try the latter, choose bright oranges, reds, or purples to really let your pink shoes pop. Even dark green or deep teal can look ultra-stylish when paired with the right shade of pink.
Orange shoes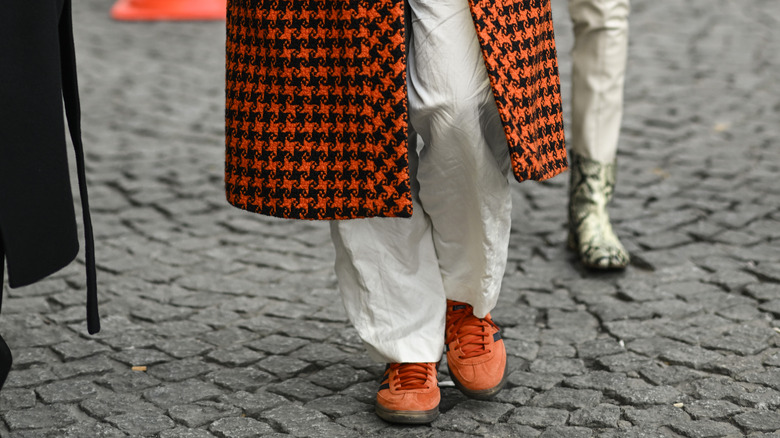 Daniel Zuchnik/Getty Images
Orange hasn't been in the limelight for a while. As we've strolled through years of coral, cobalt blue, lavender, and forest green, orange has yet to become a trendy color of choice — until now. Fiery orange eyeshadow has taken the beauty world by storm, and this cheerful color is making its way into closets, too. Not as spicy as red but bolder than blue, orange is the perfect hue for adding a splash of color to an outfit. 
Advertisement
Tangerine, pale peach, and other forms of orange all look nice sitting against a good range of other colors, but because it's so bright on its own, it's another color worth dressing up with neutrals. Beige, khaki, white, and charcoal gray are all nice tones to try with a pair of orange shoes. The right shade of orange can look great with black, too, but a shade that's too saturated and you might be reminded of Halloween. Try a pair of mid-wash jeans and a leather jacket to blend this palette without it feeling off.
Yellow shoes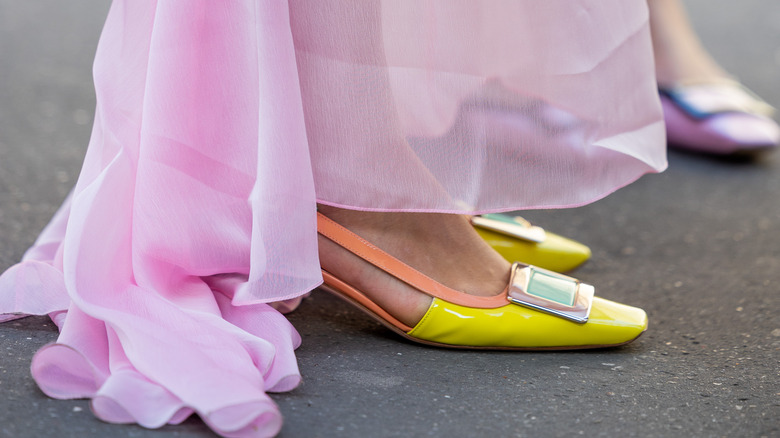 Christian Vierig/Getty Images
Another uncommon shoe color (but by no means unfashionable), yellow is always the pop of sunshine an outfit needs that people don't expect. While it may be overwhelming when worn with other loud colors, there are certain shades and hues that embrace yellow and feel cohesive. Avoid wearing yellow shoes with cobalt blue or bright purple, and skip the Kelly green, too. These aren't strict rules obvi, but it might look a little OTT blending them all together.
Advertisement
If it's your first time working yellow into an outfit, keep the rest of your look relatively low-key. The always reliable pair of jeans and a light blue top will look super chic. White and yellow are always the best of friends when put together in an outfit, too. If you want to branch out from the norm, pastel hues are uplifting contenders. Whether it's a dress, skirt, or puffy blouse, these whimsical tones are a nice complement to yellow footwear.
Green shoes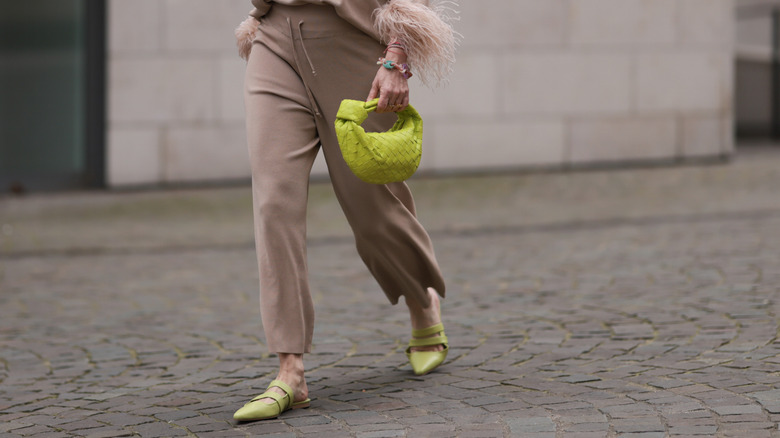 Jeremy Moeller/Getty Images
There are numerous shades of green out there, so like most colors, it will depend on what shade of shoes you have. You'll find that dark wash denim — the reigning jean champ of the year — or mid-wash will look great with any tone, whether it's a mossy green or zesty lime color. (You're also probably realizing that a good pair of jeans is essential no matter what color of shoe you're wearing.)
Advertisement
Aside from blue, lighter hues of green look nice when paired with black or gray. Browns and beiges are also a slightly unexpected twist that go together with green like bread and butter. Colors to avoid include anything that's too starkly complementary, like bright purples or pinks. That being said, experimentation is always encouraged. Fashion is such a personal thing, so the best method is really trying different shoes on, and if you feel confident, it works!
Blue shoes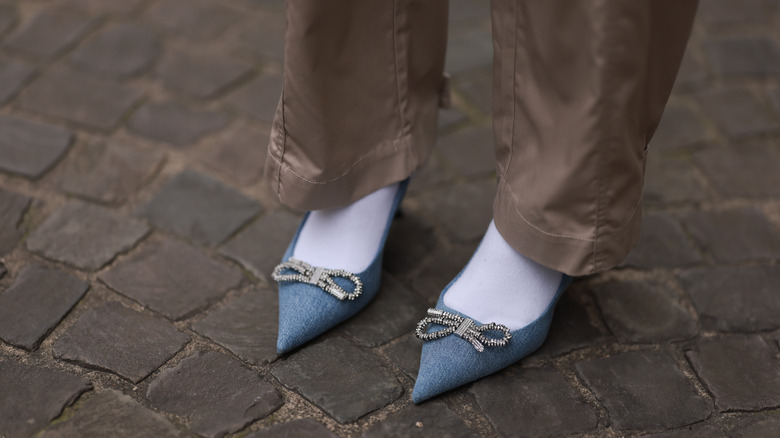 Jeremy Moeller/Getty Images
Like your favorite pair of blue jeans, your blue shoes are going to be viable candidates for a good portion of the clothes in your closet. At this point, blue has become an honorary neutral. Despite it looking nothing like our favorite creams, beiges, grays, and blacks, society has fully accepted it as a color that goes with anything (case in point, again: blue jeans).
Advertisement
If you really want to nail your look and are looking for the best of the best clothes to wear with blue shoes, try brown or khaki. With a light shade of blue-brown, you'll find that the colors are gentle on the eyes and neither will compete for attention. White and cream are great picks, too. If bold colors make your heart flutter, pink and blue are always a fun combination. After a timeless look that'll never go out of style? We'd like to point you in the direction of your favorite jeans once more. 
Purple shoes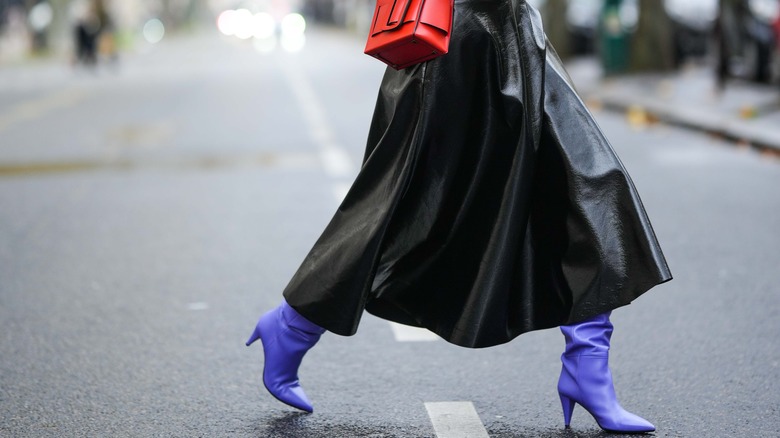 Edward Berthelot/Getty Images
Lavender and periwinkle burst their way into our wardrobes last year, especially after Pantone announced that Very Peri was its Color of the Year. It's not as popular as other shoe colors, but it certainly should be. Just as eye-catching as orange or yellow shoes, purple footwear is undoubtedly a statement accessory for any outfit. Whether styling a pair of slide sandals or rocking some funky new purple boots, this color works well with dark and light neutrals.
Advertisement
Black is a safe bet with purple shoes, as are beige and gray. As for colors that you should stray from: orange, green, and bright blue. And really any neon hues depending on what tone of purple you have. A mishmash of ultra-bold hues can result in a 'fit that feels more cartoonish than it does couture. If you're going for vivid, choose bright shoes and a top and work it in with a subtler shade on the bottom to break things up.
Gray shoes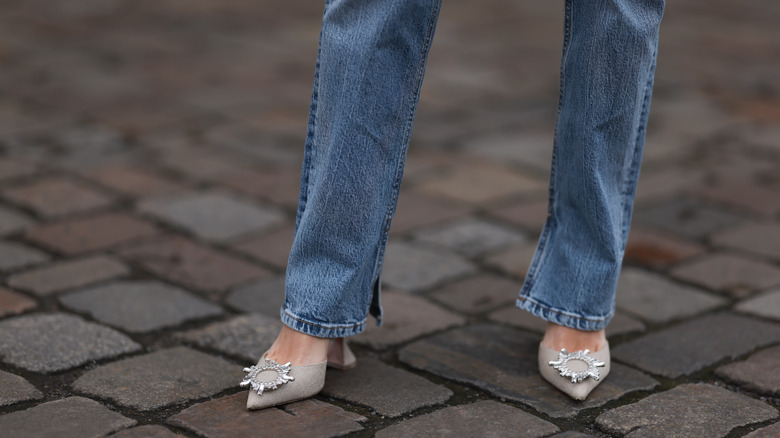 Jeremy Moeller/Getty Images
Gray shoes are a rare breed. Save for the occasional sneaker or stiletto, they're somewhat of a unicorn and a statement in and of themselves. Sure they're not flashy or bright, but you won't find everyone wearing them. Like black, brown, and white, gray shoes are a malleable footwear choice. Add them to any outfit and they'll make it work. Specific clothing textures like tweed, bouclé, and denim are fabulous options. 
Advertisement
There aren't many outfits that won't look nice with gray shoes. Light pink and lavender look lovely with a misty-toned pair of heels or sneakers. You can also go darker — why not try wearing a deep maroon, dark brown, or navy-based look with them? Even orange can look pretty paired with gray in the right instances. They're also a pretty way to punctuate a power suit in a bright color, whether it's bold pink or cobalt blue.
Metallic shoes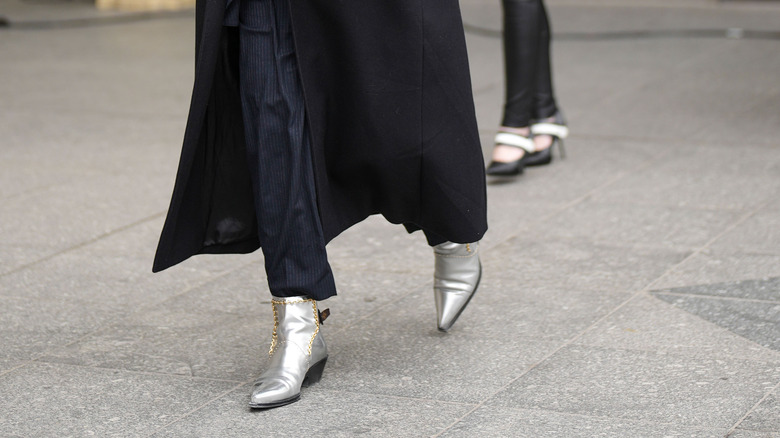 Edward Berthelot/Getty Images
Ah, the metallic shoe. Silver booties, gold stilettos, magenta platform heels, you name it and it's become a street style and going-out favorite. Silver in particular has seen a resurgence, so let's focus on getting these flashy statements into an outfit (without feeling like you're playing dress-up). The spring 2023 silver metallics trend is seeing this sheen on not just shoes but pants, too. Step out wearing both for a consistent ensemble that's playful and bold — just pick another color up top so you don't turn into the tin man.
Advertisement
As for other colors that work with silver metallic shoes, navy blue will never let you down. Neither will black or charcoal gray. If you want to work in colors like green, purple, or pink, use denim to break up the look and work those hues in up top. Even a pair of raw-hem white jeans or cream trousers will look sleek with this kind of shoe color.
Beige shoes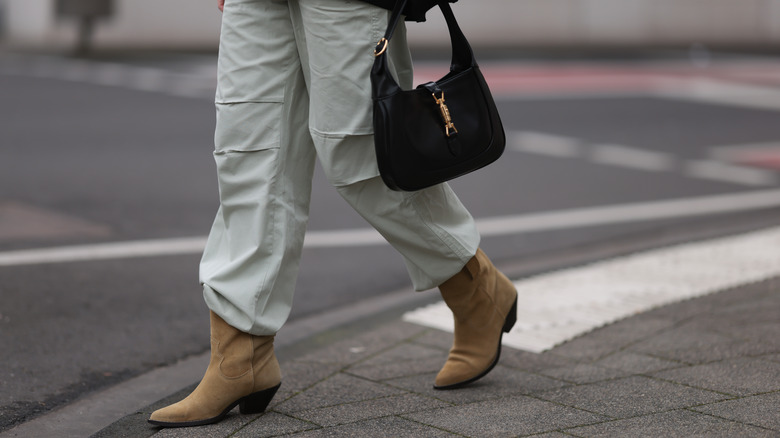 Jeremy Moeller/Getty Images
Beige and tan shoes can be dressed up and down. Suede materials often feel a little more casual, whereas a camel patent or matte leather pump instantly elevates an outfit. So what colors work with these tones? Many. The same rules apply to beige shoes as they do to brown shoes, but these slightly lighter picks are more adaptable than their darker brown counterparts. You won't have to think twice about wearing them with your standard neutrals (see: black, brown, white, etc.). Dark and light blues will make for a lovely color palette, as well. 
Advertisement
You can totally rock a monochrome beige outfit, but shoes in a range of buff, toffee, and camel act as neutrals themselves, giving you a sturdy foundation to create really any color of outfit on top. Like with brown shoes, you'll want to stick to the same color families and tones. Sometimes when an outfit feels off — but you can't quite put your finger on why — it's due to a clashing set of warm and cool tones.