Should You Apply Hair Wax To Wet Or Dry Hair For Best Results?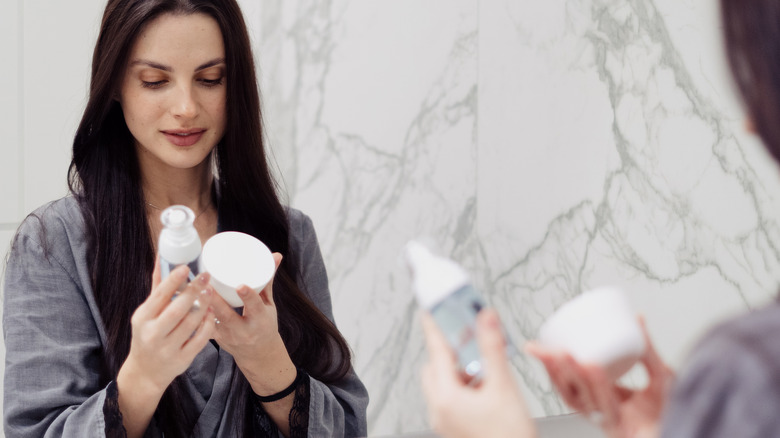 brizmaker/Shutterstock
Styling your hair can feel daunting when you don't know what you're doing, and according to research conducted by The NPD Group, at least one-third of us style our hair on a weekly basis. While it's not daily, it's undoubtedly still something many of us do regularly. Often, individuals use an array of products to style their hair, including gels, foams, pastes, creams, and even hair wax, alongside other popular items.
Advertisement
One popular item on this list is hair wax. If you don't often use the product or it's your first time trying it, you may wonder whether to apply it on wet or dry hair. This is a common question that many hair wax users want to know the answer to. Thankfully, the answer is relatively straightforward. Below, we'll break down which hair state performs better with hair wax, so you can decide how to style your luscious locks perfectly.
Consider waiting a bit before applying hair wax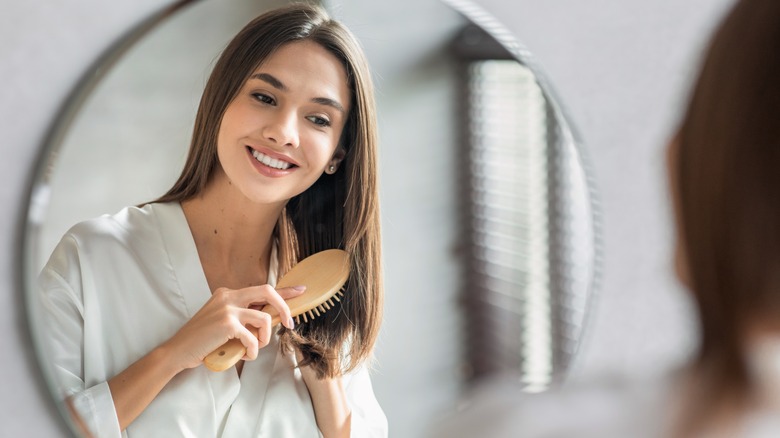 Prostock-studio/Shutterstock
While you technically can apply hair wax to wet hair, it's not recommended (via Gatsby Global). In other words, if you just got out of the shower and wanted to apply wax, it wouldn't be a good idea. You should at least wait until it's damp and most moisture has been removed from the hair. "Applying to wet hair means the hair is coated in gloss but has not formed density, so [it] becomes very floppy and hard to control," explains the creative director of the men's grooming company Ruffians, Denis Robinson, to GQ Magazine. This makes dry hair a better choice when applying wax, as it will stick to your hair better. As a result, you will have more styling power and precision when it comes to styling, which works well if you have a particular look in mind that you want to try. Plus, adding hair wax to wet hair would only make it more challenging to achieve your desired look since you'll have less styling power. 
Advertisement
Therefore, we'd recommend applying hair wax to dry hair — although the choice is yours. However, doing so should help you flaunt your newfound look.
Warm up the wax before styling your hair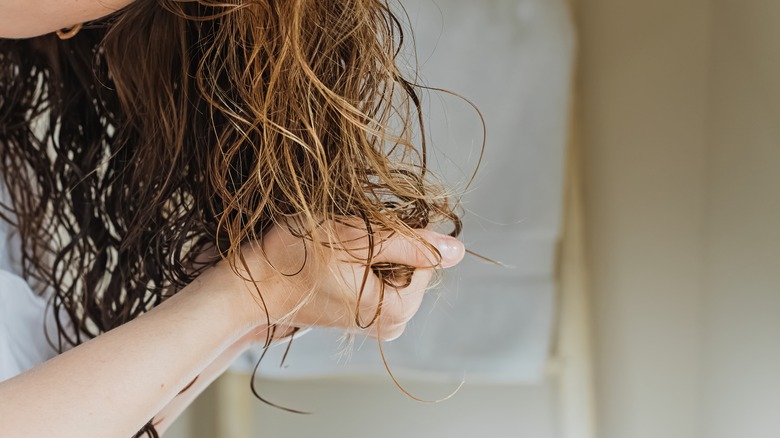 Chiociolla/Shutterstock
If you want to achieve the best results when using hair wax, ensure you take the correct steps beforehand. To do so, warm the wax before applying it to your hair (All Things Hair). You can do this using your hands, which will naturally warm up the product. Once the product is warm, it will allow for a smoother application onto your hair strands, giving you the freedom to create the look you desire.
Advertisement
However, using less is more when it comes to hair wax. All you need is a small amount of product. International hairstylist trainer, Laura Superbi, adds, "...fine hair will require less wax than thicker hair. The thinner your hair, the less product you will need" (via Jean Louis David). On the other hand, you could always use hair color wax for an even more vibrant look. Now that you know how to apply it, you should be able to create incredible results.