Lash Enhancement Tattoos Are A Drastic But Effective Solution For Permanent Definition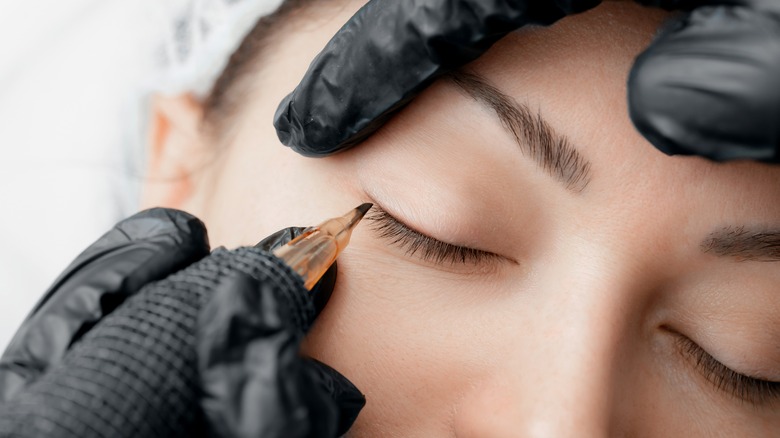 Parilov/Shutterstock
Whether or not you've embraced permanent or semi-permanent cosmetics, you're surely aware that it can be a lasting way to get the kind of look you love without having to meticulously do your makeup every day. Talk about a potential time-saver! You might also save money in the long run because you won't have to purchase as many cosmetics. On top of that, the trend is more attractive than ever for a few excellent reasons. Melissa Pruett, founder of Melt By Melissa studio in Scottsdale, AZ, told Allure, "Permanent makeup has come a long way since your grandma tattooed her brows on. Nowadays, the technique and artistry has truly evolved to provide people with the most natural enhancements that will make your friends wonder what you've done to look so fresh and polished."
For instance, not only can you get your brows microbladed and indulge in a lip-blushing tattoo, but you can also give your eyes the attention and definition they deserve with the help of lash enhancement tattoos. Doing just what the name implies, it's ink meant to give your lashes a visual boost. If that piqued your interest, you're likely curious about various factors, such as what's involved, how much it costs, and how long it will last. That's not to mention other details you should know before booking your appointment. Fortunately, we have all the info you need.
Lash enhancement tattoos vs. permanent eyeliner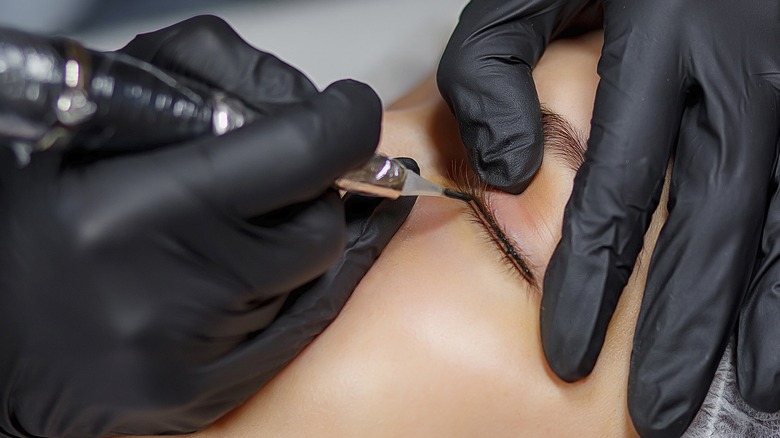 Maxim Gutsal/Shutterstock
While you might assume that lash enhancement tattoos and permanent eyeliner tattoos are the same, they're actually different in a few key ways. When it comes to the latter, it's meant to do just what it says and involves tattooing a line on your eyelid in the same place that you would apply eyeliner. You can create a range of styles with your liner and do the same with tattoo ink. You can also opt for different colors, widths, and shapes, such as a winged liner or something more subtle.
Lash enhancement tattoos are not meant to mimic eyeliner but aim to make your lashes look more full and defined. It can also make your eyes look bigger and more vibrant. They're known as invisible liners because they're meant to be impactful but not easy to spot. Piret Aava, a cosmetic tattoo artist, eyebrow expert, and makeup artist, explained to Marie Claire, "You fill in between the lashes to create the illusion of thicker, darker, and completely full lashes without looking lined or like obvious makeup. The area is numbed first, and then thin liner is tattooed right in the lash line."
Although lash enhancement tattoos will enhance your lashes and make your eyes look incredible, there are a number of other reasons why this might be just the thing for you.
Reasons why you'll love lash enhancement tattoos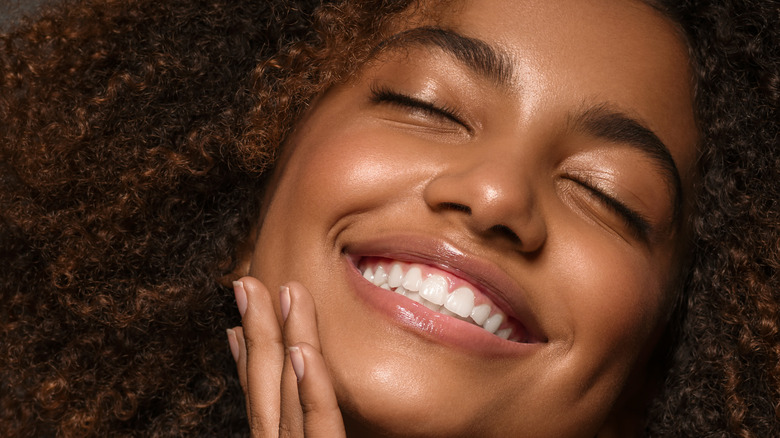 Irina Bg/Shutterstock
Beyond enhancing your lashes, this option offers a few attractive benefits. For instance, according to Ask Cares, it can bring out the best in your eye color and shape. It also makes things more convenient. On top of not having to put eyeliner on when you get ready, you won't have to take it off at night. You can also say goodbye to smudging or messing up your makeup.
Beyond that, Kendra Bray, a permanent makeup artist and owner of New York City's Better Brows & Beauty, told Byrdie that some people she works with aren't keen on doing their makeup, and others like to have the basics tattooed so they can add to it as they desire. There are other practical reasons, with Bray saying, "Clients with allergies to many topical makeup ingredients turn to permanent makeup as a solution from reactions. [Beyond that], numerous medical conditions cause clients to seek solutions."
Of course, you might also appreciate that it may be a safer bet at first. Ciara Miramontes, the founder of Beauty Oath Spa in Long Beach, explained to Byrdie, "Semi-permanent makeup is great for people who are new to it and don't want to commit too much—they can change the look later, depending on current trends or if they don't end up liking it." It can also get you used to how to prepare and what to expect when you have your lashes tattooed.
Properly prepare for lash enhancement tattoos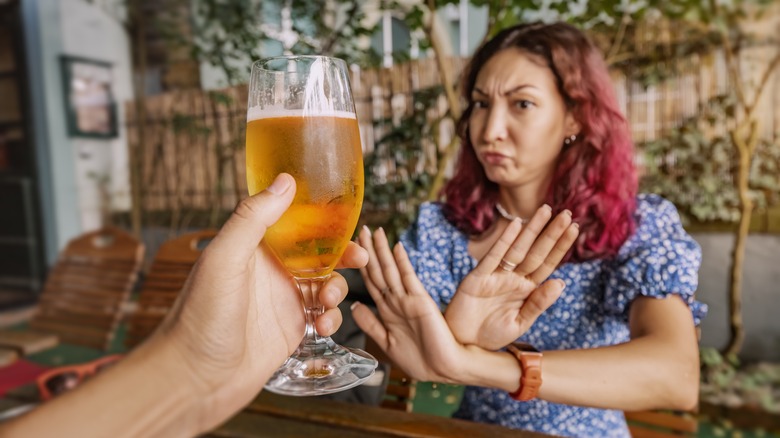 frantic00/Shutterstock
Just like any other tattoo, you need to make sure that you do certain things to prepare before your appointment. However, there are also a few steps that you should take and factors to avoid, specifically for lash enhancement tattoos.
If you want the process to go smoothly and the result to last as long as possible, you should skip coffee and herbal tea on the day you're getting your tattoos. On top of that, stay away from alcohol for a full day or two before you get your lashes done. The same goes for garlic, oily fish, aspirin, and ibuprofen because you don't want them to make your blood thinner. You will also need to remove your lash extensions if you have them, and you won't be able to perm or tint them three days before you have your tattoos done. Skip tanning, facials, and peels for two weeks prior, Botox for three weeks, and leave vitamin A and retinol out of your beauty routine for a full month before you head in for your appointment.
On the day you get your lash enhancement tattoos done, you should avoid working out and get plenty of rest. Finally, make sure that you're nice and hydrated. Now that you know what to do to prepare, you should also know what to expect.
A special device is used for lash enhancement tattoos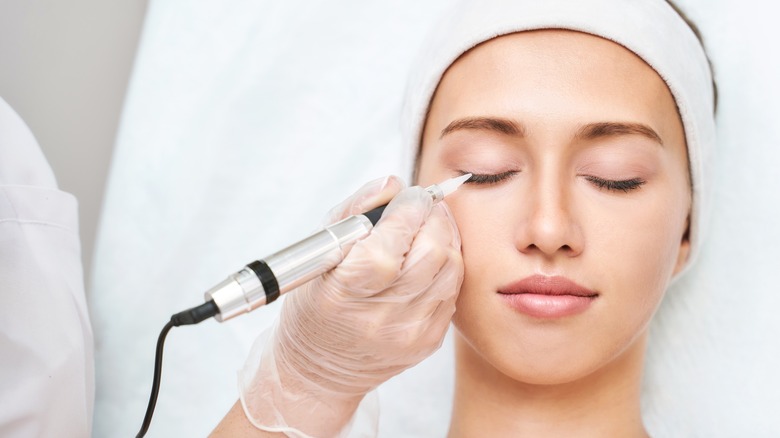 elenavolf/Shutterstock
Even if you've had tattoos inked on your body, it doesn't mean you'll be familiar with what you'll face when having lash enhancement tattoos. That's because a normal tattoo gun isn't ideal for this situation, and instead, a Nouveau Contour Intelligent device will be used. Piret Aava explained to Marie Claire, "It's the world's first computerized pigmentation device and used for both cosmetic and medical micropigmentation procedures."
When it comes to the process, after agreeing on what exactly you want, your artist will ask you to close your eyes, apply numbing cream, and ensure that your eyelids are perfectly smooth. Thanks to the numbing cream, you may only feel a little tickling sensation during the procedure. The Nouveau Contour Intelligent device works by sensing the pressure needed and adjusting to opt for the best settings for your skin to achieve the needed pigmentation of ink.
Although the procedure may not take that long, you should account for the time it will take to consult with your artist and for the numbing cream to take effect. That's why experts suggest scheduling anywhere from an hour and a half to two hours. Of course, you might want a little more time to take a breath or two before you go on with your day or to deal with potential problems.
Lash enhancement tattoo side effects can be annoying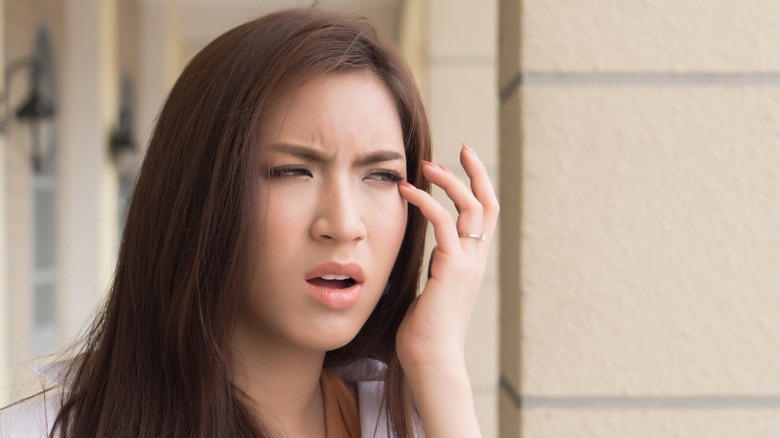 9nong/Shutterstock
A special device may be used for lash enhancement tattoos; however, it still employs needles that penetrate your skin. Because of this, you'll experience a few annoying issues. For instance, your eyes might be swollen after your appointment. You might also look like you've been crying thanks to your tender eyelids, and it may seem like you've got a little dust in your eye if pigment has made its way over. It can be uncomfortable, but it's best to leave your eyes alone and give them the time they need to heal. That means keeping yourself from rubbing them or irritating your eyes any further.
On the other hand, there are some signs that a severe problem may be brewing, which you'll certainly want to keep an eye out for. If you notice that your eyes and eyelids are more than just a little irritated, then you need to also watch out for any redness around the area or other abnormal issues. Of course, if you experience any excessive pain immediately or in the days after having your lash enhancement tattoos done, that's also a big sign that something's wrong. If any of these problems pop up, it's best to head to the doctor promptly to figure out what's happening and how to fix it.
Aftercare and TLC are essential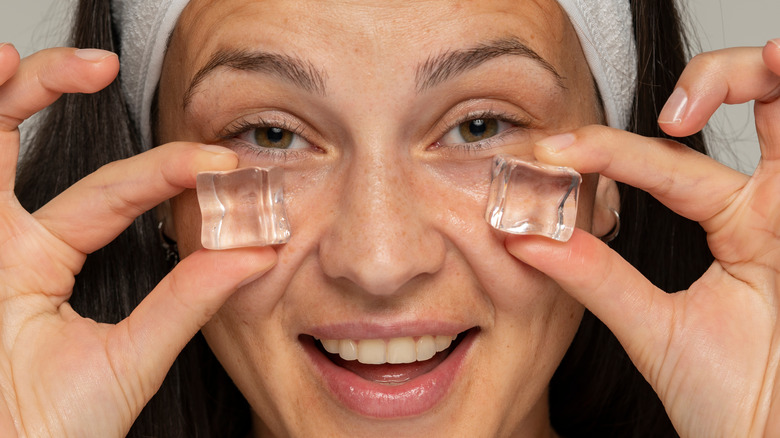 Vladimir Gjorgiev/Shutterstock
It's undeniably important to prep your body before you have lash enhancement tattoos done and ensure that the artist doing the work uses the right tools and techniques. Granted, providing your eyelids with essential aftercare is just as important. The first thing you'll want to do for yourself is to grab some ice to deal with the swelling you'll likely experience. Apply ice to the area each hour for 15 minutes for the first four hours after having the tattoos done.
Over the next week or week and a half, you won't be able to work out because you need to prevent yourself from sweating as much as possible. You should also avoid soaking in water for two weeks, which means no swimming or jacuzzi time. Additionally, two weeks is the amount of time you need to avoid using makeup on your eyelids, while you should put off any Botox and other fillers and facial treatments for a full month. Finally, stop using oils, products containing petroleum, or acne creams until the area is fully healed. Once your eyes are ready to be shown off, be sure to use new makeup, like fresh mascara, if possible.
Offer your newly tattooed eyelids this TLC; the process should fly by quickly, while the result will last a decent amount of time.
Lash enhancement tattoos won't last forever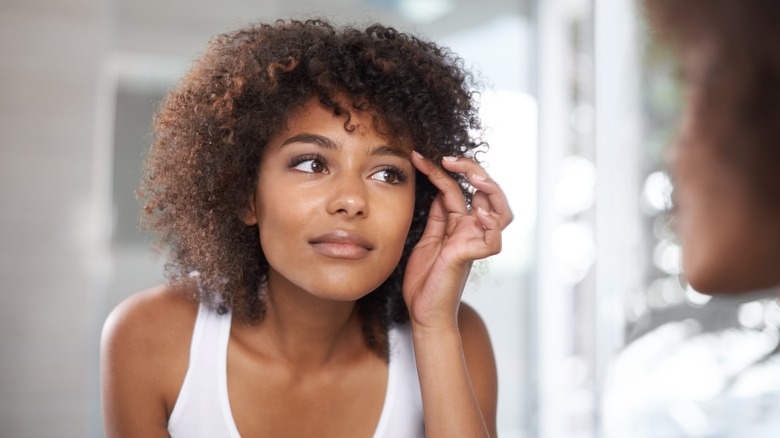 PeopleImages.com - Yuri A/Shutterstock
Although most tattoos are permanent, things are a little different when it comes to cosmetic ink. In this case, the results you'll hopefully enjoy will likely be semi-permanent. Exactly how long it will last depends on a few factors, including what you have done, how you react to the tattoo, and how you care for it.
When it comes to lash enhancement tattoos, they don't stick around as long as eyeliner tattoos. The second option is done with ink meant to be more permanent. On the other hand, vegetable-based dyes are used for lash enhancements. The body can absorb this substance, so your tattoo will slowly fade. You should be able to see the effects of the tattoo for anywhere from six to nine months before it disappears.
After the six to nine months are up, you may want to have it touched up. Or, if you've fallen in love with your tattooed lashes and want to keep showing them off without interruption, then you could have them redone before six months comes around so that your lash tattoos are always perfectly defined.
Lash enhancement tattoos aren't cheap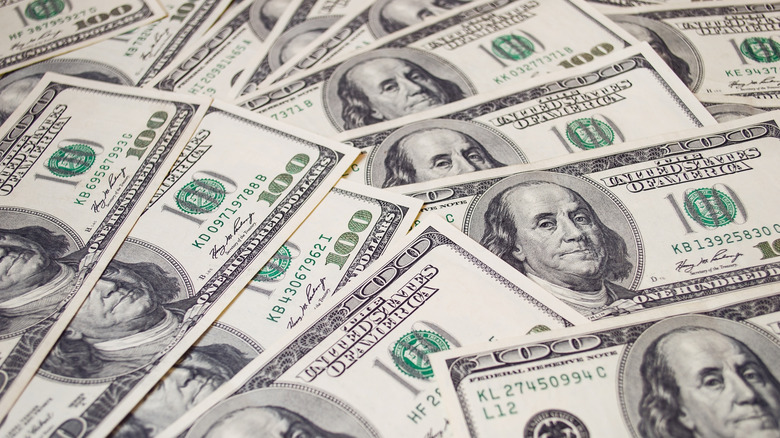 Anna_So/Shutterstock
You and your bank account may seriously appreciate how much money you may end up saving when it comes to purchasing cosmetics. However, to reap that reward, you'll have to spend a bit of cash upfront. Frankly, lash enhancement tattoos aren't cheap, but worth the cost. On top of that, you want to pay someone whose skill and experience make their work a valuable investment. This is not the circumstance when you want to save a few bucks and risk unflattering results or problems that could have been prevented.
If you want to have your lashes enhanced with the help of a cosmetic tattoo professional, then you should put aside around $420. This is slightly less than permanent eyeliner, which costs about $550. At the same time, the exact price will vary in different locations, and each artist may set their own fee.
You might also have to have a touch-up done, so be sure to ask the artist you're working with if that's included in the initial cost or if you'll need to pay for that separately. If the latter applies, you'll want to consider if you can fit that into your budget before you book your appointment. If you're comfortable with the overall cost, get ready to fall in love with your newly tattooed lashes!