The Benefits Of Soaking Your Beauty Sponge In Setting Spray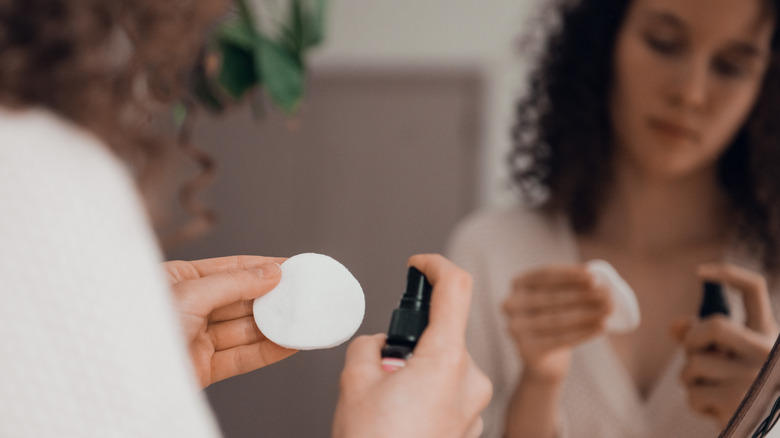 Juliya Shapoval/Getty Images
When it comes to makeup and making it stay, we can all admit that it is certainly not easy. Hence the marvelous invention known to us as the setting spray. But the real question is, are you using it right? Help your setting spray and makeup reach their full potential by following the simple trick of soaking your beauty sponge in setting spray.
Advertisement
Done with your makeup, but it lacks that glowy look you were going for? Or does it look patchy and make you want to cancel your plans? Well, when you feel like all is lost, and there's no going back on the bad foundation job you did, your setting spray and beauty sponge just might be the answer. From buying the right setting spray to teaching you the best form of application and helping your makeup go from a 5 to a 10, we're here to guide you through it all.
For all your busy days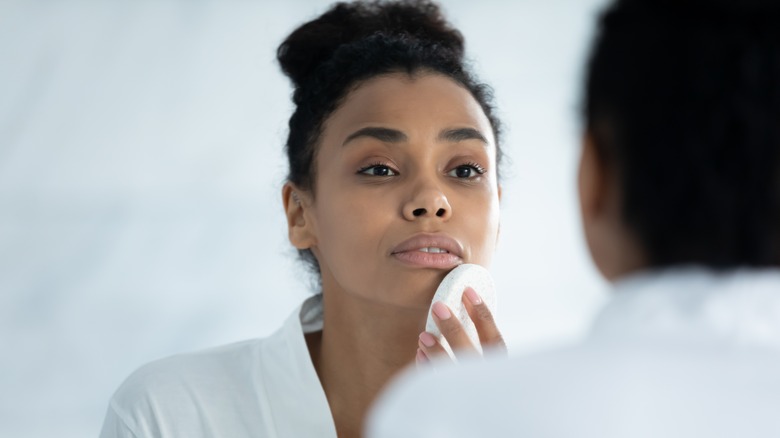 fizkes/Shutterstock
We all have those days where we have to work all day and party all night, leaving no room for makeup retouches. Or, simply, the party is too good for you to make those bathroom trips where one tirelessly applies and reapplies. And having the perfect setting spray trick in your arsenal just might be the answer to all your problems.
Advertisement
A setting spray's primary objective is to ensure your makeup stays the way it was applied. Now, how does applying it with a beauty sponge help? Well, when used in the dot-and-dab form, a sponge gives you more contact with the skin, allowing the setting spray to seep in and do its work. The application process of just spraying it leaves a lesser impact on your makeup, ultimately not supporting you throughout your busy day. Furthermore, the beauty sponge allows full and even coverage that guarantees an even finished look that stays put.
From dull to glowy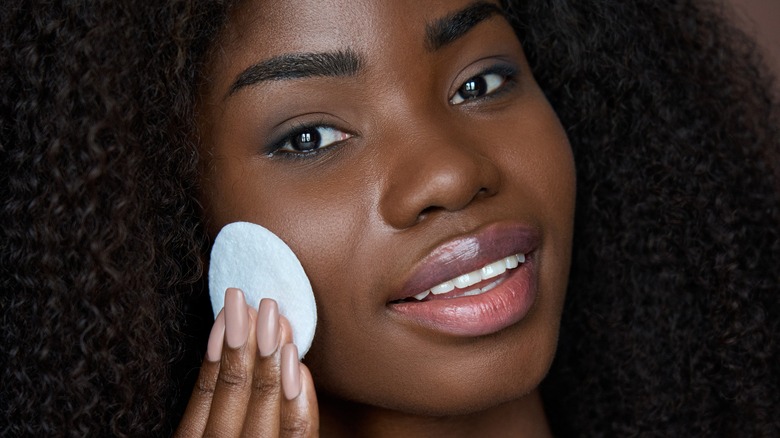 Ground Picture/Shutterstock
Makeup is a process of layering and covering all the bases chronologically, you mess up, and there is no undoing. We've all had those days on which we wanted to peel our makeup off right after doing it because it just didn't come out the way we wanted it to. Sometimes it comes out chalky and pasty, sometimes it just lacks that glowy look. But what if you had another chance to fix it all? Well, your setting spray and beauty sponge have you covered.
Advertisement
If you're just splashing your setting spray over your face after you're done with your makeup, you are simply setting your current look. But by using a beauty sponge and dabbing your face with setting spray you are giving your foundation and contour another vital blend. This blending process will not only save your chalky makeup look but will also give you a final glowy appearance. So, don't settle for simply spraying it on, make use of your beauty sponge one last time and finish your routine right.
Never let your tears get in the way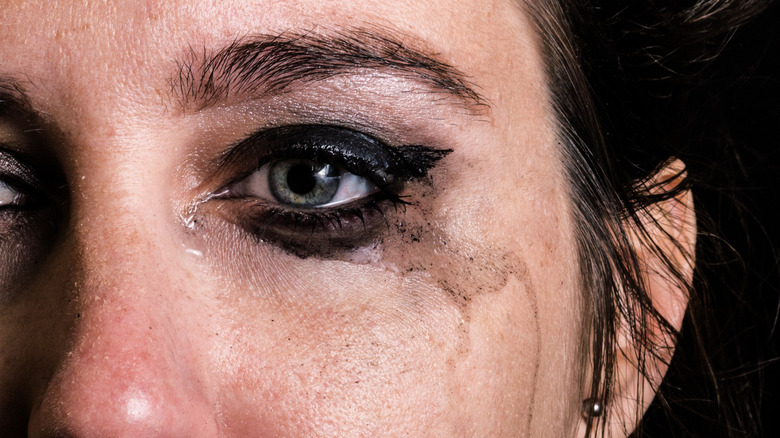 Daniel Myjones/Shutterstock
Your tears, sweat, and whatever it is that's making your eye makeup look runny and smudgy needs to be handled, gone are the days where we settled for runny eye makeup after a good cry. And setting spray accompanied by your beauty sponge is the way to go if you want to look fresh even after a cry.
Advertisement
When you are spraying your setting spray all over your face, thinking you're getting it all over, you probably have your eyes all scrunched up, and we're confident you diligently avoid spraying it over your eyes. Now, this is why the soaking method works much better. With a beauty sponge, you have full control over where the setting spray should go and in which quantity, so say goodbye to nozzles and arm yourself with a sponge.
Dabbing your eyelids with a setting spray-soaked sponge will help give your eye makeup extra, locking in against all the oils, sweat, and tears our eyelids very inconveniently produce in excess.
Buying the right setting spray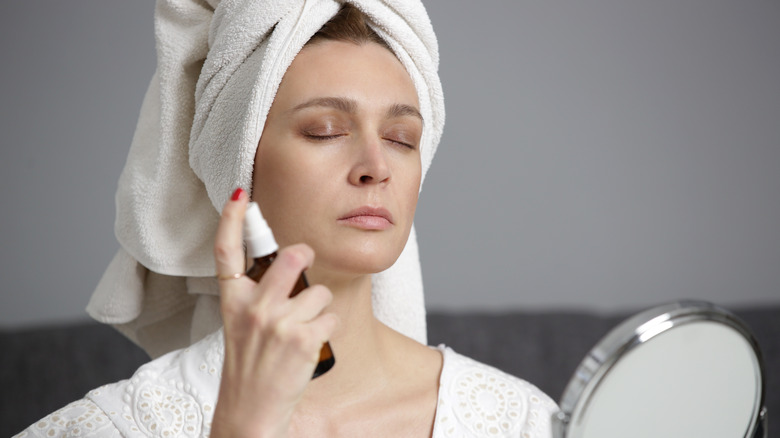 Triocean/Getty Images
Does the product matter? Sadly, yes, makeup is not always about technique. There are certain things to look for when buying the perfect setting spray for that flawless finish. And here are a few to look out for. The ingredient list is always a good place to start. You'd want to look for ingredients such as Aloe Vera, coconut oil, or sugar. These plant-based humectants will allow the spray to stick to your face.
Advertisement
Setting sprays are there to make sure your makeup stays on and locked in, and oily skin doesn't do us any favors when it comes to this. So, what you should look for in a setting spray are mattifying ingredients such as charcoal. But, like with all things in the beauty industry, one size does not fit all when it comes to setting sprays. So, if you have dry skin, we recommend using a water-based formula. However, if you are blessed with hydrated skin, feel free to use an alcohol-based setting spray as they tend to have more hold, but they also create a drying-out effect.
Prepping the sponge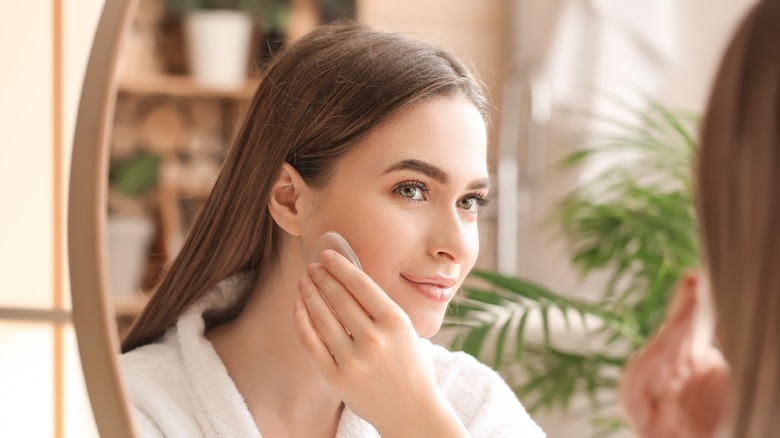 Pixel-Shot/Shutterstock
It's basic makeup etiquette to wash your sponge every time you do your makeup, although most of us go through a couple of makeup routines without doing so. But keeping your beauty blender clean is very important not only for your skin health but also for how your makeup is going to turn out. We do not need yesterday's foundation, highlighter, or contour excesses interfering with our look today. So, makeup lovers, keep those sponges clean.
Advertisement
Moving on. We're sure you've been taught to always use a damp or moist sponge to apply your foundation, contour, or any other product that requires an application from a beauty blender. But, when it comes to setting spray and soaking your beauty sponge with it, it is recommended to use a dry sponge. Remember, you are soaking the beauty blender with the setting spray, so initial moisture or dampness is not required; other forms of moisture will only interfere with the setting spray's work.
The trick for setting spray success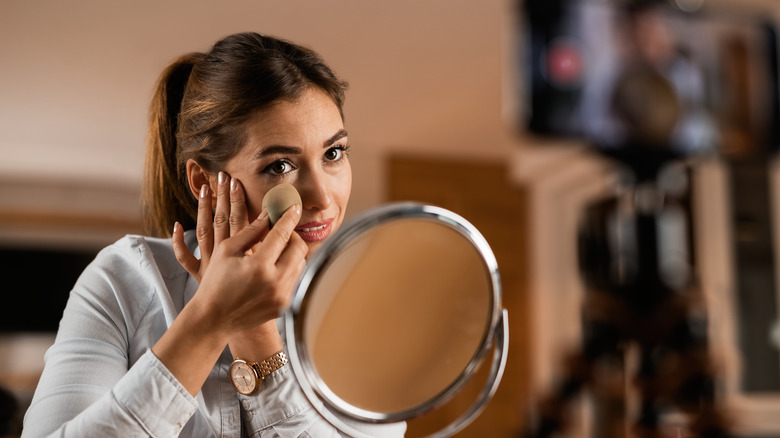 Drazen Zigic/Getty Images
Once you have gotten the perfect setting spray and your beauty sponge is clean and dry, you are ready to take your makeup look to another level. So, what is the trick that seems to do it all? The trick is not to be misled by the nozzle of your setting spray or the word "spray." You do not spray your skin with the setting spray; simply let your beauty sponge soak the product. Then your beauty sponge does all the heavy lifting. You can dot and dab away as you please for that glowy finish.
Advertisement
Sandwich your makeup with your setting spray. We're sure you use your setting spray at the end of your makeup routine, but what if we were to tell you that applying it both at the beginning and at the end has its benefits? Start using your setting spray as a primer to economize on products and for a much smoother makeup look.
To set or not to set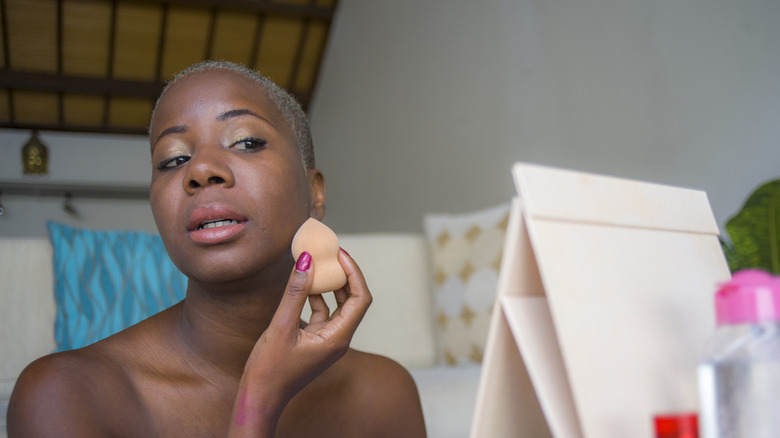 Marcos Calvo/Getty Images
To set should always be the answer. But how do we go about it? The most effective form of application would be to use your beauty sponge, so the real question is whether to set it with a sponge or not to do so. If you want the sponge method that ensures good, even coverage, a dewy and glowy finish that corrects all your past mistakes, and a cry-proof eye makeup look, you might have to buy a setting spray in excess.
Advertisement
For all its benefits, the sponge method has one downside to it. When soaking your sponge with setting spray, you're bound to use way more than you would if you were just to spray it on. So, if you think the benefits are worth it and that extra setting spray won't break the bank, go for the sponge method.
However, if you don't think soaking a sponge is a bit too excessive when it comes to your everyday makeup routine, you can do it on those special days requiring that extra hold. When setting your makeup, using a beauty sponge makes all the difference. So, try it out and enjoy those zero retouches.