The TikTok Viral Ring-Stacking Formula That Shows How To Curate Your Hand Jewelry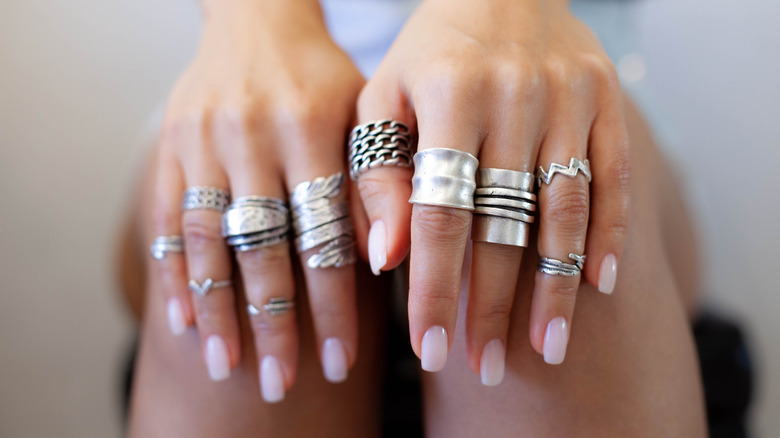 Tatiana Osipova/Shutterstock
Whether you're the kind of person who likes to follow the latest jewelry trends or you prefer to do your own thing, you might be wondering how to pull off a hand full of rings. A bold yet chic choice that embraces a maximalist aesthetic, it offers almost endless options. You can go wild with your style and pop on any accessory that sparks your interest, or you can follow a viral ring-stacking formula that shows you how to curate the jewelry on your hands.
Advertisement
"The middle finger should be a statement piece to give the stack balance," TikTok user and jewelry designer @stillcici explains in a handy video. Keeping things rolling along, she adds that you'll want to place a relatively simple midi ring on another finger. "Next, grab an eternity ring for eye-catching purposes," the designer continues. "Then, you want to choose one finger where you're going to stack two rings on the lower half of the finger. This gives it dimension. The pinky ring is very minimal and then leave one finger empty."
This may make it seem rather simple, but you might not be familiar with the various kinds of rings that you can incorporate into your look. Fortunately, we can fill you in on what — and how many — rings to use for your perfect stacked style.
Advertisement
There are various ring styles to stack
In her viral TikTok video, Cici mentions a range of rings that you can use to create a stunning stack. At the same time, various versions of statement, midi, eternity, and other rings can help you craft your own style.
Advertisement
You can consider a somewhat subtle band or halo rings that boast a larger jewel in the middle, encircled by tinier gems, according to Jeweler's Touch. This can be the statement ring in your stack, or a cocktail ring can be worn to stand out. A cluster ring is like a halo setting without the big stone in the center, while a solitaire ring keeps the middle gem and doesn't have any accent stones. Finally, there's an aesthetic ring that relies on the beauty of the material — such as wood or even leather — as opposed to a complicated design.
When it comes to choosing which rings to wear together, Laura Gravestock, founder of Laura Gravestock Jewelry, provided advice to Woman & Home. "I say that to make your ring stack interesting, you want to mix different textures and finishes — I make stacking rings with different textures like hammered and twisted, with different profile shapes like round or square, and with little charms that dangle from the ring — if you mix these up, you get a really versatile ring stack that you can wear in several different ways," Gravestock told the source.
Advertisement
You might want to ignore the traditional number of rings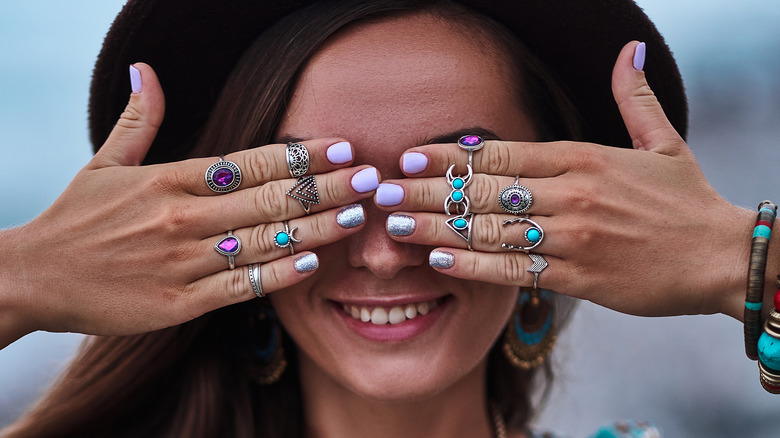 goffkein.pro/Shutterstock
When you choose to stack your rings, you can opt to wear more than you normally would. In fact, it turns out that this trend involves tossing the traditional amount of rings right out the window. Standard etiquette states that a woman should only wear three rings in total and just two on one hand at the very most. Apparently, it's thought that piling on too many rings will create an over-the-top look or one that is purposefully edgy — but that might be one of the reasons you adore this particular style.
Advertisement
Just how many you want to wear may depend on various factors, such as the size and thickness of the piece, as well as the overall design. You can also let yourself be inspired by a specific setting or go with whatever you think looks and feels the best.
If you're still unsure, all you need to do is play around with your rings. Remember that the combinations and placements that you come up with while stacking your pieces aren't permanent and you can change them up as often as you want. That means that you can have fun and create any number of stacked ring styles for yourself.