17 Handbag Trends You'll Want To Carry With You Everywhere In 2023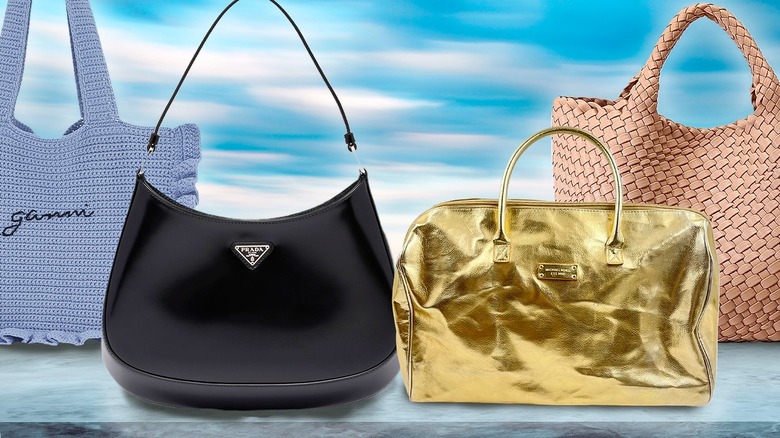 Static Media / Shutterstock
If it was just about schlepping our stuff around, we'd all choose paper or plastic and be done with it, but handbags are so much more than just a practical way to keep life's necessities close at hand. We all know that the wrong bag can break an otherwise perfect outfit, and the right bag can take a simple jeans-and-tee outfit and elevate it to become a look that's effortlessly cool.
Whether you're headed out for the night with just your phone, a tube of lipstick, and a credit card or embarking on a full day out and need to tote your laptop, your lunch, a couple of books, an extra pair of shoes, and enough makeup to do a full face and then some, there's a 2023 handbag trend that will meet your needs and easily update your spring wardrobe without having to buy a whole new closet full of clothes.
Updated on July 20, 2023: Handbag trends change with the seasons — and the seasons' needs — so we've updated our list to keep power in the palm of your hands all year long.
Shine bright like a diamond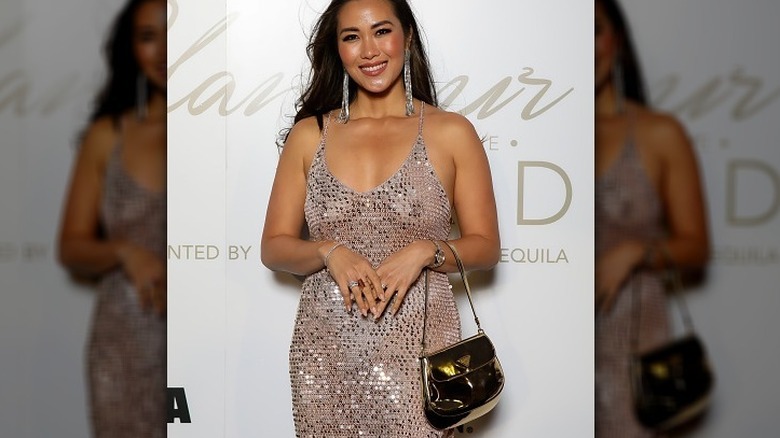 Sam Tabone/Getty Images
There's a time and a place for minimalism, but sometimes more is more, and you want to shine, sparkle, and serve as your own spotlight. If you're wearing a spangly dress, why not add a shiny bag in another metallic shade, as seen here on Diana Chan?
Options include sequins, rhinestones, lamé, metallic mesh, or even an extra-glossy patent leather. The best part? These bags are more versatile than you might think; you can also carry them with more casual outfits for an unexpected shot of campy glamour.
Stay flexible with rubber
Maybe it's the slow and steady Crocs takeover of the perennially popular category of comfortable, cute-ugly footwear (after all, even Balenciaga has embraced their reign), but rubber accessories, which also includes handbags, remain an unexpectedly chic warm weather hit.
As spring is traditionally rainy and muddy, they make a great option on days you need to brave the elements. You can even give a call back to the olden days when fashion etiquette dictated that bags and shoes match, and pair a rubber bag with some wellies. When the sun is out, take a rubber tote to the beach, and keep your sunblock and ice cream money safe and dry.
Straw and raffia are real naturals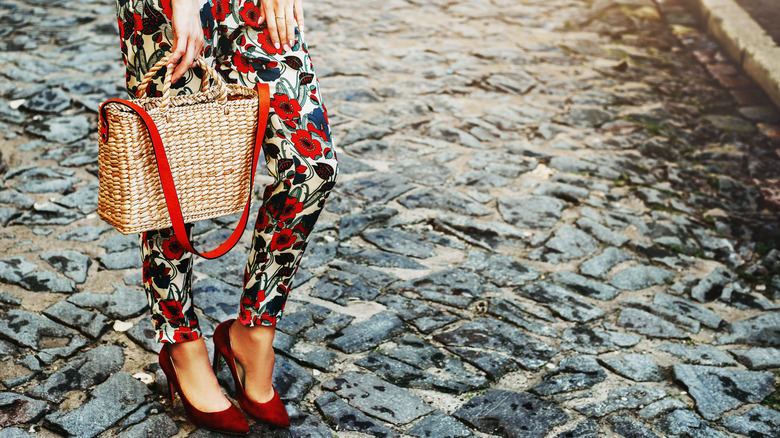 Victoria Chudinova/Shutterstock
Straw and raffia bags are warm weather staples, and this year there are even more options to choose from. Keep it classic and polished with structured shapes featuring leather shoulder straps.
Raffia bags can also skew fun and vintage-kitschy with colorful floral motifs and fringe trim. These also look great with scarves tied on, particularly floaty chiffon ones. Tie on a silk one for an extra preppy touch, and have it handy for pulling your hair back while riding in a convertible or pedaling your bike into town.
No drops in these buckets
Bucket bags are back in a major way, which is great news for anyone who has to carry around a lot of stuff and doesn't want to look sloppy and weighed down — and who among us can't relate to that?
Bucket totes — just one type of trendy but functional tote bag you'll see everywhere in spring 2023 — offer plenty of room but still manage to look polished and streamlined thanks to their elongated vertical shape. A leather bucket is always a great option, but consider canvas as well — it's affordable, particularly cute and convenient for warmer months, and often comes in bright hues or fun prints that add interest to any outfit.
Grab a top handle and go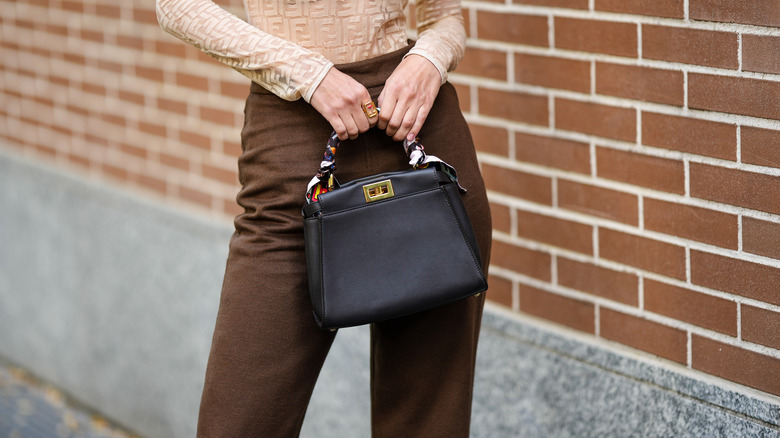 Edward Berthelot/Getty Images
Top handle bags are a feminine, status-y option with ladylike vibes that elevates any ensemble. These bags put your hands center stage, so they're a great option if you want to show off your ring stack or a fresh new mani.
If you need a more practical purse that frees up your hands, many of them come with a detachable strap that allows you to convert the bag into a shoulder or crossbody bag — always a sensible and stylish choice.
Timeless classics are always in style
Classic tailored black bags with clean, polished hardware are never out of style, but they're having an especially popular moment in 2023.
Whether you splurge on an investment piece like something from the iconic Jackie 1961 line from Gucci or the Fendi Baguette, a '90s fav, or simply follow the heavy hitters' design leads and look for one in black or navy leather (real or faux) with strong lines and a shapely silhouette — just one that's projected to be huge this year — you'll have something that goes with anything and is always on point.
Playful shapes make statements
Bags shaped like other objects, be it a telephone, a carton of milk, a puppy, or simply a heart, are an easy way to add wit and irreverence to any look while also serving as a great conversation starter, as you will absolutely be noticed if you carry one of these.
The novelty handbag is another type of bag that's surprisingly suitable for all sorts of looks and occasions. Think along the lines of Judith Leiber's famous spangled novelty evening bags for formal occasions, while its shiny vinyl is playful and perfect for daytime fun.
Pack it up, pack it in
If your favorite response to a sartorial compliment is "Thanks! It has pockets!" we have some very good news.
Utilitarian totes with rugged good looks, cool yet practical fabrics like canvas, denim, and quilted nylon, and plenty of compartments that divvy up your essentials for easy organization are totally in right now. Some of them are even big enough to serve as weekender bags, which is great for no fuss warm weather getaways. Accessorize with a handful of enamel and button pins, and make it personal.
Crochet all day and into the night
Crochet continues to dominate as queen of the arts and crafts realm, and that includes handbags. Colorful granny squares are a timeless haute hippie favorite, and while you may associate them with a big cozy afghan draped over the back of a couch, they bring cute boho flair to warm weather outfits — try them with a flowy dress and sandals for pure summery vibes.
Crochet can skew classic and elegant, too — look for sophisticated bags made from silk yarn with braided leather or metallic chain shoulder straps.
Weaving it all together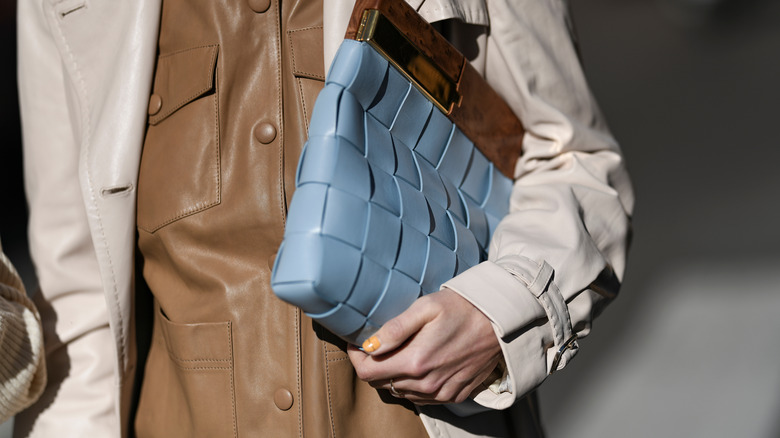 Creative Lab/Shutterstock
Italian design house Bottega Veneta put woven leather bags on everyone's wish lists back in the '70s, and while they continue to create their webbed masterpieces to this day, luckily, there are options showcasing this elegant, artful technique at all price points.
Woven handbags add texture and interest to any ensemble and are available in a plethora of materials in addition to leather, including vegan alternatives, fabrics of all kinds, and even the aforementioned straw and raffia — always seasonal favorites.
Slouchy shoulder bags are divine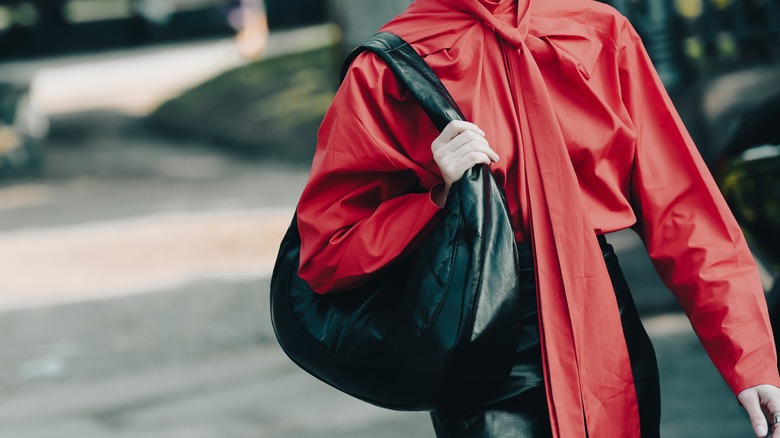 Creative Lab/Shutterstock
Shoulder bags are made to comfortably be carried over your shoulder (hence the name). This is perfect for anyone who spends a lot of time walking from one place to another — it frees up your hands and looks stylish.
When it comes to slouchy shoulder bags, the versatility they provide is unmatched. Not only are they easy to find, but they have a casual look to them that makes them great for the office, vacation, and everything in between. 
Scoop bags offer a fun alternative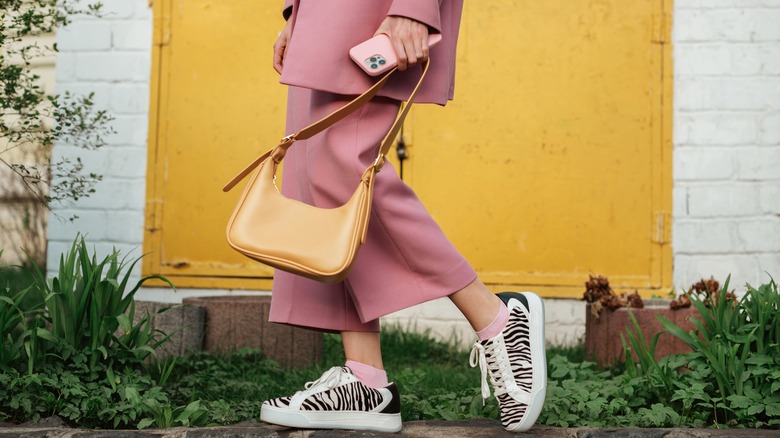 Victoria Chudinova/Shutterstock
What makes a purse a scoop purse? It's how the top of the bag looks like it was scooped out. You can find this style of purse in all sorts of colors. We like the business casual look of this bag, as it could easily go with you to a business meeting.
However, you can also find scoop bags with embellishments and designs that make them look like a croissant instead of a purse, which adds a little flair of fun to the mix (and may not go over as well as a work bag).
Creative bags that hold everything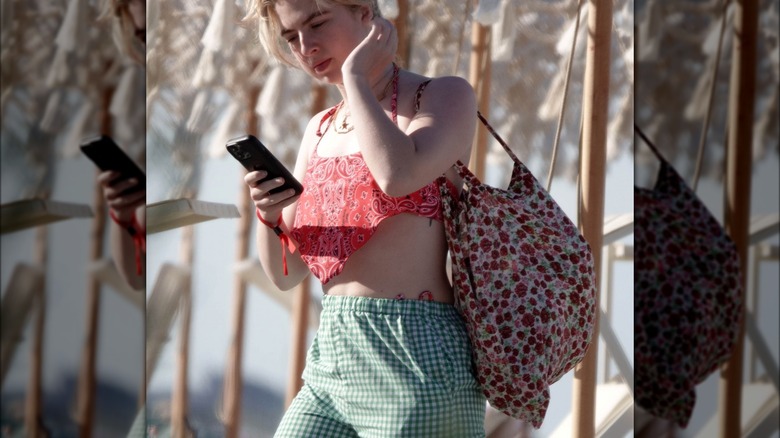 Mega/Getty Images
Micro-purses are out, and big bags are in. That's right, you don't have to stick with little bags when it comes to carrying around a handbag because big bags are trending. The thing is, bigger bags have a lot to offer, with tons of space to fill up all of the things that you need for the entire day.
Heck, you could carry an entire extra outfit with you to change mid-day if you don't have time to stop home before your next big plans. We love those big boho-style bags with an unmistakably creative look, whether you opt for florals, stripes, or tie-dyed. 
Don't blush, but pink is in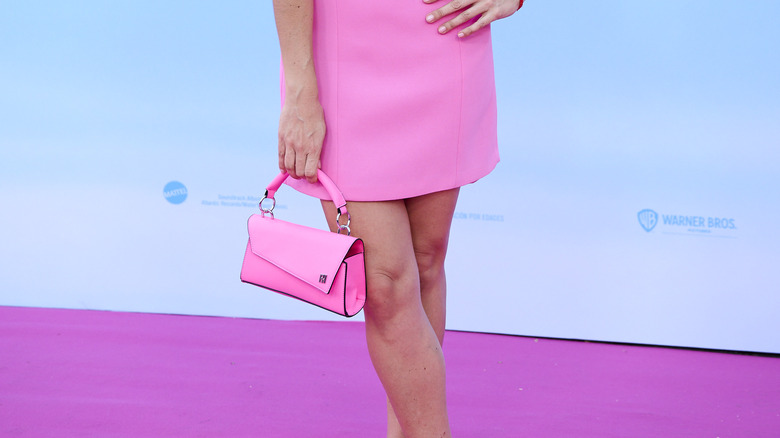 Carlos Alvarez/Getty Images
Barbie is the it girl this year, and we all know how much that woman loves pink. With that being said, it's no wonder Barbiecore fashion and pink bags are in right now and probably won't make their way out for a while.
It doesn't matter what style of bag you grab; as long as it is pink, you can be sure people will be talking about it. The shade of pink doesn't matter, either. From a light blush pink to something neon and outgoing, pink is queen.  
Soft bags are lush and cute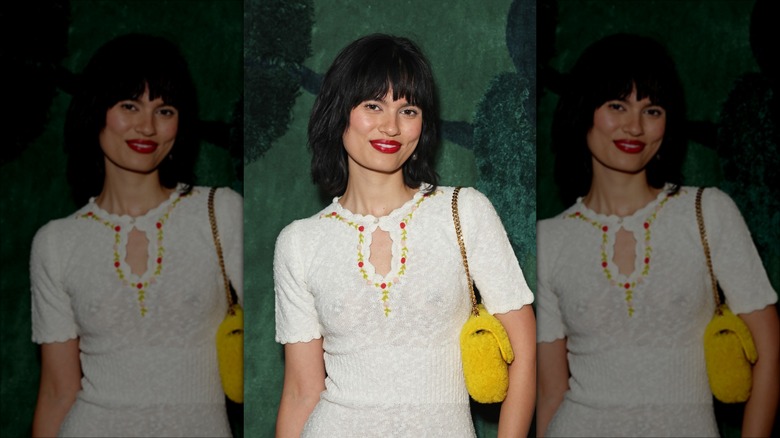 David M. Benett/Getty Images
Just like those fun bags in various shapes that we're fawning over, we're also in love with soft purses, whether they feel like a sheep that needs shearing or as soft as a bunny rabbit — we don't care.
Plush and furry purses are in, and they're not just for children. They do, however, add a playfulness to your look, which can be fun if you're looking to lighten up your vibe and bring a little more joy into your life. One of our favorite soft bags is this quilted shearling Pillow Madison Shoulder Bag from Coach. 
Luxe hardware matters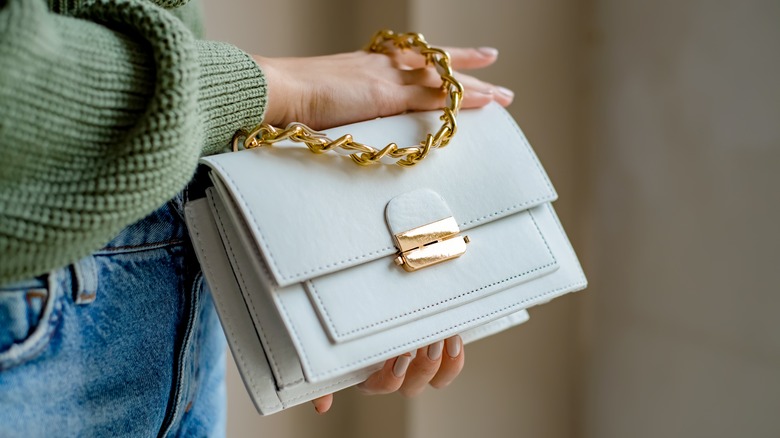 Chernova Yuliia/Shutterstock
Embellishments are in, and the right ones offer a luxury statement that quietly lets people know you like to be trendy and invest in designer pieces. To jump on this trend, we have two suggestions for you.
The first is to look for bags offering the brand name boldly, and the second is to look for luxe-looking hardware that stands out and adds flash to your accessory. Whether you're a Prada lover, prefer Coach, or have some other favored brand, grab the ones that show their names on shiny metal embellishments. 
Quilted bags may never go out of style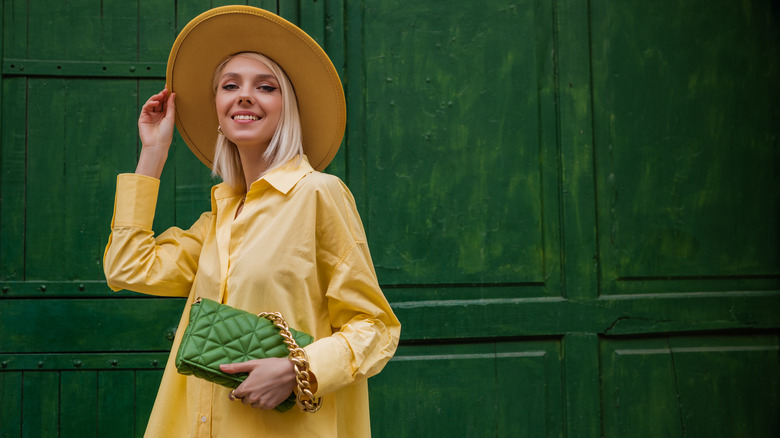 Victoria Chudinova/Shutterstock
When you think of quilted fashion, your mind may go directly to those puffer jackets and vests we love to stay warm in during the chillier months. However, there's one great way to keep quilted fashion around for the entire year, and that's with a luxurious quilted handbag like the beautiful green one above.
The right color can make for fun color-blocking, like this mix of yellow and green. Perhaps the best thing about quilted bags is their versatility. They come in all shapes, sizes, and colors, and you can find different quilted patterns, too.