How To Use Nail Polish Remover As A 'Toner' For Your Nails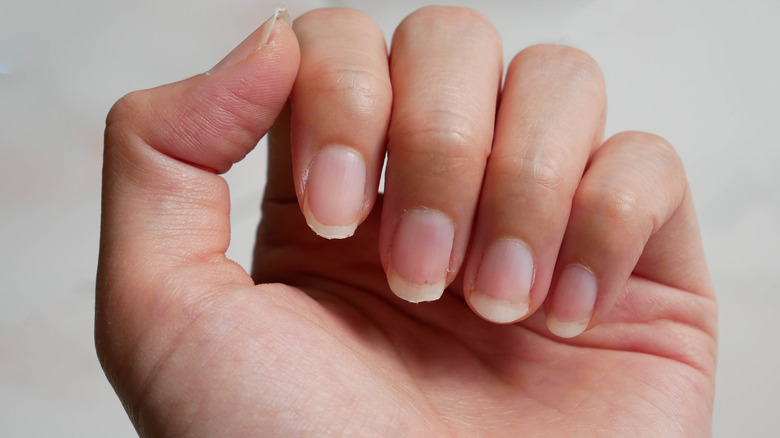 meow wii/Shutterstock
Fingernails take a beating — both through the perils of everyday life and the swoon-worthy nail salon trends we foist upon them. Since many of us go from polish to polish without a breather in between, the nails themselves can become dehydrated, discolored, and even brittle to the point where they split. Don't even get us started on how jacked-up cuticles can get without proper care.
The truth is that most people don't perform nail care treatments the way they ought to. At a minimum, Mayo Clinic says to make sure to rub hand lotion generously into the cuticles and fingernails to keep them hydrated (pay attention next time, odds are you miss the nails entirely and focus on the hand/fingers). It's also perfectly okay (even advised) to add a couple of additional products into the mix to improve nail health, like a biotin supplement or a nail hardener. Both of these will make nails stronger over time. Although these gestures will improve overall nail health, there is one simple step that can make the next home polish session a slam-dunk — and it involves a product you almost certainly own.
Do this tiny extra step before your next home manicure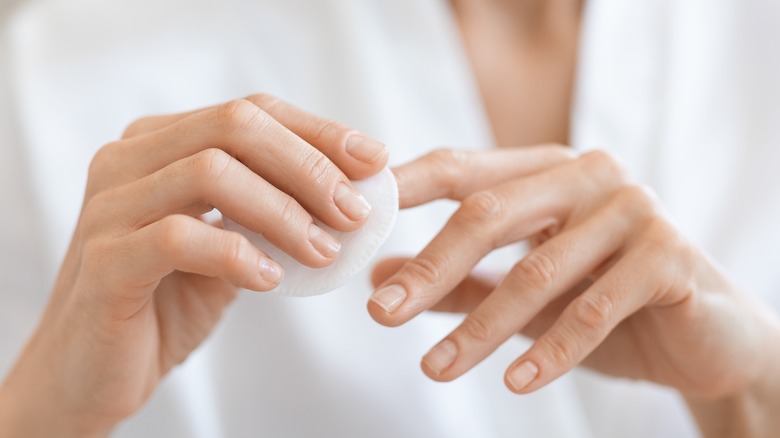 Prostock-studio/Shutterstock
There are a lot of steps already in the average manicure, from basecoat to polish to top coat and everything in-between. However, one tiny extra effort will make the manicure that much more long-lasting and professional looking. Expert Leighton Denny, who specializes in nails and beauty, clued Refinery29 into an added step, which he says functions sort of like a toner for the nails. It merely involves taking a moment or two to use nail polish remover, even on bare nails. This small effort will effectively remove dirt, grime, or other nastiness that's invisible to the naked eye. All of that stuff can make it tougher for the new coat of polish to dry correctly, so getting rid of it is of paramount importance.
The nail polish remover also gets rid of any extra oils, such as those from lotions, that are present. This helps the polish better stick to the nail, Bluesky Cosmetics explains. Incidentally, Bluesky also suggests using a primer following the cleansing process to ensure the best results.
Toners perform these all-important functions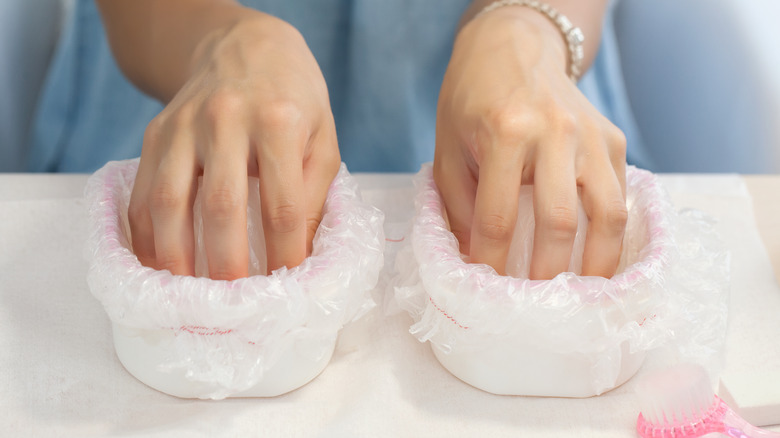 Olga Pyrozhenko/Shutterstock
Most people know that toner is part of any all-encompassing skincare routine, but aren't sure what it actually does. Toners for the face, as well as the nails, are designed specifically to get the surface ready for the next steps. Toner on the face is usually followed up by moisturizer. But on the nails, the next step is polish. In either case, toner is designed to come right after the area is cleansed, and will actually further clean up the area by getting anything the previous cleanser missed. Facial toner is also designed to minimize pores, protect the skin from outside influences, and so on. Certain types of toner even add back beneficial nutrients to help strengthen the area.
Toning alone won't turn out a great result. Achieving the best home manicure takes time, patience, and even a total disregard for longstanding practices. One such step to avoid is commonly done in nail salons — soaking nails in a tiny bowl. Per WebMD, this is an ill-advised practice, as the fingernails get larger when soaking in water. They gradually get smaller again as they dry. But since this doesn't fully happen until after the polish is applied, it messes up the setting process. Instead of using this step to soften cuticles, they suggest using a cuticle softener product specifically designed for the purpose. So the next time you perform a home mani, ditch the bowl and swipe on some toning nail polish remover, instead.