Pink Setting Powder Could Be The Answer To All Your Redness Woes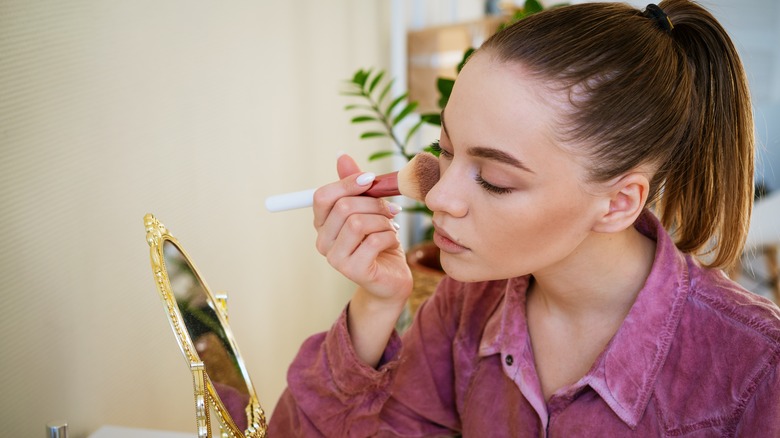 Pereslavtseva Katerina/Shutterstock
Face powders were one of the first cosmetic products to be developed, dating back to ancient cultures in Rome and China. These products were used to lighten and smoothen the complexion as a status symbol, but they've seen quite the evolution from the lead-laced formulas favored throughout history. In the early 1900s, powder got a bit of a rebrand. It was used to mattify the skin and set makeup rather than completely cover the face, and this use has stuck around in our makeup regimens since then.
In recent years, baking, precise placement, and translucent formulas have changed how we use our powder products, but the rising trend of glowy, second-skin makeup has caused many to embrace their natural sheen. If you're on TikTok, however, you know that a new viral craze in the cosmetic industry is causing a spike in interest in a more smooth, matte complexion. Pink-setting powders are on the scene, and they promise to create a highlighted, healthy look, even for those who struggle with redness.
What is pink setting powder?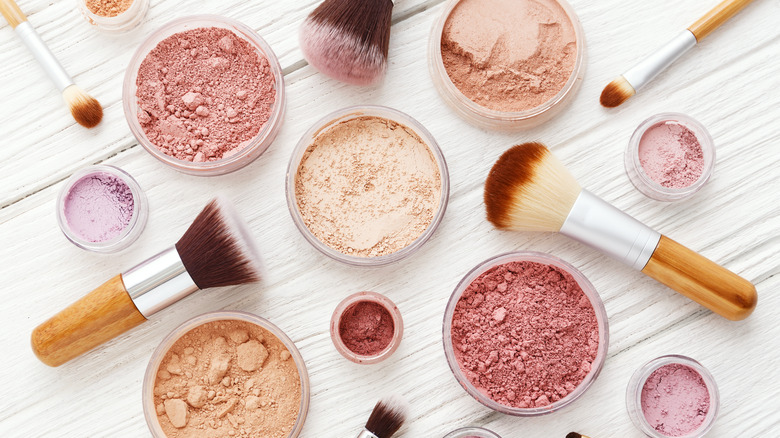 Everydayplus/Getty Images
Pink setting powder is exactly what it sounds like. Instead of the typical translucent or yellow-toned formula found in banana powder, these products are tinted slightly pink. Saturation levels vary by brand, but don't worry — it won't look like you applied a bright swath of blush directly under your eyes. Across the board, shades vary from nearly white to ballet slipper pink — nothing approaching neon levels.
This trend first gained steam, as many do, with Kylie Jenner. She shared that one of her top makeup hacks is applying light-toned blush on top of the setting powder under her eyes to help create a bright, seamless look. After creators on Instagram and TikTok decided to give it a try, brands took notice, developing new products or pushing their existing pink-toned powders to help minimize this hack down to one simple step. Huda Beauty, Ben Nye, and E.L.F. were some of the first to throw their hats in the ring, though it seems just about every brand is releasing a rosy option to capitalize on the trend.
Why does pink powder work for redness?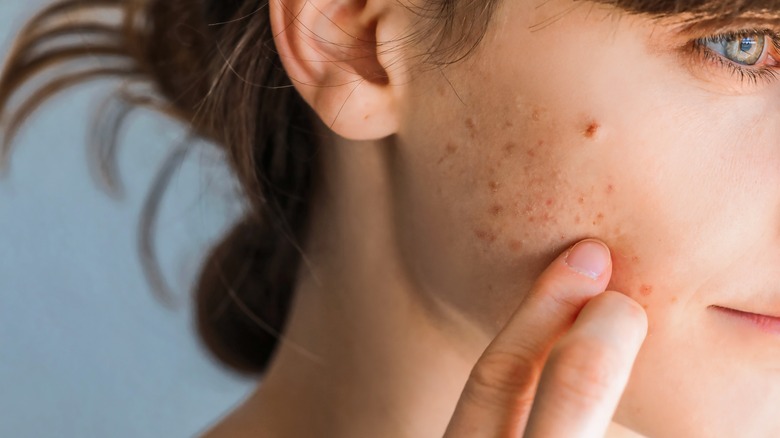 Kim Kuperkova/Shutterstock
If you're a fan of using color theory in makeup, you might be surprised to learn that pink powder can provide some benefits for people battling redness and acne scars. The typical color used to cancel out red tones in the skin is green, thanks to their opposite positions on the color wheel, but, as it turns out, acne can leave behind slightly gray or green-toned dark marks along the face, especially if you're pale. Pink-toned powders help brighten these marks and bring back a smooth, youthful glow.
Additionally, the pink powder can be helpful for people with cooler skin tones facing all-over redness. After applying concealer, your under-eye area might feel a little disconnected from the rest of your face, thanks to the difference in undertone. Concealers are typically more neutral or slightly yellow, but this difference is amplified if your skin has a bit of a red tinge. Pink setting powder under the eyes can help bridge the gap between these differences and create a more seamless look.
What skin tones does pink powder work best on?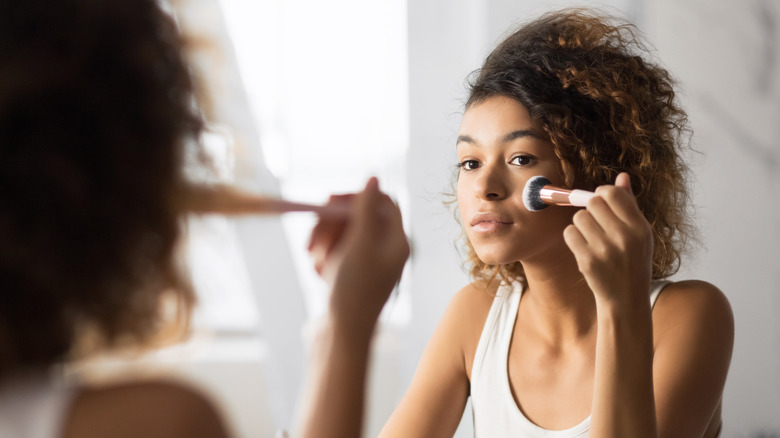 Prostock-studio/Getty Images
Unfortunately, the pink powder hack isn't created equal across all skin tones. This tint works best for those with light to medium complexions, though, if used sparingly on darker skin, it can create an ultra-brightened look perfect to compliment the rest of your glam. The real magic of pink setting powder comes in when it's used to cancel green tones under the eyes, which are usually found in people with lighter skin tones.
This hack is also most natural looking on people with a slightly cooler undertone. If true pink blushes look disjointed on your skin and you tend to lean more towards peachy or orange tones, a cool pink powder will likely do the same. To get a similar brightening effect that looks more harmonious with the rest of your face, try a neutral translucent or slightly yellow-toned powder on top of your go-to brightening concealer. 
How to apply pink powder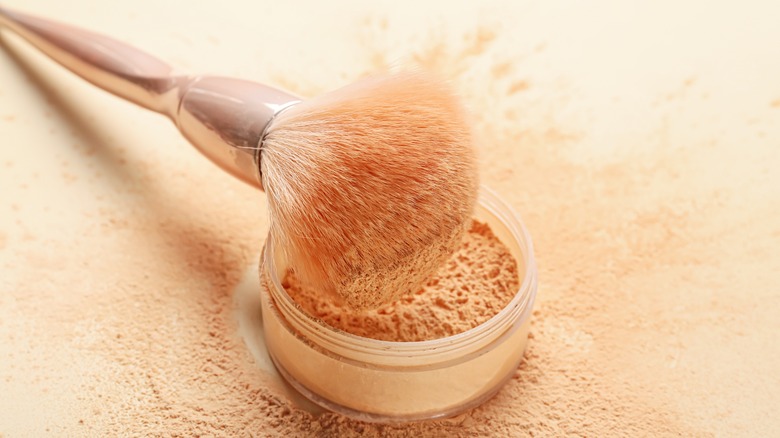 Pixel-Shot/Shutterstock
To apply pink powder, all you need to do is slightly switch up your setting routine under the eyes. Always begin with skincare and sunscreen, then go in with a primer if you want your look to stay crease-free all day. Apply your foundation, then go in with a brightening concealer one to two shades lighter than the skin tone under your eyes. After blending, set generously with your pink-toned powder, as makeup artist Jocelyn Romero demonstrated on a recent TikTok.
After wiping away the product, you should be left with a slightly brighter — and well-set — under-eye area that blends seamlessly with your blush. If you're looking to cancel green tones from acne marks, the pink powder can also be used to set other areas across the face, though it's best not to pile it on as heavily if you still want to maintain a bit of natural glow.