How Low Of A Neckline Can You Wear To A Wedding? Here's A Handy Guide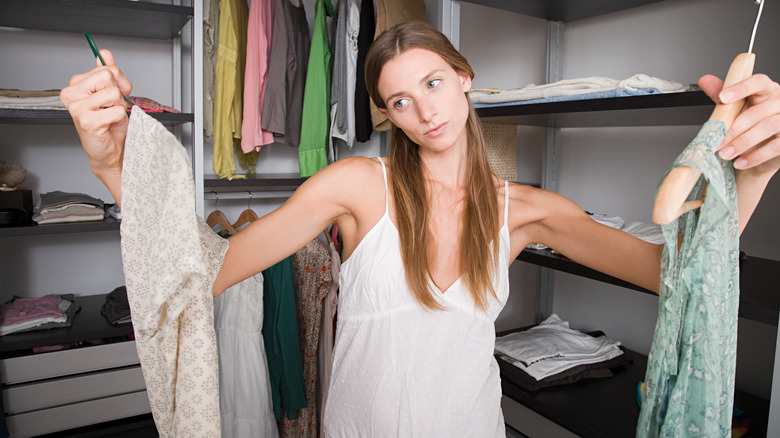 Image Source/Getty Images
Wedding season is such an amazing time. It's the perfect event to get dressed, reunite with family, and celebrate two people coming together. During this time, people often have dress codes that entail exactly how they want their guests to dress. While we all want to be the best-dressed wedding guest, sometimes we need more guidance to help us with our outfit choices.
We all know the basics of what not to wear to a wedding, but some things can become a little unclear. A controversial outfit choice that might come up is how low your neckline should be. While some of us love a low-cut moment, the bride, groom, and family might have other ideas of what is appropriate. This is normally because everyone has different sensibilities. While the neckline might be beautiful, it can also not fit the event. So when deciding on the dress to wear, what neckline is exactly appropriate?
How to pick the right neckline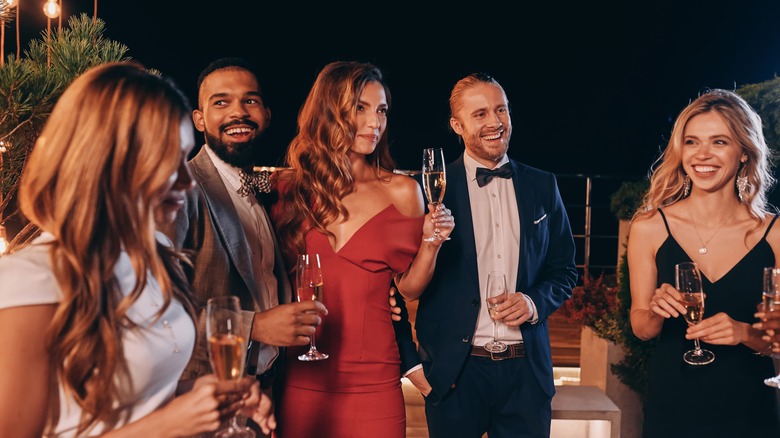 G-Stock Studio/Shutterstock
When it comes to picking the right neckline for the big day, remember less is more. While many formal and cocktail outfits often give the option for deep necklines, weddings are not the event to do so. Elaine Swann, founder of The Swann School of Protocol explained to Cosmopolitan that she always advises against the low neckline."Not only will the couple be there, but there may be extended family members, including grandparents," she told the publication.
This of course does not mean you have to wear your grandmother's outfit. Swann explained that we can all wear our stylish pieces but we must keep in mind that weddings can be more conservative events, so we have to watch what we wear. The best way to gauge if the neckline is ok is by making an assessment of the bride and groom. If the couple is more conservative, it's best that your dress match their style. On the other hand, if they are more trendy and out there, you can also give your neckline a break.
Understand the dress code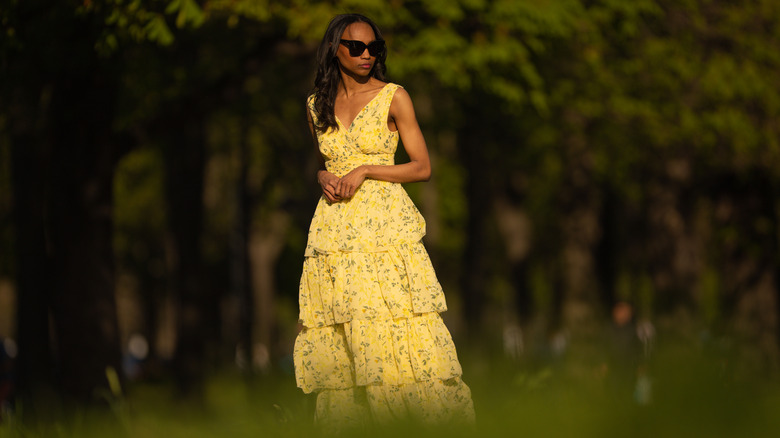 Edward Berthelot/Getty Images
Another way to assess whether this is the right dress for you is to understand the dress code. There are many different dress codes, including white tie, black tie, festive, and cocktail, with the most popular choice being formal wear, according to Brides. These parameters are usually set in the invitation, and it sets the standard for your outfit. Sometimes the dress code is not clear and might not be explicitly written in the invitation. However, the next best thing to do is to look up the venue of the event in question. Having an idea of where the bride and groom are having their nuptials could tell you everything you need to know based on the time of the event and how it looks.
Once you have the dress code, the best move is to not go overboard with the dress. As long as your neckline is not too overwhelming, you should be fine.