Why You May Want To Practice A Bit Of Layering Patience With Under-Eye Concealer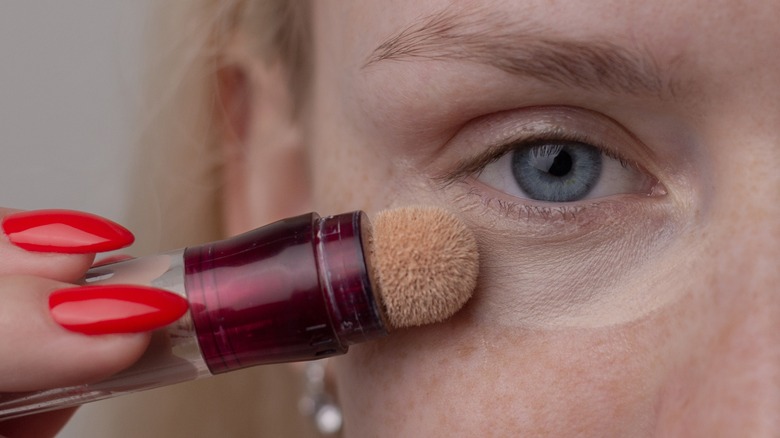 Andrei Lapkin/Shutterstock
Concealer is one of the most popular beauty products in the makeup market, with millions of individuals using the product every year. In fact, some brands of concealer are so popular that they sell several per minute, per The Mirror. Many of us use this nifty little beauty product to cover blemishes and conceal dark circles under our eyes; however, this is where problems can occur. If you use concealer, you may experience some mishaps while using it. Unfortunately, many individuals often experience "cakiness" or creasing when wearing concealer and are usually left wondering how it's possible to rectify the problem.
Thankfully, you can solve all of these pesky issues through a technique known as layering, which aims to take your under-eye makeup game to the next level. However, what makes this technique so good? Below, we'll take a look at why you should incorporate this method into your concealer routine. Your eyes will thank you later.
Layering helps prevent concealer mishaps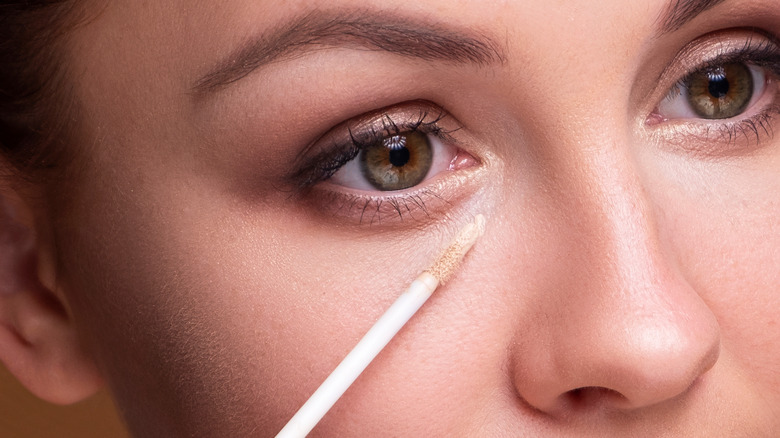 Anna Demianenko/Shutterstock
Under-eye concealer is popular — and for a good reason. It's versatile and can be used anywhere on your face. However, it doesn't always turn out to look so good once you've finished applying it under your eyes. If you're not very experienced when it comes to makeup, you may be all too familiar with this situation — perhaps more than you care to admit. However, one great way to counter this is through a technique called layering, where you "lay down sheer layers [of concealer] beforehand," which will make it "less likely [that] you'll have runny or cakey concealer," explains makeup artist Kirin Bhatty (via Allure). These undesirable effects often happen due to a build-up of foundation or concealer on your skin, causing an unnecessary and unnatural-looking result.
For this reason, this technique is much more effective than simply slapping on your product with your brush or wand and is a great reason to add it to your makeup routine. In addition to concealer, there are plenty of ways to apply your foundation for a natural finish, which may also help prevent any excess buildup. You can apply this versatile technique to most makeup products. All you need is a bit of patience and practice.
Always use a primer before concealer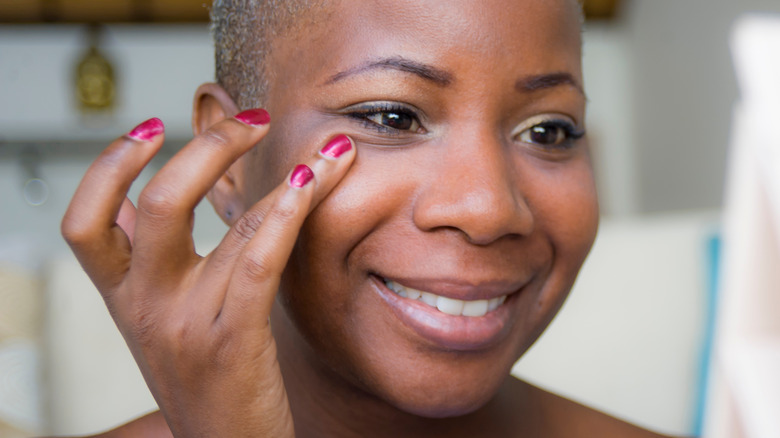 TheVisualsYouNeed/Shutterstock
While layering your concealer is a fantastic idea, you should also ensure that you use a primer on your skin beforehand to enhance your results. Primer is designed to support a flawless-looking finish and may even help to prevent creasing under your eyes (via The Cut). Naturally, this will only help your under-eye look even more natural, especially if you pair it with the above technique. All you have to do is apply your primer and wait for it to soak into your skin.
In addition to your under-eyes, concealer can also be used in a variety of other ways. For example, blending techniques can create a natural finish or cover pesky blemishes. However, asides from your under-eyes, there are other methods you can use to prevent caking makeup in general. Not only will this help you level up your makeup game, but you'll also be able to use it harmoniously with your new concealer trick. Now, all you have to do is practice!