Coachella 2023: 6 Worst Looks From Weekend 1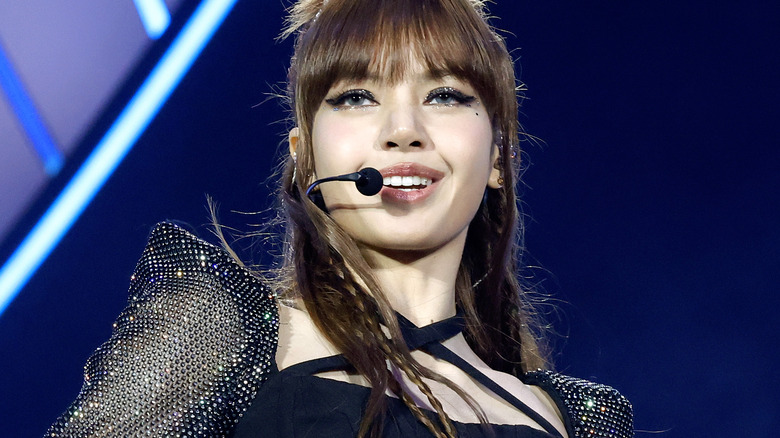 Frazer Harrison/Getty Images
The Coachella Valley Music and Arts Festival is back in full swing. The annual affair, which aims to showcase emerging new artists as well as bands who have reunited and artists who are due for a comeback, has become a who's who of celebrities and influencers in recent years. The event spans two weekends and churns out nearly as many viral fashion statements as the Oscars, which always gives us enviable fashion trends. While festival wear exists in its own category, it is certainly still possible to go over the top or simply misstep a bit when putting a look together.
Now that weekend one of Coachella 2023 has officially wrapped up, it's time for us to take a closer look at those who perhaps flew a bit too close to the sun with their festival ensembles. Here's the list of what we would consider the worst looks from the massively popular music event so far this year.
Kali Uchis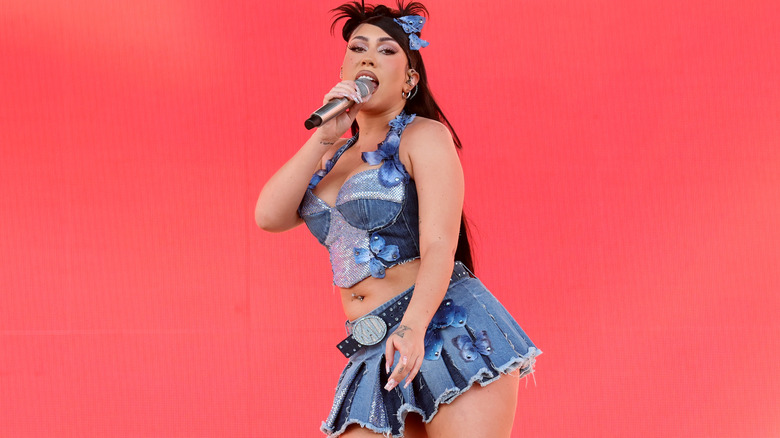 Monica Schipper/Getty Images
In 2023, Denim trends are back in a big way. However, Kali Uchis' denim on denim — on denim on denim on denim — ensemble at the first weekend of Coachella 2023 landed on the verge of satire. The singer paired a denim bodice with a pleated denim miniskirt, a denim belt, denim boots with waistbands and belt loops, and even a denim hair accessory. Too much is an understatement.
Michelle Joy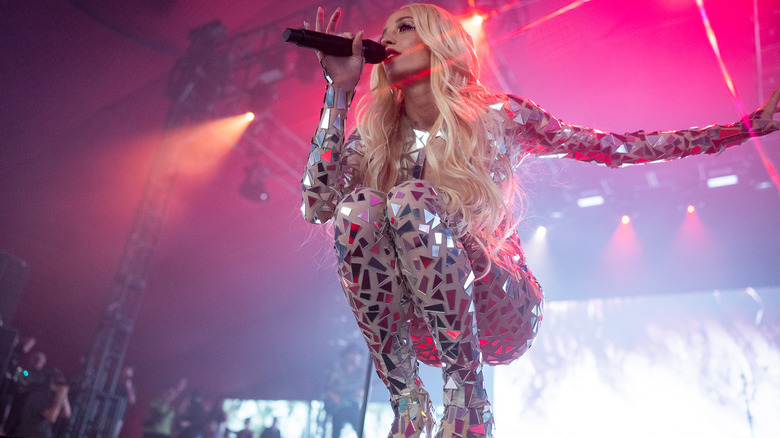 Emma Mcintyre/Getty Images
Pulling fashion inspiration from a funky, envelope-pushing decade like the 1970s for a festival look is one thing, but dressing up as a literal disco ball is quite another. While we appreciate the nod to the era that was such a musical powerhouse, this one was a miss for us.
Björk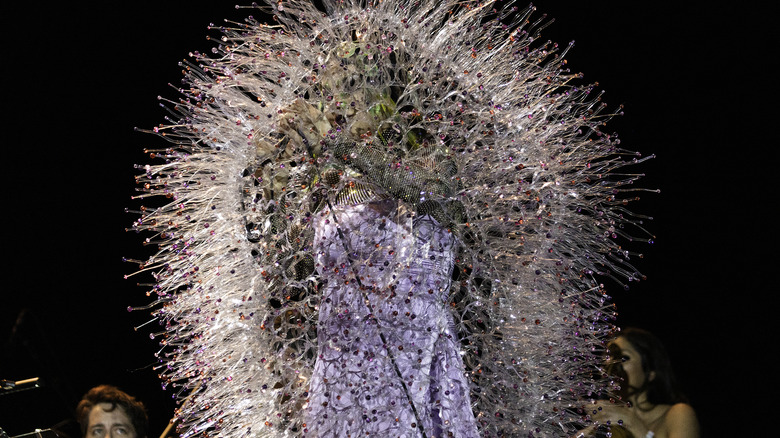 Santiago Felipe/Getty Images
Björk, who once stunned onlookers at the 2001 Oscars when she arrived in a dress that resembled a swan carcass, is back. This time, the iconic singer was dressed in thousands of fiberoptic tendrils with blood-red beads at the end of each. These spines covered her white dress, face, and retro hairstyle to a bit of a frightening degree.
Madison Bailey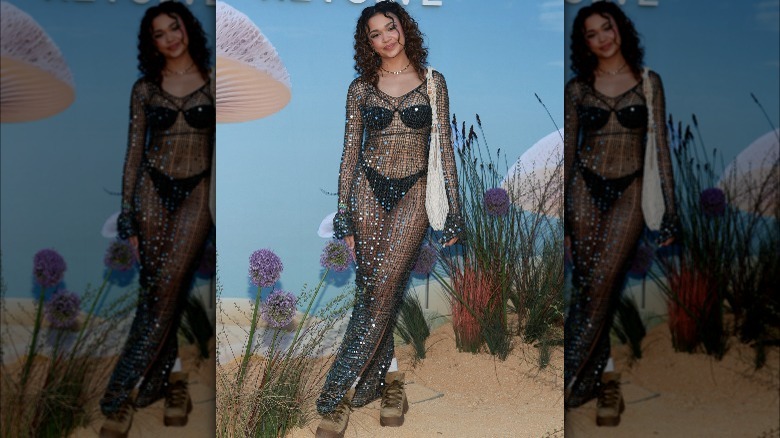 Steven Simione/Getty Images
"Outer Banks" star Madison Bailey seems to have attempted some sort of bold fashion mashup that didn't quite manage to land. Her black bedazzled chainmail gown over a black bikini was paired with what appears to be tan hiking boots and white crew socks. Add in the cream macramé bag, and we're more confused than ever. 
Paris Jackson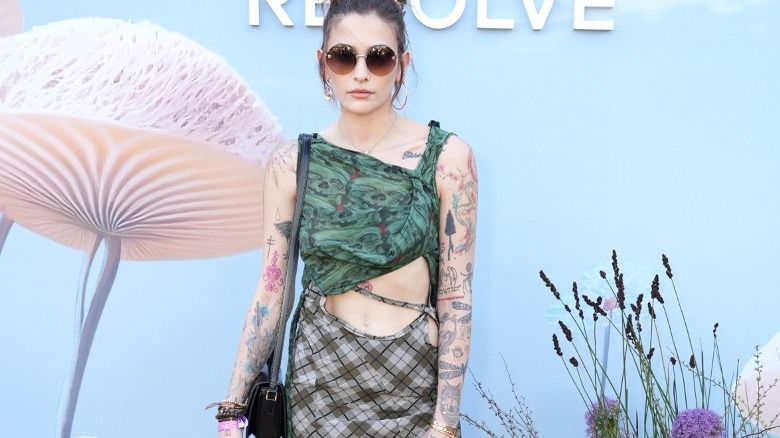 Gonzalo Marroquin/Getty Images
Paris Jackson, daughter of megastar Michael Jackson, appeared at Coachella 2023 in a dress and boots that were surely intended to be a nod to the 1990s grunge scene. While the nostalgia is certainly appreciated, the dress's rough cutouts and random draping were a little too reminiscent of a middle schooler who was let loose in their grandma's fabric closet.
Madison Pettis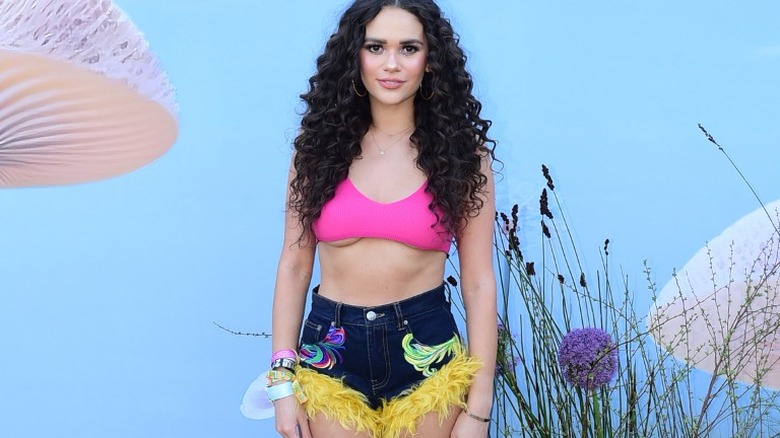 Vivien Killilea/Getty Images
Madison Pettis' attempt at fun festival attire wasn't the worst Coachella 2023 had to offer, but it wasn't the best either. Her neon pink crop top seemed ill-fitting to the point of a potential wardrobe malfunction, while her embroidered, fur-trimmed denim shorts appeared a bit too big at the waist. The combination created an awkwardly bottom-heavy silhouette.