14 Places To Sell Your Jewelry Online & Promote Sustainable Practices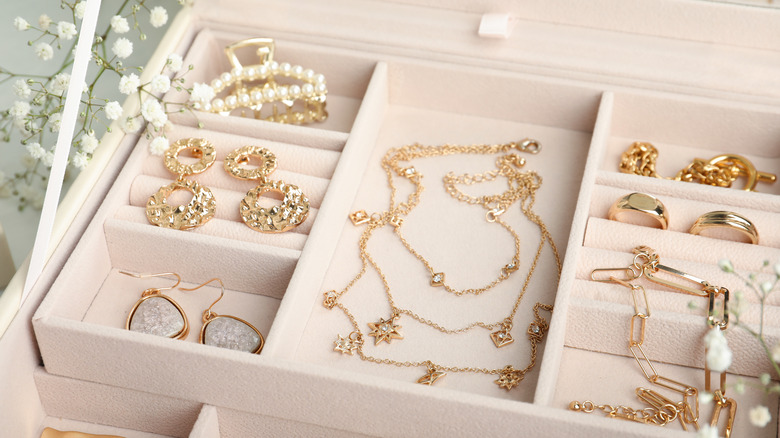 New Africa/Shutterstock
We may receive a commission on purchases made from links.
When your clothing no longer suits you or fits, there's a good chance you're donating it to a local thrift store or selling it on one of the many sites online where used clothing is craved — did you know you can do the same thing with your jewelry? Whether you have new stuff or vintage pieces or you once dreamed of launching your own jewelry company and have a bunch of handmade items left over, you can make some money by selling your jewelry online.
Advertisement
While donating is often a sustainable way to let go of stuff that's cluttering your home, reselling your jewelry allows you to recoup some — and sometimes more — of the money you invested in your necklaces, bracelets, and earrings. Whether you're letting go of a diamond engagement ring from a past life, vintage pieces passed down from your grandmother, or some gaudy costume jewelry you bought for a Halloween costume, there is a website to sell all of your unwanted jewelry. Even if all you have left is the gemstone from your wedding ring, you can still sell it if it's authentic. In fact, we found 14 websites worth your time.
Remember to consider selling best practices before you post your items — if it's broken, obviously mended, upcycled, handmade, plated and not solid gold or silver, or left yucky green marks, you should mention it in your listings. Now, let's take a look at where to list which pieces!
Advertisement
Etsy for vintage and handmade jewelry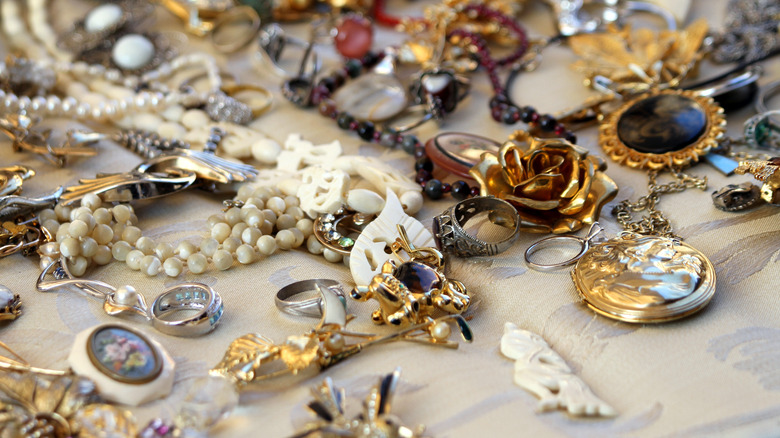 Chiccododifc/Getty Images
While you can find new pieces on Etsy, the basic premise of Etsy is that it's a place for handmade, vintage, or crafting items. So, if you want to follow the rules, Etsy is an excellent place to list your vintage and handmade jewelry. You might even get a higher dollar amount for them than you would somewhere like eBay or at a rummage sale. In the Etsy world, vintage refers to anything 20 years or older, which means jewelry from the early aughts counts as vintage. You can even dig out all that neon stuff from the '80s — chunky '80s-inspired jewelry is actually trending — and your jelly bracelet collection from the '90s.
Advertisement
First, you should be aware of the fees that Etsy charges sellers. Listing an item costs $0.20 and another $0.20 when the listing renews in four months if it didn't sell. If your item sells, Etsy takes 6.5% of that amount. Etsy also offers several advertising options for additional fees, and, for $10 a month, you can join Etsy Plus, which claims to get your shop and items more views, which would increase your chances of making sales. When it comes to shipping, you can choose to let Etsy calculate costs or offer buyers a flat fee (we suggest investing in a postal scale if you're serious about selling online).
Amazon Handmade for handmade jewelry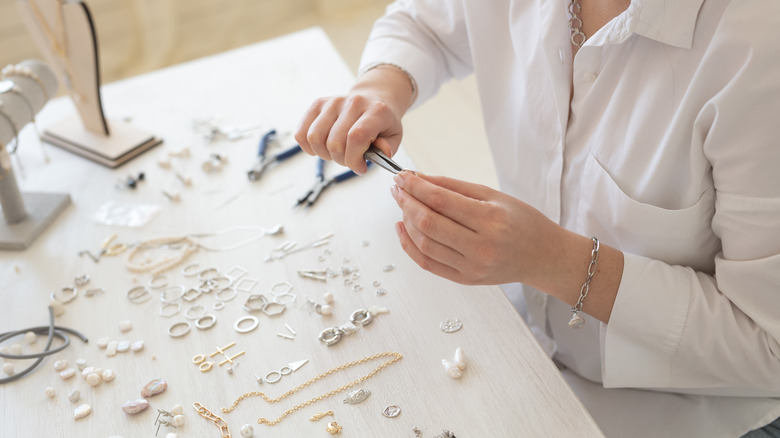 Best smile studio/Shutterstock
If you've made your own jewelry and you're looking for a new outlet to sell it, Amazon Handmade is an excellent choice. You can only sell items you've made by hand, but setting up shop and even listing your items is completely free of charge — so no listing fees as seen with Etsy. However, Amazon Handmade takes a 15% cut of any sales you make. Before you can apply for a space to sell on Amazon Handmade, you have to set up a basic Amazon seller account. Your regular seller account comes with a $39.99 monthly fee if you opt to go the professional route, but once you're accepted into the Handmade portion, that fee is waived. You also must have a professional seller's account to even apply for Handmade.
Advertisement
The reason Amazon Handmade is a valid choice, even with its high cut of sales, is that Amazon is a go-to space for many shoppers, which automatically opens you up to the possibility of increased sales.
eBay for all of it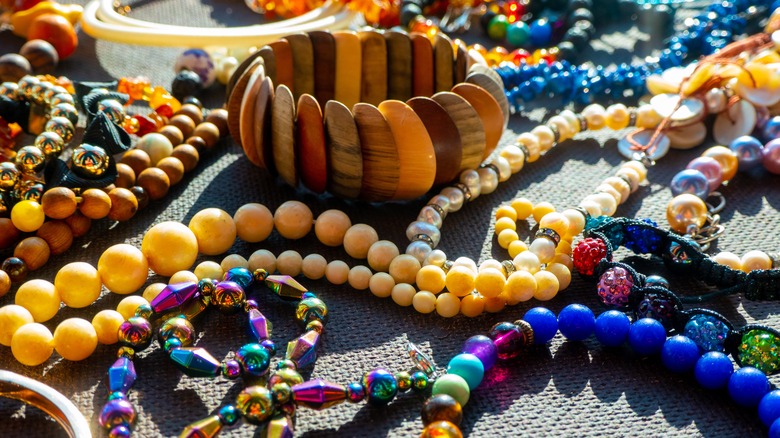 kajasja/Shutterstock
If you're looking for someplace to sell all of your jewelry, no matter how old or new, whether handmade or not, eBay offers a platform where you can not only sell for a specific amount but also set up auction-style listings. Additionally, they let you post 250 items a month free of listing fees. If you exceed that number, a listing fee of $0.35 applies. You also have the option to sell with or without an online storefront.
Advertisement
It's free to get an account on eBay, though they take a percentage of sales based on how much your item sells for, plus an additional $0.30. The fee ranges vary per product type — for jewelry, the fee is 15% of sales under $5,000 and 9% of sales over $5,000.
People love buying stuff in bulk on eBay, too, so it's a great option for getting rid of entire collections of jewelry instead of having to list each piece individually.
Ruby Lane for vintage jewelry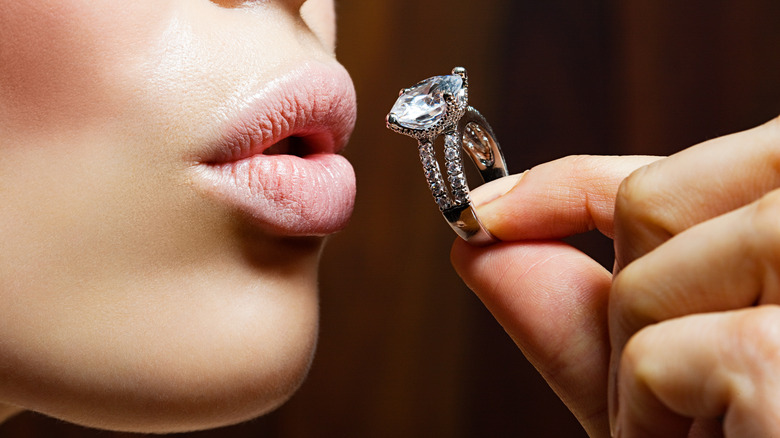 Image Source/Getty Images
Ruby Lane is all about vintage items and prefers sellers to focus on high-quality vintage. If this sounds like the jewelry you're looking to let go of, there are a few other things you'll want to know to better help you determine if it's the right one for you.
Advertisement
Ruby Lane does allow some contemporary items but requires that they either be one-of-a-kind pieces or signed by the designer. One of the biggest differences between Ruby Lane and the sites we've already discussed is that they charge a monthly fee of $25, with the first month free. This fee allows you to list for free. Plus, if you list at least 15 items every month, they waive the monthly fee — so if you have a lot to sell, this is a good option. Keep in mind that Ruby Lane also takes a 9.9% cut of sales, up to $250.
Mercari for anything you've got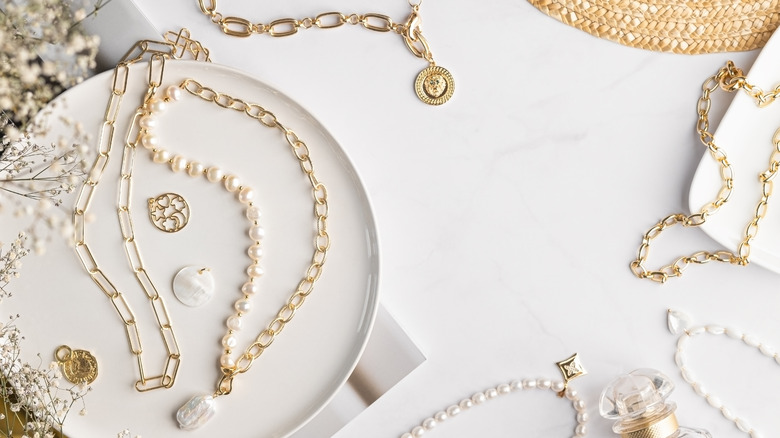 Alena_Kos/Shutterstock
Mercari is a website where users can sell nearly anything as long as it can be shipped, much like eBay (they even have a local pick-up sales option similar to eBay). The site does institute some price limits, though, which include posting items for $2,000 or less unless they're authenticated to be worth more. There does not seem to be any listing fees, but you do need to choose whether to ship on your own or get a prepaid shipping label from Mercari. You also have to ship sold items within three days. Your money clears once the buyer confirms they received what they purchased — and, if they don't, Mercari automatically releases your funds three days after sending the buyer a reminder.
Advertisement
As far as fees go, once you sell something, Mercari takes a minimum of 10%. There are also transaction fees of 2.9% plus $0.50 from completed transactions when you process your payment. There are also a lot of random $2 fees for rejected deposits, deposits under $10, and more. Our suggestion — be sure to closely read the page that explains Mercari's fees before selling through them.
Poshmark for all your jewelry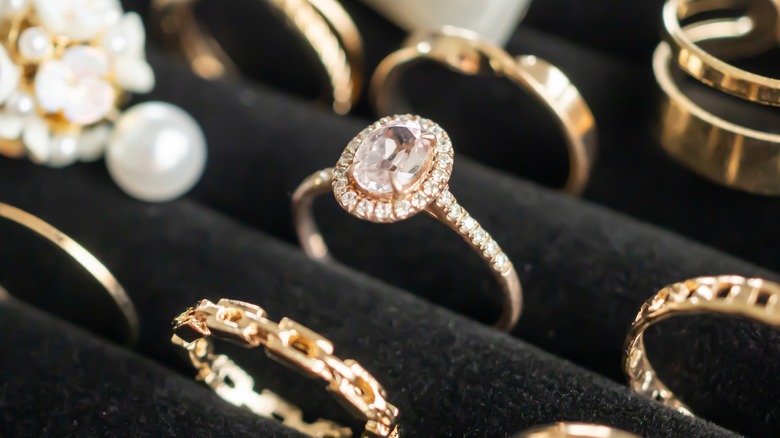 Kwangmoozaa/Shutterstock
Poshmark appeared on the scene around the same time as Mercari. Both are app-based sales platforms. Poshmark is great for buying and selling, and you can surely make some money selling any jewelry you're no longer wearing. It's as easy as snapping a photo and creating your listing. Poshmark is like the social media of sales platforms, as you can host and participate in Posh Parties to shop, sell, and share your goods. These virtual shopping events happen in real-time, so it's like going to the store without leaving home.
Advertisement
Poshmark's fee scale is a flat fee of $2.95 for any sales under $15 and 20% on anything above that amount. Of course, this means you really don't want to post anything that's not worth more than $3. Poshmark also supplies prepaid shipping labels, so there's no need to deal with shipping fees, weighing items, or standing in line at the post office. You can just drop off your package and go!
Bonanza for your unusual stuff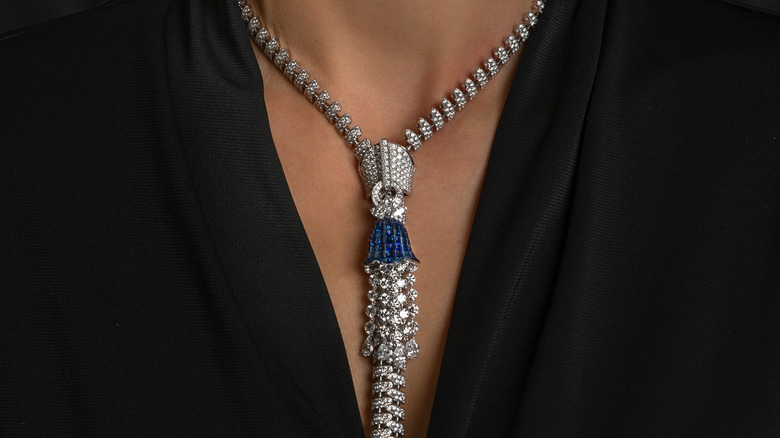 Robert Hradil/Getty Images
Bonanza's site claims you can "find everything but the ordinary," so if you have any unique pieces — though you may want to hold on to your whimsical beaded jewelry and statement pearl jewelry, both of which are trending — this may be the site for you. Think funky statement pieces, one-of-a-kind items, and anything that looks unusual. If you have trouble finding a piece similar to what you have, it belongs on Bonanza.
Advertisement
While you don't need a membership, Bonanza offers membership options that help sellers get more views. These options also provide other benefits such as coupons, inventory tracking, and more. Memberships run from $25 to $167 a month. Without a membership, you pay a $0.25 transaction fee plus a percentage of your sales. Once you reach $3 in owed fees, you'll need to make a payment. You can pay using the required credit card saved to your account, or you can set up automatic fee payments through PayPal. Like Etsy, Bonanza also offers advertising options for an additional cost.
TheRealReal for luxe jewels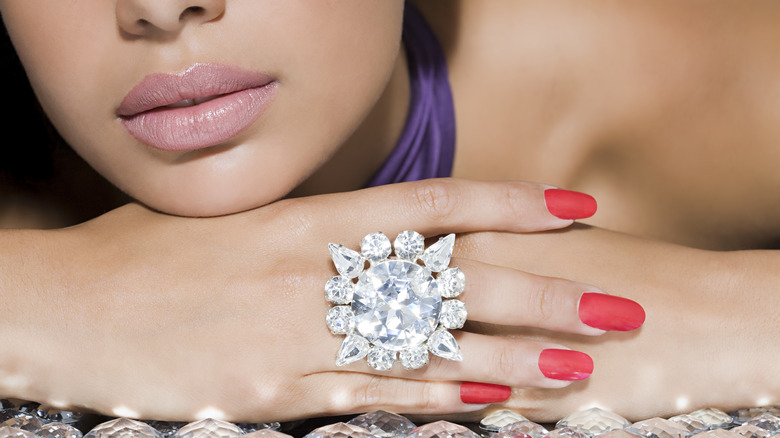 Image Source/Getty Images
TheRealReal is a luxury online consignment shop that makes selling easier than any of the other sites we've mentioned so far. This is because you send your items directly to them for their trained specialists to review, shoot pics, and list. TheRealReal also takes care of the shipping when your jewelry sells.
Advertisement
When it comes to the money you can make, TheRealReal has quite a commission breakdown. Even looking at jewelry sales alone, you need to see the chart yourself to fully grasp how it works. The more your product sells for, the bigger your cut, but you also get bonuses for being at different levels — based on your net sales. So, you can make an extra 1% to 5% depending on how much your items are worth and how much you're selling. TheRealReal prices your items but considers current market trends and similar item prices to pick the best pricing.
Vestiaire Collective for your brand-name pieces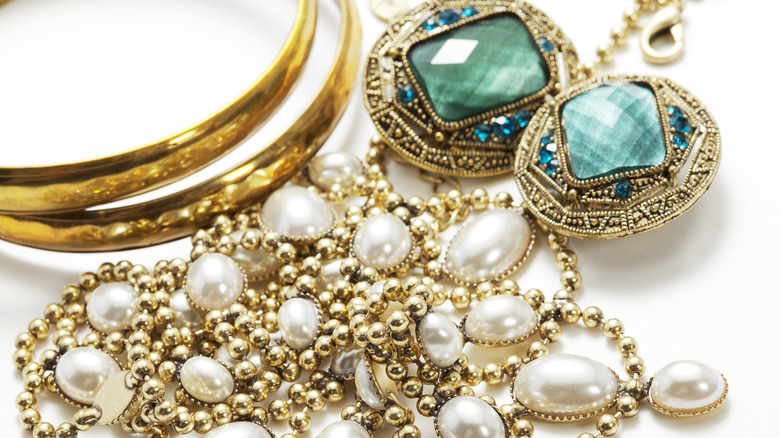 Loooby/Getty Images
Whether you have brand-name jewelry, high-end pieces, or some vintage goodies, you can sell them at Vestiaire Collective. Unlike most other sales sites, this one has a minimum amount you can sell for — nothing under $18 can be listed. This is partially because of their seller fee scale. While it's free to list, items priced from $80 to $13,000 are subject to a 15% fee. Anything under $80 is subject to a flat fee of $12, and items over $13,000 have a flat fee of $2,000. On top of that, payments are subject to a 3% processing fee. Therefore, you'll want to only post high-end or big-name items on this site. 
Advertisement
The Vestiaire Collective website also has a page all about accepted brands, which you'll want to visit before listing with them. Vestiaire Collective also does not accept the sales of items you received for free, such as those received in gift bags at events, or items that have been altered in any way.
Worthy focuses on jewelry only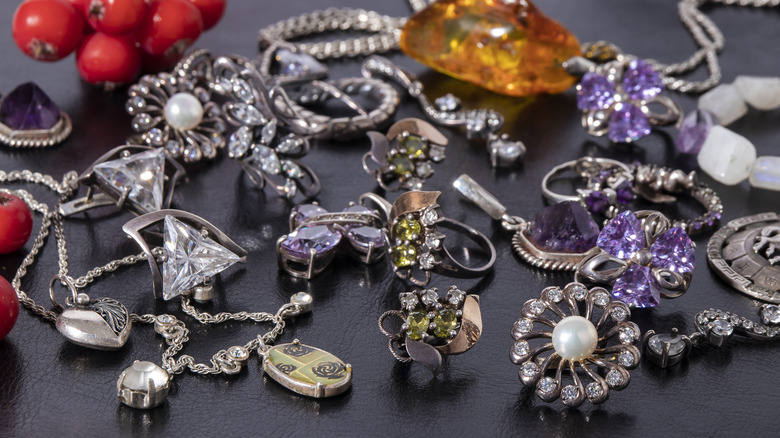 Tetiana Rozvodovska/Getty Images
So far, we've focused on websites that enable users to sell many different types of items, from clothing to collectibles, but Worthy is a jewelry-specific site. This specialty expertise just may give them an advantage. For folks looking for jewelry and only jewelry, this type of online shop enables them to quickly find what they're looking for.
Advertisement
Worthy is an auction site, and, like TheRealReal, you must ship your jewelry to them so your items can be professionally prepared, graded by a third party, and listed for bids. You also get to pick your preferred reserve price. Worthy pays out once your item sells, minus fees, of course. They take anywhere from 18% (for items that sell for under $5,000) down to 10% for jewelry that sells for more than $30,001. You can also sell a jewelry box bundle of three or more items, which is subject to a flat fee of 18%.
Louped also focuses exclusively on jewelry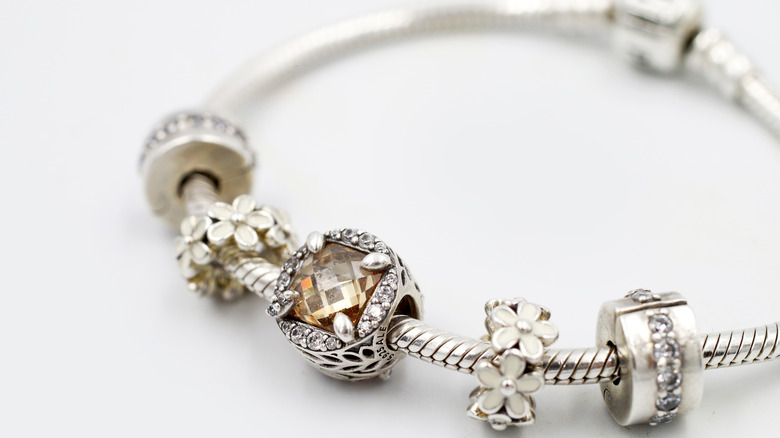 i am Em/Shutterstock
Louped, another online site that is exclusive to jewelry, is all about sustainability, with their mantra being "We source from YOU, not the MINE." With Louped, it's free to sign up for an account. From there, you can post your jewelry items according to categories including engagement rings, wedding bands, loose diamonds, and more. Louped makes the pricing process simple, too. After you submit a listing, you'll receive an email with an offer for an instant sale as well as listing price suggestions. You can choose whether to list your item in their marketplace, sell it directly, or both; however, it appears that Louped's listings tend to sell faster than those from the sellers themselves.
Advertisement
The commission you pay to Louped depends on your selling prices but typically ranges from 10% to 25%. There's also a concierge VIP option offered at no additional charge. 
WP Diamonds for your high-end gems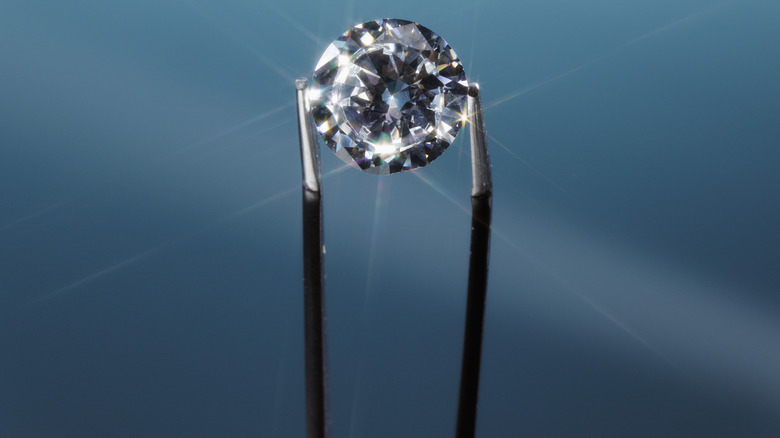 Jeffrey Hamilton/Getty Images
WP Diamonds is another option for both loose diamonds and high-end jewelry. WP Diamonds is a bit different from the other online sellers on this list, as the company purchases your items from you and then sells them. You have no listings to post, no waiting on getting paid from buyers, and no listing fees to contend with, which makes them a smart option if you want them to do all the work.
Advertisement
All you are required to do is complete an online form with details about your items, including the type, brand, and original purchase year. In about a day, you'll receive an offer with an amount. You choose whether the deal is right for you, and then WP Diamonds pays for you to ship your item to them. From there, you can choose from wire payments or a paper check to be mailed to you.
Circa for fine jewelry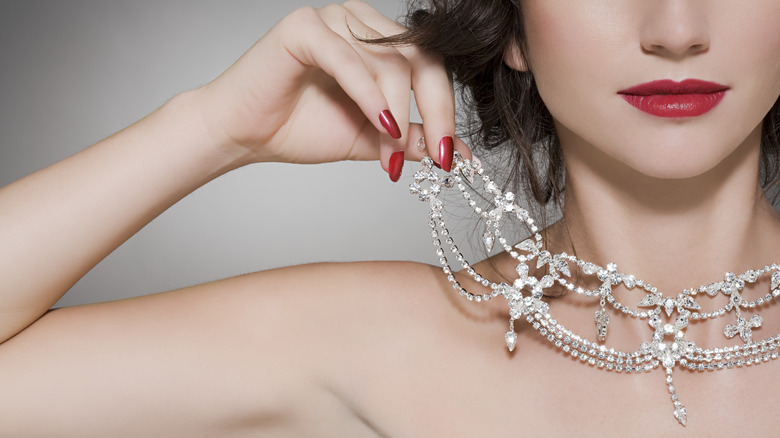 Image Source/Getty Images
Like WP Diamonds, Circa buys your jewelry outright. Not only does Circa have a preference for high-end designers, but they also look for vintage jewelry pieces as well. With WP Diamonds, you can ship your items to them or meet in person, but, with Circa, you'll need to make an appointment with one of their specialists. If they like what they see and you accept their offer, you'll get a check on the spot. You also can choose a gift card, which provides a higher amount than the check, anywhere from 110% to 120% of the final offer.
Advertisement
There are no fees with Circa, even if you decide not to sell to them. To get an idea of what they look for, check the full list of brands they buy. Circa looks for items made with real gemstones and fine gold, as opposed to knock-off items and plated metals.
Facebook Marketplace lets you sell local, too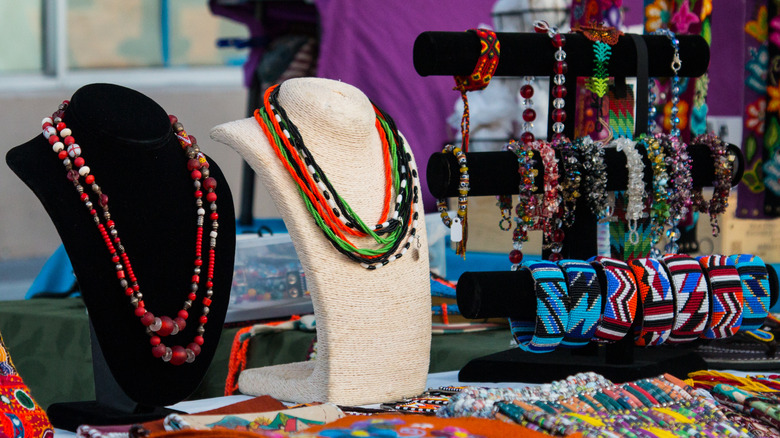 Kulakova/Getty Images
Last but not least, there is always Facebook Marketplace. You can sell directly through Facebook and ship your items to buyers or set the sale to be local only. When you sell locally and don't take payments through Facebook, there are no added fees. Of course, you'll want to take precautions to protect yourself such as meeting buyers in public places and not giving out your home address if you can help it.
Advertisement
If you choose the option to ship and receive payment through Facebook, there is a fee applied. Facebook takes 5%, unless the sale is under $8, of which the company takes $0.40 instead. The platform makes it easy to post your items, enabling you to include as many photos as you like and pick the appropriate sales category. You can also easily share your listings in groups you belong to that allow this option, which is free advertising you're not getting anywhere else!