The Easy Hack That Will Make Your Eyes Look Wide Awake Even When You're Not Feeling It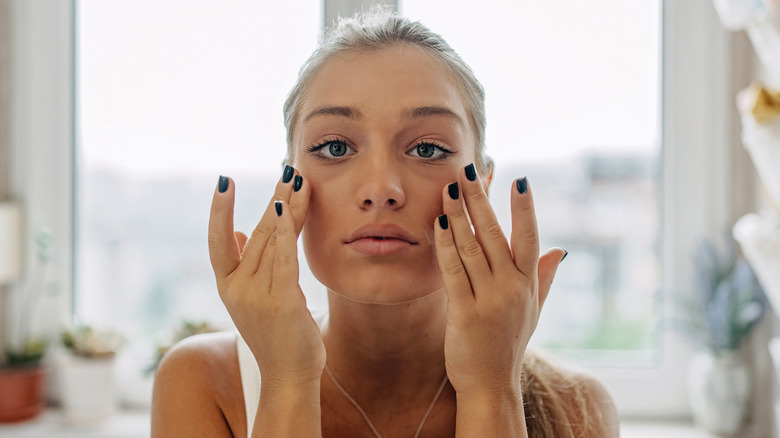 Supersizer/Getty Images
Nothing dampens your countenance like tired eyes. There are a number of reasons why your eyes look puffy and lose their vivacity; it could be due to a lack of sleep, eye strain due to long screen hours or reading time, or certain medications. Direct contact with bright light, sunshine, and snow can also make your eyes strained and wearied.
There are many things that you can do to refresh or conceal your tired eyes. For instance, you can go to sleep early, take a screen break every 30 minutes, use under-eye masks, or give your eyes a soothing cold compress after a long working day. While these practices are generally effective, they usually take time to show results.
For those who don't have time for an elaborate eye care ritual, there's one easy hack that you can try to raise your droopy eyelids and look bright-eyed. And the best part is it's dermatologist-approved. Below, check out this quick fix that helps lend your eyes a well-rested, fully-alert look even when you're feeling the opposite.
Eye drops are the key to instantly-awake eyes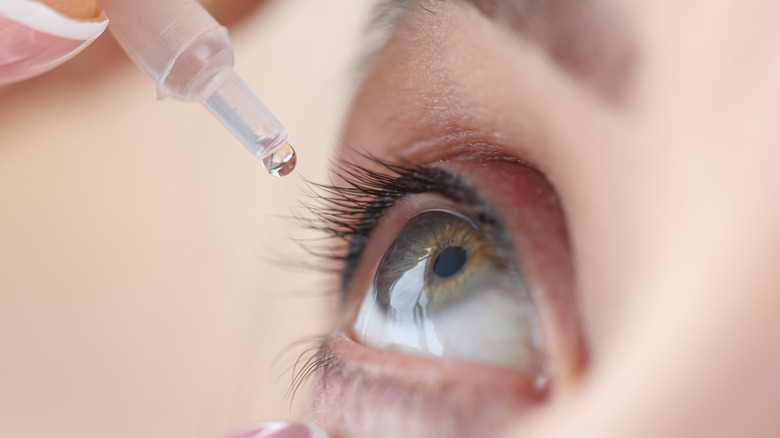 megaflopp/Shutterstock
The key to dramatically-awake eyes lies in an essential item that you most likely have in your purse — eye drops. "One of my hacks before I go to parties or events: I use Upneeq eye drops to open my eyes and give it a refreshed appearance. It helps open your upper eyelid, which starts to become heavy as we age," says dermatologist Karan Lal (via NewBeauty). 
For makeup artist Ashleigh Ciucci (and many makeup artists everywhere), a major fan-favorite "eye-opener" is Rohto eye drops."They instantly hit your eye with coolness and reduce redness in about 90 seconds. They can be a little intense, but they work like magic," Ciucci tells Fashionista. 
Actually, the effectiveness of eye drops in energizing the eyes is no newfangled supposition. According to the American Academy of Ophthalmology, tetrahydrozoline, a decongestant, is the main ingredient in most eye drops used to remove redness from the whites of the eyes. This substance works well to temporarily reduce the enlargement of the blood vessels in the eyes, removing the pinkish tint and making the eyes appear more alert. 
Take it one step further with makeup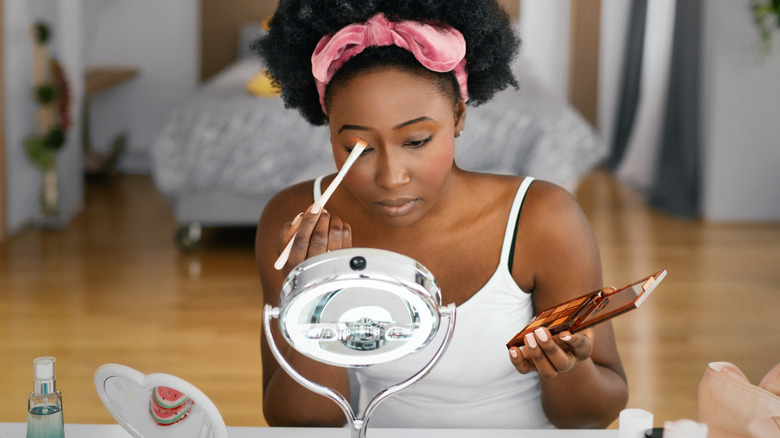 Aja Koska/Getty Images
Another way to give your eyes a lift in a pinch is to use makeup. If your biggest problem is dark under-eye circles, a color corrector might come in handy. Celebrity makeup artist Mary Irwin tells Makeup.com,  "Most of what makes you look sleepy comes down to under-eye bags, and using a peach or orange color corrector over a really good eye cream will neutralize any discoloration." 
After color correcting, apply a concealer that's one to two shades lighter than your usual concealer shade near the inner corner of your eye to make the eyes stand out even more. To further give you the appearance of bigger eyes, apply a darker eyeshadow over your eyelid. After blending out the harsh edges, line your lash line with a liquid eyeliner to make your eyes look sharper and deeper. For the waterline, use a white or gold eyeliner to illuminate your eyes and make them look more energized. 
Although makeup can be a quick fix for your tired eyes, they are no replacement for eye drops. You should always keep a bottle of eye drops handy, especially if you experience allergies, dry eyes, or any other eye issues. Aside from revitalizing the look of your eyes, it can keep your eyes lubricated to assuage irritation and make them comfortable all day long.