6 Summer Jewelry Trends That Will Make You The Epitome Of Quiet Luxury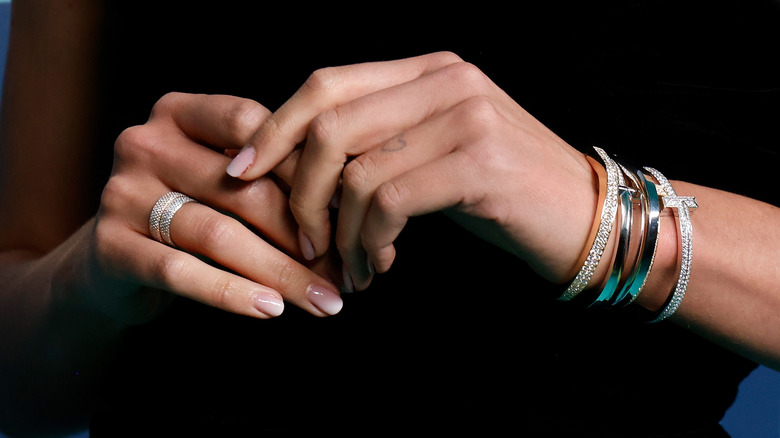 Taylor Hill/Getty Images
We change our clothing as the seasons change, so why not change our jewelry too? This summer, quiet luxury is one of the hottest fashion trends. Quiet luxury is described as "clothing of the highest quality, but also clothing that has timelessness, is sophisticated and understated," Thomaï Serdari, director of the fashion and luxury MBA program at NYU's Stern School of Business told Insider.
The quiet luxury aesthetic carries over into the jewelry trends of the season too. Think of the pieces your family has passed down for generations or a staple piece of jewelry that goes with every look. While there are no designer logos galore on your jewelry, the pieces still leave you looking "billionaire chic". If you are looking to become the epitome of quiet luxury this summer, luckily you can do so without breaking the bank. Simply add these six timeless pieces to your jewelry box to embody the quiet luxury trend.
A quiet nod to the coastal grandmother trend
The coastal grandmother aesthetic is another trend going viral on social media that perfectly ties in with the quiet luxury aesthetic. The trend is often described as an elevated, preppy style with a seaside twist. Coastal grandmother jewelry often features beach motifs, such as shells. Combine quiet luxury and coastal grandmother style with shell motif stud earrings or pearls. When you are choosing your summer jewelry, think, "Would my grandmother who retired to Key West wear this?"
Bangles and cuffs
Spring/summer 2023 runways predicted the rise of bangles and cuffs. Wearing several bangles or one large cuff around your arm is the key to looking put-together this summer. When breaking out the short sleeves this season, arms can look bare, which makes this trend perfect to pair with your warm-weather tops.
Shining silver
Move over gold — silver is back! Gold jewelry has dominated the scene over the past several years, but this summer, we are officially declaring the return of silver. Jenny Bird, designer and creative director of her namesake brand told Marie Claire that the sudden resurgence of silver is because "the minimalist and voluminous high-shine shapes in jewelry that are also trending right now just really suit silver."
Front and center toggle clasps
Clasps no longer need to be hidden at the back of the neck or the underside of the wrist. Instead, unique toggle clasps are placed front and center on bracelets and necklaces. Toggle clasps are making their way back into fashion just like every other Y2K staple piece. They are simple enough to embody quiet luxury and minimalist fashion while remaining unique enough pieces to satisfy all the fashion it-girls.
Teardrop earrings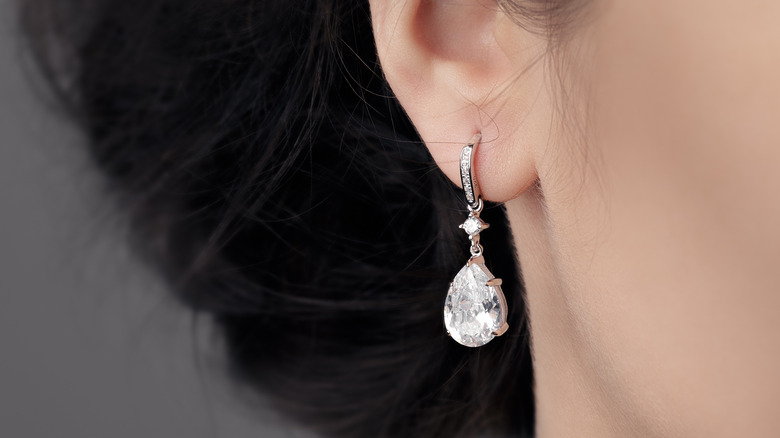 Nicoletaionescu/Getty Images
Teardrop earrings are a great way for the quiet luxury connoisseur to make a statement. They are an easy way to add a more fashion-forward feel to a minimal quiet luxury outfit without overdoing it. Starting small at the top, these earrings get larger at the bottom and form the shape of — you guessed it — a teardrop. 
Pearls
Pearl jewelry will never go out of style. Whether it is a necklace, earrings, bracelets, or anything in between, pearls are often family heirlooms, as they are luxury pieces. Pearls are truly a quiet luxury, that gives off the impression that you come from a line of ancestors that also care about the finer things. Whether that is true or not, the sentiment is still there that pearls exude wealth.