How To Prevent Underwear From Showing When Rocking Low-Back Dresses
We may receive a commission on purchases made from links.
Underwear is like the secret weapon of our wardrobes. Mostly hidden, it can turn the average fitted dress into a high-end sheath if it does its job. But, of course, underwear has had a complex history. Seen by some as a symbol of female subordination, underwear can be best understood as a way to express our different identities within a cultural system that has expectations about how women's bodies are to look.
Typically, women use underwear to create desired body proportions or to disguise the body, primarily to feel comfortable, overtly sexual, or special, like lingerie. More often than not, we try to hide our underwear — a bonafide symbol of the well-dressed. And when wearing more revealing clothes, we tend to revel in the ability to hide what is often not supposed to be seen — a huge sign we have on the "proper" foundation. Ergo, if you are concerned about having your underwear show, here are some tips to keep in mind so you can wear your low-back dress without feeling self-conscious.
Get a good versatile bra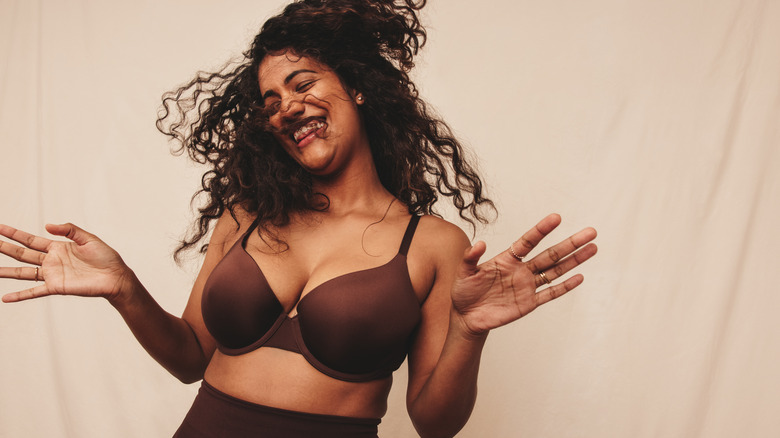 Jacoblund/Getty Images
If you want to show off your back strap-free, you probably already know you need a low-back or a multi-way convertible bra. But it's one thing to know you need it and another to find ones that work. Quality versatile bras are hard to come by, especially for the well-endowed among us. Sure, there are multiple types to choose from online, but many do not come as advertised, particularly if the price seems too good to be true. Know that good bras are pricey! They tend to be skimpier than they look online and do not provide adequate support.
Unfortunately, it is also challenging to find versatile bras in department stores as they tend not to carry them in such places. But it doesn't hurt to get measured in-store by a salesperson experienced in bra fittings and have them suggest quality low-back bras you can order online. That way, you are ordering the bras based on an informed decision. If you skip the salesperson route and order online anyway, at least be aware of the quality, fit, and price range you need. And, of course, be sure to read the reviews.
Layer it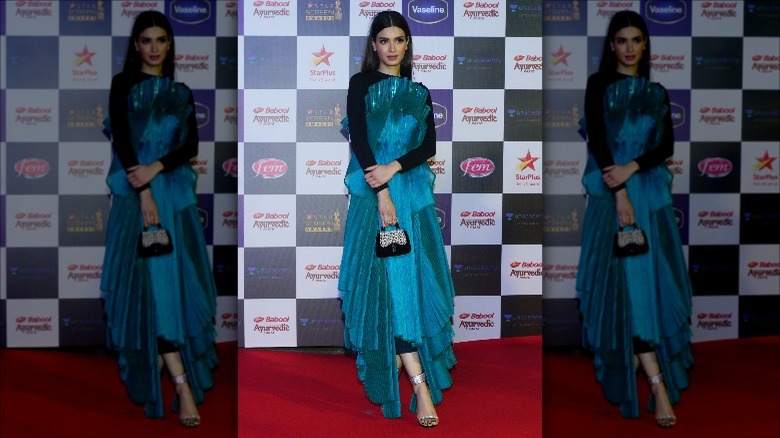 Prodip Guha/Getty Images
If you are not confident in your low-back bra but love your low-back dress and want to wear it, try layering it with a shirt underneath. This way, you still get the look of the dress and can feel comfortable knowing you don't have to worry about straps showing or coming loose. The layered look gives off a boho feel and adds a bit of a cool girl vibe to your glamorous look.
Depending on the dress, you can pair it with a long-sleeved black shirt for a minimal aesthetic, as shown; or you can go more classic with a white buttoned-down shirt. A white shirt with a low-back dress will give you more of a preppy glam look. Alternatively, you can hide your bra with a cropped jacket if you have a fairly simple low-back dress. Yes, it will hide some of your back, but you'll get a peek-a-boo effect that can be just as alluring.
Make your underwear a deliberate part of the outfit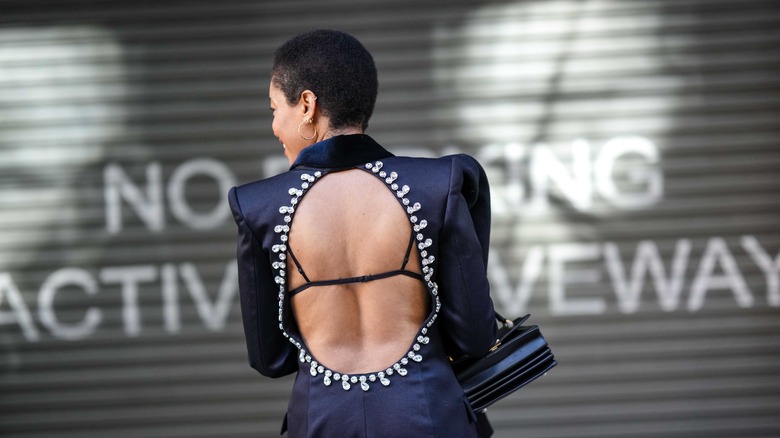 Edward Berthelot/Getty Images
If you aren't confident in your ability to hide your underwear under your low-back dress, you can always let it show as though it were part of the outfit. Be aware that this option isn't for the faint of heart. Joanne Entwistle writes in her book, "The Fashioned Body: Fashion, Dress and Social Theory," that the hidden nature of underwear and its close contact with the body paved the way for it to become a symbol of eroticism. And showing off your underwear is a very erotic move.
So, essentially, if you can't beat 'em, join 'em. In this way, your underwear isn't really showing — it's meant to be seen. You can keep the bra the same color as shown or pick a stand-out color to give your outfit a little pop. And who knows, if your back is low enough, maybe even your undies may get in on the action. So if your g-string happens to peek out, make sure it looks deliberate too.