Are Shimmery Inner Corners Dated? Here's A Beauty Guru-Approved Alternative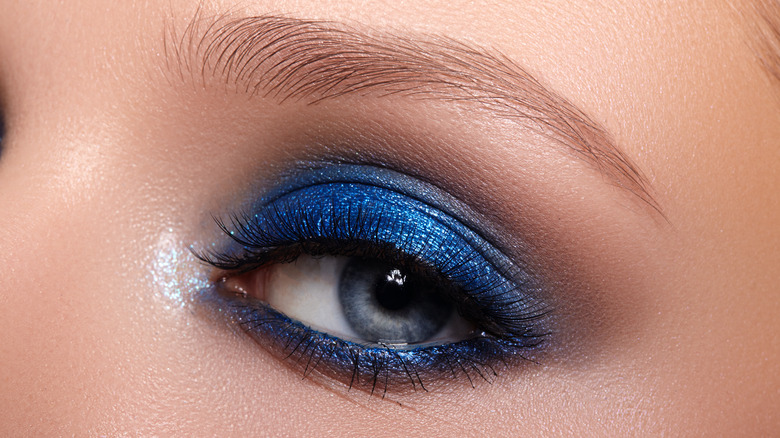 marinafrost/Shutterstock
Eyes are the window to the soul, so it makes sense why people would want to bring attention to them. From a winged eye in the '60s to a smokey eye in the '90s, plenty of iconic beauty trends have defined the decades. One look that stands out from the 2010s is using shimmery eyeshadow, highlighter, or glitter to highlight the inner corners of your eyes. While it will draw attention to your eyes, it's not the freshest look, and the technique is considered among the outdated beauty trends in 2023, especially now that there are new ways to make your eyes the focal point.
Shimmers and glitters are giving way to bold colors and unique shapes, particularly in a matte finish. Don't fear the 180-degree flip though; beauty trends are constantly changing. But for now, you will want to opt for this fresher approach to making your eyes pop.
Bold, bright, and matte is the way to go
Shimmery eyeshadows aren't out of the equation completely; many brands still include a shimmer or two, but for everyday looks, matte is more on-trend at the moment. It's less about the color or shade and more about the feeling of softness that matte eyeshadows give off. Beauty guru Angelica Nyqvist, for instance, shared a video reviewing Colourpop!'s Target collection. She created a bold makeup look with a variety of blue shades in the brand's blue eyeshadow palette.
Using darker shades of matte eyeshadow, she created a dramatic wing shape around her eyes, and she has a cool trick to highlight the inner corners: a light pastel shade of blue instead of a shimmer. "I love a dark saturated look together with a pastel to create contrast and then to use a matte pastel in my inner corner ... just to brighten up without using a shimmer," Nyqvist said in her video.
Not only does Nyqvist's technique work to highlight the inner corners of the eyes, but she also says it gives off a smoother appearance to her makeup look.
Colorful, graphic eyeliner
If bold eyeshadows aren't your thing, they're not the only way to draw attention to your eyes. Graphic eyeliners in a range of colors are also super trendy right now with many beauty lovers trading in basic black and brown for bright pinks, yellows, and blues, to name a few. For those who don't know, graphic eyeliner refers to a bolder, artsier way of wearing liner that goes beyond a more traditional look like a cat eye. With so many creative color combinations, shapes, and placements to play with, it's easy to customize it to your unique personality and style.
Not only does graphic eyeliner give off a fun and youthful vibe, but it is also a simple way to add a bright element without needing eyeshadow. And on those days when eyeshadow feels a bit too much, graphic eyeliner can give you the more pared-down look you desire. 
Whether you go simple or more intricate, it looks like this fresh makeup trend will stay around.