15 Latin-Owned Beauty Brands To Invest In This Year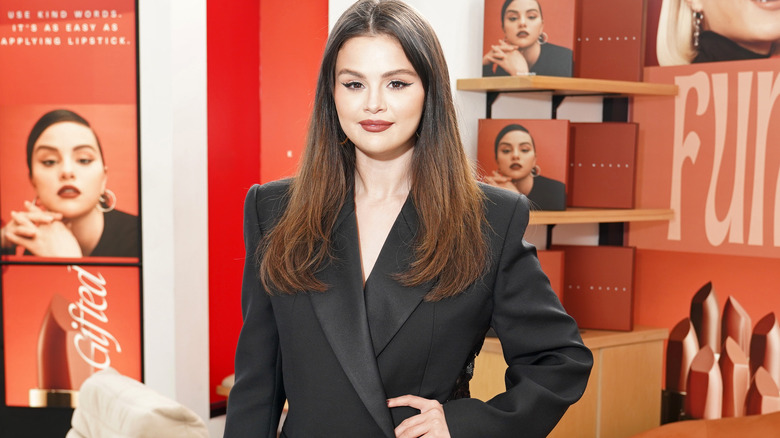 Presley Ann/Getty Images
Whether we're talking about Selena Quintanilla's iconic red lips, J.Lo's enviable skin, or Sophia Vergara's spicy, long mocha locks, it becomes quite obvious how deep of an imprint the Latin community has left on the beauty world. But for those who grew up in Hispanic cultura, mastering all things beauty is nothing new. From watching their abuelas at the hair salon every week to learning how to properly apply mascara from their tías, Latinas are profoundly rooted in how beauty correlates with their culture.
"People in my culture take their appearance very seriously," digital influencer Monica Veloz tells HuffPost. "When I go to the Dominican Republic, my entire family, their hair is DONE!" Veloz looks back on her early experiences at Dominican hair salons when she was growing up in New York City and remembers admiring just how committed the stylists were to beauty. "I want to look like this when I get older," Veloz recalls thinking, "I want to look fine every day."
It's only natural that the Latin community wants to share these experiences with the world, and in turn, it has poured passionate energy into creating some of the most exceptional beauty brands on the market. To celebrate and honor the culture, we've broken down some of the best Latin-owned beauty brands to invest in not only during Hispanic Heritage Month but year-round.
Treslúce Beauty
Rebbeca Gomez, professionally known as Becky G, has been slaying the music industry for well over a decade, but the multifaceted artist has her fair share of other passions, too. Gomez has enjoyed playing with makeup for most of her life, and her parents encouraged her to express her creativity from an early age. Teaching herself cosmetic and makeup techniques, Gomez was being asked to do glam looks on family members by the time she was 13. As her music career grew, she began doing her own makeup for tours and concerts. In 2021, Gomez launched Treslúce Beauty.
Drawing from her Mexican roots, Gomez started the company to highlight various Latin cultures and give back to the Hispanic community. The brand's first launch focused on Gomez's Mexican heritage by infusing products with Mexican-sourced blue agave. "The soothing and nurturing Mexican blue agave delivers a unique softness improving the skin texture, and is derived sustainably from the nectar of the plant," the company explained (via Beauty Packaging).
Rare Beauty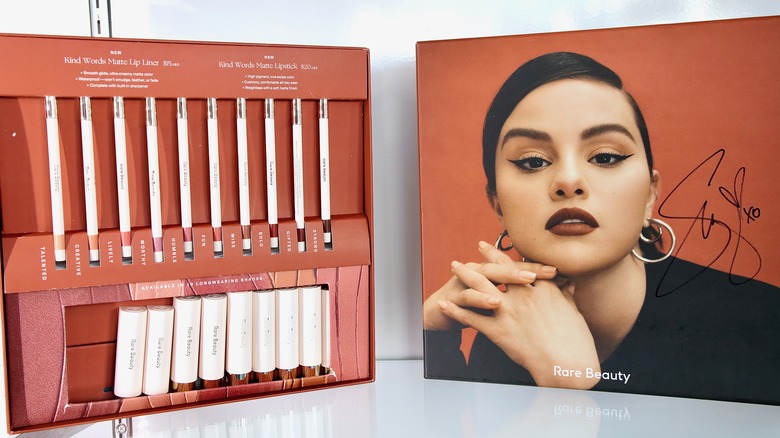 Robin L Marshall/Getty Images
Without a doubt, Selena Gomez is one of the most well-known and influential celebrities on the planet. With close to half a billion followers on Instagram, Gomez has established her name as a respected and iconic woman of multiple talents. Since the first time we all watched and adored her on "Wizards of Waverly Place," Gomez has gone through some of the most transformative and eye-opening evolutions we've seen from any celebrity, and one of the most important, arguably, is her journey of learning to love herself. 
"I hear all day, every day that I'm not sexy enough or cool enough," Gomez told Nylon. "So, I wanted to create a brand to encourage each and every person to be who they are and help eliminate all of that unwanted pressure to look a certain way." She developed all of the products in her brand, Rare Beauty, to be simple, easy to use, and minimal as a means to enhance natural beauty instead of covering it up.
Vive Cosmetics
Joanna Rosario-Rocha and Leslie Valdivia, two Latina entrepreneurs with backgrounds in the beauty industry, came together over their love for their heritage and the misrepresentation they felt the Latinx community suffered from. "We've always been so embedded in our community," Rosario-Rocha explained to Byrdie. "But we couldn't help but feel something was missing."
"We realized that people didn't feel seen and wanted products they could connect to culturally," Valdivia added. Through their community, Rosario-Rocha and Valdivia acquired a $10,000 loan in order to launch Vive Cosmetics. "Most of that funding went into creating our liquid lipstick and building our website," Valdivia further told Byrdie. "We also wanted to define our brand and what it would stand for."
With lipstick names like "Spanglish," inspired by the language the founders speak most of the time, and "Selena Forever," named after Selena's iconic purple jumpsuit from her last concert, there's no doubt that the brand isn't afraid to represent exactly who it is.
Bésame Cosmetics
When Gabriela Hernandez was a child in Buenos Aires, she adored watching her grandmother's beauty routine. "She kept her clothing always ironed and ready, and she always had her red lipstick on," Hernandez fondly reminisces to Latinista. Soon finding an underappreciation of vintage cosmetics and formulations in the modern world, Hernandez set out to study the history of makeup and even wrote a book called "Classic Beauty: The History of Makeup."
In 2004, with a goal to bring back the simple-yet-sophisticated glamour of her grandmother's beauty regimen, Hernandez started Bésame Cosmetics — a line of lipsticks, powders, mascaras, and cases that are all vintage and Old Hollywood-inspired. Each product is cruelty-free, as well as gluten, paraben, and mineral oil-free. "We take the time to make something really unique, from the design and manufacture of the cases to the formulas we sell," Hernandez added to Latinista. "We really do not cut any corners when making our products. We want to delight our customers with every item we produce."
Sigma Beauty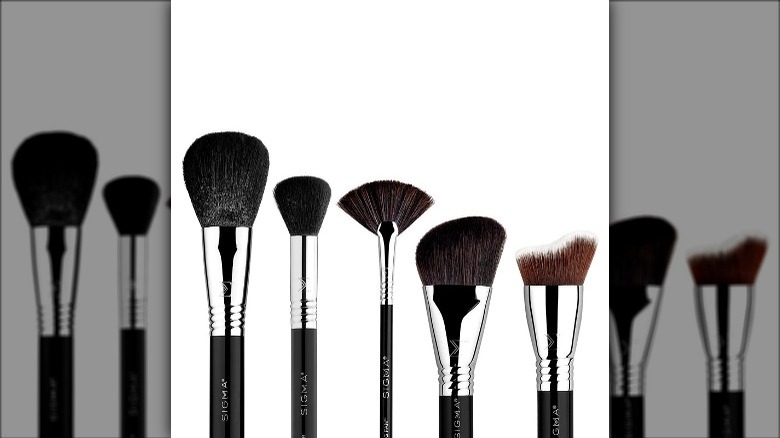 Sigma Beauty
Sigma is a name we've been hearing on the lips of Youtube makeup gurus for years but is one that most of us probably didn't realize was founded by members of the Latin community. In 2009, molecular bacteriologist and civil engineer Dr. Simone Xavier and Rene Xavier Filho, a couple based out of North Oakes, Minnesota, launched a single makeup brush set with the hopes of making the everyday beauty routine easier for consumers. The set was an instant success, accumulating a massive cult following and selling out completely.
What made — and still makes — these brushes so special? The Xaviers have developed specialized, patented, tools created from metal alloys with the strength to last a lifetime. Moreover, each brush has fibers that contain ultra-soft, vegan, and antimicrobial properties for superior grip, application, and blending of a wide range of makeup products. Since its initial launch, Sigma has expanded its products well past only brushes, and now features an array of eyeshadow palettes, lipsticks, lashes, and more.
Melt Cosmetics
Lora Arellano and Dana Bomar both spent years working in the makeup industry, but they felt very underwhelmed when it came to lipstick options. The duo craved lipsticks with extreme pigment, matte formulas, and bold, extensive shade ranges to choose from. So, over brunch one day, Arellano and Bomar concocted the idea of Melt Cosmetics. "Lora had always wanted to start a makeup line and starting a lipstick line was something I had always thought about doing," Bomar told Allure. "We decided right there at brunch to start working on it. We started scheduling appointments with labs and getting the paperwork together. It was really fast."
After investing their combined life savings to create only five shades of lipstick, Arellano and Bomar's first launch sold out the day it was released in 2013. The launch included shades like blue and gray, which were completely unheard of on the market at the time, and that set Melt Cosmetics completely apart from drugstores and high-end makeup brands. Even after the successful first release, the brand has never let go of who they are and what they want to accomplish. "Everything we come out with in the future — even if it's crazy — we are going to show you how to wear it normally," Bomar added to Allure. "I think that's always worked for us, and we'll continue to do that."
Bomba Curls
Growing up, Lulu Cordero's mother always made sure that she embraced her Afro-Dominican roots and beauty because she knew much of the world didn't see beauty in the same way. Cordero remembers being raised in a time when natural curls and textures — exactly what was growing out of her head — weren't celebrated in society or the media. But Cordero wanted to ensure that the same love and self-confidence her mother instilled in her was shared with other girls and women. She wanted to reach others who looked like her but may have been made to feel that the way they looked wasn't beautiful.
Cordero came up with the idea for Bomba Curls when she was suffering from alopecia and she relied on Dominican beauty secrets and recipes to help her hair flourish again. Pulling from unique and special formulas native to the Dominican Republic, Cordero created a haircare line for curls that focused on clean, natural ingredients to encourage hair growth, define curls, and moisturize the scalp.
Tata Harper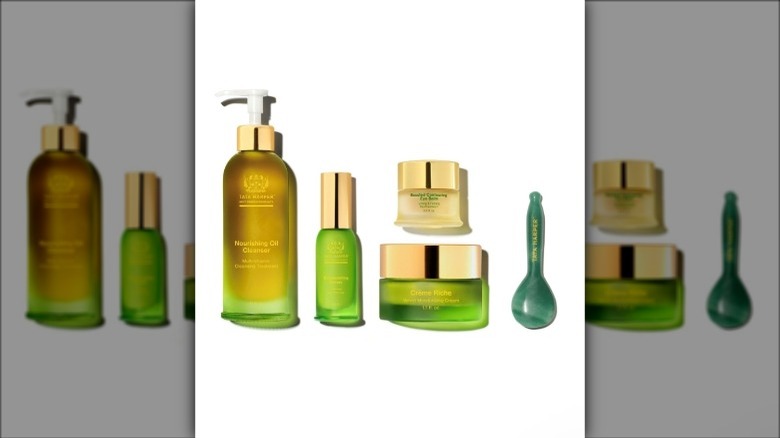 Tata Harper
Tata Harper surprises many when they find out she's Latina. Although her product ingredients are grown on a farm in New England owned by her and her husband, Harper was actually born in Barranquilla, Columbia — the birthplace of Shakira and Sophia Vergara. "Everyone associates me with Vermont," the founder told Town & Country, "but Colombia is where my love of beauty came from." Explaining that she would help her grandmother host at-home spa parties, she added, "I would prepare all the scrubs and this mask with vinegar and mayo for the hair. Beauty was not a chore or a luxury but something you did to make yourself happy."
After watching her stepfather battle cancer, Harper learned a lot about how toxins and chemicals from skincare products can build up in our bodies. "I couldn't find anything that was effective, made of high-quality ingredients, and pleasant to use," she shared with Allure. "I knew if I was looking for results without worrying about my safety, other women must be too, so I decided to create my own."
What set Harper apart, however, was her drive to deliver high-end, luxury products made from plant-based ingredients that don't focus on simplicity, as many other plant-based brands do. Harper's skincare line combines science, nature, and technology to create something completely revolutionary.
LUNA MAGIC
Los Angeles-based Dominican sisters Mabel and Shaira Frías didn't originally set out to create a makeup brand that was focused on culture, but when they saw the reactions from the community upon the launch of their company, LUNA MAGIC, they knew it was meant to be.
"We didn't go into this thinking, 'This is an Afro-Latina brand,'" Mabel explained to Allure. "We launched [LUNA MAGIC] as 'Mabel and Shaira Frías are starting a makeup brand.' But, of course, in life, people put you in spaces and it takes its own shape. And through just being awesome, authentic, and showing up as who we are, we accidentally became influencers and ambassadors for Afro-Latinadad." Despite being unexpected, these are roles that they were happy and proud to fill. 
LUNA MAGIC is certainly not the first Latinx makeup brand to hit shelves, but what makes it special is its unique voice for Latinas of darker complexions. The company's products feature bright, bold, and vivacious color palettes inspired by the Caribbean that are meant to look positively stunning on darker skin tones.
Araceli Beauty
Araceli Ledesma was born in Jalisco, Mexico, and lived there until her family immigrated to the United States when she was 5 years old. Growing up with a deep passion and love for makeup, Ledesma had a strong desire to see more representation of her culture in the beauty industry. She decided to start up her own company, and while the process took two years, she opted to not tell anyone in case she failed. Despite her fears, Ledesma pushed through and figured out ways to make things happen. She taught herself photography through YouTube and was soon able to take her own product photos. After the launch, she's seen nothing but success.
Araceli Beauty celebrates Mexican culture, particularly by using ingredients native to Jalisco, but Ledesma wants customers to know that her brand isn't only for the Latin community. "Araceli Beauty is like Tequila," Ledesma tells #WeAllGrow Latina. "Tequila comes from Mexico, but everybody enjoys it. Yes, [Araceli Beauty] has a Mexican flair to it, but it's for everybody, just like tequila."
Necromancy Cosmetica
Necromancy Cosmetica's website describes the brand as "gloomy and striking, brooding and seething," but creators Des (Desiree Rodríguez) and Zal (Salvador Pérez), a couple based out of Puerto Rico, actually have other intentions in mind for customers who buy their makeup. "We wanted to make sure that our customers felt like they were being basically brought back to life, or feel alive whenever they use our products," Rodríguez shared with People en Español. "Looking for a name that was fun and represented what we like, we came up with Necromancy. We want to make you feel alive and beautiful."
The pair's intention behind the brand was to bring options for those with a darker, more gothic aesthetic to the Puerto Rican community. Originally starting out as a line of vegan, cruelty-free lipsticks, the company has expanded to include several eyeshadow palettes, and although the storefront is located in San Juan, Puerto Rico, Necromancy Cosmetica's products are available for shipping worldwide.
Botanika Beauty
Beauty entrepreneur Aisha Ceballos-Crump, a lifelong beauty lover, decided to study chemical engineering at Purdue University, which gave her an extensive background in product formulation. She worked in the haircare and skincare industries for the next 16 years until finally deciding to branch out and start her own company. While Ceballos-Crump witnessed other Latin-owned haircare companies around her focusing on one specific hair type, she felt that there was a lack of brands that embraced the multitude of hair types found within the community.
This led Ceballos-Crump to launch her very first brand, Honey Baby Naturals, which is a line of products that uses honey — a key ingredient used by her multicultural family. Honey Baby Naturals was a huge hit and allowed Ceballos-Crump to become the first Latina to have a natural hair and skincare line in mass retail. Next, she created another brand, Botanika Beauty, as a way to bring diversity and a strong voice to products in the Latin community. Botanika Beauty is available at Target and Walmart and celebrates all types of hair within Latin and multicultural communities.
Gabriel Cosmetics
In the 1980s, Gabriel De Santino was working as an esthetician when he noticed that many of his clients did not feel comfortable using skincare because of the bad reactions they were getting from chemicals in the products. To combat this, De Santino set out to find a skincare line that was all-natural, but to his dismay, all of the brands that he looked into fell short of being truly chemical-free and natural. Deciding to create his own skincare line, De Santino's clients fell in love with his new products. He spent years developing and finding natural alternatives to chemicals in order to expand his line, and eventually Gabriel Cosmetics was founded in 1992.
Gabriel Cosmetics, an all-natural, vegan, Latin-owned, and LGBTQ+-owned brand, is now a worldwide beauty empire with over 25,000 Instagram followers. The brand's products are found in stores around the globe, and De Santino has established several other natural lines.
Lights Lacquer
Cuban-born and Miami-native influencer Kathleen Fuentes, known as KathleenLights on YouTube, began her career as a makeup guru in 2013. Since then she has accumulated over 4 million Youtube followers, 2 million Instagram followers, and a combined reach of 7.5 million across all channels. In 2019, Fuentes launched Lights Lacquer, a 12-free, vegan, and cruelty-free nail polish brand that incorporates the vivid color palette of her Cuban culture.
"My Cuban culture and being raised as a first-generation Cuban in Miami — a city known for its Latin diversity — have played a huge role in my approach to beauty both from a content creation and brand perspective," Fuentes told BeautyMatter. "I think the bold colors and the personality are things I draw inspiration from in my culture."
Fuentes further added that she wanted to create a nail polish brand (instead of a makeup line) because she wanted to be able to continue to review makeup brands on her YouTube channel without the risk of competition. What's more, she was "obsessed" with painting her nails as a child, and she wished to share that love with her following.
Birdy Lashes
"I grew up with the nickname Birdy, and lashes are what got me the courage to start in the beauty industry by launching my YouTube channel, so it has a special meaning of telling my story," YouTube influencer and Birdy Lash creator Yasmin Maya told Sweety High about launching her own line of lashes. Maya started her YouTube channel, Beautyybird, in 2012 and has since accumulated 3 million followers across her social media channels.
Deciding to launch her own brand in 2020, Maya wanted to create easy-to-use lashes since they are something that many people struggle with. On the other hand, she also wanted to be able to represent the Latin community — particularly for her Youtube followers. "The moment they heard me listening to Spanish music in the background of one of my videos was when I opened up about my culture and story, and it's what connected me with my audience on a deeper level," she added to Sweet High. If that isn't a beautiful story, we don't know what is.