Black Sesame Seed Oil Is The Haircare Product To Know About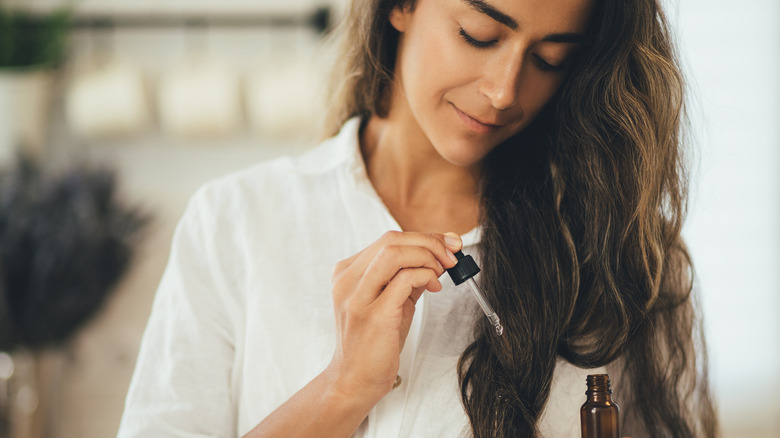 polinaloves/Shutterstock
When you think of uses for black sesame seeds, you are probably thinking about seeing them on sushi, bagels, or even in smoothies. Sesame seeds are often credited with anti-aging benefits, metabolism health, and gut function, but sesame seed oil is also making its way on the hair care scene. These small seeds are nutritionally huge for us inside and out. While we welcome the health benefits of the seeds in our food, it's time to start embracing their benefits in our beauty and haircare routines as well.
These black sesame seeds are packed with B vitamins, amino acids, iron, and sesamin, according to Healthline. From these little seeds, we can also get calcium for our bones and vitamin E for our skin. Because they are so effective for the anti-aging of our skin, many wonder if the same could be true for our hair. Turns out, the same benefits for our skin can indeed be transferred to our hair. This is exactly why you may want to start including sesame oil in your hair care regimen.
How black sesame oil can benefit your hair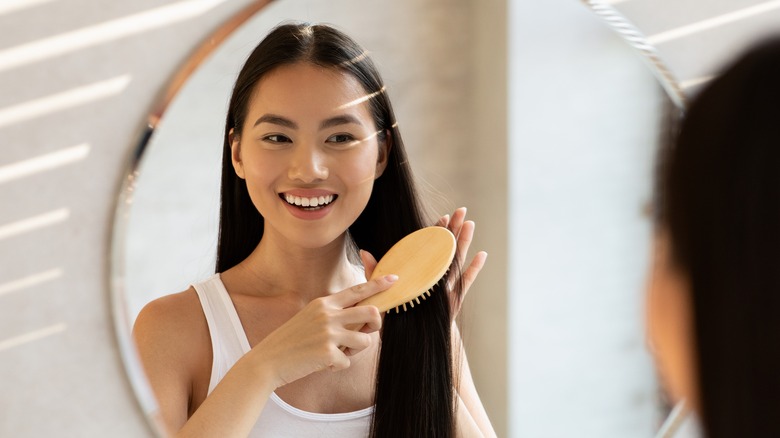 Prostock-studio/Shutterstock
When we are lacking certain nutrients, our hair (and skin) tends to suffer. A 2017 study found that a deficiency in essential fatty acids can worsen hair loss and affect hair growth. Although more research is needed regarding this complicated issue, the fatty acids that sesame seeds provide could help fulfill our need for these nutrients.
While ingesting black sesame seeds provides us with support in terms of hair growth, sesame seed oil added to shampoos can help to soften your hair. Nutrients like linoleic acid, palmitic acid, and stearic acid make this oil incredibly effective in improving hair texture, according to Healthline. Sesame oil also works to condition the scalp, making irritation and inflammation a thing of the past. In addition, it can decrease the amount of dandruff and dryness, as well as repair damaged strands. Its benefits are seemingly endless!
How to apply black sesame seed oil to your hair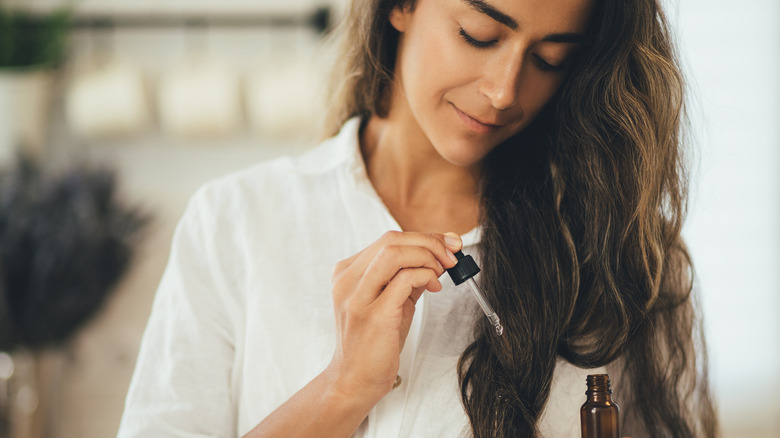 polinaloves/Shutterstock
Sesame oil is an ingredient in some over-the-counter shampoos and can be used each time you wash your hair, but there are other ways to get the oil to your luscious locks. Davines recommends applying the oil directly to your hair or trying out its moisturizing balm. You can also make your own hair mask with DIY recipes that include sesame oil, almond oil, and coconut oil. Finally, an overnight scalp treatment may be a great option if your hair craves moisture. For this treatment, simply choose your favorite hair mask recipe, and massage it into your scalp. Sleep with a scarf or cap on your head and then wash out the mask in the morning for immediate benefits.
By using sesame seed oil a few times a month, you will boost blood circulation and hair growth while preventing sparseness. Black sesame seed oil is an amazing ingredient in some leave-in conditioners and can be used to block the sun's harmful UV rays, according to WebMD. Although black sesame seed oil can be a hair game changer, those with an allergy to it should steer clear. To rule out any allergies, always do a patch test on the back of your ear or in the inner elbow.