Hemp Jewelry Is Perfect For The Trendy Coastal Cowgirl Look (& You Can Make It Yourself)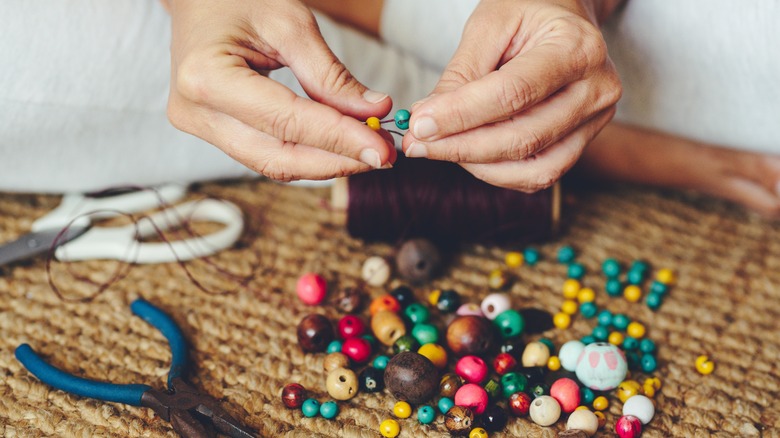 simona pilolla 2/Shutterstock
Warmer months in the fashion world are all about embracing comfortable, flowy, and natural pieces, and the current coastal cowgirl aesthetic is no exception. This look fills our feeds with a new take on boho fashion that fuses the more preppy coastal grandmother trend with the same Westerncore pieces that have taken over closets in the last few months. Think breezy maxi skirts, crochet accents, cutoff denim, and, of course, the classic cowboy boots, all mixed to create a look that fits anything from Coachella to Sunday brunch.
Advertisement
One of this trend's trademarks is that almost every part can be purchased secondhand or made at home, and the accessories follow the same line of thought. Thrifted medallion belts and straw cowboy hats all serve a solid dose of early aughts nostalgia, but nothing is more reminiscent of childhood than handmade bracelets. After years of dainty gold bling, it's time to brush up on your skills learned at summer camp to finish off your look with a more natural, fun-loving accessory option — hemp jewelry.
What is hemp cord?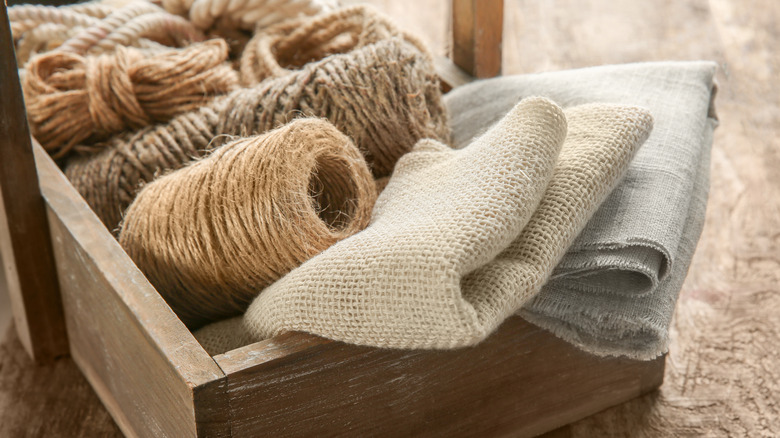 Africa Studio/Shutterstock
Hemp products, which include paper, fabrics, nutritional add-ins, and cord, all come from the hemp plant. Hemp plants have gained a controversial reputation because they are a variety of cannabis, but plants farmed for industrial uses don't have the same mind-altering effects. Instead, the seeds are harvested for food and can be eaten or processed into oil or milk.
Advertisement
Hemp cord, or rope, is made from the plant's fibers, and these fibers are twisted together into long strands to create a strong cord that can be used both in more industrial and decorative settings. Because hemp is a quick-growing plant, the cord is both cost-effective and eco-friendly, unlike synthetic yarns and rope, primarily made of plastics that won't decompose over time. It's also resistant to mold and surprisingly strong, meaning your handmade jewelry will survive showers, beach days, and a fair amount of wear and tear before you face any damage.
Where to buy it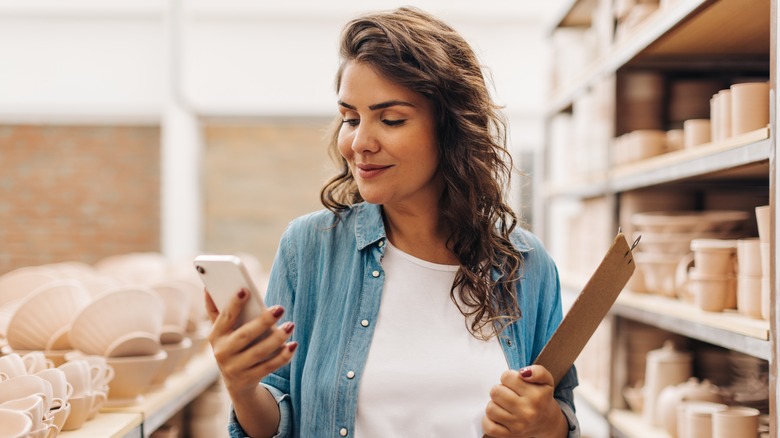 JLco Julia Amaral/Shutterstock
Hemp rope and cord comes in a variety of sizes and colors and is a ubiquitous product both in craft stores and hardware stores, depending on your intended use. For jewelry making, you'll likely want to stick with thinner varieties sold at your local craft store, like this Hemptique Earthy Hemp Cord Set. Most brands will only set you back around $5, but this depends on where you're buying and how much cord you need.
Advertisement
If you want to double down on your positive eco-impact, you could also look into local brands that sell their hemp products, helping cut down transportation emissions and supporting small businesses. If you have one near you, check out your local farmer's or maker's market one weekend to see if any of the options can help you bypass big box stores. Either way, hemp is more eco-friendly than synthetic or leather cording.
What materials to use for hemp jewelry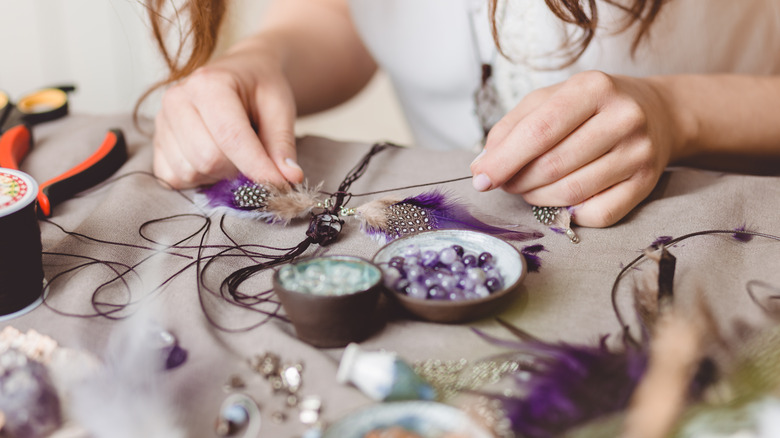 Robilad Co/Shutterstock
The best part about making your own jewelry is that you can create whatever you want. Most hemp jewelry involves some form of braiding and wrapping, so you'll want to start with an excess of cord that allows you to experiment and nail down your pattern — not just one strand that can wrap around your wrist or neck. From there, you can decide what you want to incorporate. To lean into the boho look, try weaving in crystal beads that align with your current intentions or focus on specific colorways that match your usual aesthetic.
Advertisement
To bring some of the coastal into the coastal cowgirl trend, you could also incorporate shells and pearls in your designs. Just make sure that whatever you choose, it's also water resistant or waterproof if you plan to wear your creations for several days at a time. The cord itself will last, but the last thing you want is a stained wrist from beads that weren't designed to face the water.
How to make it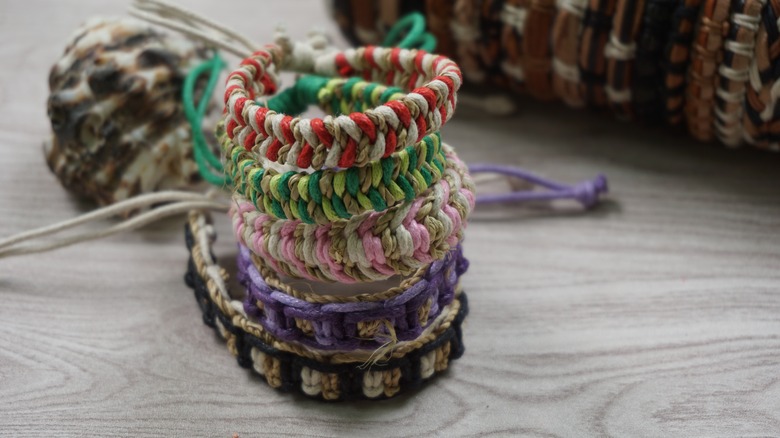 Mang Kelin/Shutterstock
A wealth of different patterns are available online to make your own hemp bracelets, but most people start out with a simple square knot design to get the basic skills down first. This would likely be a bit familiar if you made bracelets as a child.
Advertisement
You will want to start with two colors of hemp cords, a few beads, scissors, and two pieces of tape. Begin by cutting a cord about five or six times the measurement of your wrist from both colors. Once you have both cords, fold the cords in half and create a loop knot in the middle to serve as your bracelet's closure. From here, tape down the loop to a flat surface and separate the four strands. Group the two strands in the middle and tape them down, then leave the two on the sides loose.
After this, you'll create a square knot. Pull the left strand over the right strand and make a loop, then thread the right strand through the loop and tighten. Continue down the length of your bracelet in this pattern, tightening and adding beads to the middle two cords every few knots. Once you're done, knot the end and trim the excess to reveal your bracelet.
Advertisement
How to style it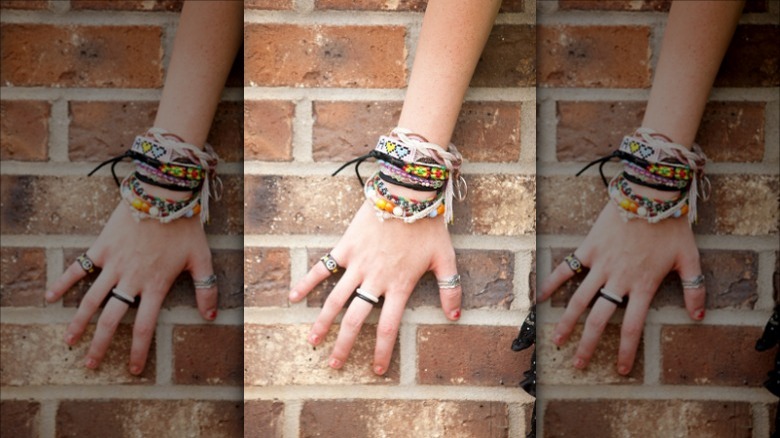 Image Source Trading Ltd/Shutterstock
Once you've nailed down your technique for creating your own hemp jewelry, you can start incorporating it into your outfits. This jewelry looks great layered with different patterns and textures, so consider combining it with other designs or some of your existing collection to create a more bohemian look. Crystal bracelets, western-inspired motifs like horseshoes, and other natural textures perfectly complement the coastal cowgirl look.
Advertisement
You can also expand your collection from just bracelets to include necklaces and anklets perfect for a summer on the beach — just alter your cord measurements to fit your neck or ankle. Pair them with your favorite bikini and a relaxed button-down for a day by the shore, or take them on the town with your favorite breezy mini dress and a pair of vintage cowboy boots. Because you're creating your own accessories, you can cater their look to exactly what you want from your outfit — the styling possibilities are endless.