What's The Cherry Lola Treatment & How Can It Help Your Hair?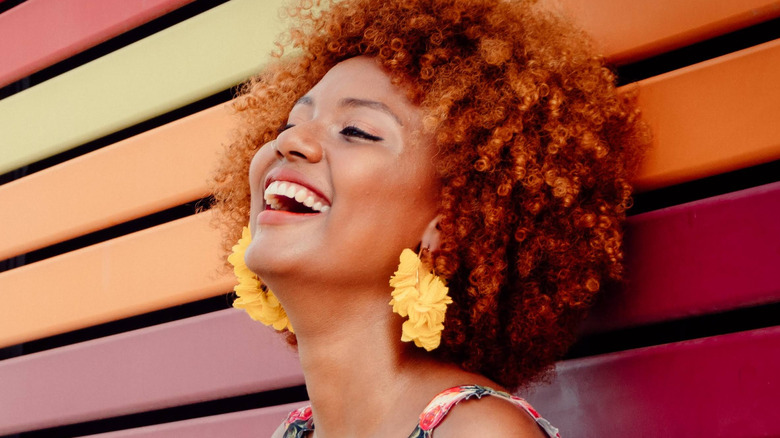 escobaractivo/Shutterstock
Look-wise, tight coils and chunky braids are hair goals for many, and they're edgy and radiate raw energy. But maintenance-wise, curly and coily hair is famous for being up in the air, and it's prone to heat trap, dryness, greasy scalp, and tangles. If you don't have ample time for hair care and styling, a full head of frizzy mane is a given.
Advertisement
There's a myriad of solutions for those battling with friz. Some prevent it with a moisturizing shampoo, and some salvage it with frizz-fighting hairspray. But if you want to up the ante in the fight against frizz — enter the Cherry Lola Treatment, an at-home hair treatment that has been all the rage with hair enthusiasts for a decade. Do not discount the impact of the Cherry Lola Treatment just because it's DIY-able. If used correctly, this familiar method can be a long-term lifesaver for your curly mane, especially during the warmer months when increased humidity makes your hair extra frizzy. Here's how to use the Cherry Lola Treatment to keep your tresses silky smooth, bouncy, and separated all summer.
Advertisement
What is the Cherry Lola Treatment?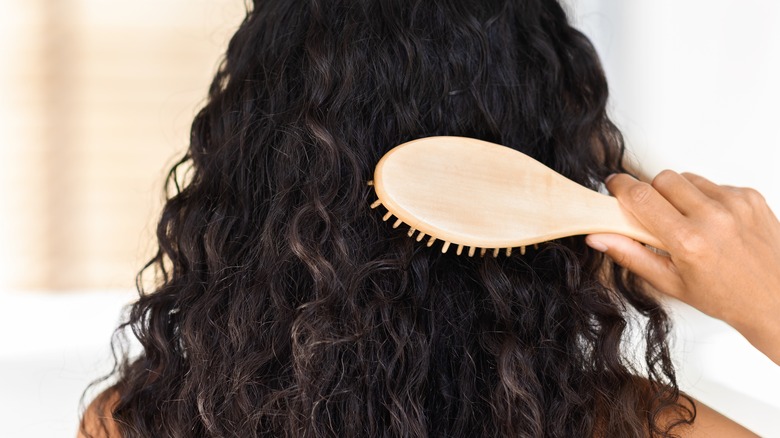 Prostock-studio/Shutterstock
Invented by hair influencer Cherry Lola in 2009, the Cherry Lola treatment is a deep-conditioning, protein-based hair mask designed for dehydrated and coily hair, promoting hydration and smoothness. Formulation-wise, the Cherry Lola treatment comprises yogurt, baking soda, and amino acids. 
Advertisement
Simple as they are, these ingredients carry significant reparative effects on the hair. "Yogurt has amazing benefits for the hair and skin," Jasmine Washington, a L'Oréal Professionnel artist and stylist at Washington-based Spectrum Salon by Jasmine Lynette, tells Byrdie. Aside from balancing the scalp's pH levels and moisturizing the hair to curtail frizz, the anti-fungal properties in yogurt are also effective against dandruff, explains Washington. 
Meanwhile, amino acids, the backbone of protein, are a powerful treatment in and of itself. Not only can amino acids strengthen weak and dull hair, but they also boost hair elasticity and help put your curls on their best behavior, per Washington. She also claims that amino acids can only influence the curl pattern of the tresses for six to eight weeks. As someone who benefited from the treatment, Washington says: "I definitely felt more hydrated and saw a reduction in my dandruff."
Advertisement
What about baking soda? Per Curl Centric, baking soda helps your hair by stripping away product buildup and impurities, leaving it squeaky clean and shiny. When paired with moisturizing ingredients such as amino acids and yogurt, baking soda will not be too drying for your hair. 
How to use the Cherry Lola Treatment effectively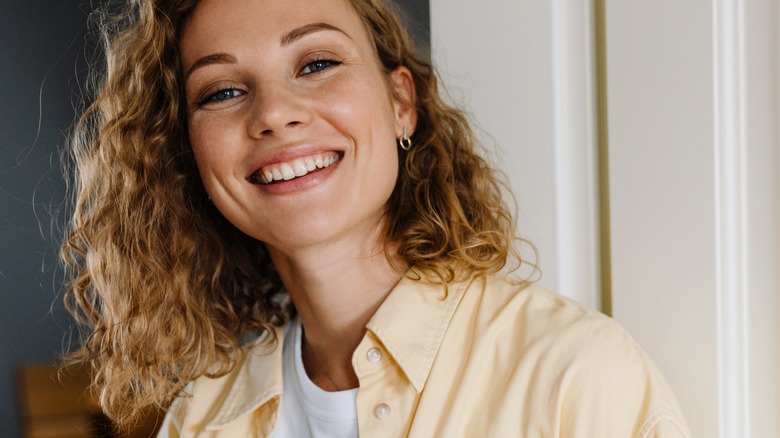 Dean Drobot/Shutterstock
Curl Centric recommends 400 grams of organic plain yogurt, 150 milligrams of liquid amino acids, and 3 tablespoons of baking soda to recreate the Cherry Lola recipe. Keep in mind that the amount of yogurt should be enough to cover your hair. If your hair is above your ear, about 200 grams of yogurt will do, and if your hair length extends below your chin, you might need more than 400 grams of yogurt. 
Advertisement
After pouring the yogurt into a large pot or container, add liquid amino acids and whisk the mixture. Then, put in the baking soda and start stirring again. The moment you see bubbles popping up the surface — you're done!
Before applying the mixture to your hair, section the locks into equal parts secured with elastic bands. Next, coat the formula over your hair, starting from the roots and working your way up to the ends. Use your fingers to spread the product to ensure every inch of hair is saturated. Once you're done, let the formula sit there for 20 to 40 minutes to give the nutrients enough time to absorb. After that, rinse your hair, rewash it with a conditioner, and let it air dry. 
If you have Type 3 hair which ranges from wavy to curl pattern, consider using this treatment twice a month, advises hairstylist Jasmine Washington. Those with super coily and shrinkage-prone hair — like Type 4 hair — can use it more often. 
Advertisement