Under-Eye Concealer Creasing May Be Solved With A Simple Product Addition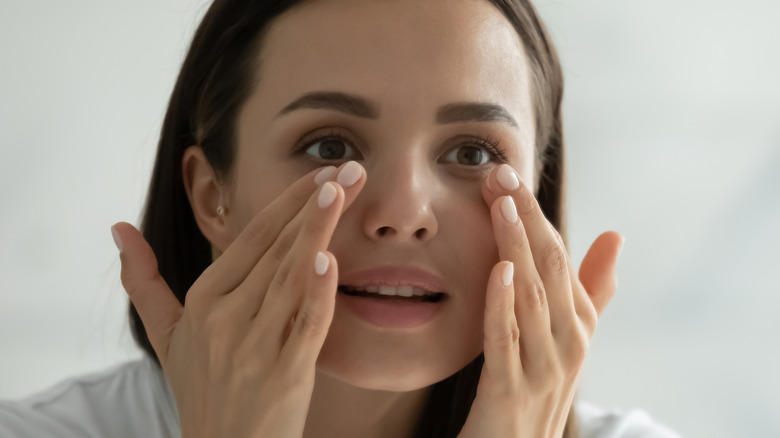 fizkes/Shutterstock
Millions of us use foundation or concealer to achieve a flawless finish to our makeup. However, if you're a seasoned user of either of these products, you likely are all too familiar with the doomed struggle of creasing, whether under the eyes or on any other part of the face. Whether you use foundation or concealer, the pesky problem is never any less annoying. In fact, it can be a downright pain. 
To correct under-eye creasing with concealer, many of us turn to our trusty setting powder, using a technique known as "baking" to seal the deal. However, if you don't have any setting powder, or the method doesn't work too well for you, then there is another useful product that you can use to get the job done. Say hello to eyeshadow primer. 
Eyeshadow primer will be your new best friend when it comes to eradicating your pesky under-eye creases once and for all. So, wave your magic wand and prepare to say hello to a magically transformed face.
Use an eyeshadow primer for a crease-free finish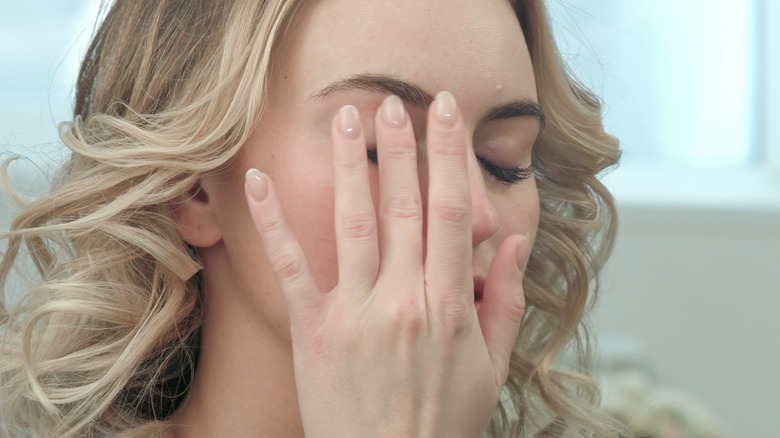 Fancy Studio/Shutterstock
Primers are best known for their ability to create a flawless finish, with many of us using the product to achieve precisely such a look. So, how can it work with your under eyes? This simple fix for under-eye concealer creasing is incredibly easy, and you will probably want to incorporate it regularly into your new makeup routine. Although it seems like an unusual choice, eyeshadow primer works wonders by adding moisture to your skin. This ensure that your concealer goes on more smoothly. 
All you need to do is take some eyeshadow primer and apply it under your eyes as you would with a regular primer. It's best to use both products separately, so let it soak in before going in with your concealer. Once it's blended in, your creasing problems should diminish in no time. Many users on TikTok are clearly loving it, too, with beauty guru Atosa revealing that the primer helps her concealer to "stick" to her under-eye area. In addition to this hack, you may also want to try layering for natural concealer application. Both of these work a treat.   
Don't use too much product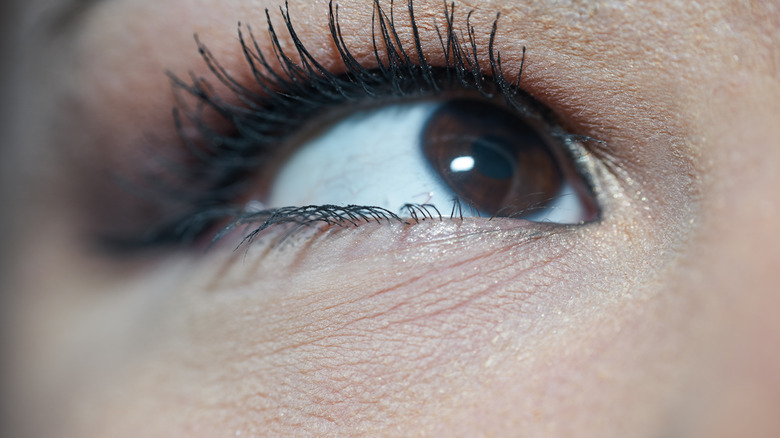 Radu Bighian/Getty Images
Although using eyeshadow primer is a great idea when it comes to preventing under-eye creasing, there are also some other tips and tricks that you can utilize to your advantage when working with such a product. Another way you can prevent under-eye creasing is by ensuring that you don't use too much product. Speaking to Brydie, makeup artist Suzy Gerstein recommends only using "thin layers to achieve a realistic finish" and only applying "as much as needed." When applying thin layers, patience is key. If you use this tactic alongside your eyeshadow primer, then you may be on to a winner!
In addition to your concealer, you also shouldn't apply too much primer, especially when multi-priming with different primers. Too much of any product will overwhelm the skin and hinder your smooth finish. When it comes to finding the perfect amount, it's usually a case of practice makes perfect.
After a few tries, you should be a primer and concealer pro in no time!