The Double Braid Trend On TikTok Is An Upgrade To The Classic Hairstyle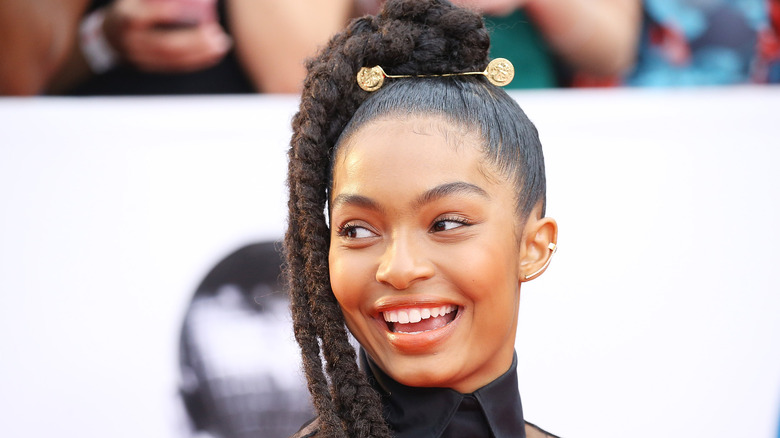 Michael Tran/Getty Images
When you think of hair braiding, the image that comes up for you will likely depend on your cultural background. If you are aware of the subtle, yet distinct cultural difference between "getting braids" and "getting a French braid," then you probably get the point. The intricate weaving of hair can be traced back to ancient African civilizations, becoming a symbol of pride among African-Americans, and has even been adapted by different cultures to suit their particular aesthetic.
Advertisement
According to Curl Centric, braids have had mass appeal for their "beauty" and "functionality." Historically, it was a sign of status and luxury in African civilizations, a reflection of modesty among Europeans, and a symbol of strength for Native Americans. Now with TikTok and other social media platforms, we're exposed to all types of braids; and the double braid trend, in its most basic form, not only adds interest to the classic one braid, but it is also easy to do. Essentially, it consists of two long braids, and how you style it is totally up to you. It's also worth pointing out that the double braid is a youthful look, so be prepared to embrace your inner child. Check out some double-braid looks for your inspiration.
Advertisement
Stacked braids
As with all of the double braids, you can choose to style it simple or more complex (more on that later). A basic half-up, half-down stack is fairly easy to do with long hair and the right styling creams or serum. Above, TikTok user @kennedy.powers added a little flair by tying her hair in a ponytail first and flipping it through. But you can also just simply braid it without the tie.
Advertisement
If you have naturally straight hair, you could braid the top and bottom, and let the sides hang loose. If you have a tighter curl pattern and you're wearing your hair in its natural state, you might let the curly flyaways roam free, or choose to slick your hair back into tighter half-up, half-down braids. Add a little styling gel to help to keep your edges on point. 
Should you choose to add hair for drama, you might decide to slick your hair back into two stacked ponytails for an extra long, braided look. Embellishments like bows or clips help to tell more of your style story.
Split-braid ponytail
If you're looking to do something more stylized with a ponytail, separate it and make two braids for a sleek look. This can be considered the elevated version of the braided ponytail and gives you a little extra movement in the back. You may also opt to wear your hair in two separate but closely positioned ponytails and make two separate braids. It might almost be mistaken for one ponytail until you get closer, creating more interest.
Advertisement
Higher braided ponytails feel fun and carefree, and lower ones feel more elegant. As with any double-braid ponytail, you'll also have to decide if you want a part or not. The internet is filled with advice and debates over which part is most suitable for your face. Middle parts tend to feel more severe and side parts softer, but both can work. Ultimately, you'll have to try it out to see which one you're more comfortable with.
Double braids with cornrows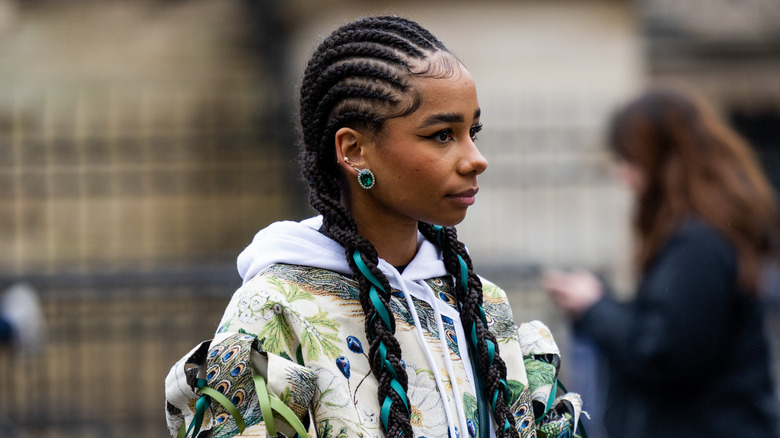 Christian Vierig/Getty Images
If you want to add a little complexity to your look, try doing double braids with cornrows. Cornrows are closely associated with Black culture and are often used as a desirable, protective style for coarser hair textures. Unless you're a pro, you'll likely have to get this done by a qualified hair braider. You may choose to wear your hair in pigtails as shown above, or you may decide to do a more complex half-up, half-down style. You can split your hair into bottom and top halves, cornrow the top and bottom, and then braid the top and bottom. Alternatively, you can also wear this style with box braids.
Advertisement
Interestingly, cornrows and Dutch braids are basically the same hairstyles. While the hairstyle originated in Africa, the Dutch loved the convenient hairstyle so much, they embraced it, giving it a name of its own. Dutch braids evoke images of romantic, puff-sleeved dresses cinched at the waist. So, if you decide to wear Dutch braids, feel free to let out your inner romantic.