The Lip Stain Hack That Takes Over For All Your Liner Pencils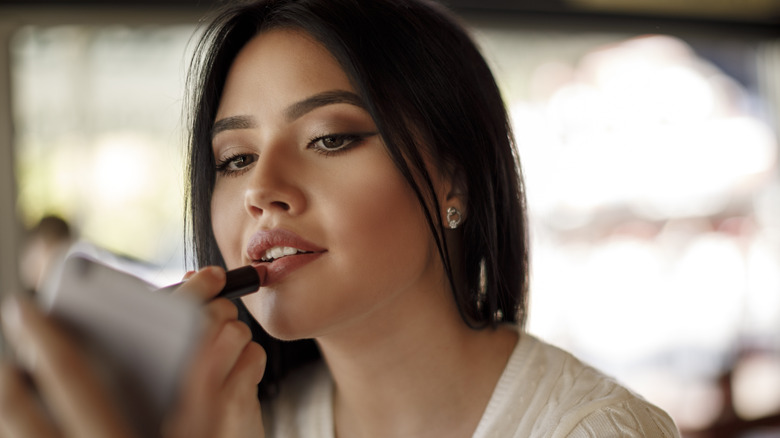 Damircudic/Getty Images
If you're a candid makeup lover, then creating a good lip may be a regular part of your everyday makeup routine. This can include using several lip products, including lip liner, a product that is becoming increasingly popular in the makeup world (and for good reason). Many people often flock to the product to create the illusion of bigger, fuller lips, which is why it is a staple in the makeup routine of many.
Advertisement
When it comes to creating the perfect pout, TikTok can be a great help. As the video-sharing platform is flooded with hundreds of beauty creators, it never falls short when it comes to makeup tips and tricks, and has plenty of lip hacks ready to offer at the simple touch of a button. For example, the precise liner hack from TikTok can help you to line your lips perfectly by just rolling them together before you apply your product. One recent hack shared on the platform by fellow user @julieullmann may just replace your lip liner pencil for good. Say hello to the Stila lip stain hack. All it involves is your finger, lip stain, and the edges of your lips.
Apply your lip stain as you would a lip liner
If you're looking for a quick and easy lip hack, then look no further. This crafty lip stain hack by @julieullmann can help you to create the perfect plump and bold lip that will help to accentuate your puckers to their full potential. Thankfully, the steps are incredibly simple — even if you're a makeup newbie!
Advertisement
To start, take your favorite Stila lip stain color and outline your lips as you would normally do with a lip liner. Ensure that you take your time so that you can go in with extra precision around the edges. After lining your lips, gently rub them together and blend the product into your lips using your fingers. Once you feel as though the product has blended in nicely, go in with a lip oil of your choice, whether that is clear or you want to rock a similar color to your lip stain. Now, your lips should look both plumper and bolder, with the added "oomph" of your lip stain perfecting the final finish of the look.
Try an alternative liner hack
Of course, this isn't the only lip hack that you can use to create the appearance of having bolder and plumper lips. If you don't have a Stila lip stain, you could always try using TikTok's semi-permanent brow tattoo hack — if you're feeling daring. Similar to the lip stain method, this hack also gained traction on the video-sharing platform. 
Advertisement
Thankfully, this trick is relatively simple. You apply the semi-permanent product as you would with a lip liner, leaving it on for around 10 minutes. If you use darker shades of lip liner, such as browns, then this hack could work well for you. Simply remove the excess when your time is up, rub in the product slightly, and then apply your lipstick or lip oil.
Like with any beauty product, you should ensure that you pick the correct shade of either lip stain or brow tattoo dye, especially if you want to create a natural look. While you can be daring and select brighter colors such as reds and pinks, a natural look may require more neutral and nude tones that are closer to your skin and lip color.
Advertisement