11 Banana Clip Hairstyles For Lazy Hair Days
A fresh cut or color at the salon is a definitive mood booster, but it doesn't last forever. At some point, most of us go through periods of boredom with our hair or back-to-back bad hair days. This can leave you scratching your head (literally), trying to figure out ways to refresh your bob, lob, or long tresses. If you've exhausted your options with curling wands and flat irons, it's time to call for backup — through the humble hair clip. Among all your hair styling tools, a good mix of barrettes and clips is essential. After you've run through a couple weeks worth of claw clip looks, turn your focus to another throwback clip that's resurfaced in salons and home vanities alike: the banana clip.
Advertisement
Sometimes confused with the claw clip, these accessories that resemble the shape of a banana expand to gather hair and clamp shut, often securing at one end rather than having a mechanism in the middle that opens and closes the clip. Some banana clips look more like barrettes, and there are plenty of colors and embellishments for making hairstyles pop. This shape hails from the '80s, but it has received a modern twist that makes it the perfect addition to any look. Get inspired by 11 of our best ideas for working this style clip into your daily routine.
Add personality with embellished clips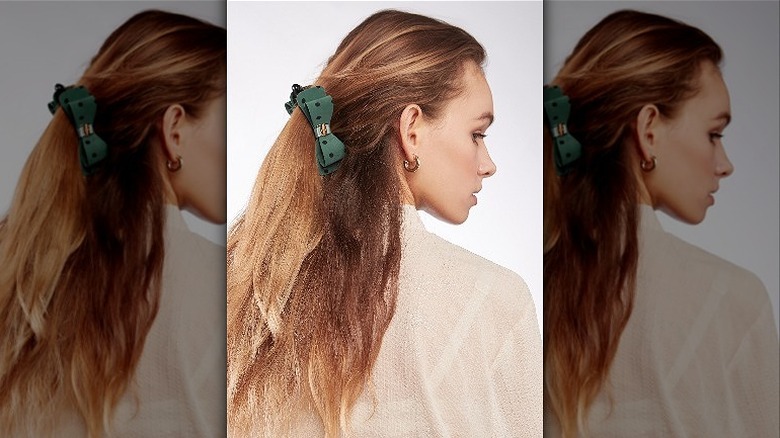 Red Umbrella and Donkey/Shutterstock
Like claw clips, banana clips can look a little bland. While a black or tortoiseshell pattern is ideal for minimalists or anyone who wants to keep the focus on their outfit, they can verge on boring or basic pretty quickly. To make this hair accessory a part of your outfit, choose one in a funky texture or bright color. There are also banana clips laden with bows, encrusted with pearls, and decked out in bold faux jewels. Choose a few to have on standby for days when you need a statement piece for your locks.
Advertisement
Rock it with a braid
Unlike other hair clips, banana clips don't have to be seen to make an impact. In many instances, they're a good foundational tool for holding sections of hair together or boosting the volume of a ponytail or braid. As shown in this romantic and ethereal style, a banana clip can hide beneath the ponytail to provide extra definition and keep it and the braid in place. For a similar look, curl your hair and brush it out for softer waves. Then pull out a few strands to frame the face and allow the banana clip to do all the heavy lifting.
Advertisement
Try it half up, half down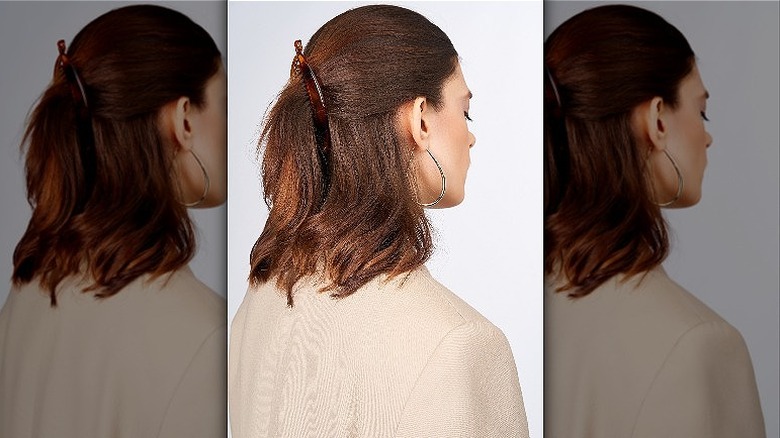 Redumbrella Europe/Shutterstock
Banana clips are capable of elevating the most basic hairstyles and providing a little more visual interest. Anyone who relies on the trusty half-up, half-down hairstyle can spruce up the look by replacing a standard hair tie with a banana clip. It's less strain on your strands and looks sleek, too. Pull hair back and leave as is, add some waves, or incorporate a few braids or twists to really transform your end result.
Advertisement
Style it with waves
Bobs and other short hairstyles can be tricky to style and don't quite have the same capacity as long hair when it comes to different looks. Hair clips make it simple to refresh your look with little effort, and you'll be surprised at how much of a change they create. To switch things up from your usual brush-and-go look, try waving your hair with a wand or overnight braids, then brush them out. Take it a step further by adding a banana clip and sectioning half of your hair up. 
Advertisement
Try a clip on a ponytail braid
Banana clips and barrettes can be used to create designs with your hair and help support your most artistic creations, whether you're a fan of braids or are always rocking an iconic bun. Choose a larger version of this clip and clamp it around the base of your scalp, right before the braided ponytail starts. It adds a sculptural detail to your hairstyle and a change of texture and color. If you're not one to follow all the wildest hair accessory trends that have popped, try this minimalist take.
Advertisement
Make a statement
Whether it's a designer clip or a budget-friendly purchase (or even one passed down from a family member who lived through the '80s banana clip boom), the barette style of banana clips out there is perfect for making a statement. Though these clips are typically wrapped up in a bun or ponytail, they can steal the spotlight if you attach them outside of the style. The most common place for hair clips tends to be the side of the head, but for a unique take, try leaving it on top of your hair in a color that stands out (like bright pastel florals or neon) or fastening it beneath a bun for an unexpected twist. 
Advertisement
Create a polished high ponytail
If a polished ponytail is your go-to look, use a banana clip to make it even bouncier and flouncier and give your strands a break from restrictive bands. A standard clip can be tucked away beneath the style rather than over top for a clean and continual pony or braid. Anyone with thick hair will also appreciate the reinforcement that a banana clip brings as opposed to those hair ties that snap and break a little too easily. 
Advertisement
Pull front pieces back
At first glance, you might think there is only so much you can do with a banana clip (or any hair clip really), but these trendy little accessories can be manipulated and positioned in a variety of different ways. Rather than hiding the clip or obscuring your hair tie, attach the banana clip right above your ponytail or beneath it, as mentioned earlier. Or use it to hold a couple of front strands in place at the back of your head. This one small move makes a big impact on perspective and visual expectation. It's subtle, but a must for your list of cute styles to try. 
Advertisement
Go sleek with a black clip
Even if you place a banana clip in a classic spot on your head, there is something about the shape and vertical nature of it that still commands attention. While it's fun to choose something bright and flashy, if your personal style is more understated, just aim for a clip that complements other accessories and garments within your outfit. That's one key to pulling an entire look together that feels fashion-forward. It doesn't necessarily have to stand out — a silky ponytail can be swept back and secured with a basic banana clip and appear stylish, thanks to how versatile this color is.
Advertisement
Use it to add volume
Second-day hair? Or perhaps volume never seems to be in the cards for your tresses? Try using a banana clip to step up the body and volume of your updo. Add a few curls to your hair if it's not naturally curly, spritz a bit of dry shampoo or hair spray, and pull half of it through a banana clip. The accessory will push out your tresses for extra body and it gives the illusion of extra length, too. It keeps hair away from your face (especially if you always put it behind your ears) without resorting to another slicked-back ponytail.
Advertisement
Try a pearly clip
Banana clips and claw clips are often seen in sleek hairstyles or as part of minimalist's and maximalist's wardrobes. If your style tows the line of boho, classic, or preppy, there are stylish clips that'll match your aesthetic, too. Aside from neon colors and muted pastels or neutrals, some banana clips come adorned with pearls and elegant detailing. It's the perfect object to add to a romantic outfit and hairstyle that might be missing a finishing touch. Sweep half of your hair back into a pearl clip or put it at the start or end of a braid if it's smaller.
Advertisement