Feathers Are All Over The Red Carpets Right Now - Here's How To Wear Them IRL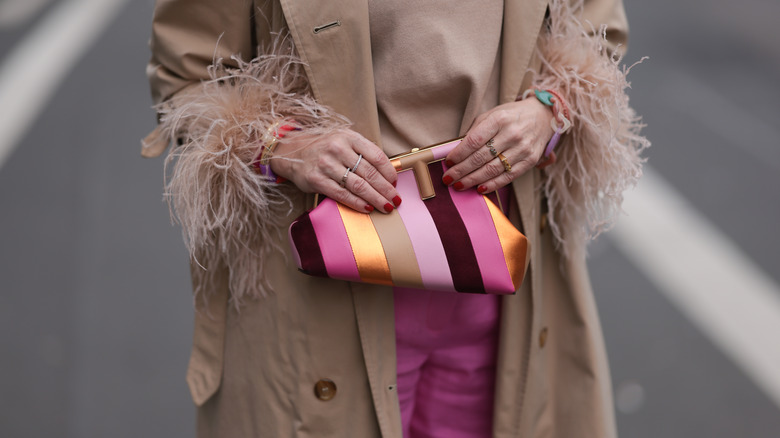 Jeremy Moeller/Getty Images
Feathers — which are just a bit extra — have a long history in fashion. As far back as the Middle Ages, feathers adorned the headwear of soldiers, and throughout the Renaissance period onward, they became established symbols of prestige and elitism. Once perceived as gallant and courageous, feathers were also used to signify eroticism and fantasy. They've continued to be a recurring trend through the years, and, today, they remain a decorative accessory often associated with fantasy and aspirational fashion. Just check out this over-the-top robe that went viral on TikTok.
But, of course, feathers have not been without controversy. Due to concerns that animals have been harmed for the sake of fashion, there is a push toward ensuring fashion companies use cruelty-free methods of feather collection. This could range from using feathers that have been shed (also known as molted feathers) to recycled feathers or even faux feathers.
So, if you're in the market for some decadent plumage, you'll want to determine the feather collection process used by your chosen brand. True style not only looks good but feels good, physically and emotionally. And feathers you are comfortable with offer opportunities to achieve a little fantasy in your every day. Here are some ways to wear them.
Dress up a blazer and jeans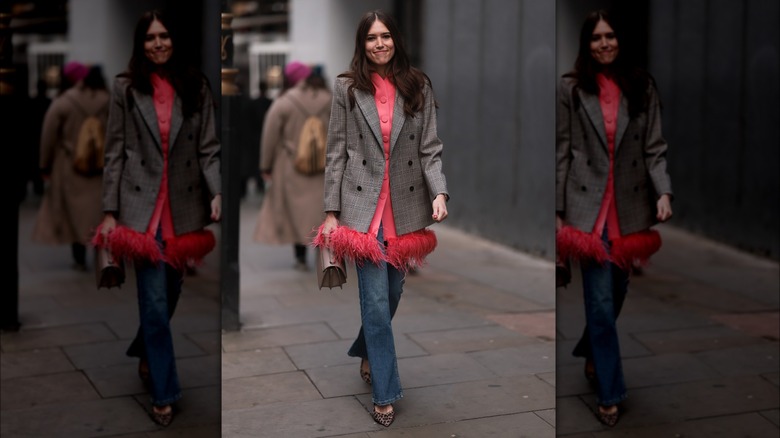 Jeremy Moeller/Getty Images
Feathers add fanciful detail to any outfit. According to a 1998 study in Family and Consumer Sciences Research Journal, women "dress in costume primarily to assume another persona." This suggests that the element of fantasy is appealing largely because it allows us to try out desired roles — and elevating a blazer with jeans is one way to add a more alluring persona to a largely business-casual look. Layering a colorful, feather-trimmed blazer underneath a more neutral-colored one is an innovative way to add interest and depth. 
Add a feather shoe accessory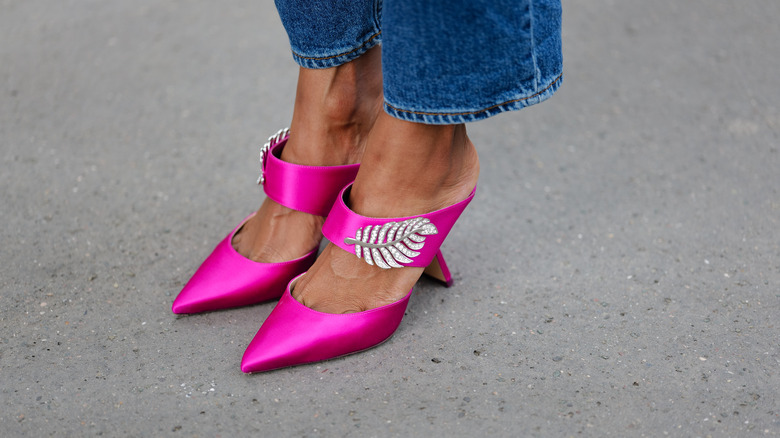 Edward Berthelot/Getty Images
Of course, we love the drama of wearing actual feathers on our shoes (the kind with feathery plumes draping over the front of the shoe). But if you want to calm it down a bit, try the more understated look of a feather shoe accessory. Centuries ago, when goldsmiths coated feathers with gold, they became associated with value. A sparkly feather accessory adds a similar brilliance to an outfit.
Try a feathered crop top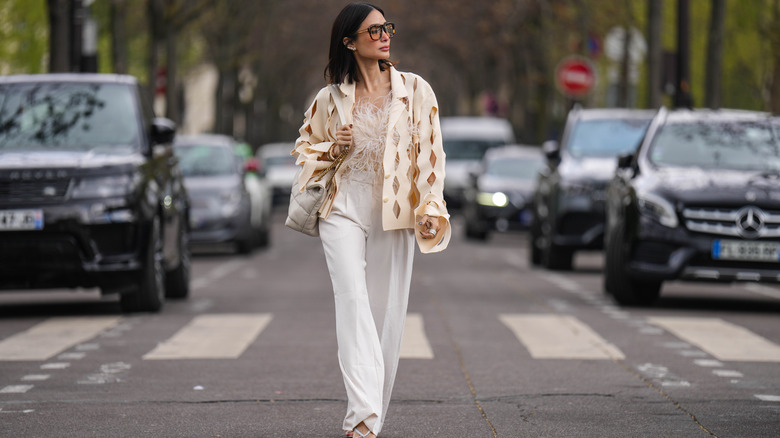 Edward Berthelot/Getty Images
What better way to say "ooh-la-la" than with a feathered crop top? Here, the tonal colors feel calming and allow you to zero in on the different textures. The profusion of feathers underneath a sweater or jacket allows it to show through without giving it too much importance, exuding an "oh-this-old-thing?" kind of energy.
Go for feather-trimmed sleeves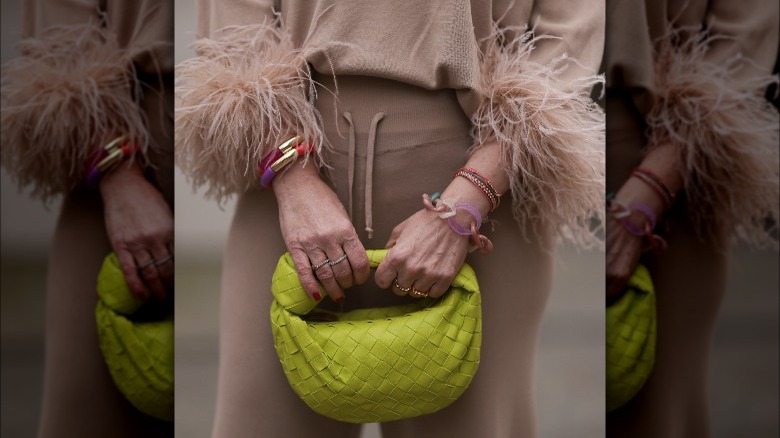 Jeremy Moeller/Getty Images
Feather-trimmed sleeves worn with athletic-inspired pants say "I want to relax" but also "let's celebrate." We're all for outfits that manage to pull off complex messages. The neutral colors elevate the look and, again, allow the textures to shine through. The neon green purse and multi-colored bracelets complete the celebratory feel.
Wear it with shorts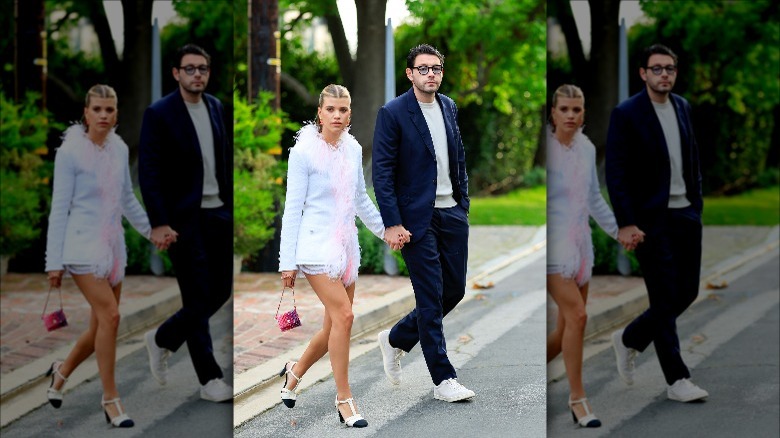 Rachpoot/bauer-griffin/Getty Images
Feathers have long been associated with seduction. So, for a flirty look, try wearing feathers with shorts. Here, feathers worn on a tailored blazer and t-strap shoes give off lady-like, vintage vibes. With pants or a skirt it would look nice, but when added to a pair of shorts, the feathers add a burlesque vibe — perfect for enhancing the allure.
Look for a skirt with feathers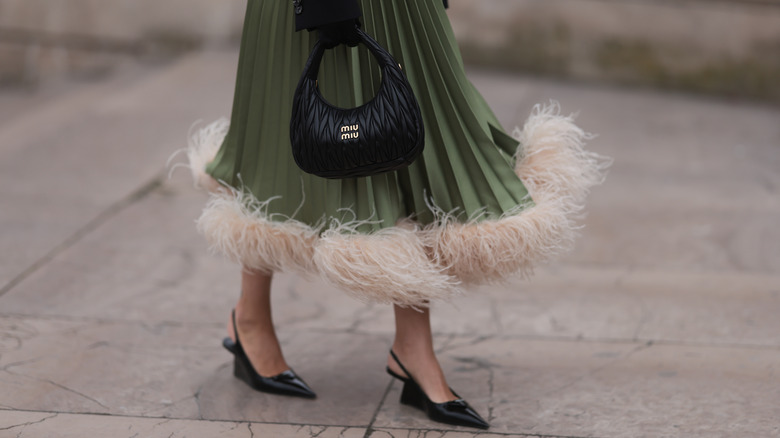 Jeremy Moeller/Getty Images
Again, we see a blend of the tailored and the fanciful. A muted green pleated skirt reads prim and proper but when paired with light pink feather-trim, the pleats are ready to party. Another option would be to layer a fully-feathered skirt with a pleated or other tailored skirt over it. It's unexpected and a great conversation starter.
Achieve versatility with a feathered collar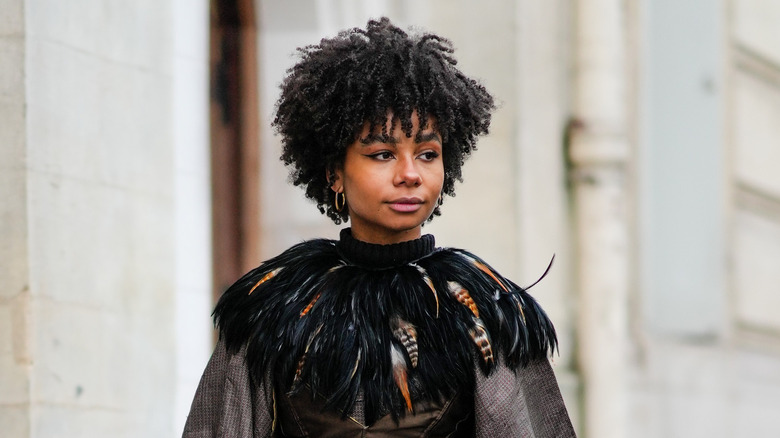 Edward Berthelot/Getty Images
We are head-over-heels for this standout feathered collar — it could revamp the most ordinary of outfits. For instance, if you are wearing a plain white tee and jeans but want something more, add this feathered collar for an instant outfit transformation. Likewise, if you are dressed up and just want to add something a bit more striking, this collar will surely upgrade you.