Move Over, Bobs - Medium-Length Cuts Are The Adaptable Hair Trend On The Rise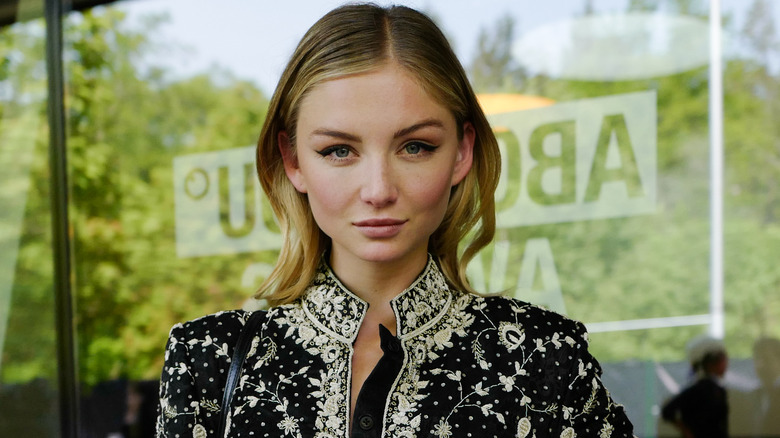 Jeremy Moeller/Getty Images
Everyone knows the bob is one of the trendiest 2023 haircuts. And it's not just the classic blunt haircut that stops anywhere between the chin and the shoulders anymore — now, we have the new bedhead bob trend, the chic, do-it-all contour bob that highlights more than your hair, and the androgynous, low-maintenance bullet bob. Believe it or not, this is nowhere near all the bob haircut options that exist. All the different bob styles are fun and trendy, but we understand that short hair isn't for everyone. However, long hair can be hard to maintain and can feel heavy and get in your way.
If you don't want short or long hair, medium-length haircuts are your best bet. For whatever reason, they typically get frustratingly less attention compared to long and short haircuts. These convenient, flattering, medium-length haircuts are underrated, offering the perfect compromise between long and short locks, and we know some mid-length haircuts that look anything but "mid," as the Gen Z TikTokers would say.
Try the clavicut
The clavicut is the epitome of a medium-length haircut, offering the perfect balance between long and short hair. "Basically, the hair kisses the top of the collarbone — also known as the clavicle, thus the name 'clavicut,'" Edward Tricomi from Warren Tricomi Salons told Health. Even if you have long tresses and are considering a trendy bob look, it can't hurt to opt for a clavicut first to try a cute medium-length style before committing to a more intense chop.
Deep parts will look better than ever
Do you love the edgy deep-part look? If so, you need a medium-length haircut to experience the best deep part ever. With long hair, intense side parts can get in your face too much for an overpowering appearance, while the deep part can get too sloppy and can be difficult to manage with short hair. But, with a medium-length haircut, the side part will look just right.
Experiment with layers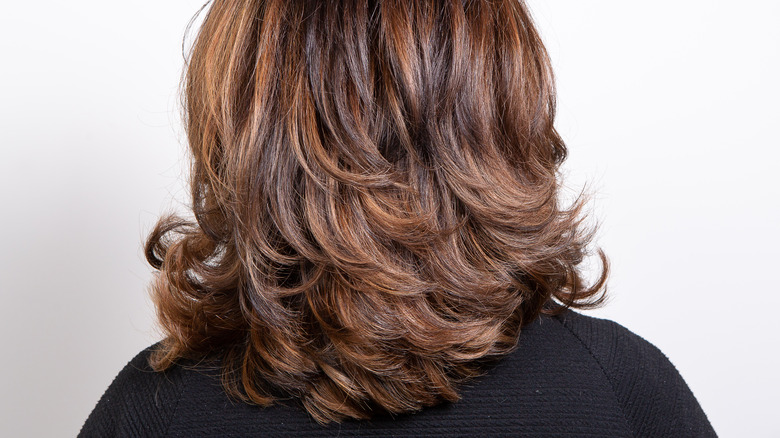 false/Shutterstock
While blunt clavicuts are flattering and sleek, layers can be super fun. Layers can add more dimension to any medium-length style for a more dynamic, intriguing look. Long layers can appear understated and sometimes a bit boring, while short layers can be too high-maintenance. With medium-length hair, layers will appear noticeable and flattering but will be much easier to maintain.
Bangs will look great
People constantly talk about how bangs look stunning and mysterious with long locks and so chic with shorter cuts, but why don't people talk so much about how excellent bangs always look with medium-length haircuts? Your bangs will be the focal point of your medium-length hairstyle, but the cut will still appear balanced, which isn't always the case with shorter cuts. Bangs with mid-length hair deserve more attention!
You can still put it up
You won't have to give up your favorite updos if you cut your hair into a clavicut. While cute messy buns and trendy braids aren't usually doable with bobs, you can typically still rock these playful updos with medium-length cuts. So, if you want to cut your long hair but don't want to sacrifice your go-to updos, a medium-length option is your best bet.
Medium-length cuts look good with all hair colors
Old stereotypes link specific hair colors to certain hair lengths. For instance, the classic "blond bombshell" trope has made long blond tresses a beauty standard for years, while the stereotypical "cool girl" typically flaunts a trendy dark or red bob. But when it comes to medium-length haircuts, there aren't any hair color expectations, as every hue looks equally great in medium lengths, whether your locks are blond, brown, black, red, pink, green, or any other color.
People of all ages look great with these cuts
Mid-length haircuts are some of the only hair lengths that look excellent on kids, teens, young adults, middle-aged adults, and seniors alike. While short haircuts occasionally appear a bit youthful for some settings and long locks can sometimes make you appear older, medium lengths are appropriate for every age and place.