Reese Witherspoon's New Bangs Are A Masterclass In Doing The Post-Divorce Makeover Right
Reese Witherspoon has been a style icon for decades — who else is still obsessed with some of those '90s looks? — and the queen of Southern charm has once again brought us a major beauty moment, unveiling her new, post-divorce bangs on Instagram.
As those who follow celebrity gossip may already know, Witherspoon filed for divorce from her husband Jim Toth in early April, following more than a decade of marriage (via ET). Divorce is never easy, so it's wonderful to see Witherspoon taking time to enjoy the summer weather and show off her gorgeous hairdo.
Witherspoon has kept her signature blond locks but has swapped out her previous face-framing layers for spunky, straight-across fringe. The look is bold and fearless, perfect for a talented woman entering a new phase in life. While some attempts at fringe can feel like a regrettable impulse decision, Witherspoon's hairstyle debut proves that well-executed bangs are the ultimate post-divorce style move.
Why Reese Witherspoon's bangs are so perfect
So, why are Reese Witherspoon's new bangs the perfect fringe when bangs are often a high-risk endeavor? To put it simply, Witherspoon's fringe adheres to what works best for her hair texture and face shape rather than following any specific trends.
Let's start with the length: These bangs are the dream length for her face. Although many of this summer's fringe trends are leaning toward longer bangs, such as waterfall fringe or curve bangs, Witherspoon's fringe is comparatively short, stopping just at the top of her cheekbones. As a classic heart-shaped face beauty, this is an excellent choice for her. Since Witherspoon has high cheekbones, longer bangs would cover them up, whereas shorter, chopped fringe brings your eye's attention right to her fabulous cheeks.
The other highlight of Witherspoon's new bangs is their lightweight texture. Her fringe is thick enough that she can play around with various styles, but there's also some density carved out on the ends, making the fringe lighter and more moveable. This is a great match for Witherspoon's sunny and upbeat essence. This shape will also be a big help as her bangs grow out, as she'll easily be able to transition them into curtain bangs or even a side fringe without much fuss. Talk about having the ultimate freedom over your fate!
Big bangs for big changes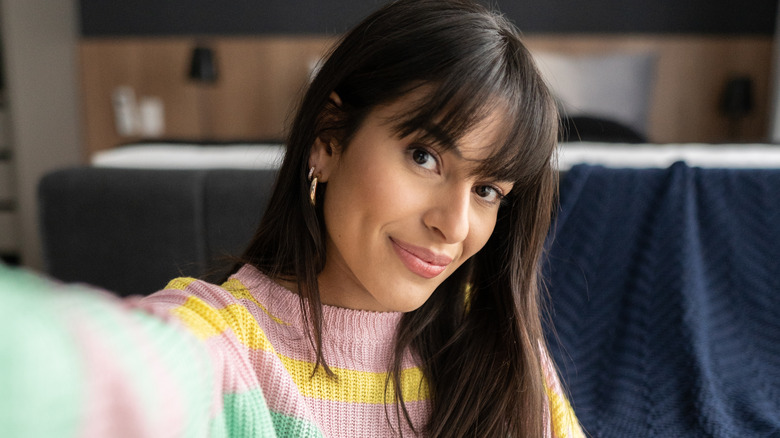 Fg Trade/Getty Images
The classic joke is that when a girl is in crisis, she gets new bangs, and, honestly, there's a kernel of truth in this. Getting a new haircut can make you feel like you have more control over your life and help mark a major shift in your sense of self. Unfortunately, not every decision to get bangs is a good one. If you want to follow in Queen Reese's effortlessly classy footsteps and get a fresh fringe that sets the tone for a bright new tomorrow, there are a few factors to keep in mind.
First, ask yourself if you're getting bangs for the right reasons. If you feel confident that you'll still want the fringe in a few weeks, start looking for style inspiration. Your look will come out much better if your stylist has several reference photos to use as a starting point. For traditional bangs, go the way of Witherspoon and get a lightweight fringe that grazes your cheekbones. On the other hand, if you want a longer fringe that you can incorporate into other hairstyles, get curtain bangs or bottleneck bangs. Don't be afraid to consult your hairstylist to come up with a look that's unique to you and your preferences; after all, if your new fringe is supposed to give you confidence, it should be a reflection of your authentic self.