Kate Middleton's Biggest Makeup Mistakes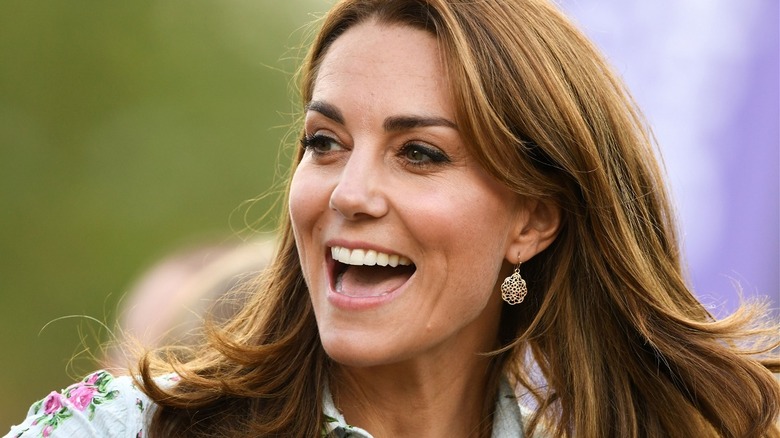 LINGTREN.COM/Shutterstock
It has been nearly two decades since we first caught a glimpse of a then college-age Kate Middleton — who, back then, could be snapped on camera eating cheeseburgers with her friends and rocking see-through ensembles for school fashion shows. But throughout Middleton's transformations over the past 20 years, one thing about her has remained: her natural, minimalistic makeup style. Kate is a natural beauty, so skincare seems to be her number-one go-to when it comes to her face. 
However, just because Middleton gravitates towards flaunting her natural beauty doesn't mean she's escaped some major makeup faux pas over the years. Of course, makeup is an art, and like all art, it's very subjective. But in Middleton's case, as a person who is undoubtedly going to be photographed everywhere she goes, there are some basic rules that should be adhered to when it comes to dealing with flash and paparazzi — what may have looked fabulous in the makeup artist's chair may not have translated the same on camera. So, let's take a look at some makeup moments in Middleton's time in the public eye that could have been approached just a tad bit better.
Thick, dark eyeliner in 2010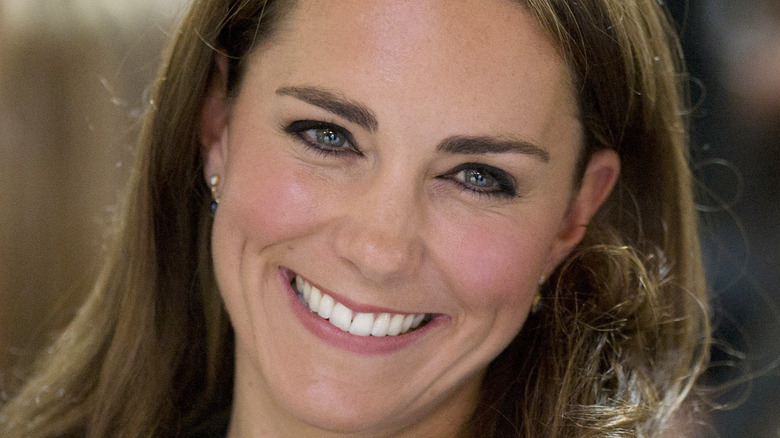 Anwar Hussein/Getty Images
For some reason, before marrying Prince William, Kate Middleton was absolutely in love with lining her hazel eyes with a thick band of black liner — both on the top and bottom. In all likelihood, Middleton probably thought the dark contrast brought out her light eye color — which it did — but at the same time, she may have not realized that such thick lines on the eyes can actually make your eyes appear smaller, aging you instantly.
"I think some people like to try and define their eyes by applying black eyeliner to their top and bottom lash lines to really make their eyes stand out," makeup artist Saffron Hughes told GoodTo regarding Middleton's eyeliner past. "However, applying heavy eyeliner like this can actually make your eyes look smaller while adding more shadow to the area and increasing the risk of smudging." Moreover, it becomes very difficult to blend eyeliner that has been applied this way, leaving an unflattering gap in the waterline between your eye and the eyeliner.
Thankfully, Middleton has stepped up her eye makeup game quite a bit in recent years, now opting for earthier-toned liners applied only to the top. "By ditching the heavy eyeliner, Kate has managed to maintain a beautiful, youthful appearance, allowing her to look just as good (maybe even better) now than she did in 2010," Hughes concluded.
Doing her own wedding makeup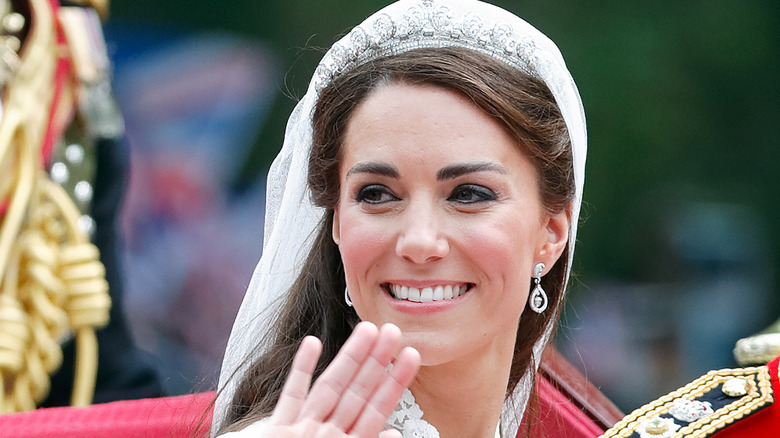 Max Mumby/indigo/Getty Images
You can probably recall tuning in on April 29, 2011, to join in on what the entire world was talking about: the wedding of the century. Witnessing Princess Diana's eldest son marry a would-be princess was a historical moment in time, and for weeks, there was speculation over what Kate Middleton would wear, how she would do her hair, and what her makeup would look like. 
Once her look was revealed, most people were more fixated on her stunning gown than anything else, but others were applauding and going nuts over the fact that Middleton bravely did her own makeup for the iconic event. Overall, she did a fairly lovely job — aside from the unblended and thick eyeliner, particularly on the lower lash line. But her biggest mistake with this was sending out the message that wedding makeup can be done by everyone and anyone.
First off, wedding makeup is a highly perfected skill that takes lighting, photography, weather, and even skin type and product formulation into account. Middleton missed the mark on a few of these — such as not adding any "glow" for a more hydrated look. Professional makeup artists are trained specifically in working with all these aspects, so for pictures that will truly never disappear or go away, a professional is always recommended. Aside from that, there are a million things a bride has to worry about on her wedding day, and makeup shouldn't have to be one of them.
Packed-on pink blush at the 2017 Trooping the Colour ceremony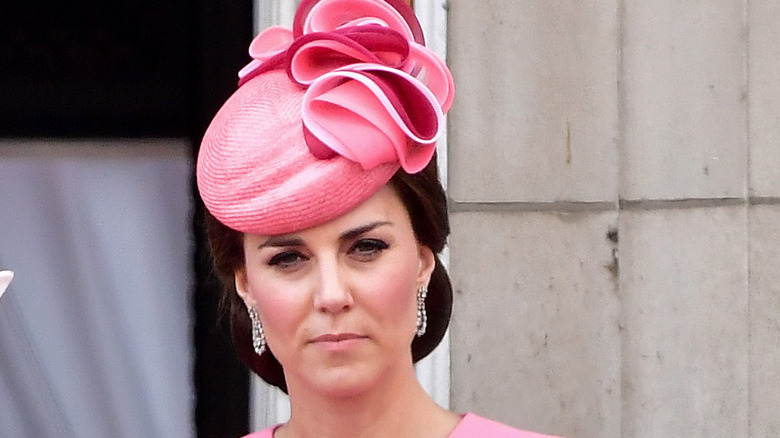 James Devaney/Getty Images
Sure, we love showing off rosy, Barbie-pink blush as much as anyone else. But there are instances when too much is, well, too much. Back in 2017, Kate Middleton attended an event called the Trooping the Colour ceremony, which is an event that dates back hundreds of years in which the birthday of the British sovereign is celebrated. Although the ceremony is focused on royal flags, Middleton seemed to get somewhat distracted by the word "colour" in the ceremony title.
Choosing to don a bubblegum pink Alexander McQueen dress, Middleton also elected to pack on some pink blush in almost the same shade as her dress. While this may seem like the instinctual go-to shade choice for a pink dress, too much pink can actually come off as very monotonous-yet-overwhelming. Since her dress was a shade of pink with cool, blue undertones, breaking up the pattern with a flush of peach on her cheeks would have looked lovely and really allowed the dress and makeup to shine individually.
Much-too-warm bronzer at the 2018 Remembrance Day service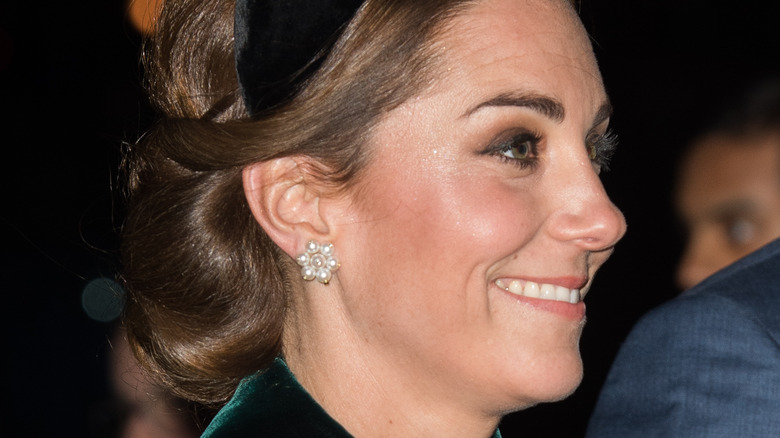 Samir Hussein/Getty Images
Over the years, Kate Middleton's Remembrance Day looks have been a win. She's seamlessly merged her makeup and outfits together, creating some memorable fashion moments. But at the 2018 Centenary service at Westminster Abbey, her packed-on blush and bronzer seemed to overpower the entire makeup look. Examining the look closely, we aren't quite sure where her bronzer and blush begin and end — and to add to it, highlighter is swept over top, enhancing just about everything.
The biggest mistake about this may possibly be the color choice. The bronzer was likely used as a contour, but instead of creating the nice shadow that it was meant to, it adds an unnecessary warmth to places that don't need warming up. Generally, a rule of thumb to remember is that whatever your skin undertone is, your contour shade should be the same. Since Middleton has a cool undertone to her skin, she needs a cool contour color.
"Think the same tone family as your foundation, but one to two shades darker than your skin; that's about as dark as you should go," New York City-based makeup artist Caroline Baribeau explains to Byrdie regarding your ideal contour shade. "If you have fair to medium skin, think of neutrals, taupes, and contour shades that lean on the cooler side."
Unblended eyeshadow at a Christmastime event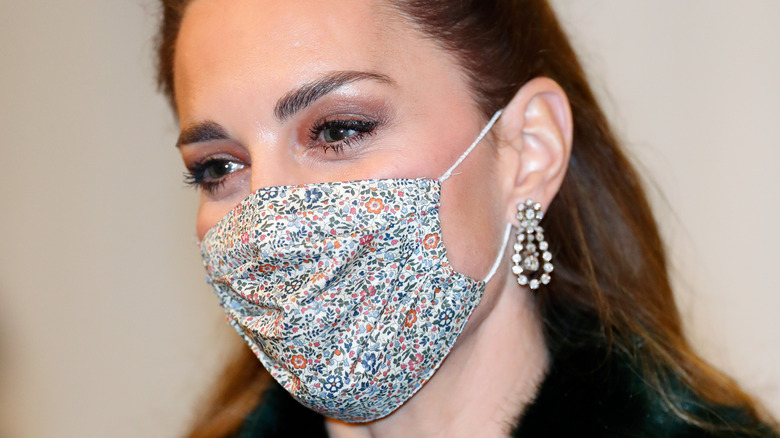 Max Mumby/indigo/Getty Images
Kate Middleton loves to rock a dark smoky eye at evening events, and we're all here for it. Usually, it looks great, but at one Christmastime event back in 2020, Middleton suffered from a serious case of under-blended eyeshadow. From a distance, it doesn't look bad and actually seems like it would be a great look. But in the more zoomed-in photos of Middleton's face, it becomes apparent that there are some harsh eyeshadow lines at play — particularly on the inner corners of her lids.
One part of the eyeshadow that the artist did get right was the color. The warmness of the burnt orangey-brown color complimented her emerald green coat marvelously, which led to a very dimensional illusion. In any case, under-blended eyeshadow is never a good look (and blending makeup flawlessly isn't as hard as you think). But most onlookers were more distracted by the fur trim of the coat and whether it was real or not, so, luckily, her eyeshadow wasn't too noticeable for most.
Washed-out foundation at a Generation Earthshot event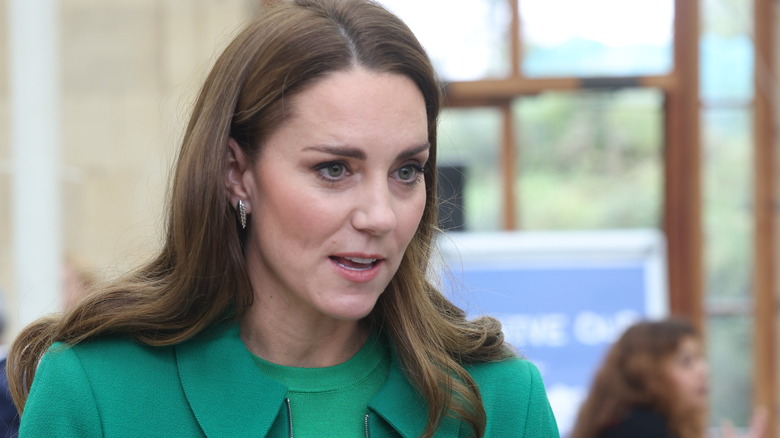 Wpa Pool/Getty Images
Typically, Kate Middleton is often given a nice wash of color with her foundation shade, blush, and bronzer. But at a 2021 Generation Earthshot event, her makeup seemed a little off. After some further inspection, it becomes obvious that Middleton's foundation somehow washes her out even though it matches her skin tone, her eye makeup is far too bland, and her bright green outfit that Prince William reportedly called "too bright" makes her look even more washed out and dull. Furthermore, her usual neutral lip shade seems to offer no help at all — instead, sucking even more color out of the look.
Instead, Middleton's makeup artist should have brought some life to her face with a cool-toned bronzer. Since this was in the fall and cooler weather was at play, a bolder choice for a lip shade would have balanced out her paler-than-normal skin. Because Middleton likes to keep the lips more natural, along with bold lips being against royal protocol, reaching for a maroon or burgundy lip stain would have contrasted with the vivid greens of her sweater and coat, making a beautifully complimented ensemble.
Aging makeup at the Queen's Platinum Jubilee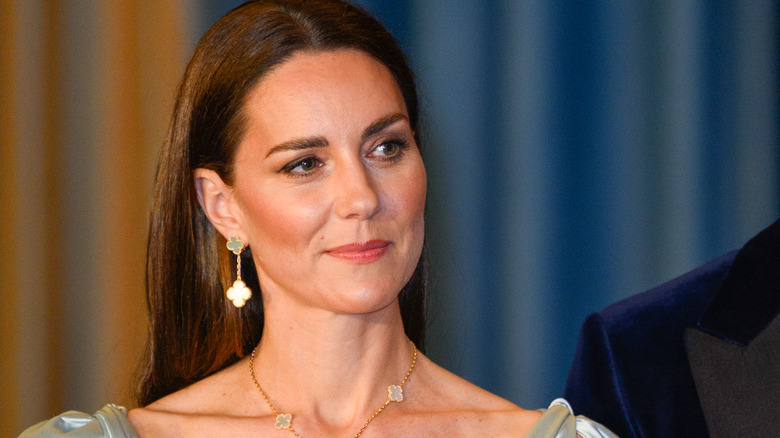 Pool/samir Hussein/Getty Images
Adorned in a breathtaking icy-blue silk gown for the 2022 Queen's Platinum Jubilee, it was clear that Kate Middleton's style goal of the night was to give off a fair, fresh-faced princess look with natural makeup and a primary focus on her dress.
But for stepping out at midnight on the final evening of the Caribbean tour honoring the Queen's accession to the throne, Middleton's choice of makeup was less than underwhelming. In fact, her makeup — which was seemingly more fit for a Sunday afternoon stroll in the park than a glamorous evening event — seemed to have her looking older.
Moreover, the wrongly chosen warm-toned contour is so heavily loaded under her cheekbones that it steals any and all attention away from her already mundane eye makeup. Overall, a different color palette and a bolder eye could have made what should have been a spectacular dewy evening look.
Overdone eyeshadow at Queen Elizabeth's funeral procession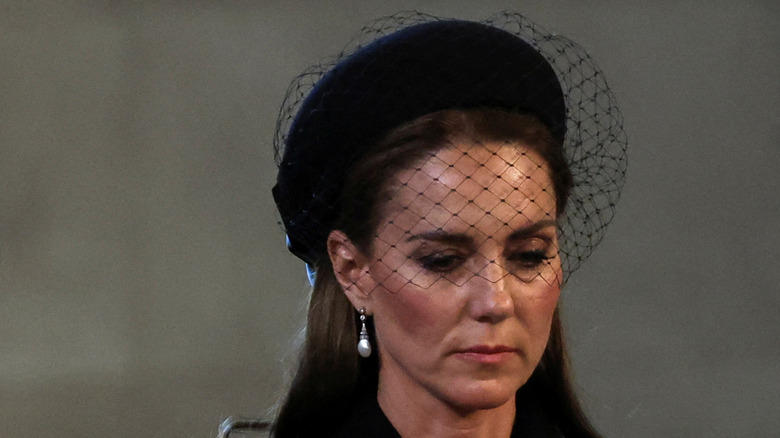 Samir Hussein/Getty Images
Queen Elizabeth's passing was a tragic loss that affected many, and while her funeral was a sad event, Kate Middleton appeared to express her mourning with unnecessarily heavy and dark eyeshadow.
This was a look that was probably curated to go along with her black outfit — but ultimately, it would be much better suited for an evening event with low lighting. Since much of the service was in the middle of the day and outside, the darkness of the eyeshadow created vast shadows on her already seemingly saddened and heavy eyes.
For a better choice, Middleton's makeup artist should have opted for more neutral tones with a light pop of shimmer on the middle of the lid to open up her eyes. Her under-eyes also appear to come off a bit tired with some dark circles, so a yellow-based concealer could have really helped her overall look come off significantly more camera-ready.
Missing under-eye concealer at a Colham Manor Children's Centre visit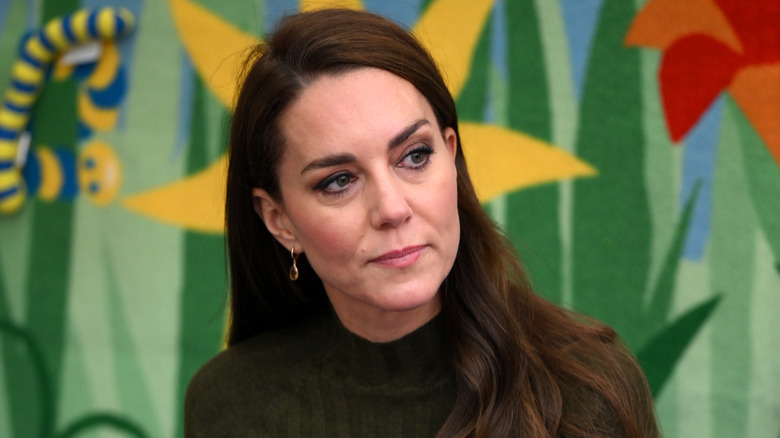 Wpa Pool/Getty Images
As a mother of three, it's understandable that Kate Middleton has her fair share of tired mornings and nights; thus, her makeup artist should always be prepared to handle any puffy or dark under-eye circles. But during a visit to the Colham Manor Children's Centre, Middleton can be seen looking rather exhausted as prominent dark circles overcast the rest of her entire makeup look.
And we get it — being a busy mom and a princess with an extensive calendar at the same time is no easy feat, so it's only natural that the very human Middleton is going to feel the effects of her titles from time to time. However, this is when her makeup artist — or perhaps Middleton herself, as she likes to do her own makeup — should have taken the liberty to combat this issue with a brightening under-eye concealer.
Oftentimes, cameras can enhance our features in ways that make them appear completely different than they look in real life, so even if Middleton's under-eyes didn't look so bad in the mirror, anyone applying her makeup should know some basic photography rules. It appears as if her under-eyes do have some concealer, but it's a shade that matches her foundation. In instances like these, a full-coverage concealer, either one or two shades lighter than your skin tone, will make a world of difference.
Overfilled eyebrows at Boston's Earthshot Prize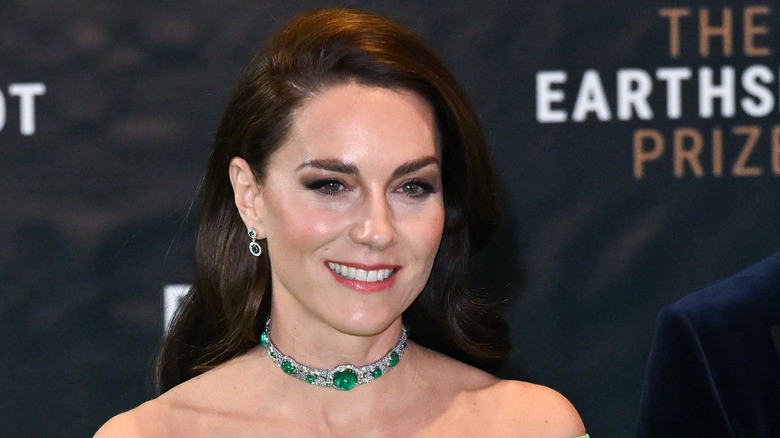 Karwai Tang/Getty Images
Overall, the Boston Earthshot Prize appearance is one of our favorite Kate Middleton looks. Why? She really stepped out of her comfort zone here with a bolder-than-normal lip, a dramatic winged liner, and a dewy, fresh, glowing foundation. Her under-eyes are perfectly set with a brightening powder, and while her eyeshadow could use a tad bit more blending near the brow bone, the eyes ultimately look sexy and alluring. However, Middleton didn't get one aspect of this look right: her eyebrows.
The Earthshot Prize event was ultra-glamorous, so there's no question that she wanted to ramp up the drama. Perhaps she was trying to go for a bold new look by overfilling her brows to try and give off a Brooke Shields vibe, but this didn't work in Middleton's favor for a couple of reasons. First, since her eyeshadow is already dark and dramatic, extending all the way up to the brow bone, that was enough to make the eyes look mysterious and shadowy. By topping it off with a thick brow, too much darkness seems to swallow up her typically light green eyes.
Secondly, the color of her brow product was all wrong. If you look closely, you can see the point where Middleton's natural eyebrows begin and end, and surrounding them is a warm brown shade of brow product. This shade could have possibly blended better if the artist had stuck to filling in only where Middleton's natural brows are, but the over-extending makes everything look far too unreal.
Matte foundation with a deep tan at a Business Taskforce for Early Childhood meeting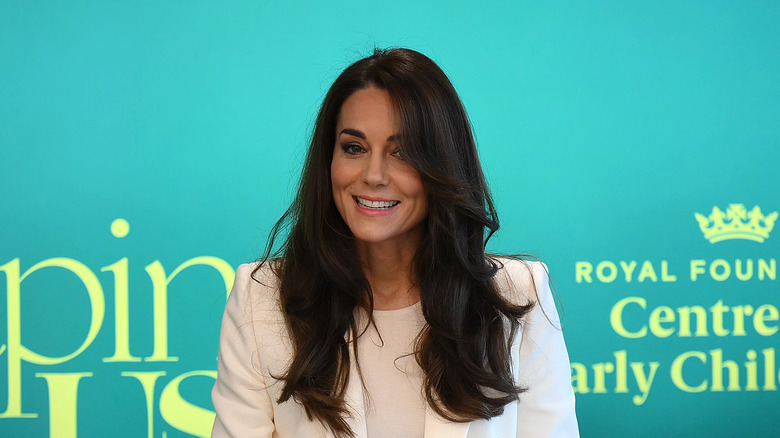 Wpa Pool/Getty Images
It's no secret that Kate Middleton is a fan of spray tanning, as sometimes she seems to just appear far more tan than she did the day before. Reportedly, Middleton has scheduled weekly spray tanning sessions for years, only taking breaks during her pregnancies (via Daily Mail). However, when she's at her most tan, like at one Business Taskforce for Early Childhood meeting, she seems to somehow miss the memo that being tan without a glow can actually make you look very one-dimensional and flat.
At this event, Middleton chose a matte foundation — which she often does — but because she has more color going on than normal, a dewier foundation would have really helped pull this look together. Moreover, her solid white blazer is also very flat and non-dimensional, further enhancing the lack of depth in the look. Middleton is rarely big on wearing highlighter, but even a subtle glow cream could have brightened things up a bit.
Harsh contour at King Charles' coronation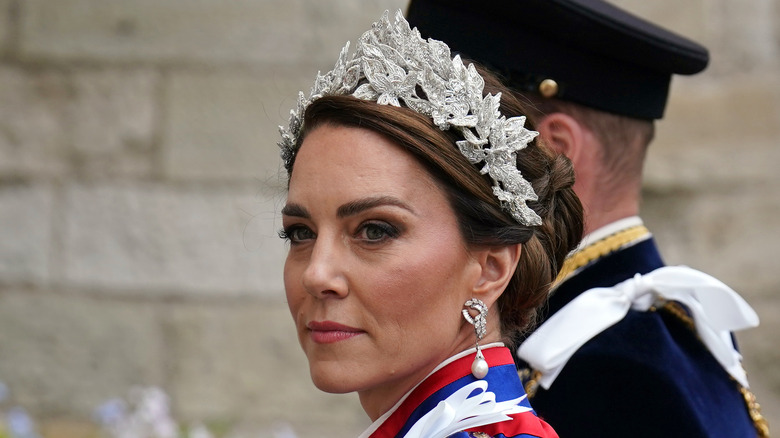 Wpa Pool/Getty Images
Though Kate Middleton has made the mistake of using the wrong contour shade several times throughout the years, she finally got her contour color down correctly at the 2023 coronation of her father-in-law, King Charles. But before we get too excited about the shade change-up, Middleton is still not off the hook for making one major coronation day makeup mistake: harsh, unblended contour.
Even her blush seems to sharply hit the top of her cheekbones, leaving us questioning if her makeup artist did her makeup in the dark that day. Luckily for Middleton, King Charles and Queen Camilla had asked for Middleton and her daughter to arrive in elaborately-adorned custom headpieces. Thanks to the sparkle and glimmer of the headpiece and its matching pearl earrings, any focus of the onlookers was drawn to the headpiece instead of Middleton's exaggerated contour.
Aside from this contour and blush faux pas, the rest of the look was overall quite eloquent. The cool, dusty rose lipstick complimented her skin tone, her eyeliner was dramatic but well-placed, and although her eyeshadow could have been blended out better, the slight dewiness of her foundation gave a satisfying satiny glow.