Lace Trims: The Light But Sultry Touch Your Dresses Need This Summer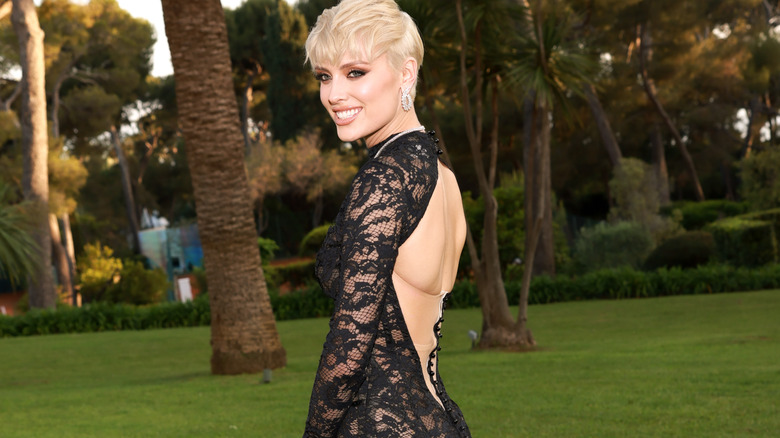 Arnold Jerocki/Getty Images
The need for '90s nostalgia is apparent, particularly when it comes to fashion trends for summer 2023. Taking over already is the bright pink Barbiecore fashion trend, cherry gloss lips, and Polly Pocket nails. And now, as slip dresses rise in nostalgic popularity, so does the trend of subtle lace linings along with fashion finery. Instead of elaborate lace in the realm of bridal styles, the fashion trend taking over this summer relies on the lace to complement the overall piece and bring a textured, elevated element to the garment.
According to Parade, the slip dress became a staple amongst minimalist celebrity culture in the '90s and has remained a classic ever since. The lacework along the hemlines of '90s-inspired slip dresses is now extending to other dress styles, giving a subtle hint of sensual, confident, and feminine mien carried by both the raiment and the person wearing it. Here's how to embrace this elegant, sultry, and minimalistic style that's fully in summer vogue at the moment.
The little black dress with a nostalgic nod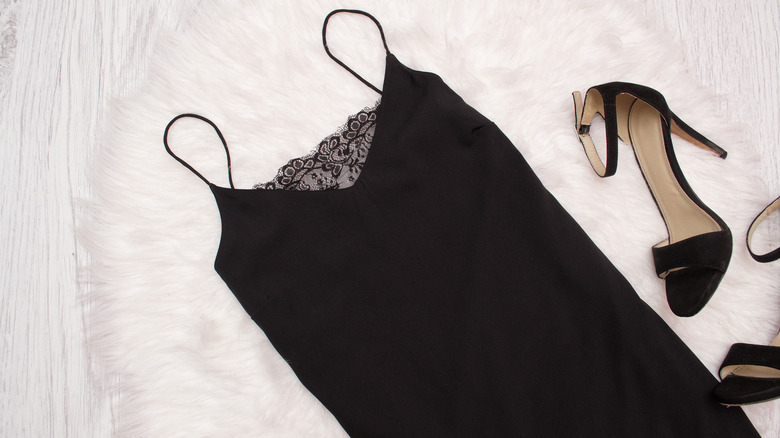 Serhii Yevdokymov/Shutterstock
There is no fashion piece more iconic than the little black dress (LBD), made famous by celebrities like Kate Moss and Gwyneth Paltrow, which now has an extra element of lace trim along the neckline or bottom hemline to add sensual intrigue. The LBD in slip form is favored by French women, particularly those walking the streets of Paris, which are so fashionable they might as well be runways. We say "Oui!" to the lace LBD!
Patterns pair perfectly with solid lace trim
A little lace can go a long way! According to L'Officiel, lace, along with florals and pastels, ruled the runways this spring. Patterned fabric with subtle lace creates the perfect dress version of a chemise. Don't worry, if form-fitting pieces aren't your thing, many lace-trimmed slip dresses are cozily roomy without being baggy.
Value the artistry of lacework
Traditionally, lace is handmade and created from scratch using merely needle and thread. In the age of fast fashion, the artistry of handmade lacework is on the decline, increasing the value of dresses with bespoke lace trim. To become a true fashion maven this summer, look for handmade lace-trimmed items to add to your wardrobe.
Be playful with creative lace combinations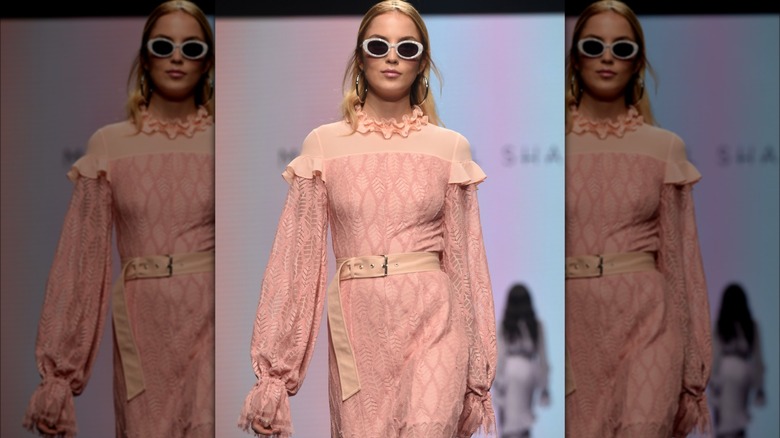 Stuart C. Wilson/Getty Images
Ranging from highly intricate, meticulously detailed swatches of lacework to simple stitches, it's easy to create the semblance of lace by utilizing negative space for the desired visual effect. Be it playful or subtly sultry, there are innumerable lace patterns and creations you can pair together. Super Label Store details 37 popular lace patterns to choose from, plus indefinite original designs, in creating mix-and-match summer dresses. 
Lace trim can give the illusion of a cutout
Many boho-style pieces, cutout dresses, and even matching sets are emerging this summer with traces of lace around the neckline, abdomen, or hidden midway down the piece. The lace included in these styles can be intricate with tightly woven threaded designs or involve very simple stitch patterns to add panache to a garment's negative space, giving emphasis to this summer's minimalistic fashion look.
Florals and thicker lace add dimension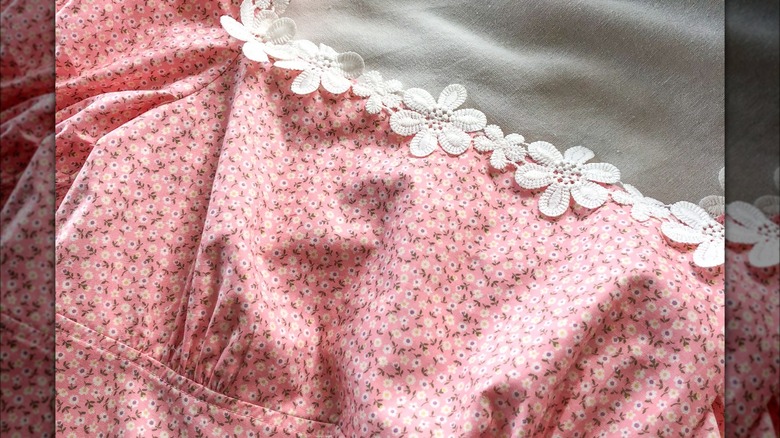 Tangerinesky/Shutterstock
The lace most often used in sultry apparel and modern designs involves embroidery of a more fragile nature with fine lines and designs, which appear visually indiscernible. Bringing in opaque, thicker lace designs or borrowing hints of 3D lace from bridal couture can be the perfect summery addition to a fun, floral frock. You can also look for lace-trimmed dresses sewn with colorful threads. 
No matter what you chose, a little lace is a lusciously opulent, slightly sultry, and sophisticated addition to help you capitalize on summer fun!