Unexpected Beauty Product Uses That Will Give You A Multipurpose Routine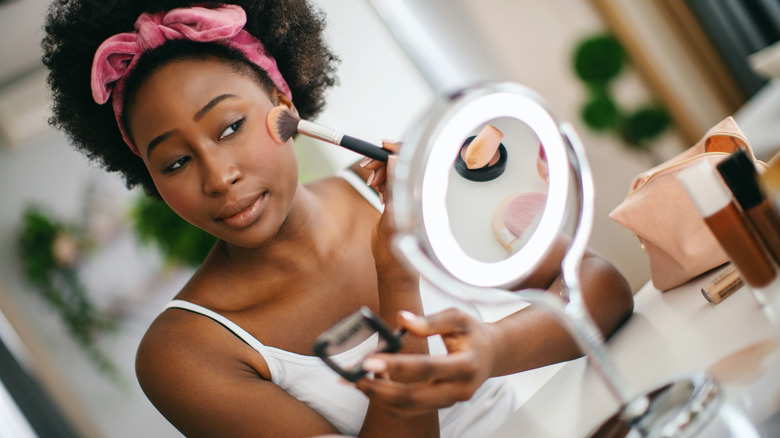 Aja Koska/Getty Images
Beauty doesn't come cheap or easy. A full face of makeup can involve a number of products that reach well into the double digits — the average American woman spends over $300 per year on makeup alone, according to Groupon. But money isn't the only sacrifice involved in keeping your face made up on the daily. There's also your time, effort, and storage space to consider. As summer moves in, the warm weather presents the perfect opportunity to experiment with a pared-down look.
Streamlining your makeup routine, however, doesn't have to mean skipping the face-enhancing effects that you love. Many of your favorite products can actually be used for purposes beyond the one that they're marketed for, creating the potential for an easy, breezy look that only requires a handful of multi-purpose products. If you're into the idea of a simpler beauty routine this summer, these makeup multi-tasking tips are for you.
Lipstick as blush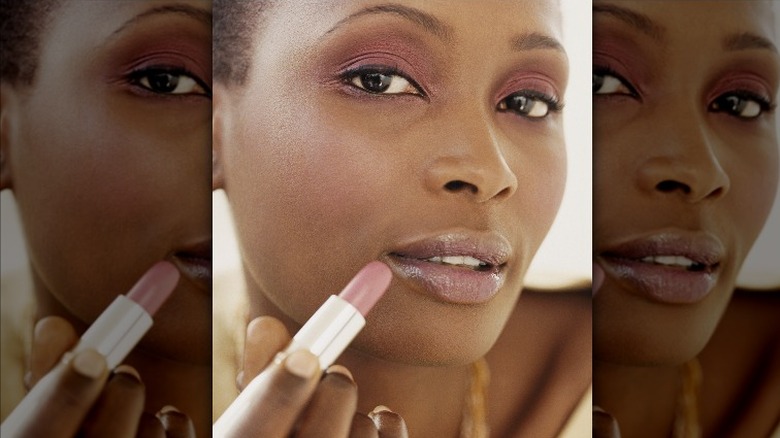 Digital Vision./Getty Images
The natural color of lips and cheeks are very similar, which means that many shades of lipstick are also perfect for creating the appearance of flushed cheeks. A classic bullet lipstick in a satin or matte finish doubles beautifully as a cream blush — if you're aiming for a dewy, youthful glow, go for the satin finish; if the hot weather provides you with all the dew you need, stick with a matte formula. Either way, you'll end up with perfectly matched lips and cheeks.
After you apply your lipstick directly to your lips, apply a small amount to your fingertips as well. Then, simply dab the pigment around the apples of your cheeks or along your cheekbones, depending on the desired shape. Continue to blend the color in with your fingers or a damp makeup sponge until you like the way it looks — whether that means a dramatic flush or a subtle glow.
Blush as eyeshadow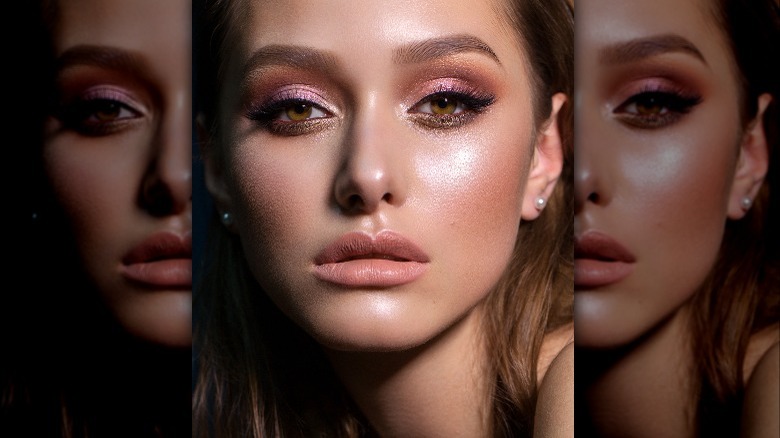 Tata Mamai/Shutterstock
The purple, pink, peach, and red shades that are prevalent in blush products can work beautifully as eyeshadow. Purple-based hues like mauve and blue-based pinks and reds especially flatter brown and hazel eyes, while warm, orange-based shades like coral bring out icy blue or green peepers. Whether your blush is a powder or a cream formula, you can apply it to your lids for a naturally healthy, flushed appearance.
If you've already decided to replace your blush with your lipstick, try making your lip shade a triple threat by applying it to your lips, cheeks, and lids (after verifying that it's an eye-safe formula, of course). What could be easier than grabbing just one tube of lipstick to play up every one of your face's main features? Depending on whether you typically apply a base of face makeup for your complexion or just add a pop of color to your lips, eyes, cheeks, brows, and eyelashes, this could cut your entire summer makeup routine down to just two or three products.
Bronzer as contour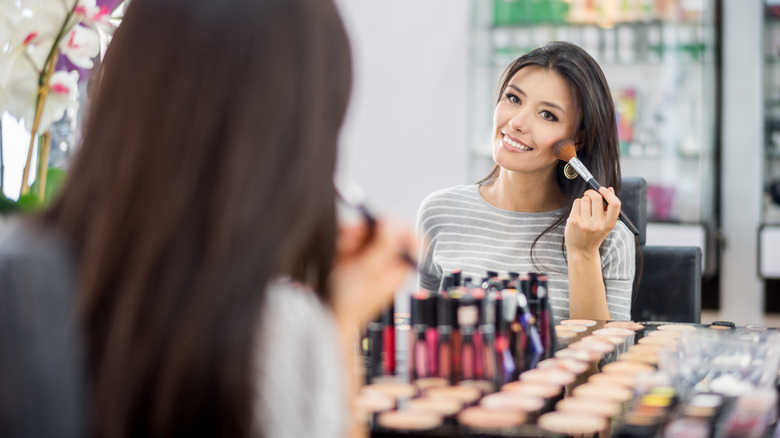 Andresr/Getty Images
If you just can't give up your full contour routine, consider the fact that your bronzer can definitely work overtime as contour, especially in the summer. All you need to do is adjust the placement of where you apply the product. Rather than putting your bronzer in the areas where light would normally reflect and create a bronzed glow, apply it to the areas where shadows naturally fall.
Before you attempt to use bronzer as contour, consider the fact that most contour shades are neutral or cool-toned, while most bronzer shades are warm-toned. For most skin tones, this shouldn't be a problem and will just lend an overall slightly more sun-kissed appearance. If you have very cool-toned skin, however, you might find that the color of a warm bronzer looks unpleasantly orange against your skin when applied as contour. In this case, it may be worth it to seek out a neutral-toned bronzer before attempting to make the switch.
Setting spray as eyeshadow primer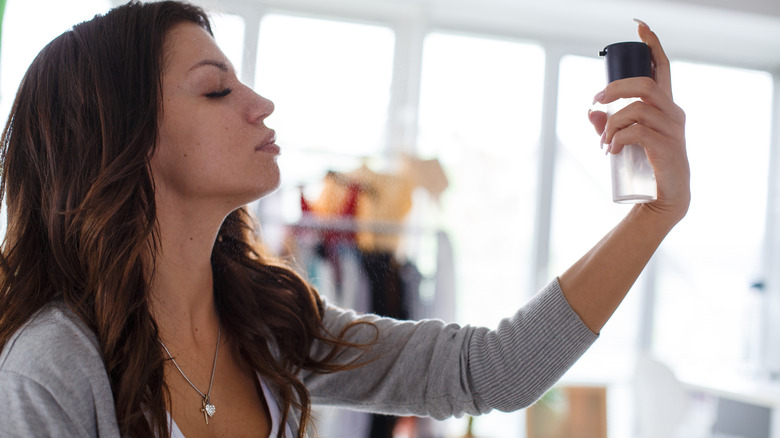 Fotostorm/Getty Images
Setting spray is one product that you don't want to skip when temperatures get high. When sweat is a threat to your makeup, your setting spray is what will keep all your hard work from sliding off your face. Luckily, setting spray is another beauty essential that can serve more than one purpose. The next time you decide to go for a full glam dramatic eye look, reach for your setting spray rather than digging for a tube of eyeshadow primer or attempting to make your concealer work double duty.
Just spritz a small amount of setting spray onto a brush, a makeup sponge, or your finger. Then, dab the product onto your eyelids until they feel lightly coated. Let the setting spray dry, and then apply your eyeshadow over it. The spray will absorb excess oils and hold your eye look in place all day or night — especially if you apply another layer over your entire face when your makeup is finished.
Eyeliner as brow pencil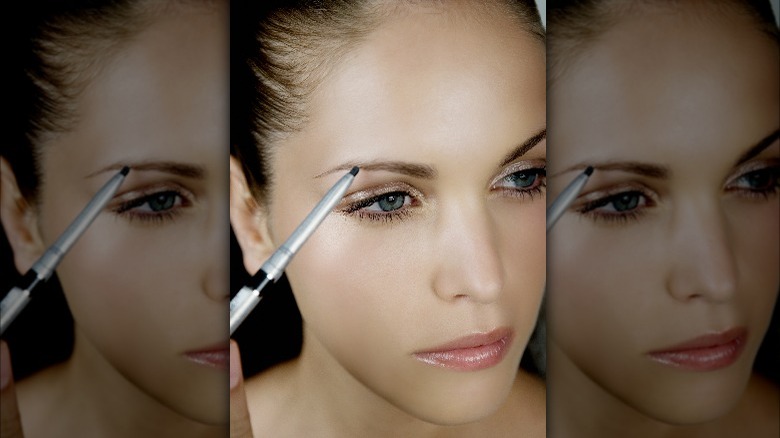 Jupiterimages/Getty Images
If you use pencil eyeliner to accentuate your lash line, there's a good chance you can also use it to fill in your brows. Eyeliner pencils typically come in the same shades as brow pencils — soft blacks and various cool, warm, and neutral-toned browns. You can use your eyeliner pencil the same way you'd use a brown pencil to lightly outline your brows and then fill in any sparse patches. Use a spoolie or a brow brush to blend the color, slightly blurring the outline until the brows look soft and natural.
As an added bonus, eyeliner pencils are generally priced much more affordably than those that are marketed specifically for use on the eyebrows. Even if you need a different color for your brows than you use on your eyes, it might be worth making the switch. Time to start planning all the new ways you'll use your makeup bags when you no longer need 12 products just to complete your daily routine!