The Bachelorette Party Theme You Should Have Based On Your Zodiac Sign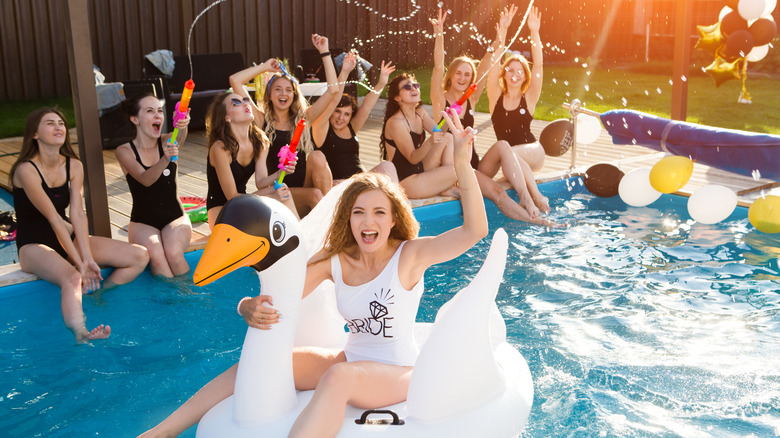 Ulza/Shutterstock
Pre-wedding throwdowns have been common for grooms for thousands of years, but it is only in the last few decades that women have had their share of the fun, too. Hollywood has made the traditional modern bachelorette party famously known for being a wild night of drinking, debauchery, and out-of-control hijinks. While some brides definitely desire that experience to toast their singlehood adieu, not everyone does. Some are after a more low-key affair that focuses on bonding with their best friends, while others simply want a chance to destress after months of intense budgeting, dress fittings, and frustrating arguments about centerpieces.
As a result, more bachelorette parties are being tailored to the soon-to-be-married individual's personality. If you are getting married soon and unsure which bachelorette party theme or destination you should choose, look to your astrological sign for answers. The core characteristics of each sign can be a great indicator of the type of bach bash best suited for you. For example, as a fire sign, you might find yourself craving a more adventurous outing that gets your heart pumping and the laughter flowing, while a traditional water sign may want a chill weekend that leaves time for connection and emotional bonding with your closest friends. To have the most fun at your bachelorette party, have you and your maid of honor consider the following activities based on your zodiac sign.
Aries: Take on big city nightlife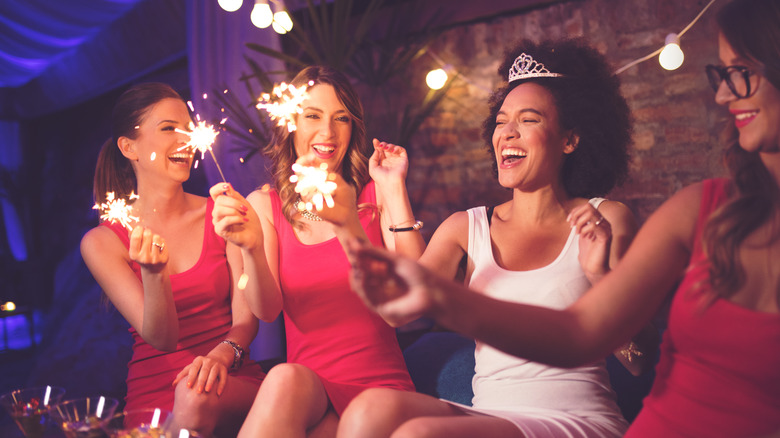 M_a_y_a/Getty Images
Taking on the nightlife in your favorite big city is the ideal celebration for a spontaneous, fiery Aries bride. You already know that you are the life of the party, whether you're attending the office Christmas hang or your once-in-a-lifetime bachelorette party. However, in typical Aries fashion, you also bore easily and won't have much fun celebrating your big night camped out in one place. You need variety and constant excitement to maintain your natural levels of enthusiasm. Having an endless list of restaurants, bougie cocktail bars, and downtown nightclubs where you can dance the night away is the best plan for a bachelorette party you'll never forget.
Of course, there also needs to be a few scheduled activities that get your Aries adrenaline-fueled heart pumping and engage your natural competitive spirit. Have your maid of honor plan a couple of hours at an indoor rock climbing wall in Chicago, buy a ticket for a rooftop roller coaster in Las Vegas, or maybe hit up a paint-throwing studio in Austin before a night out on the town. Just be careful not to let your competitive spirit run away with you!
Taurus: Enjoy a glamping getaway
Kanawa_studio/Getty Images
As a Taurus, you love all things decadent, beautiful, and pleasurable. You work hard in your day-to-day life and value your money, but you won't be able to fully appreciate any vacation that isn't bursting with material comforts. "When pleasure-seeking Venus is your ruler, you know how to travel," astrologer Narayana Montufar tells The Zoe Report. "You love luxury and beauty, but that doesn't necessarily mean pricey ... you could even hear yourself say 'yes' to glamping with your partner. As long as peace, comfort, and good food are on the menu ... Taurus is game!"
A glamping getaway is the perfect bachelorette party retreat for you and your best friends. This modern style of camping combines luxury accommodations in the beautiful outdoors, allowing participants to experience nature in all its wild glory without forgoing modern conveniences like a comfortable mattress, indoor plumbing, or electricity. This style of camping has grown in popularity over the past few years, which opens up your available destination to just about anywhere. You could stay in a treehouse cabin in the northern woods of Michigan, rent an Airstream trailer in Palm Springs, or set up camp in a soft-walled tent in the heart of Joshua Tree. And don't forget to splurge on wine and snacks!
Gemini: Stay in an all-inclusive resort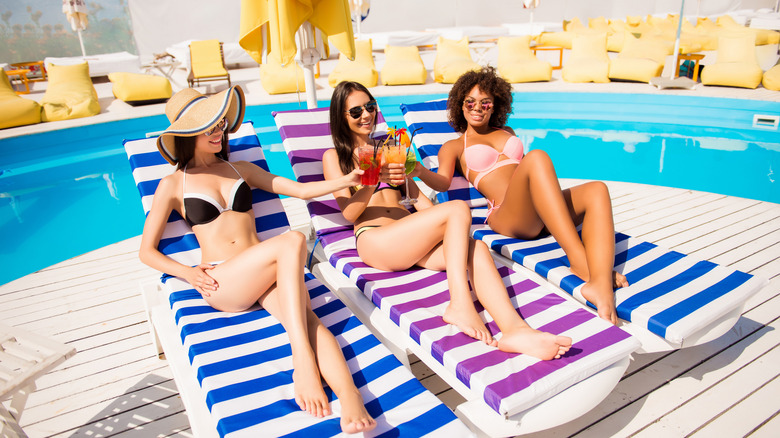 Deagreez/Getty Images
Before you get married to the love of your life, you want a bachelorette party that lets you do it all. You have made a list of every bachelorette party trope you can think of and, unable to choose which activities you could live without, you won't consider the event a success until every item is crossed off. But how do you accomplish this staggering feat in one bachelorette party? An all-inclusive resort, of course.
All-inclusive resorts were made for the fun, adventurous, and occasionally indecisive Gemini and make a memorable setting for this fantastic party. For starters, you can find great all-inclusive resorts just about everywhere. If you're craving the feel of sand between your toes, have your maid of honor make a reservation at a resort in a tropical spot like Hawaii, Mexico, or Jamaica. If you're hoping to cozy up in a log cabin, check out vacation spots in the beautiful mountains of Colorado, an artsy spot in Nashville, or book a weekend at a spa in Tuscon, Arizona. Regardless of where you end up, all-inclusive resorts have amazing dining options, luxurious accommodations, entertainment, and plenty of activities to keep you occupied for the duration of your party. Not to mention endless cocktails. Everything you need or want is taken care of for you, allowing you the opportunity to kick back and relax with your favorite people or be as impulsive as you want.
Cancer: Rent a beach house for the weekend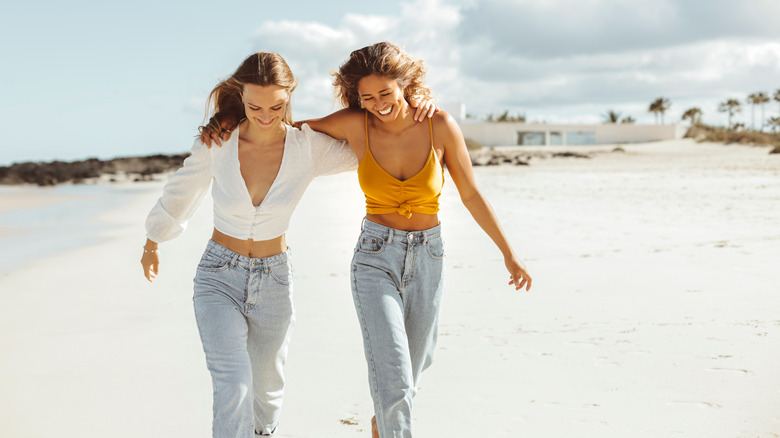 Merla/Shutterstock
As a homebody, leaving home for a raucous bachelorette weekend may cause your stomach to churn with nerves. However, "As a water sign ruled by the majestic moon, self-care is not an option for you, it's a priority," astrologer Narayana Montufur explains to The Zoe Report. "You also love the comfort of feeling at home wherever you go, which is why traveling with your clan sounds like heaven. A beach house rental where you can completely relax while feeling safe is like music to your ears."
The beach, be it the ocean or one of the Great Lakes, has a powerful calming energy that you strongly connect with. The smell of the air, the feel of sand between your toes, and the cry of seagulls, as they soar overhead, will easily help you unwind from months of stressful wedding planning. Round out the evening with a fabulous, comforting home-cooked meal and some great wine for a truly memorable night.
Don't forget to let your friends pamper you while on your trip. Your natural urge to nurture and care for others is a strength, but your bachelorette party is all about celebrating you. Trust that your friends will watch out for one another and know that it's okay to go a little crazy during your beachside retreat.
Leo: Enjoy karaoke and signature cocktails in Nashville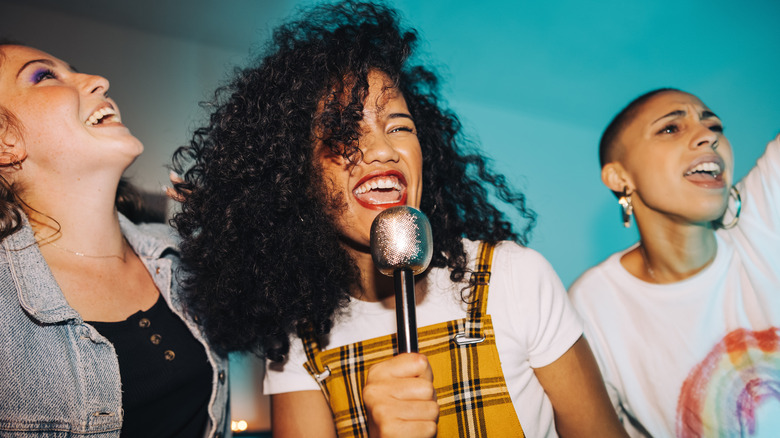 Jacoblund/Getty Images
What's better than having a stage, a microphone, and all eyes on you as you belt out the words to your favorite pop song? For you, dear Leo, the answer is not much. You thrive under the spotlight and want all eyes on you as you celebrate your upcoming nuptials with your best friends. While you can find a good time at any karaoke bar in any city in the world, a traditional Nashville bachelorette party is definitely your cup of tea. Consider booking a private karaoke bus to take you up and down the strip, or splurging on a VIP treatment at a popular karaoke bar. "In a large crowd, nothing is off the table for these lions, although you can often find them dancing on one," spiritual coach and astrologer Tara Bennet tells BestLife.
As one of the most fashionable zodiac signs, you will plan a gorgeous and probably sparkly outfit for your bachelorette party. No doubt this stunning ensemble will be complete with a traditional bachelorette sash and bridal cowboy hat. Before heading out into the bustling, neon-lit Nashville night, enjoy some signature cocktails at your hotel for a personalized touch that all of your squad can enjoy.
Virgo: Choose a weekend wine tasting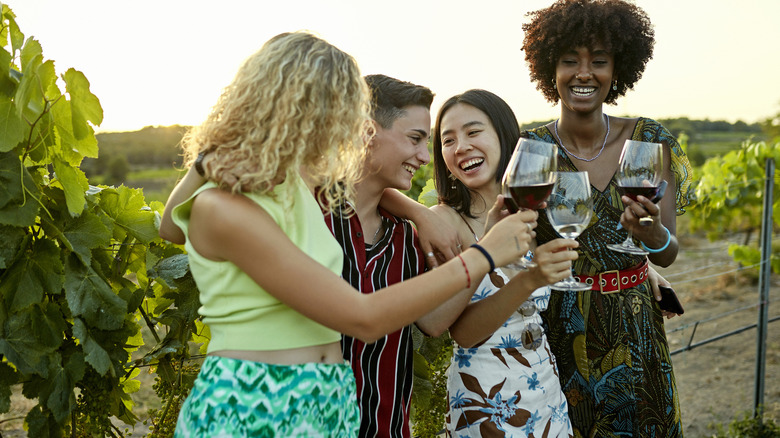 Xavierarnau/Getty Images
A well-planned vacation to wine country is the perfect spot for Type-A Virgos to let loose before saying 'I do.' Spending a weekend exploring the beautiful wineries in northern Michigan or Napa Valley while reconnecting with nature and your best friends is a surefire way to relax and let loose before you walk down the aisle. Not to mention you love a good glass of Cabernet Sauvignon.
Your biggest problem with this particular event will be letting your maid of honor or bridesmaids plan the party without you. You are a hardworking, detail-oriented bride who has likely spent months, if not years, obsessing over every element of your wedding by yourself. Remember this event is all about you and your friends want to surprise you and pamper you with a good time. They know how hard you work and want you to be able to kick back and spend a couple of days thinking about nothing. Trust them to put in the same amount of thoughtfulness and hard work you would. "Recognize that's a part of who you are and it's okay," astrologer Stefanie Iris Weiss tells Well+Good. "Remind yourself: I may not be in control of everything all the time, but I'm still okay with not being in control of everything."
Libra: Throw a good old fashioned slumber party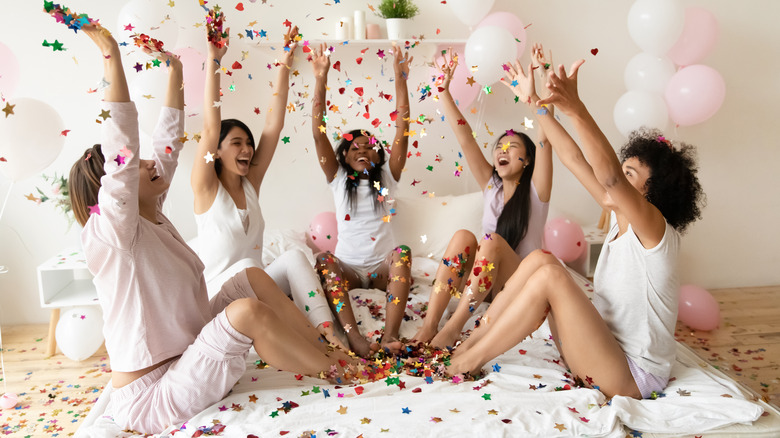 fizkes/Shutterstock
Nostalgia is sweet and compassionate Libra's bread and butter. You also like to keep things close to home where they feel the most comfortable. As a result, you have fond memories of gathering with your best gal pals for slumber parties, doing makeovers, watching romantic comedies and slasher flicks, staying up all night talking about your latest crushes, and stuffing your face with the best junk food Target has to offer. It only makes sense to gather your girls for a night of silly sleepover fun to celebrate your wedding.
Don't confuse traditional and nostalgic with boring. After all, you're not a teenager anymore. You don't have a curfew and you don't have to sneak your parent's booze into the basement in water bottles. To get the most out of your party, pick a theme for the evening, outfit your bachelorette party attendees in matching pajamas, and set up an Insta-worthy balloon wall with fun props to capture the memories. Elevate traditional sleepover games like Truth or Dare and Never Have I Ever with the addition of jewel-colored craft cocktails and surprising prizes for the winners. You and your friends will laugh until your stomachs ache.
Scorpio: Explore the mystery of New Orleans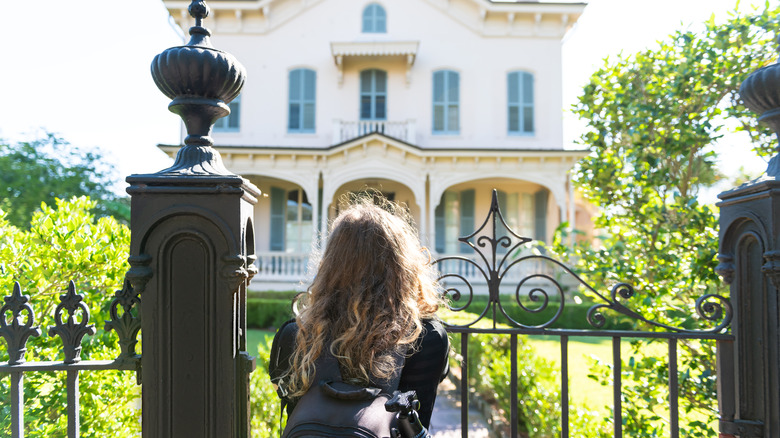 Andriy Blokhin/Shutterstock
You already know that a traditional bachelorette party isn't really your style, Scorpio. You are creative and an out-of-the-box thinker who likes to surprise others with your boldness and daring. You have a flair for the dramatic and mysterious, as well as a desire to go big with everything you do, which makes The Big Easy the perfect bachelorette getaway.
New Orleans is a vast and gorgeous city full of history, culture, shadow, and whimsy that ticks every box on your to-do list. You will love the ghost and cemetery tours the city is known for, and it is also located near several magnificent bodies of water, something that will soothe your emotional water sign energy. Of course, NOLA also has the exact type of nightlife you love. From cabaret and jazz bars to unforgettable drag shows and Bourbon Street where you can sample delicious southern cocktails, you and your friends will have a blast night after night. Laissez les bon temps rouler!
Sagittarius: Celebrate with a trip to an exotic locale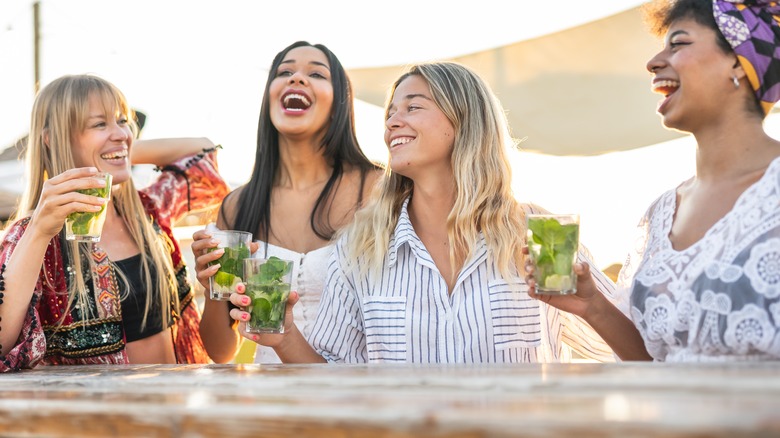 Mr.vicpix/Shutterstock
If you are an independent, perhaps lightly commitment-phobe Sagittarius getting hitched, your bachelorette party must be a trip to remember. You won't be satisfied with a casual dinner and drinks out in your city or a relaxing weekend at the beach. On the contrary, you want a big, bold, trip to an exotic locale that neither you nor your friends have ever been to before. Maybe you'll end up taking in the scenic views of Santorini, Greece, or enjoying hot springs and waterfalls in the Costa Rican rainforest.
Once you have arrived at your destination, be sure to plan activities that allow you and your guests to sample the region's best food and wine. You love immersing yourself in other cultures and spending time outside of your accommodations, and where better to do that than the local restaurant scene?
Keep in mind when picking a destination and subsequent activities that some of your friends might not be as adventurous as you. "A good bachelorette party destination should offer plenty of sunshine and a variety of activities for the group to enjoy," Jennifer Avey, VP of marketing at a travel planning company, tells Brides.
Capricorn: Enjoy a yoga retreat in Palm Springs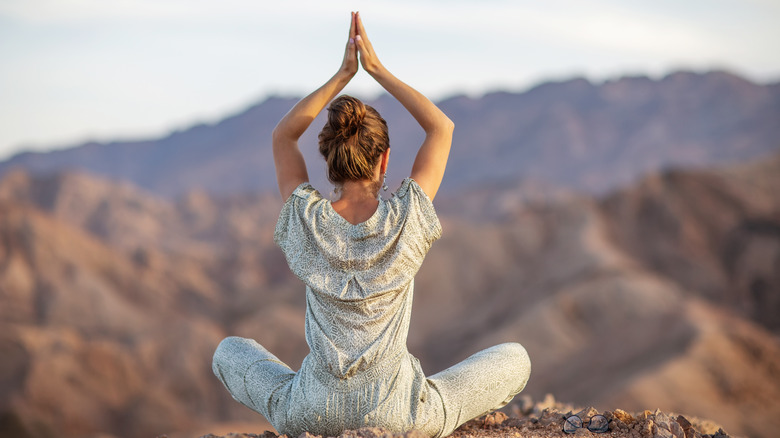 My Good Images/Shutterstock
Daily life for you is a grind, and you wouldn't have it any other way. However, you know how important self-care is and champion the need for some gentle self-awareness. For your bachelorette party, taking a few days to completely relax with a yoga retreat in the Palm Springs desert is sure to help you unwind. Enjoy evening yoga underneath the setting desert sun in a matching yoga wardrobe for you and your girls, or immerse yourself in a complete wellness journey in the tranquility of a desert oasis.
If you don't want yoga to be the only activity of the weekend, consider signing up for a single class at a spa and renting out a couple of airstream trailers for a unique glamping experience all of your friends will enjoy. During the day, you can explore the funky art scene and mid-century modern architecture the area is known for, or gather around a campfire beneath the magnificent starry sky to bond with your pals at night. The balance of fun, creative exploration, and wellness are ideal to help you reset before your wedding day.
Aquarius: Chill out with a wine and painting night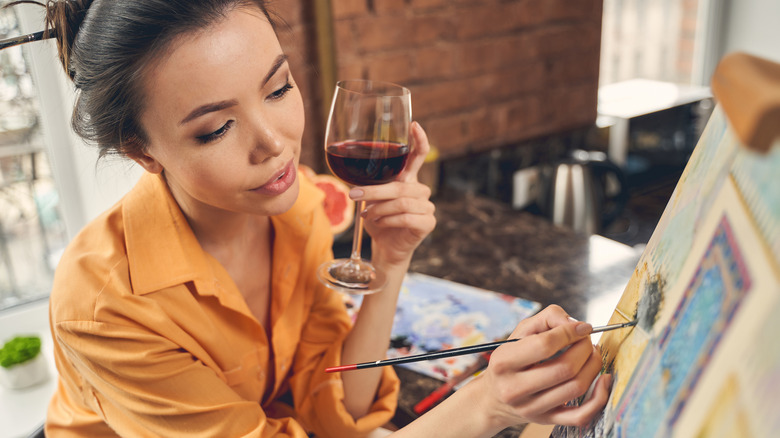 Yacobchuk/Getty Images
As an Aquarius, you know you are a force of nature. You spend your days solving the world's problems, giving your time and money to causes you care about, and working yourself to the bone to enact lasting change in your community. Whether you're planning a big wedding bash, or more likely, an intimate, no-frills vow exchange with your closest family and friends, you deserve a fun and relaxing bachelorette party to celebrate this monumental milestone in your own life. But a loud and crazy shindig probably isn't something that excites you.
Instead, your bachelorette party theme should allow you to unleash your inner creativity and turn off your constantly whirring brain. Bringing your friends together for a wine and painting class is a great way to do just that. "Their inner freedom from all imposed stereotypes and rules endows Aquarius with outside-the-box thinking and the ability to create something really cool," resident astrologer Alice Alta explains to BestLife. Remember that you deserve time to unwind and think about only yourself for an evening. However, you can always encourage your guests to donate to their favorite charity in lieu of gifts or favors for your event.
Pisces: Plan a pool party with a private cabana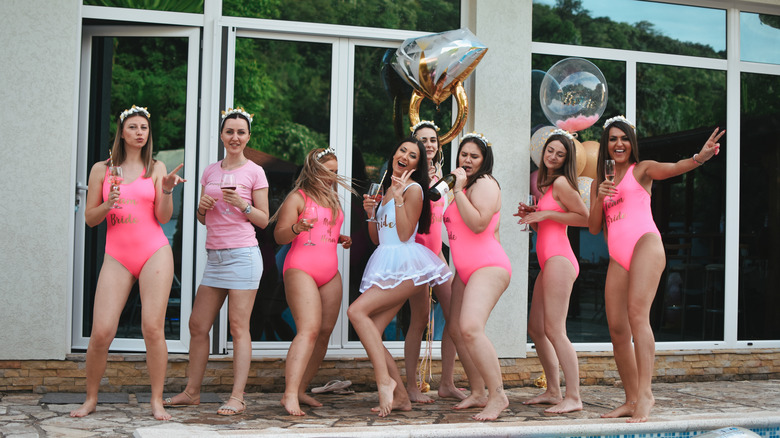 Milorad Kravic/Getty Images
There is no place better to celebrate a Pisces bachelorette than a pool party, especially one with a private cabana. You are at home in the water, sometimes more than on land. Let your maid of honor go all out with the theme and encourage matching bathing suits for adorable pictures. If you want to keep your party more affordable and closer to home, camp out at a friend's pool, lounge in theme-appropriate pool floats, and gift your guests custom-made beach towels in your wedding colors. Be sure to embrace tropical-flavored cocktails complete with paper umbrellas and a straw that spells out "bride" for the full experience.
In your everyday life, you are prone to putting your own needs and feelings aside to make sure others are happy. While this is a noble trait and sure to eliminate any bachelorette party drama, make sure you take plenty of time during your party to let others celebrate and pamper you. If you're throwing your Pisces friend a bachelorette party, it is important to understand that your emotionally sensitive and kind friend will struggle to let you shower them with love during this particular event. "[Pisces] can also be self-deprecating, which can cause them to underestimate their worth," astrologer Kesaine Walker tells USA Today. "It may take a lot of work from their friends and family members to convince them they deserve respect and care."