Big Bottom, Little Top & Big Top, Little Bottom: The Only Outfit Formulas You Need
Edward Berthelot/Getty Images
Styling a perfectly balanced outfit is a challenge, as it can be difficult to determine which pieces in our wardrobes best complement each other, appearing elegant but not dull or glamorous but not over-the-top. Luckily, social media and professional stylists offer some easy-to-remember tips and tricks for putting together a chic ensemble, such as using the three-color rule to create outfits with an attractive display of hues and contrast. But balance isn't only crucial for an outfit's colors — maintaining balance is also necessary for structure.
An ensemble featuring only baggy garments will typically appear sloppy and unappealing, hiding your body's beautiful figure. Meanwhile, an outfit with only tight, short pieces isn't usually practical or appropriate for most settings. That's why we love the big bottom, little top, and big top, little bottom formula. You can find social media users flaunting various versions of these looks on TikTok, proving that the contrast-focused outfit method works.
Crop top and sweatpants combo
Anyone who wants an effortless streetwear outfit should look no further than pairing a crop top with sweatpants. Falling under the big bottom, little top side of the formula, wearing the sexy cropped shirt and ultra-casual sweatpants together will exude cool-girl energy without putting in much effort.
Crop tops and jeans
If you love crop tops but don't want to wear them with bottoms quite as casual as sweatpants, you can pair your favorite one with denim instead. To follow the formula, rather than wearing skinny jeans, pair the crop top with baggier styles — such as boyfriend, flare, mom, or bell-bottoms — for a contrast.
Tube top for an even tinier top look
You should rock a tube top if you want to show even more skin than a cropped version. Whether you choose to flaunt your structured tube top with sweatpants, baggy jeans, a maxi skirt, or trousers is up to you — tube tops are super fun to dress up and down.
Hoodie and shorts combination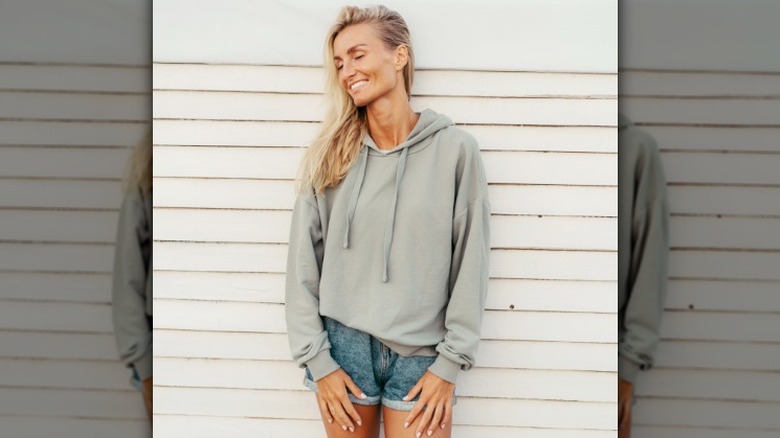 Ilona Kozhevnikova/Shutterstock
Of course, we can't forget about the big top, little bottom side of the formula. If you want to try a low-key big top, little bottom look, you could wear a casual hoodie with short denim shorts — bonus points if they're distressed for a streetwear-inspired ensemble.
Blouse and miniskirt
On the other hand, don't be afraid to explore a dressier big top, little bottom look by pairing a long, sheer blouse with a miniskirt. The outfit will fit the formula even more if the top has long sleeves. The blouse and miniskirt combination will look cute, girly, and should be wearable for various settings.
It's okay to prefer one look over another
We think it's fun to wear both the big top, little bottom, and big bottom, little top looks, since experimenting with both of the formula's options offers more variety. But if you'd rather only wear big tops with little bottoms — because maybe you aren't comfortable in a crop or tube top — or big bottoms with little tops, stick with what you're comfortable with. Wearing what makes you feel good is more important than trying every outfit formula.